Raw vs Nitro: días 17 y 18
8 de enero de 1996, Monday Night Raw 142, Newark, Delaware. Rating: 3.0.

Fue un show de segmentos más que de combates. No es que los segmentos fueran sensacionales, pero si que resultaron importantes a la larga. Por otro lado, cabe destacar que hubo una gran promoción del Royal Rumble (el PPV posterior a este Raw vs Nitro). Entre los spots promocionales se mencionó la lista de los participantes y a alguien conocido como Vader. Ya hablaremos bastante de él en los siguientes meses.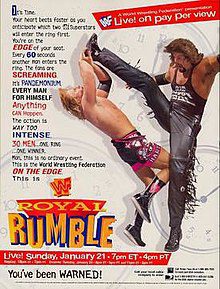 Jeff Jarrett vs Hakushi.
Encuentro decente y ya. Jarrett tiene algo de buena ofensiva heel, pero no ataca nada la pierna para justificar su victoria con la Figure Four.
Ahmed Johnson vs Jeff Brettler.
Meh.
El primer segmento trascendental al cual me refería fue el Brother Love de ese Raw. Bruce Prichard como anfitrión invitó a Ted Dibiase. Hasta ese momento, a Dibiase se le había visto al frente de la Million Dollar Corporation, generalmente como mánager de Sycho Sid y 1-2-3 Kid.
Ahora Dibiase anunciaba la rehabilitación del Million Dollar Championship. Y a la vez, al primer campeón de esa nueva etapa. Ese luchador que apareció por primera vez en WWE, fue presentado como el Ringmaster. Tendría que pasar un tiempo más antes de ser conocido como "Stone Cold" Steve Austin. Tal vez, el debut más importante en la historia de WWE.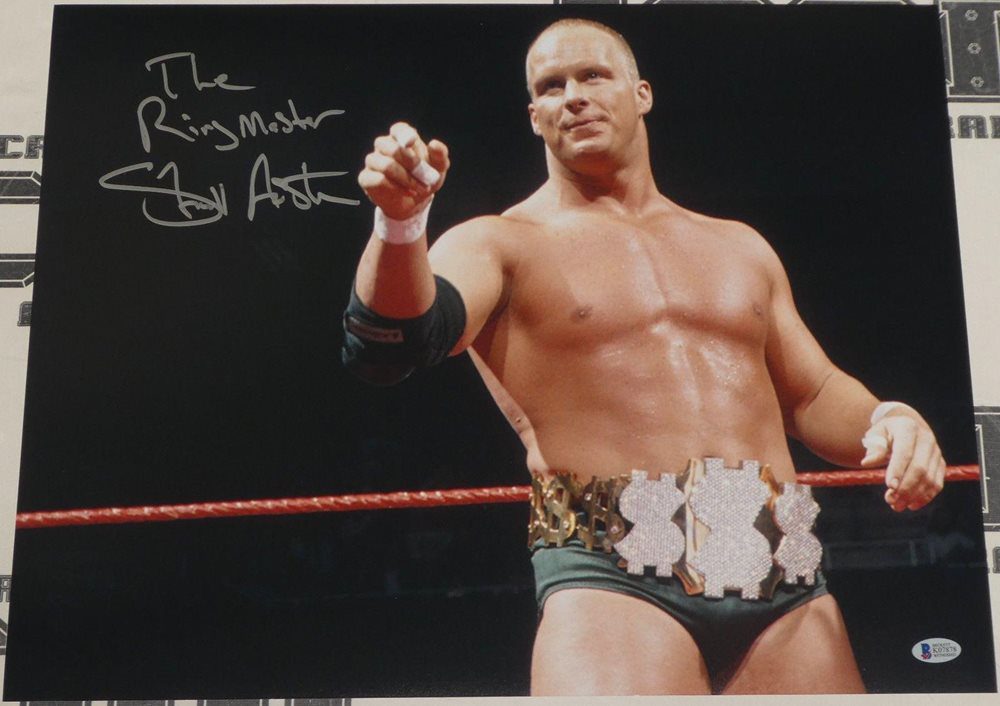 Goldust vs Aldo Montoya
Nada espectacular, más allá de seguir mostrando a Goldust como un hueso difícil de roer.
Bret Hart (c) vs British Bulldog, WWE Championship.
Lo mismo del Raw pasado. Reprodujeron el capítulo de In Your House 5 en la emisión de Raw. Será un tremendo combate, pero me sigue pareciendo poco digno gastar así los minutos del show.
El otro segmento importante ocurrió en el cierre del show. Shawn Michaels daba una conferencia de prensa para aclarar los rumores de su retiro a raíz de su "lesión" (que cabe recordar, fue un montaje). HBK informó que regresaría y asimismo, su participación en el Royal Rumble match. Se comenzaba a abrir el camino al proyecto de ace que tenía la WWE.
8 de enero de 1996, WCW Monday Nitro 20, Charleston, South Carolina. Rating: 2.8.
Chris Benoit vs Alex Wright.
Choque del montón. No trago a Wright como worker y me molestó que se viese superior a Benoit, quien a priori tenía más estatus.
Eddie Guerrero vs Lord Steven Regal.
Guerrero trató de usar su velocidad para atrapar a Regal a través de los brazos, pero constantemente el inglés lo atrapaba con su técnica. No obstante, comienza a apoderarse del combate en cuanto lo lleva al striking. Una y otra vez, Regal le daba con sus poderosos Uppercuts y Eddie apenas se mantenía en pie.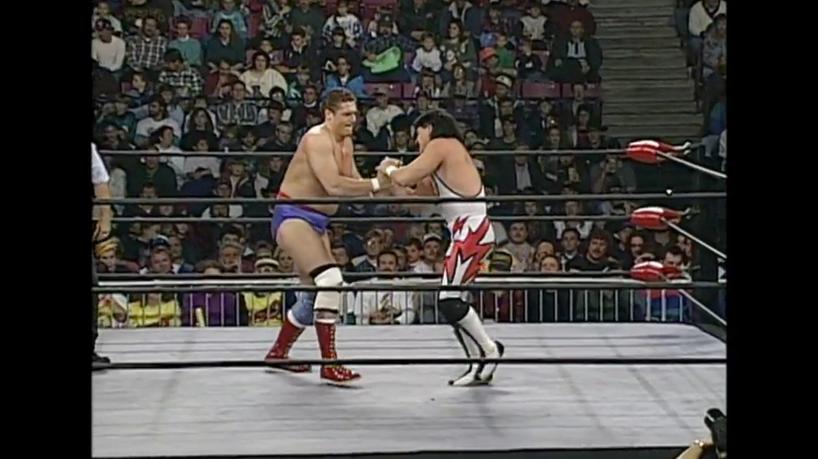 Justo cuando el rostro de Guerrero mostraba los signos de una conmoción, sacó con los mismos brazos del inglés un roll-up para llevarse el encuentro de forma sorpresiva. En resumen, otra de esas joyas de pocos minutos.
Valoración: 3 jumbitos.
Sting vs Diamond Dallas Page.
En el papel se veía mejor de lo que terminó siendo. A Sting se le vio más bajo que en su usual buen nivel.
Hulk Hogan & Randy Savage vs Ric Flair & Arn Anderson.
Cualquier match decente de Hogan me es una sorpresa. Aunque claro, influye el hecho de que fue quien menos acción tuvo entre los cuatro. Tras buenos intercambios, el relato del combate es el dominio de los heels sobre Savage y los constantes castigos sobre su cabeza. Una vez más, Flair dio clases sobre como hacer una buena ofensiva. Hasta que por el final, Randy le da el relevo a Hogan y se da su típico comeback con victoria.
Valoración: 2 jumbitos y medio.
15 de enero de 1996, Monday Night Raw 143, Newark, Delaware. Rating: 2.4.
Nuevamente volvemos a la publicidad intensiva del Royal Rumble. La diferencia con el Raw pasado, es que acá hubo una docena de segmentos de Sunny promocionando. Incluido, uno de ella en una bañera.
Owen Hart vs Marty Jannety.
Mucha técnica e intercambios geniales, cero historia. Aunque claro, es justo el tipo de contienda que la IWC tildaría de genial.
The Ringmaster vs Matt Hardy.
¿Quién iba a pensar que "Stone Cold" Steve Austin debutó en WWE en un match con Matt Hardy? Así es, el duelo para mostrar como alguien duro al recién llegado Steve Austin, resultó tener a otra vieja cara conocida. Matt iba de paso, por entonces solo aparecía ocasionalmente para hacer de jobber.
El encuentro fue una verdadera paliza. Ya se podía ver a ese brawler duro que golpeaba, golpeaba y golpeaba. El Ringmaster no dejó descansar al cuello de Matt y ya se podía apreciar esa brutal ofensiva. Aún así era un Stone Cold distinto: finalizaba sus encuentros con el Million Dollar Dream, aún no tenía música propia (entraba con la música de Ted Dibiase)  y todavía conservaba una leve capa de cabello rubio en su cabeza.
The Smoking Gunns (c) vs The Spiders, WWE Tag Team Championships.
Los Smoking retuvieron en un combate del montón, que comenzó en los comerciales. La división en parejas volvía a lo más bajo.
The Undertaker vs Isaac Yankem.
Quién lo diría, el primer Undertaker vs Kane. Sobra decir que con un in-ring aún más limitado por entonces, el resultado fue lastimero. Era la antesala del duelo por el WWE Championship entre Undertaker y Bret Hart en el Rumble. Pero pierde un poco de gracia, si consideramos que a Bret no se le vio ni un cabello en todo el show . Es más, el campeón no hizo acto de presencia en ningún Raw transcurrido entre Seasons Beatings y el Rumble.
El show terminó con un buen brawl. Razor atacando a Goldust en backstage y los estacionamientos, tras el acoso del dorado. Dada la poca construcción de la rivalidad, me parece que con esto vendieron un poco mejor el duelo por el Intercontinental Championship que se desarrollaría en el PPV.
15 de enero de 1996, WCW Monday Nitro 21, Miami, Florida. Rating: 3.5.
Lex Luger vs Randy Savage.
Duelo corto y de bajo nivel, en el que Luger derrotó al ex-campeón. Es impresionante, considerando que en meses posteriores Savage siguió retando a Flair mientras que Lex estaba en un segundo plano. Una vez más Randy quedaba como un pelele, solo porque si.
The Public Enemy vs American Males.
Encuentro del montón entre cuatro luchadores irrelevantes.
Ric Flair (c) vs Sting, World Heavyweight Championship.
Al principio pensé que me había sacado el premio gordo. Con la química entre ambos y la importancia implícita del combate. No fue nada muy destacable realmente. El típico match en el que se intercambian varios moves sin trabajar mucho una storytelling. El final (aún con intervención) terminó siendo lo más destacable. Luger llegó a ayudar a Sting, quitando de en medio al molesto Jimmy Hart que apoyaba a Flair en ringside. Hasta que "accidentalmente", Luger golpeó a Sting y le facilitó la victoria a Flair para poder retener.
Valoración: 2 jumbitos y medio.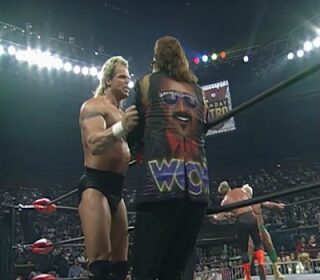 ¿El golpe de Luger a Sting fue accidental o intencional? La pregunta quedaba en el aire. Anteriormente en Starrcade, Luger ya había provocado una derrota de Sting cuando estuvo demasiado cerca del título. Es interesante la relación entre ambos luchadores, te hace pensar en una relación de pareja tóxica.
Hulk Hogan vs Meng.
Una lata. Y es increíble que este encuentro y no el que fue por el título mundial haya estado en el main event.
En los shows del 8 de enero, Nitro fue claramente superior a Raw. Mientras que en los del 15 ambos tuvieron detalles a favor y en contra, pero nuevamente creo que Nitro fue más. La puntuación actual sería entonces:
Raw 8 Nitro 10
Así es, por primera vez Nitro se está imponiendo. Aunque claro, en el "PPV de la guerra" WWE sigue ganando:
WWE 3 WCW 1
Nos veremos en Royal Rumble 1996.