WCW Slamboree 1996: un PPV malo con ganas
Fecha de este PPV de WCW: 19.05.1996.
Bienvenidos a uno de los peores PPV que he visto. No, no estoy exagerando, es que de verdad poco se puede rescatar acá.
El concepto del evento es "Lethal Lottery", donde una serie de parejas lucharán para llegar a una batalla real por una oportunidad por el título mundial. La gracia es que pueden salir emparejamientos de cualquier tipo, incluso poniendo a tag team consolidados peleando entre sí. Esto no suena mal si lo planteas en un semanal y con un número reducido de encuentros, pero acá la velada completa se basó en eso entregando algo bastante soporífero. Por eso, todas las luchas tag de la primera ronda tendrán la misma evaluación, porque son cortas, pencas y algunas que podían ser interesantes por los nombres, terminaron en cualquier huea producto del sobrebookeo.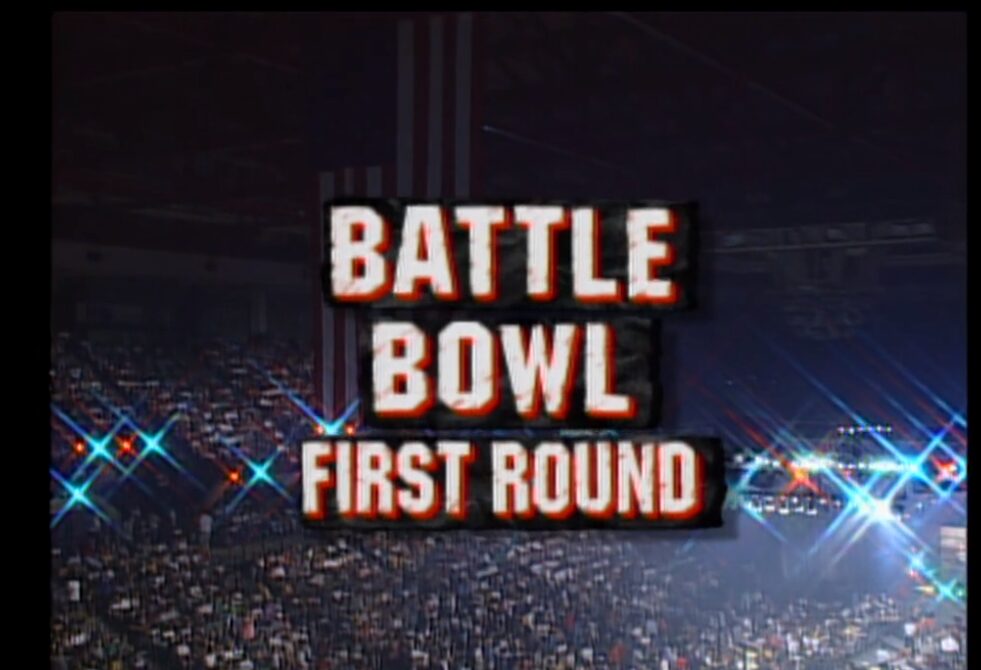 Road Warrior Animal & Booker T vs Road Warrior Hawk & Lex Luger.
Terminó en double countout.
The Public Enemy vs Chris Benoit & The Taskmaster.
Victoria de The Public Enemy.
Rick Steiner & The Booty Man vs Sgt. Craig Pittman &  Scott Steiner.
Algo a rescatar es cuando los hermanos Steiner se enfrentan.
VK Wallstreet & Jim Duggan vs The Blue Bloods (Lord Steven Regal & Squire David Taylor).
Humillando a los ingleses.
Dick Slater & Earl Robert Eaton vs Disco Inferno & Alex Wright.
Ni Disco Inferno salva esto.
Diamond Dallas Page & The Barbarian vs  Meng & Hugh Morrus.
Victoria de DDP, el único que de este lote le importó al público.
Fire and Ice (Scott Norton & Ice Train) vs Big Bubba Rogers & Stevie Ray.
Siguiente por favor.
Ric Flair & Randy Savage vs Arn Anderson & Eddie Guerrero.
Sobrebookeo aunque divertido. Lo más destacable de la primera ronda, más que nada por las artimañas de los FH.
Valoración a toda la primera ronda: 1 jumbito y medio. 
Dean Malenko (c) vs Brad Armstrong, WCW Cruiserweight Championship.
Siempre he encontrado un poco exageradas las críticas sobre el nulo carisma de Malenko, pero acá está tan inexpresivo que si sigue por esa senda puede que no me quede otra que aceptarlas no más. El campeón se enfoca en una de las piernas del rival que no vende absolutamente nada, haciendo del combate una decepción pensando en lo terrible que fue lo anterior.
Valoración: 2 jumbitos.
Dick Slater & Earl Robert Eaton vs VK Wallstreet & Jim Duggan.
Meh.
The Public Enemy vs Ric Flair & Randy Savage.
Ganaron los primeros por abandono debido a toda la rivalidad entre Flair y Macho Man.
Diamond Dallas Page & The Barbarian vs Rick Steiner & The Booty Man.
La ronda final me parece mucho peor. Valoración: Medio jumbito.
Konnan (c) vs Jushin Thunder Liger, WCW United States Heavyweight Championship.
Aquí la cosa se pone mejor con un choque de estilos bien definidos, además, sirve para conocer un poco la faceta como wrestler de Konnan, a quien lo he visto mayormente como mánager. De todas formas, creo que esto fue de más a muy menos, ya que los compases finales los sentí muy confusos.
Valoración: 2 jumbitos 1/4.
Diamond Dallas Page gana la batalla real y tendrá una oportunidad titular. La mejor decisión, porque tipos como los Public Enemy o Dick Slater o Earl Robert Eaton tenían cero chance, seriedad no más.
Ni Nacho le pondría jumbitos a esto.
The Giant (c) vs Sting, WCW World Heavyweight Championship.
Lo mejor del evento, que tampoco da para tirar fuegos artificiales pero por las 2 horas y media que llevaba viendo se sintió como un gran alivio.
En primer lugar, porque por primera vez en todo el show el público se prende, apoyando fervientemente a Sting. Eso ya suma harto pensando en cómo venía desarrollándose el evento. La contienda es la clásica donde un heel de mayor tamaño domina hasta el comeback del face, nada extraordinario aunque cumplidor. Suma el factor Luger y Jimmy Hart esposados fuera del ring y como, por "accidente", Lex termina ayudando al campeón a retener.
Valoración: 3 jumbitos. 
Cabe señalar que en abril de 1996 WCW no tuvo un PPV. Por lo tanto, en esta ocasión compararemos los PPV´s de WWE en abril y mayo (faltaría sólo un evento), con respecto al PPV de WCW en mayo. Cabe señalar que hasta el momento WWE sigue dominando en lo que respecta a PPV´s:
WWE 5 WCW 1.
También te puede interesar