Resultado IMPACT Wrestling 17.11.20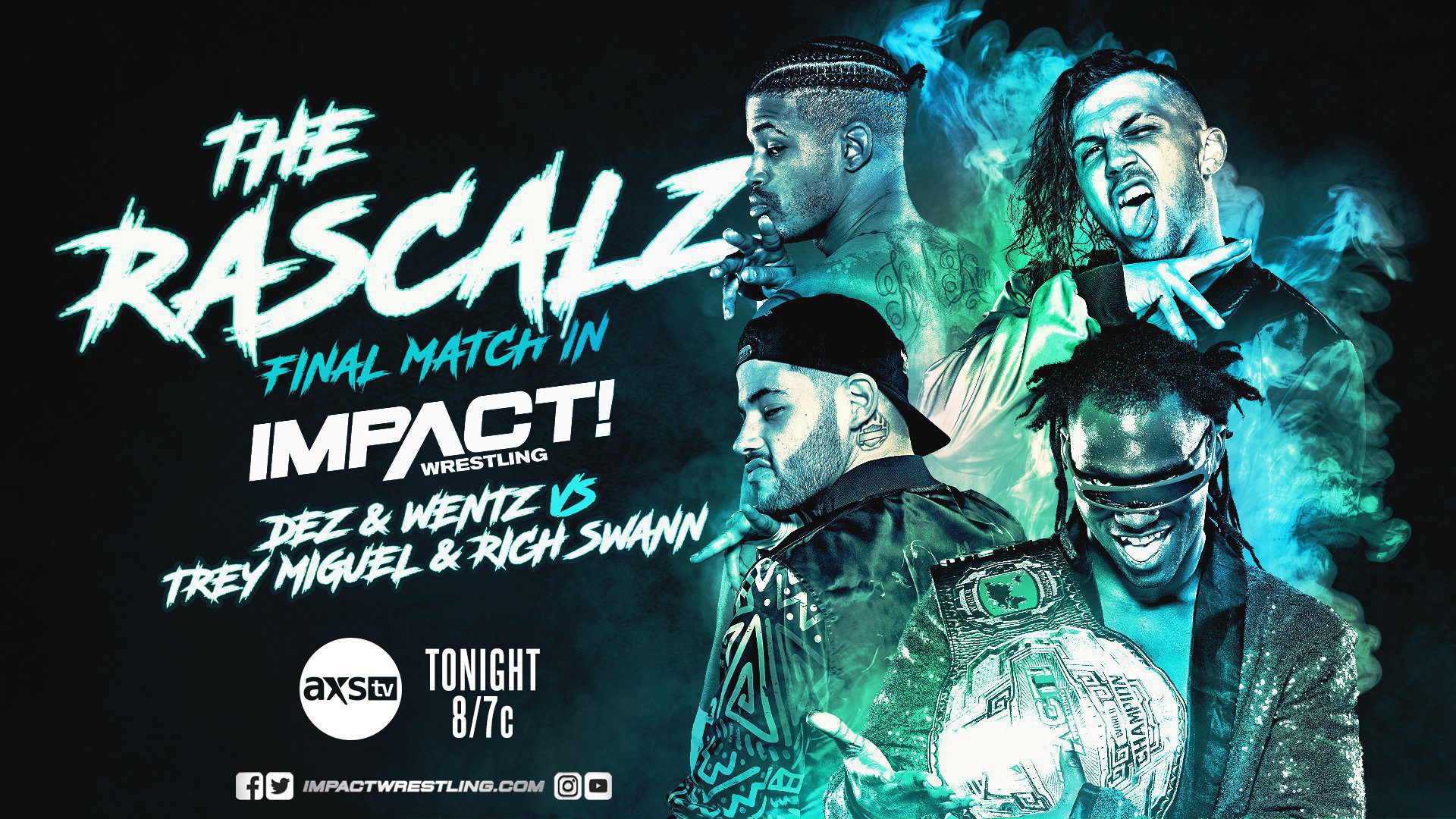 Sean bienvenidos a un nuevo episodio de IMPACT Wrestling, esta vez tras el evento Turning Point.
Moose vs Willie Mack, No DQ Match
Revancha de Turning Point, esta vez con una estipulación ideal para darse con todo. Willie Mack esta vez trata de no cometer los mismos errores de su último encuentro e inicia con ventaja pero esta no le duraría mucho y "The Wrestling God" arremetería violentamente contra él, dejándolo en una situación difícil de reaccionar. Afortunadamente Mack lograría recuperarse algo pero no le alcanzaría para superar a Moose que lo vuelve a noquear, haciendo que el árbitro detenga el combate y le de la victoria.
Promo divertida de The Rascalz disfrutando sus últimos momentos en la casa del árbol recordando e imaginando momentos con Moose y Gail Kim.
Deonna Purazzo esta dando una entrevista junto a Kimber Lee para promocionar su participación en el torneo por los títulos en parejas de Knockouts, pero se ve interrumpida por un amenazante mensaje de Su Yung. Todo parece indicar que su rivalidad aún no ha terminado.
Suicide vs Gio
Duelo que no llega a tener mayor desarrollo porque Eric Young y Joe Doering llegan para aplastar a ambos competidores. EY realiza una promo presentando al ex campeón triple corona de AJPW y lo que es capaz de hacer.
En backstage, Young y Doering atacan a Rhino y a un lesionado Heath.
Brian Myers vs Crazzy Steve
Decente sin más. Donde el aparente "Luchador más profesional de todos" logra otra victoria poco resaltante.
Sigue el caso investigativo de Tommy Dreamer por descubrir quién disparó a Johnny Bravo. Dreamer interroga a Johnny Swinger por el hallazgo del arma de parte de The Deaners y lo termina programando para una sesión de "Wrestlers Court" la siguiente semana.
Alisha Edwards & Tenille Dashwood vs Havok y Nevaeh, primera ronda del torneo por los títulos en parejas de Knockouts.
Nuevamente Tenille enfocándose más en posar que en luchar para dejar que su compañera se encargue de lo pesado. En este caso con Jordynne no había mucho problema, con Alisha al ser una luchadora bastante floja (pero bonita) no alcanza a salvar. Destaca más la química de Havok y Nevaeh que a pesar de los intentos de Alisha logran neutralizarla para llevarse la victoria.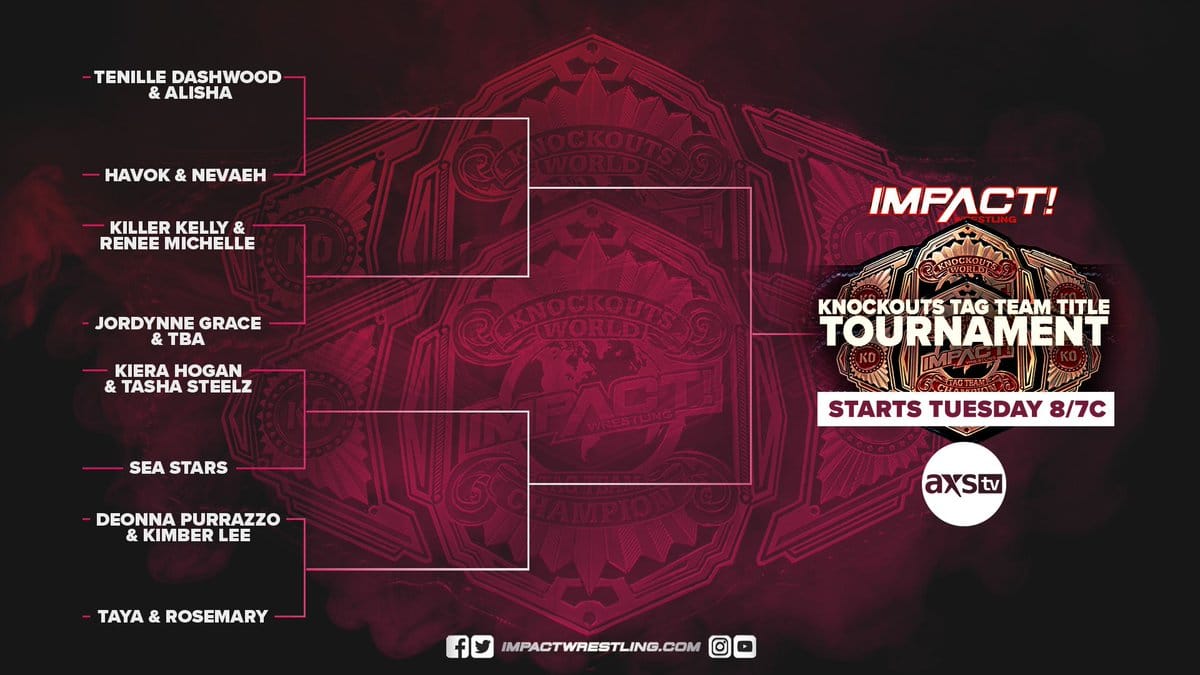 Jordynne Grace está hablando por teléfono con alguien, al parecer ha encontrado a una compañera para el torneo.
Fallah Bahh vs Hernandez
Sigue la disputa por el dinero de Hernandez y donde el miembro original de LAX consigue la victoria.
En backstage, Scott D Amore se ve hablando con Rohit Raju, quien no deja de festejar por sus últimas defensas. TJP pide una oportunidad para cerrarle la boca a Rohit pero Scott le dice que hará respetar la clausula del contrato pero le da una especie de idea: "TJP no puede retar al título, cualquiera….menos TJP". TJ parece tener una idea. ¿Regreso de Manik?
The Good Brothers se reúnen con Scott D Amore quienes le regalan una gorra oficial de TGB pero son interrumpidos por Ethan Page quien pide una revancha por los títulos tag. El vice presidente de IMPACT dice que se la dará su revancha, a lo que Gallows y Anderson dicen que antes deberá pasar una lucha contra un "oponente fenomenal" la siguiente semana.
Rich Swann & Trey Miguel vs Desmond Xavier & Zachary Wentz (Despedida de los Rascalz)
Amistosa lucha de despedida para los Rascalz. Tuvo sus compases entretenidos entre los diversas movidas High Flyer e hicieron que esta despedida se sintiera agradable. Swann plancho a Dez con una Superkick. Tras el match los cuatro competidores se abrazan, y "The Rascalz" en medio de lágrimas dejan sus chaquetas en el ring.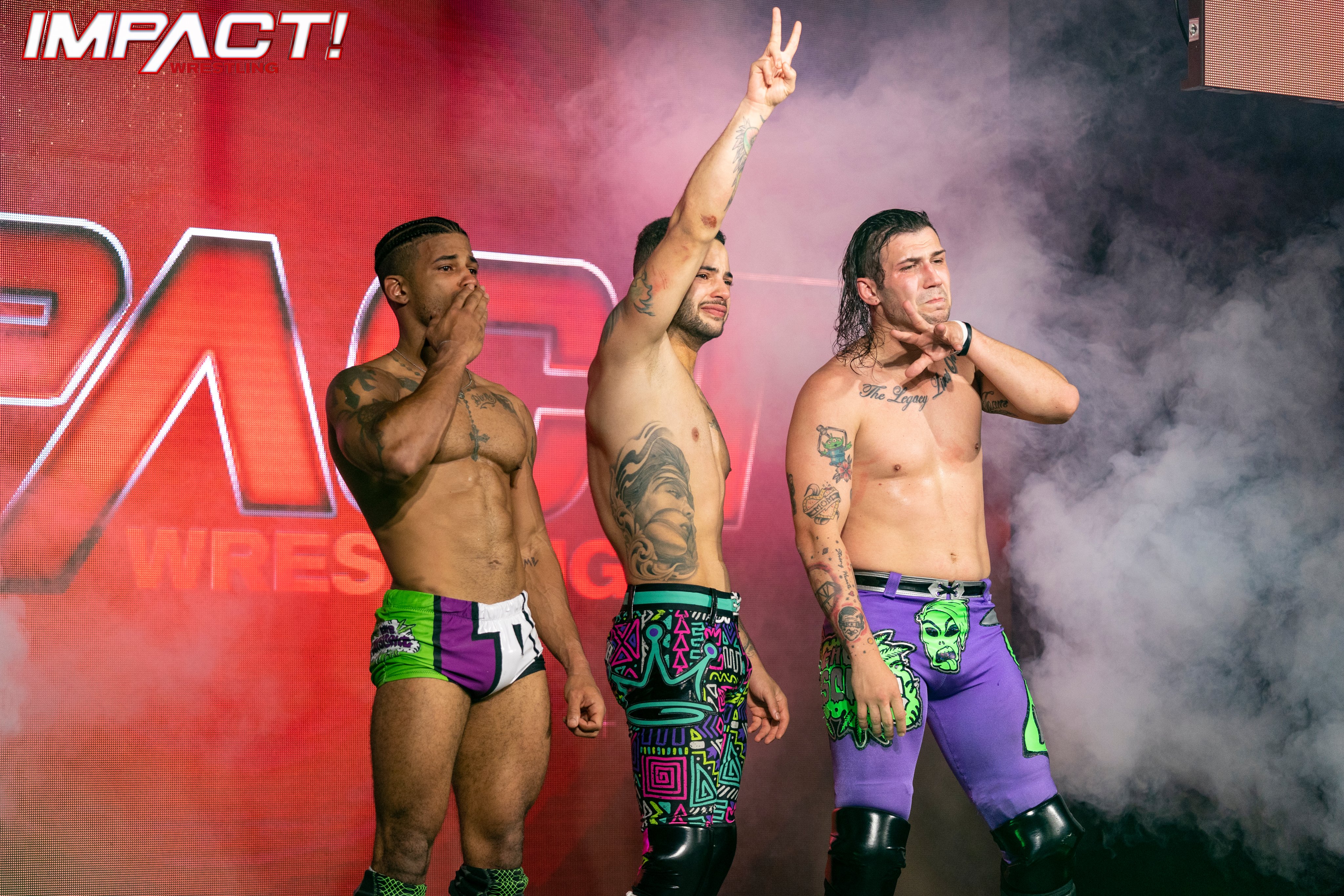 En backstage, The Rascalz y Rich estan dándose las ultimas palabras pero son atacados por Sami Callihan y Ken Shamrock, este último noquea al campeón mundial de IMPACT.