IMPACT anuncia los ganadores de sus premios de final de año y nuevos combates para PPV
IMPACT Wrestling celebró una edición especial donde premió a lo mejor de este 2020. Por su parte, Genesis y Hard to Kill empiezan a sumar.
El dia de hoy IMPACT Wrestling celebró un show especial recapitulando lo mejor de su temporada 2020 con algunos combates, momentos y una premiación a lo más destacado en este año hecho en base a votos de los fans.
Las catagorias y sus respectivos ganadores fueron las siguientes:
Equipo del año: The North. La dupla a pesar de sus problemas actuales se lleva el galardón al ser el equipo más dominante durante un largo tiempo, hecho que los hizo llegar en el top 5 del ranking anual de PWI.
Knockout del año: Deonna Purrazzo. La actual campeona de Knockouts se lleva dicho premio tras marcarse un año de buenos combates y dominio en la división femenina de IMPACT.
Luchador a tener en cuenta para 2021: Chris Bey. El joven ex campeón de la división X de IMPACT poco a poco parece escalar dentro del card y es elegido como estrella para tomar en cuenta el próximo año.
Estrella X Division del año: Ace Austin. Este joven prospecto se colocó entre lo más destacado durante varios meses, llegando a luchar por el título mundial en Slammyversary y con un futuro más que prometedor.
Finisher del año: The Magic Killer (Good Brothers). Los fans le dan la victoria al finisher de los actuales campeones por parejas.
Luchador del año: Deonna Purrazzo. "The Virtuosa" se lleva una nueva condecoración, esta vez superando no solo a varias mujeres, también a hombres. Un premio más que justo para la Purrazzo.
IMPACT anunció nuevos combates para Genesis y Hard To Kill
La cosa no quedaría allí, pues en redes sociales se anunciaron algunos nuevos detalles para el evento especial de Genesis. Al Mack vs Moose se le suma el regreso de la Super X Cup con su respectivo bracket del torneo. Destacan la participación de algunos luchadores la escena independiente como Blake Christian o KC Navarro.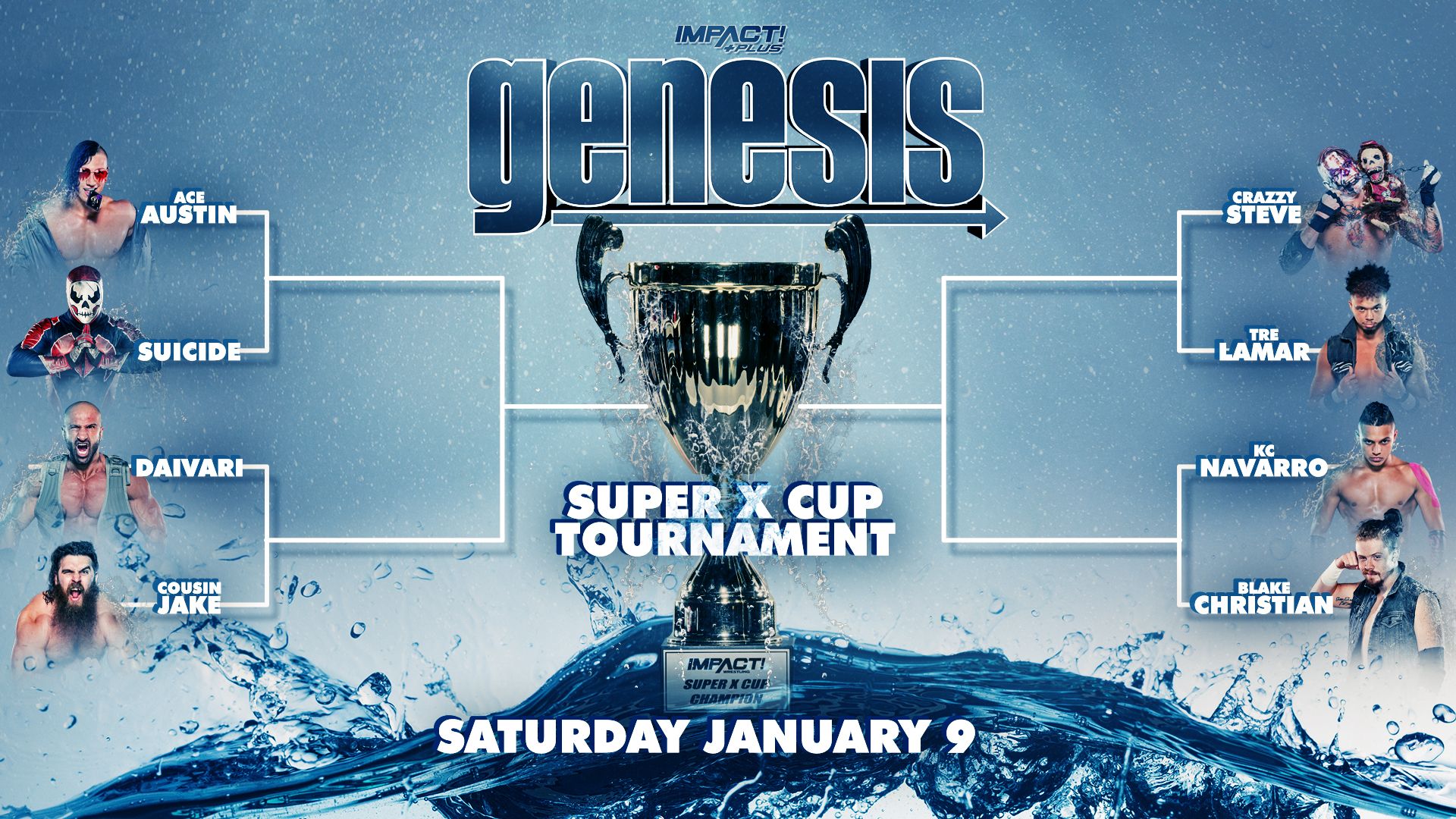 Finalmente se añadió un nuevo combate para Hard To Kill, donde Manik defenderá su titulo X Division ante Chris Bey y Rohit Raju. Este se suma a la ya confirmada final por los títulos en parejas femeninos y la lucha de Reunión de miembros del Bullet Club.