Xavier Woods respondió las críticas de The Undertaker
Mediante su cuenta de Twitter, Xavier Woods respondió los dichos del Taker que tanta controversia ha generado.
Para nadie en el ámbito de la lucha libre ha pasado inadvertido las palabras de The Undertaker sobre la actual generación de luchadores de WWE. Por eso, la respuesta de Xavier Woods era esperable.
En especial, porque el Taker comparó ambas épocas metiendo a los competidores fanáticos de los videojuegos en el baile.
"En esa era los chicos eran verdaderos hombres. Hoy en día entras en un vestuario y todo es muy diferente. Recuerdo haber entrado por primera vez a un vestuario real, y todo lo que veía eran tipos muy duros. La mitad de ellos tenían pistolas y cuchillos en sus bolsos. Así se manejaban las cosas en esos tiempos. Ahora tú entras, hay chicos jugando videojuegos y asegurándose de lucir bonitos. Es la evolución, supongo. No sé por qué, pero me gustaban esos tiempos. Me gustaba cuando los hombres eran hombres", fue la frase del Hombre Muerto que desató la respuesta de Woods.
Pegue Xavier Woods, pegue
En su cuenta de Twitter, el hombre de New Day fue súper contundente: No sería la persona que soy sin la guía y las lecciones de algunas figuras clave de la generación anterior de lucha libre. Me enseñaron sobre el negocio, para ahorrar mi dinero, y que tener videojuegos en los vestuarios es más sano que tener [redactado]".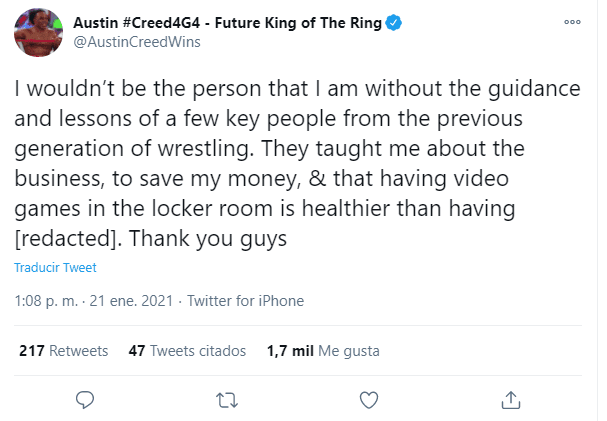 Con ese "redactado" que simplemente vuele la imaginación de cada uno. Pero es innegable una puyita a esa generación de las drogas y esteroides. De hecho, el propio Taker en esta entrevista habló de ello.
En fin, ojalá que con esto varios fanáticos terminen comprendiendo quién se esconde detrás de la figura del Undertaker. Un tipo bien nefasto, siendo suave.