Resultados de IMPACT Wrestling 23.02.2021
Sean bienvenidos a una nueva edición de lo acontecido en IMPACT Wrestling, camino al especial de Sacrifice.
Cody Deaner vs Jake Something, Tables Match
Correcto duelo entre ambos Deaner. Jake dominaba la primera parte con su fuerza pero un golpe contra el borde de la mesa dio lugar al dominio de Cody, que torturó a su primo pero sin romper la mesa sin éxito. Al final Jake intercepta un intento de ataque de Jake con un Spinebuster para romper la mesa y obtener la victoria
Tras el combate, Moose ataca al granjero y dice que no se moverá hasta que obtenga una oportunidad al título mundial. Scott D Amore molesto por las acciones de Moose se lo concede, pero lo que concede es una defensa del título mundial de TNA (que ahora es oficial) contra Jake Something.
Trey Miguel, Josh Alexander y Willie Mack vs Ace Austin, Black Taurus y Chris Bey
Combate de menos a más y que poco después del ingreso de Trey Miguel da pie a la participación de cada luchador de la división X, siendo la labor del equipo de Ace Austin la que mejor se complementa hasta para hacer trampas, sería este último recurso lo que les permitió obtener la victoria por medio del Utimate Finesser de Chris Bey sobre Willie Mack. De esta manera los ganadores del match se enfrentarán la siguiente semana por una oportunidad al campeonato X Division.
En backstage, Sami Callihan se vuelve a burlar de Trey Miguel por su derrota, diciéndole que es cuestión de tiempo para que renuncie. El ex Rascal se enoja y ataca a Callihan mientras es separado por árbitros.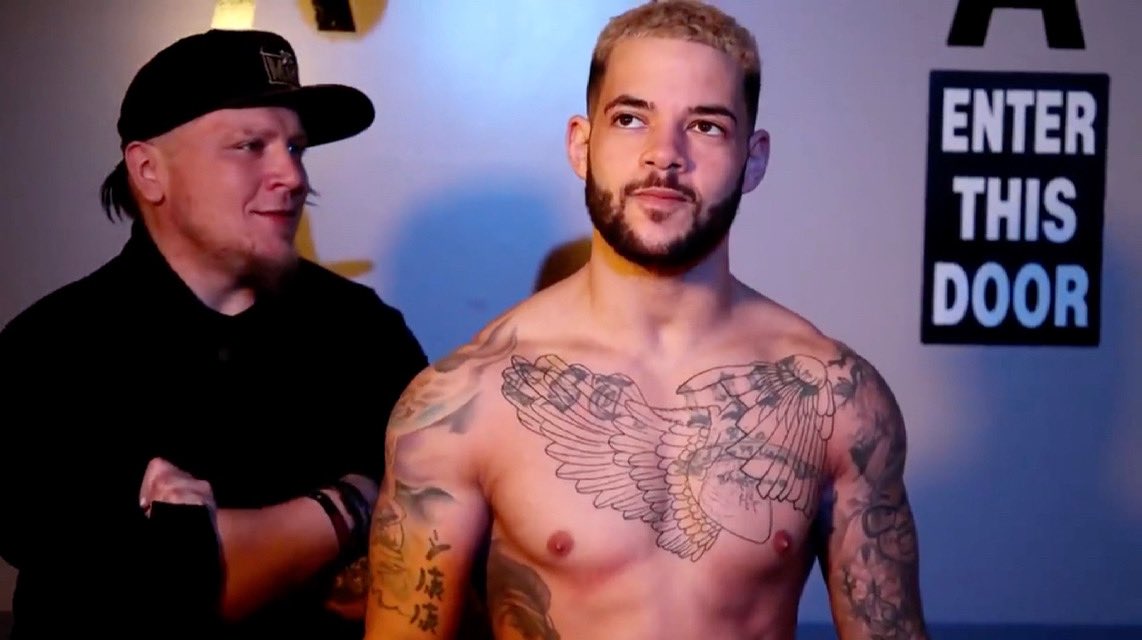 Team XXXL (Larry D y Acey Romero) vs The Good Brothers (Doc Gallows y Karl Anderson)
Esta vez los ex miembros del Bullet Club juegan como Faces. El equipo de moles se centra en debilitar a Karl Anderson durante el combate, hasta que Doc Gallows ingresa y nivela la contienda. Los campeones en parejas de IMPACT Wrestling finiquitan el asunto con un Magic Killer sobre Larry D.
Nuevo segmento desde el Swinger Palace, donde los Beer Guns juegan Poker. Rohit Raju y Mahabali Shera llega para ocasionar problemas pero James Storm los encara y se termina pactando una lucha entre Rohit y Storm.
En backstage, FinJuice se burlan de The Good Brothers por sufrir más de la cuenta con Team XXL.
Eddie Edwards vs Hernandez
Se suponía que Brian Myers debía enfrentarse a Eddie pero una recomendación de su abogado (el mismo de MJF en AEW) hizo que buscara un reemplazo en Hernandez. El match no presenta mayores cosas, el ex LAX estaba dominando con ayuda ilegal de Myers hasta que Edwards sacó un sopresivo Boston Knee Party para conseguir la victoria.
En backstage, Myers se topa con Matt Cardona. Scott D Amore le informa al primero que tendrá una lucha ojo por ojo con Eddie Edwards la próxima semana con Cardona como árbitro. Brian pregunta si lo del ojo por ojo es literal a lo que el VP de IMPACT le dice que no de manera graciosa (burlándose de la rivalidad de Rey Mysterio y Seth Rollins donde el enmascarado perdió un ojo).
Susan y Kimber Lee vs Jazz y Jordynne Grace
Duelo decente por equipos donde las rudas dominaron a la veterana Jazz usando algunas trampas. Jordynne ingresó para limpiar la casa y finalmente conectó con el Grace Driver sobre Susan y el posterior conteo de 3. De esta manera, Grace y Jazz son las próximas retadoras a los títulos tag femeninos.
Se anuncian las luchas para el próximo show de IMPACT Wrestling donde destacan la triple amenaza por el retador al título X Division y la batalla entre Eddie Edwards y Brian Myers.
Moose (c) vs Jake Something, Campeonato mundial de TNA
Plato fuerte de la noche e interesante interacción entre campeón y retador. Jake atacó desde la entrada a a Moose formándose un brawl antes que sonara la campana. La voluntad del primo Deaner se muestra durante la contienda y a pesar de estar cansado estuvo cerca de sorprender en más de una ocasión. Para mala suerte de Something, "The Wrestling God" sería una hueso muy duro de roer y terminaría doblegándolo con una Spear.
Moose ataca a Jake tras el combate, a lo que Rich Swann sale para realizar el salve. Scott D Amore sale y anuncia que Swann defenderá el título mundial de IMPACT en Sacrifice contra Moose.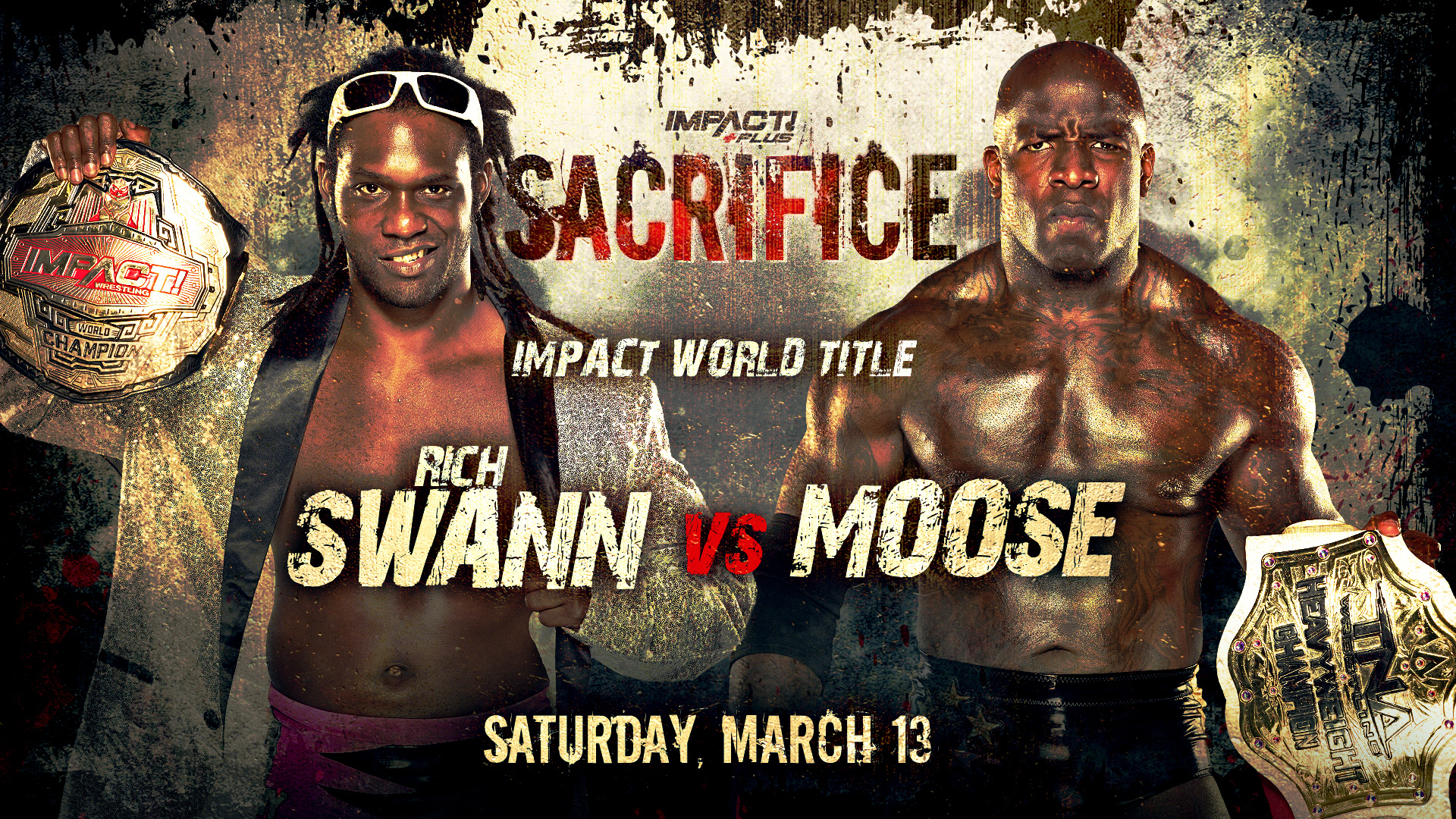 En otros temas
Keiji Mutoh podria defender el titulo de IMPACT Wrestling
Detalles del nuevo acuerdo entre IMPACT Wrestling y New Japan Pro Wrestling