Resultados Monday Night RAW 26.04.2021
Resultados de Monday Night RAW donde Asuka une fuerzas con Naomi y Lana para medirse al trío de campeonas.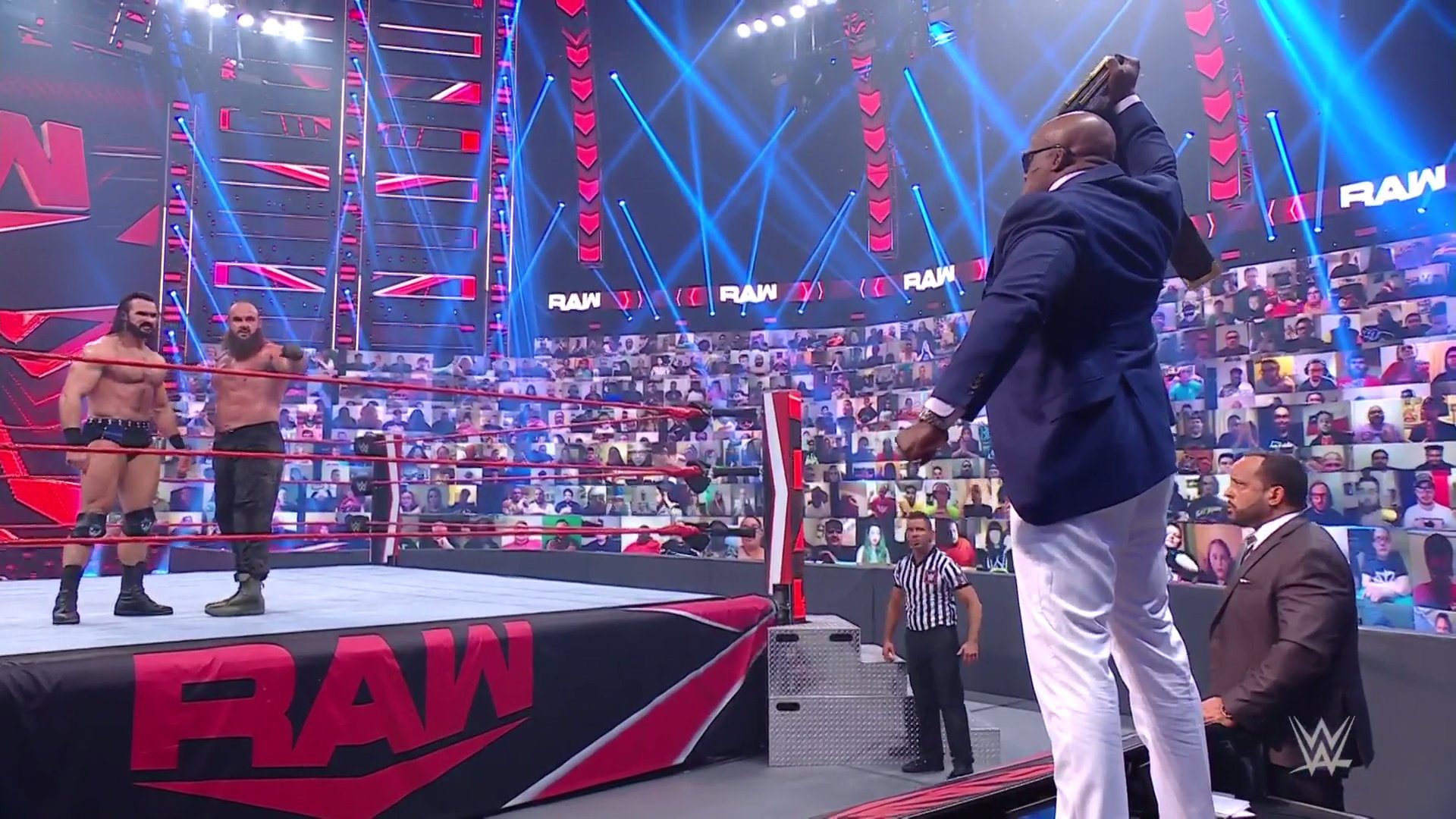 Una lucha de tercias femeninas para RAW
Es de mañana y de repente veo el cielo teñirse de rojo, ¿será que comienzo a padecer daltonismo?, de repente escucho una voz a lo lejos, es Shut quien me dice es Lunes y sabes lo que eso significa… intento correr, pero las piernas simplemente no me dan, tropiezo mientras caigo inconsciente producto de un golpe a la cabeza. Tras esto despierto sedado al interior de una bodega, llevo una cadena en mi pierna derecha y no hay más que una portátil delante de mí. La enciendo y mis peores temores se hacen realidad, debo cubrir otra edición de Monday Night RAW, para rematar anuncian una lucha de tercias entre las conos junto Asuka contra Nia. Shayna y Rhea. Fue una terrible idea el no ponerme corbata.
Lucha Tag Team para abrir RAW
Lucha por equipos entre Retribution y Braun junto a Drew, que tras una discusión entre los face pasa a ser un encuentro en desventaja donde Braun es apaleado por ambos heels causando la descalificación a favor de Braun. Tras esto Mace y T- Bar continúan su ataque sobre Braun hasta que Drew aparece para salvar a su compañero.
Tras los comerciales, la lucha se reanuda esta vez con ambos face uniendo fuerzas, Drew y compañía logran obtener la ventaja gracias a su mayor tonelaje, hasta que Drew golpea accidentalmente a Braun permitiendole a Retribution obtener la victoria. Tras esto Braun ataca a McIntyre para retirarse molesto por la rampa.
Edición musical de Miz TV
Segmento de Miz TV donde Miz y Morrison interpretan Hey Hey Ho Ho a capela junto a Elias y su amigo Fiti, presentándolo como una versión Unplugged, Priest llega a arruinar el espectáculo junto a sus compañeros para la lucha que vendrá a continuación, quienes entran cargando un estuche de guitarra cargado de tomates para apalear con ellos al cuarteto de heels.
Lucha de Tercias entre payasos
Encuentro de relevos australianos entre el equipo conformado pro Damian Priest y The New Day contra la tercia de Elias, The Miz y Ryker acompañados por Morrison. Donde ambos equipos se van intercambiando las fases de dominio mientras centran su ataque en el integrante más débil de cada tercia. Es interesante ver lo mucho que están trabajando a Priest, dándole la credibilidad para enfrentar a sus tres rivales solo. Finalmente Woods se llevaria la victoria gracias a un pin sobre Ryker.
WWE y las suspensiones
Tenemos un segmento con Sonya Deville y Charlotte Flair quien se supone está suspendida aunque como sabemos todos se pasan esas suspensiones por el arco del triunfo en WWE. A continuación se muestra un video sobre el ataque de Flair sobre el arbitro el pasado lunes, The Queen ofrece disculpas tanto al referí como a WWE en general. Finalmente Sonya retira la suspensión mientras anuncia que esta noche tendrá una lucha y con el mismo arbitro como el oficial encargado del encuentro, tras esto Charlotte le exige una disculpa al arbitro por sus acciones a lo cual este acepta pedir perdón… pero si ella te atacó, vamos a pedirle perdón a todos los acusados de agresión en primer y segundo grado.
Reto abierto por el United States Championship
Nuevamente es Humberto Carrillo quien sale a escena para sorpresa de Sheamus quien no entiende como puede venir por otra paliza tras lo ocurrido el lunes pasado, pero Carrillo sorprende a Irlandés dejándolo tendido al exterior del ring. Parece que tenemos rivalidad en torno al título estadounidense en posesión de Sheamus.
Lashley regresa para dar una promo o el intento de una
Tenemos el "esperado regreso de Bobby Lashley" a la marca roja en compañía de MVP, el campeón habla sobre como hace unas semanas cumplió lo que se propuso al dejar inconsciente a McIntyre. Llasley compara a Drew con una goma de mascar en el zapato, que sigue sin dejarlo tranquilo, MVP y Lashley se quejan sobre los planes de convertir su lucha en una triple amenaza incluyendo a Braun Strowman, alegando que eso abre la posibilidad de vencer a Bobby sin tener que realizar el pin sobre él. Lashley cierra afirmando que él puede vencer a ambos individualmente cuando quieran.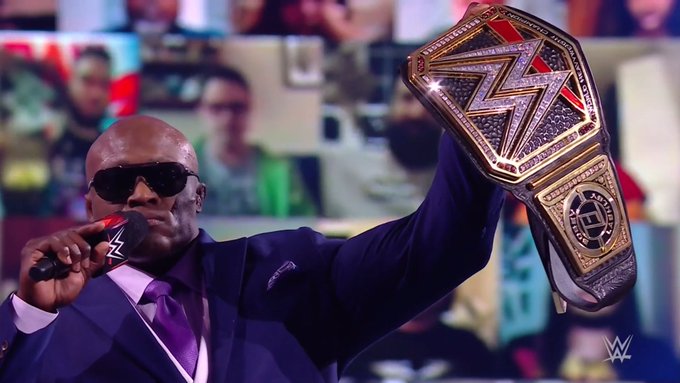 Los RKBros llegan a RAW
Encuentro por equipos entre los RKBros y los ex-Hurt Business con los rudos enfocando su castigo a la pierna izquierda del Original Bro, Orton entra y barre con todos para que finalmente Riddle remate a Shelton para la victoria.
Lucha femenina de tercias
Encuentro de tres contra tres entre Asuka junto a Lana y Naomi contra las campeonas en parejas Nia y Shayna acompañadas por la campeona de RAW Rhea Ripley. Rhea enfoca su castigo sobre Lana hasta que Mandy y Dana aparecen ¿para que Nia se vuelva a caer?, el humor de WWE cada día mas en la mierda. Rhea sigue teniendo problemas a nivel in-ring, creo que deberían mandarla al PC para entrenar. Finalmente Nia aplicaría su Atomic Leg Drop sobre Lana para la victoria.
Payaseo con muñecas
Nuevo segmento del Alexa's Playground donde Alexa habla sobre como su muñeca es como ese ángel y demonio que la aconseja, mientras explica como todos pueden tener la suya ¿WWE Shop? Finalmente aparece un screamer de la muñeca, mientras la loca ríe para cerrar el segmento.
Flair y se relación amor odio con un arbitro
Encuentro entre Charlotte y Mandy Rose, donde como era de esperarse Flair domina a Rose mientras intenta hacer trampa, el arbitro realiza un conteo lento y Charlotte le increpa por ello. Finalmente Flair aplica su Natural Selection para la victoria.
Drew McIntyre vs Braun Strowman
Lucha estelar de la noche, donde si Braun gana se integrara a la lucha por el título de WWE en Backlash. El mismo fue parejo, con nearfalls a favor de ambos gladiadores para cuidar su credibilidad, MVP interviene para salvar a Drew. Finalmente Retribution distrae a Drew cuando buscaba la claymore para dejarle el camino libre a Braun quien se integra a la lucha por el WWE Championship.
Show flojito como viene siendo costumbre aunque por lo menos las historias han avanzar de cara a Backlash.
También te podría interesar
Ryback ataca de nuevo, ahora contra las vacunas para el Covid-19.
¿Ser fanático de WWE te vuelve un ser superior digno de poseer tu propio harem?