Análisis en caliente WWE WrestleMania Backlash 2021
WrestleMania Backlash es el primer PPV post-WrestleMania, teniendo como plato fuerte la lucha por el Universal.
WrestleMania Backlash 2021
Lucha por el Campeonato Femenino de RAW: Rhea Ripley (c) vs Asuka vs Charlotte Flair
Por Alonso "Hit" Salazar
Primera lucha de este WrestleMania Backlash y me dejó frío. Fue bastante normalita, sin mayor brillo, que no sobresale y que no despega al 100% (como la mayoría de las triple amenazas). Si algo tengo que "destacar" es a Asuka, quien tuvo un papel decente. Por otro lado, Rhea Ripley tuvo una actuación lamentable, aportando muy poco en general.
No llega a ser horrible o directamente mala, pero es algo floja y con 0 alma, tal como diría don Mele.
Valoración: 2 jumbitos 3/4.
Lucha por los Campeonatos en Pareja de SmackDown: Bobby Roode & Dolph Ziggler (c) vs Rey Mysterio & Dominik Mysterio
Por Walter "The Lone Wolf" Merino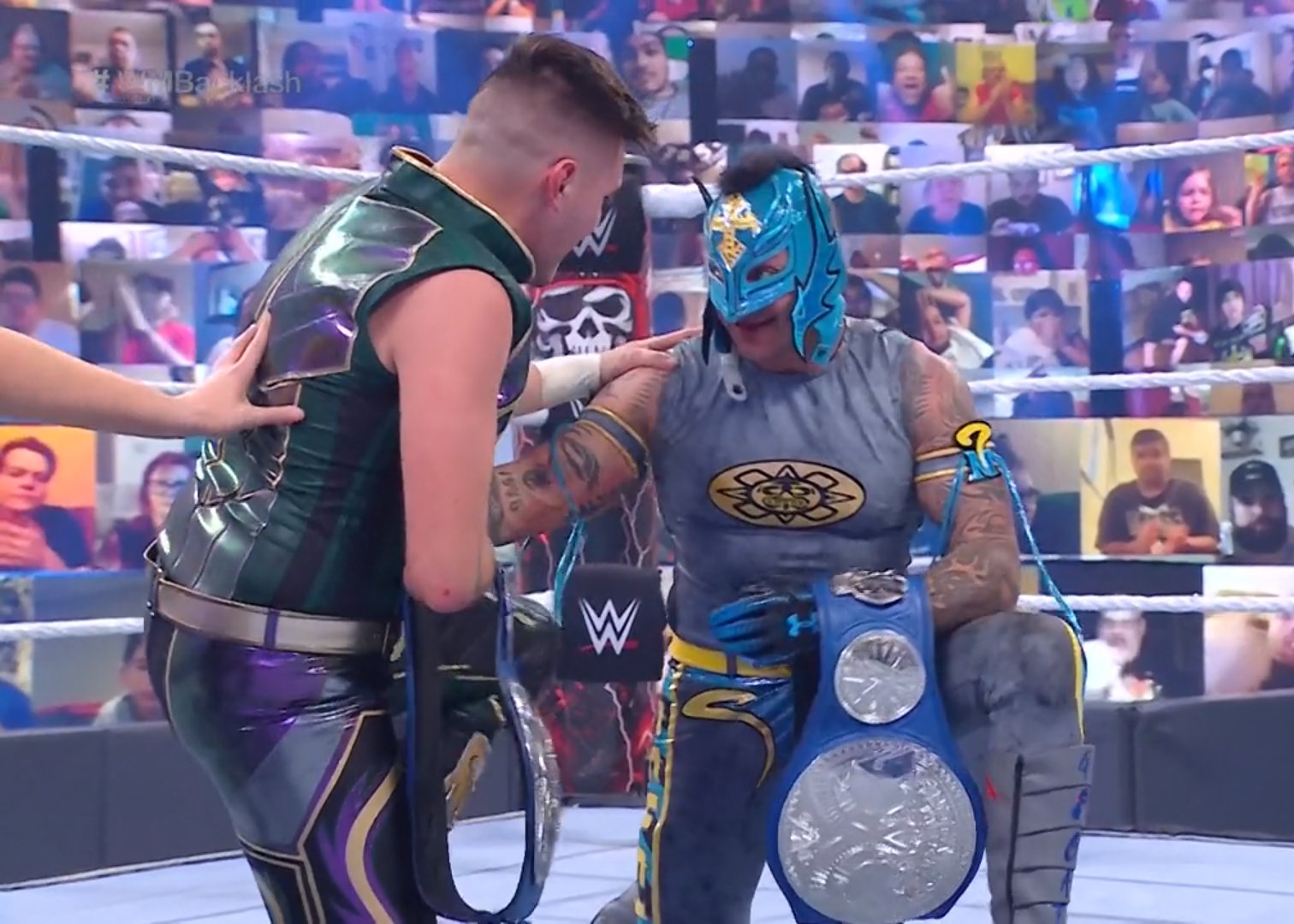 Me sorprendió para bien este duelo y eso que tenía una condicional de desventaja tras la aparente lesión de Dominik. Y eso fue todo gracias a Rey Mysterio, quien vende bastante bien todos los ataques de los campeones y contra-atacando en los momentos ideales.
Creo que Ziggler y Roode tuvieron su mejor participación desde que son equipo y quitando el exceso de tags, lucieron fuertes. Dominik apareció, pero su inclusión demoró para reforzar la idea de que el padre no quería sacrificar a su hijo a recibir más castigo, pero al final Rey, al no ser capaz de resistir más, decide apostar por su hijo, quien tras una buena combinación es quien obtiene la victoria al planchar a Roode.
Hace tiempo que la división tag de SmackDown no dejaba algo para destacar.
Valoración: 3 Jumbitos 1/4 +.
Lumberjack Match: The Miz vs Damian Priest
Por Alonso "Hit" Salazar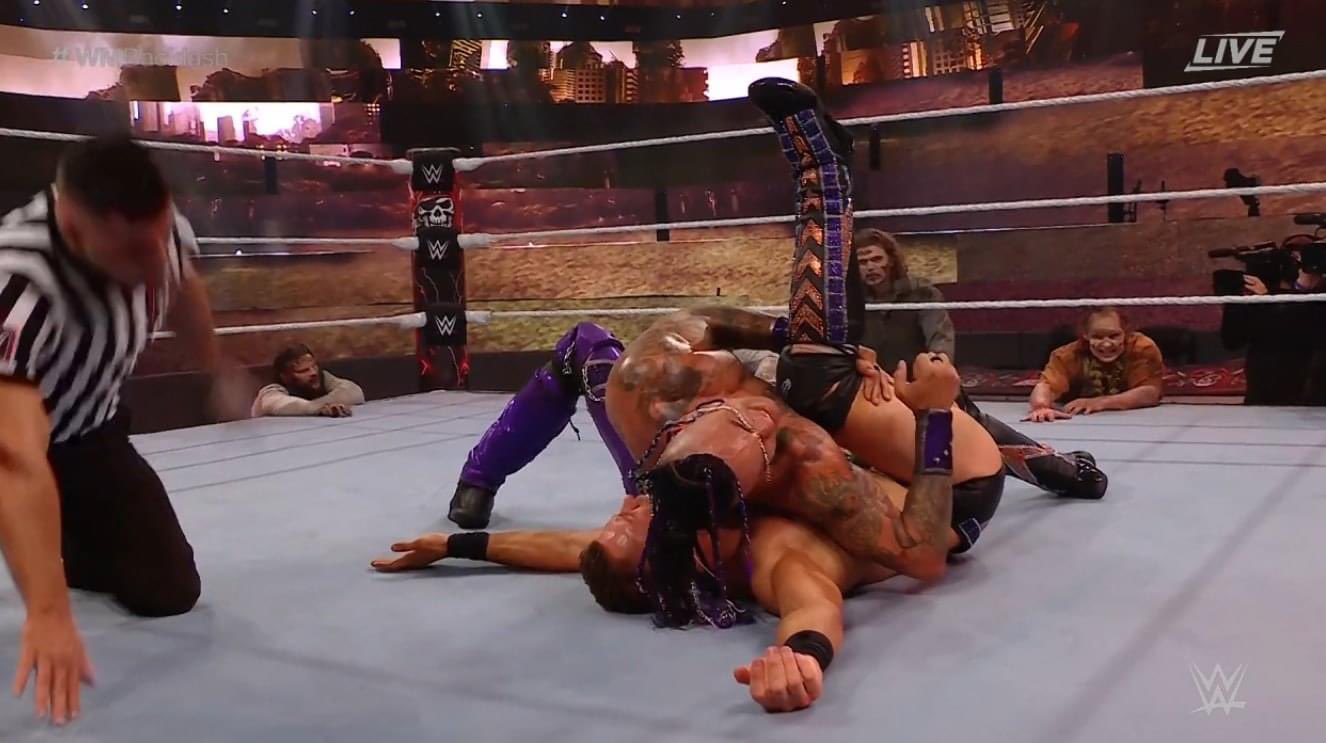 Una mierda. Con esto retrocedimos 30 años en el wrestling.
Valoración: 1/4 de jumbito.
Lucha por el Campeonato Femenino de SmackDown: Bianca Belair (c) vs Bayley
Por Axl "Nostalgic" André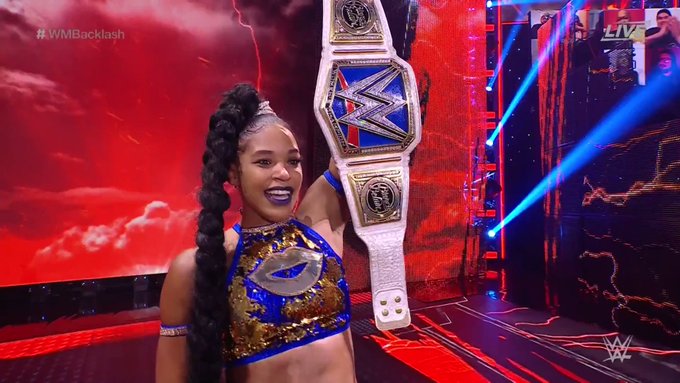 Combate entretenido, de menos a más, pero tampoco algo brillante, porque lo sentí muy de transición. Bianca pese a tener cierto sello distintivo en el ring, muchas de sus movidas se ven muy coreografiadas. Bayley por su cuenta mostró buena ofensiva y es interesante el cambio que ha experimentado en cuanto a estructurar un combate siendo heel. El final le resta porque ese Roll-up se vio feo y fue anticlimático, aunque lo puedo entender si habrá un próximo combate entre ambas.
Valoración: 3 jumbitos 1/4.
Lucha por el Campeonato de WWE: Bobby Lashley (c) vs Drew McIntyre vs Braun Strowman
Por Walter "The Lone Wolf" Merino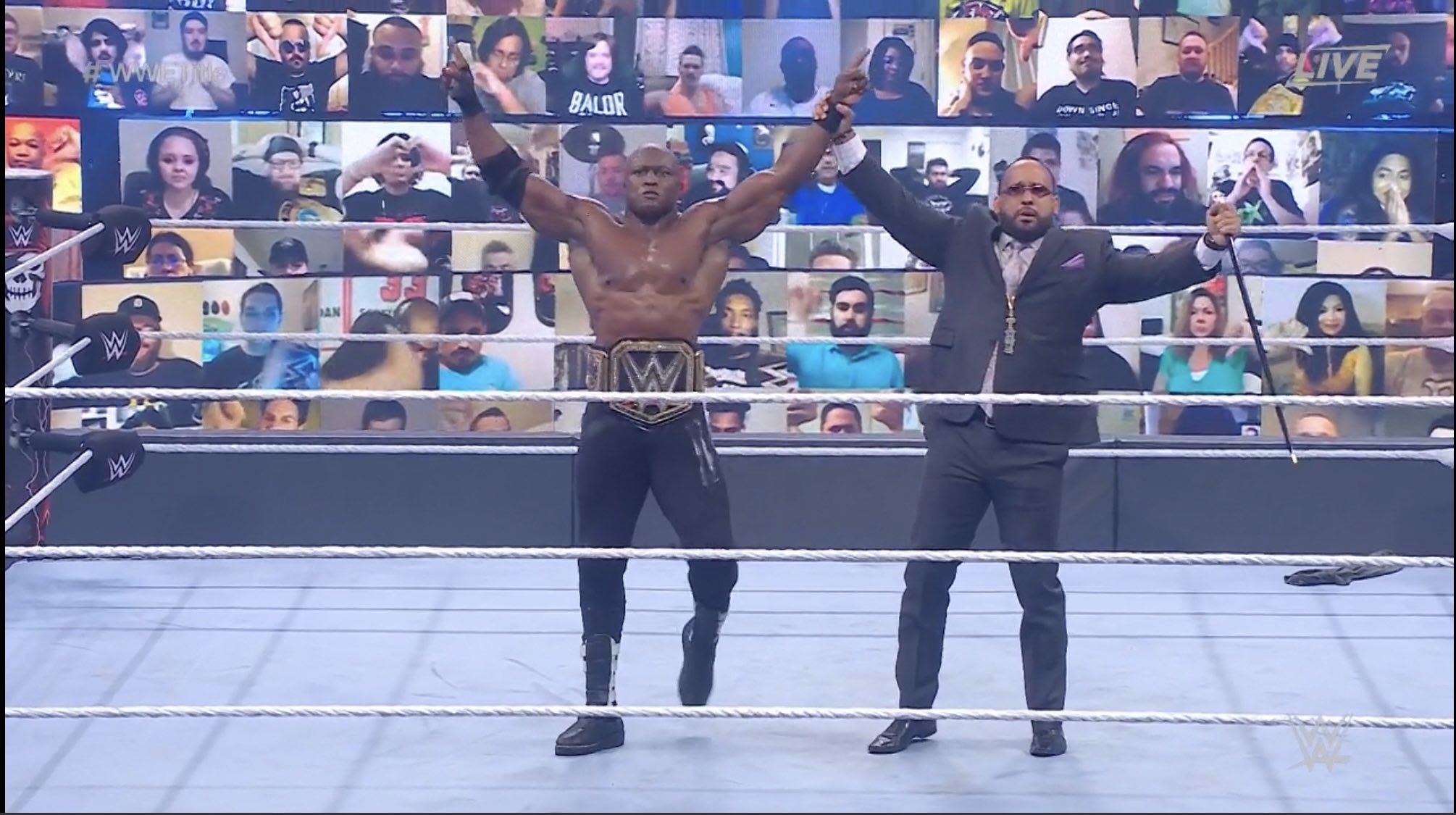 Poner a tres pesos pesados en un solo combate puede tener resultados terribles en el papel, y eso fue plenamente lo que se estaba dando durante los primeros minutos, hasta que decidieron pasar la acción a ringside, dando una mejor ejecución de spots.
Cuando Drew saca de circulación a Lashley temporalmente, pasa a un mejor orden el combate puesto a que entre Drew y Strowman reparten lo mejor de su arsenal, en el proceso creando llamativos momentos como el Belly to Belly de Drew en ringside o cuando Braun rompe la mesa con el escocés. El hecho de que Lashley apareciera en el momento final para robarse la victoria no lo discuto, es más, hasta tiene algo de sentido debido a que era a quien estaban superando en la contienda.
Al final, estuvo mejor de lo esperado. Con esto tienen una justificación para hacer el duelo final de Lashley y McIntyre (eso espero).
Valoración: 3 Jumbitos y medio.
Lucha por el Campeonato Universal: Roman Reigns (c) vs Cesaro
Por Axl "Nostalgic" André
Considerando los precedentes entre ambos, tenía muchas expectativas en este encuentro y vaya que se cumplieron. Distinto a lo que habían ofrecido antes debido al personaje de Reigns y la historia que tenían que contar, pero la misma química y ganas de dar algo sobresaliente. Encuentro muy físico donde el samoano llevó un ritmo inicial pausado haciendo gala de su ofensiva y confianza lo que encaja perfecto con su personaje.
Esos detalles logran que Cesaro tenga más momentum para contrarrestar con ataques y sus spots. Me pareció interesante enfocar la ofensiva en su brazo, aunque el suizo a ratos no vendió bien el dolor, sin embargo, lo puedo justificar considerando lo importante que es esta instancia titular para él, donde las ganas y el ímpetu pesan más. Las partes finales son realmente interesantes jugando con la posibilidad de que, de no ser por su brazo dañado, se salía de la llave y podía ganaba. El suizo quedó realmente bien y con mucha credibilidad sin ser un main eventer como tal. Esperar que ganase ser+ia iluso, pero el planteamiento siento que los hizo ver bien a ambos según sus roles. Eso es una victoria de algún modo.
Ya en el post-match aparece Jey para atacar a Cesaro, luego entra Rollins que intercambia miradas con Reigns, pero procede a atacar al suizo. Quizás era mucho castigo, pero así es la forma en que la WWE potencia a las faces para que generen más empatía.
Valoración: 4 jumbitos 1/4.
En otros temas
Hell in a Cell cambia de fecha y será el próximo evento de WWE
Rey Mysterio y Dominik ganan los campeonatos en parejas en WrestleMania Backlash