Resultados Monday Night RAW 5.07.2021
Resultados de todo lo ocurrido durante el último Monday Night RAW donde Xavier Woods hizo su regreso.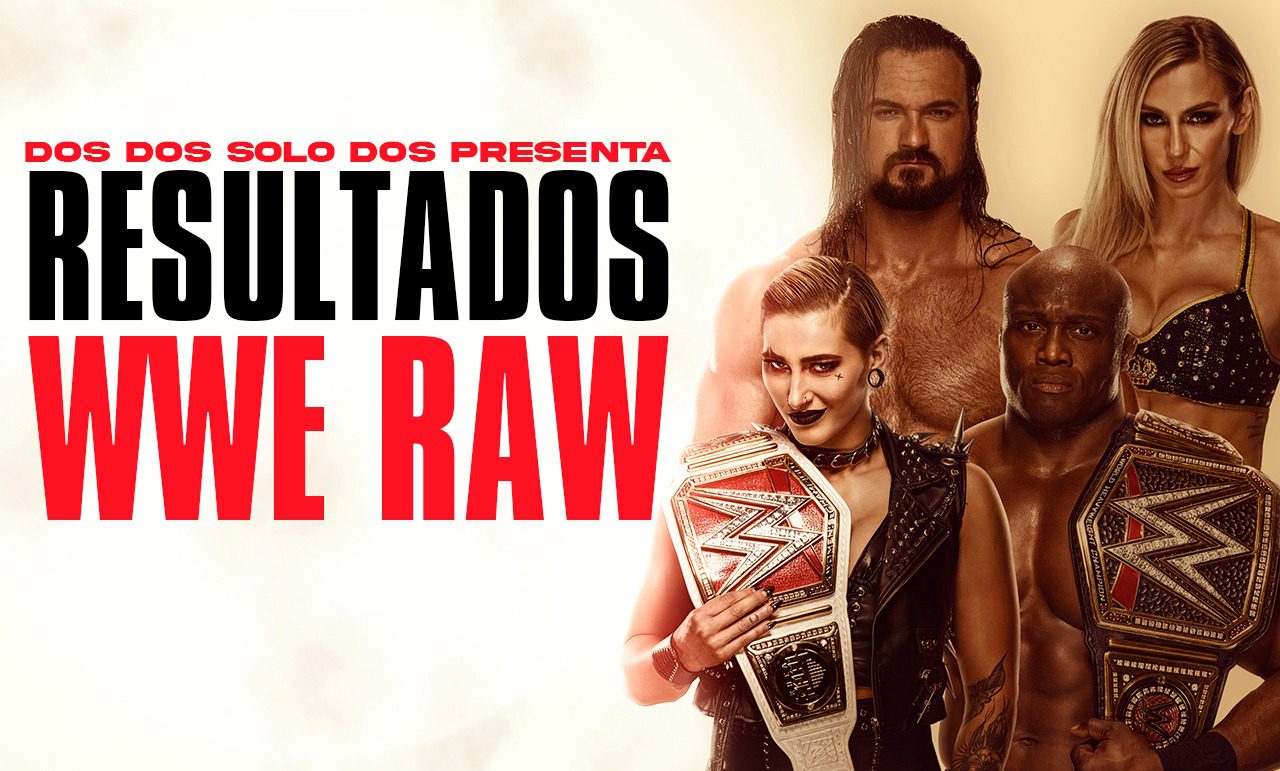 Un RAW lleno de consecuencias
Nuevo episodio de Monday Night RAW donde veremos las consecuencias tras la derrota de Riddle a manos de McIntyre la semana pasada mientras representaba a su compañero Randy Orton… será que se viene el fin de los RKBro. Además Alexa sigue acosando a Nia y Shayna, ¿Se vendrá un segmento de Reginald caminando por las paredes mientras gira su cabeza? y además Woods está de regreso para buscar venganza.
Una edición especial de Miz TV
Tenemos un segmento de Miz TV para abrir esta edición de RAW teniendo como invitados a los luchadores de RAW que estarán luchando por el maletín en MITB. Durante el mismo cada participante va ingresando al ring dejando en claro sus intenciones de ganar el maletín, finalmente AJ Styles entra para interrumpir en compañía de Omos, AJ se queja por no estar en la ucha por el maletín, tras esto los campeones en parejas deciden atacar a Riddle armando e desorden dentro del cuadrilátero.
Lucha de revancha entre Ricochet y Morrison
Primer combate de la noche entre Morrison y Ricochet quienes la semana pasada terminaron su combate por doble conteo fuera. Morrison controla fácilmente a su rival a base de candados al cuello, el mono mayor amenaza con volar al exterior del ring, pero Morrison lo bloquea con una Powerbomb contra la barricada que como era de esperarse Ricochet no vende. Finalmente Morrison se lleva la victoria por conteo fuera tras una plancha botcheada por parte de Circochet fuera del ring.
8-Women Tag Team Match
Lucha de cuatro contra cuatro entre Naomi, Asuka, Alexa y Nikki ASH contra Nia, Shayna, Eva y Doudrop acompañadas de Reginald. Alexa dominando a Doudrop o el doble panzazo de Doudrop y Nia para Asuka sirve para describir este payaseo monumental, grande Shayna atacando a la loca. Finalmente Nia aplicaría Samoan Drop sobre Nikki para la victoria.
Duelo de árabes
Mano a mano entre Mansoor y Ali donde Mansoor fue superior a su rival hasta que este finge una lesión. Finalmente Ali aprovecha que Mansoor se acerca para ver su estado de salud y se lo lleva con un roll up.
Un Dream Match adelantado para RAW
Suena mi teléfono y me informan que a Mele acaba de darle un infarto producto de la excitación de ver una lucha entre el Modern Day Maharaja y Drew McIntyre, un dream match digno de WrestleMania que se ha desperdiciado en un RAW cualquiera. La lucha comienza con ambos ex-3MB intercambiando palabras, Drew logra sacar ventaja rápidamente gracias a su velocidad y fuerza, pero Mahal contraataca logrando invertir los papeles. El hindú sale del ring un momento para tomar un respiro aprovechando para estrellar a Drew contra la mesa.
De vuelta tras los cortes comerciales Jinder sigue dominando a McIntyre, el face amaga con hacer el comeback, pero Mahal logra evitarlo para mantener su dominio. Glasgow Kiss de Drew para Mahal con el que consigue retomar el ritmo del encuentro. Drew busca el Future Shock DDT, pero Mahal lo revierte, el hindú busca el Khallas. Finalmente Drew conecta su DDT, McIntyre busca la Claymore pero es atacado por los fitis aliados de Mahal causando la descalificación. Tras la lucha los rudos continúan atacando a Drew dejándolo maltrecho, Khallas de Mahal quien se roba la espada de Drew y parece que Mele quedará más seco que el desierto del Sáhara.
Valoración: 5 Jumbitos (sí, el redactor realizó esta reseña bajo efectos de estupefacientes).
Fitibution is Back!
¡Fitibution sigue vivo! Esa fue mi exclamación al ver a T-Bar y Mace que siguen trabajando en la empresa, sus oponentes son otros fitis, Lucha House Party. Los rudos castigan contra la mesa a Lince Dorado quien poco puede hacer para defenderse, Lince busca el relevo pero falla. Finalmente Metalik interviene para ayudar a su compañero que aprovecha la distracción para llevarse a T-Bar con una Hurracarrana para la cuenta tres.
Problemas para Riddle rumbo a MITB
Combate entre AJ Styles y Riddle donde AJ busca sacar a Riddle de la lucha en MITB. Styles enfocaría su ataque sobre el pie lastimado de Riddle poniéndolo en aprietos, el Original Bro intentaría buscar la victoria rápida, pero sin resultados. Riddle busca retomar el ritmo del encuentro sin dejar de lado el selling como cierto mono que lucha más temprano. Finalmente aparecen los Viking Raiders para distraer a AJ, cosa que es aprovechada por Riddle para ganar con un roll-up.
Segmento penca entre Rhea y Charlotte
Tenemos un segmento con Charlotte quien habla sobre su estado de salud tras el ataque de Rhea la semana pasada. The Queen habla sobre como Rhea ha tenido que recurrir a estos ataques porque tiene miedo de enfrentarla limpiamente. Rhea hace acto de presencia burlándose de Charlotte quien está usando una muleta, ambas luchadoras se atacan demostrando que no están lastimadas, ambas se arman con las muletas y se atacan siendo Rhea la mejor parada.
Monday Night Naruto
Lucha de relleno entre Elias junto a Cedric Alexander contra Ryker y R-Truth que se convierte en una lucha en desventaja cuando Truth se marcha para perseguir a Tozawa. Elias abandona a Cedric evitando intercambiar golpes con Ryker quien termina por llevarse la victoria por cuenta tres.
Ya retirate MVP
Combate estelar de la noche entre The New Day y Bobby Lashley junto a MVP. Aclaremos algo, MVP ya no tiene condición física para luchar y lo ha demostrado cada vez que se sube a un ring, por lo mismo no entiendo esa insistencia por seguir metiéndolo en rivalidades como luchador activo. El encuentro se reduce a ver como el New Day revienta a MVP cada que entra al ring, literalmente es una lucha que solo perjudica a Lashley cuando se supone que es alguien imparable. Finalmente Kofi logra el pin sobre MVP para llevarse la victoria.
RAW intrascendente donde tampoco podemos decir que se avanzó en las historias principales de cara a MITB, tal parece que WWE ya no sabe que hacer para rellenar las tres horas que dura el programa.
También te podría interesar
La Leyenda del Dragón Americano parte II (no estamos soñando).