Apuestas actualizadas de Money In The Bank 2021: Big E es el favorito para llevarse el maletín
Apuestas actualizadas de Money In The Bank 2021. Big E se alza como favorito a llevarse el maletín en la lucha de escaleras masculina.
Apuestas de Money In The Bank 2021
A menos de una semana de Money In The Bank 2021, ya ha tomado forma la cartelera. Y como es usual, ya están especulando con apuestas en portales como Betonline, que es lo que revisaremos ahora de hecho. Las apuestas son interesantes, porque a menudo aciertan. Y de no hacerlo, al menos permiten hacerse una idea de lo que la gente espera que pase.
Las apuestas que mostraremos funcionan del siguiente modo: cuando un número es positivo (+) se obtiene ese dinero a cambio de una apuesta de $100 dólares y si el número es negativo (-), habría que apostar esa cantidad de dinero para recién obtener una ganancia de $100 dólares.
Por ejemplo, si quieres apostarle a Lashley, tendrías que apostar $1.100 dólares para recién ganar $100 en esa apuesta. En cambio, si pones $100 a que ganas Kofi y aciertas, obtienes una ganancia de $700 dólares. O dicho de otro modo, ganas menos de un 10% de lo que apuestas por Lashley y obtienes un 700% si la apuesta es por Kofi.
Favoritos en Money In The Bank 2021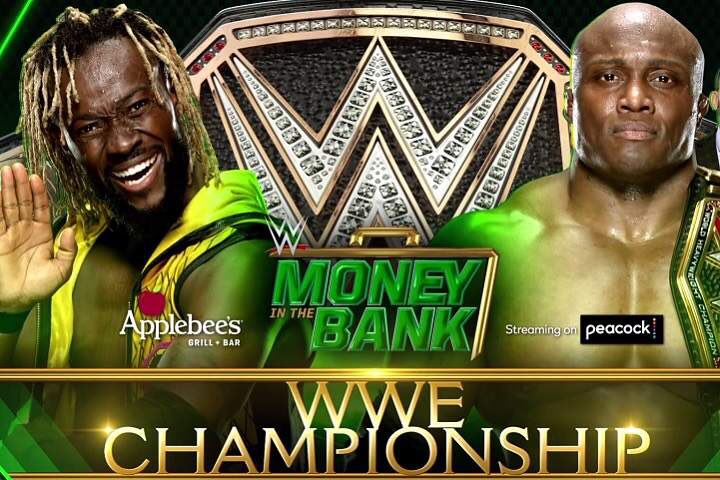 Vale aclarar, que el Betonline no ha puesto entre las opciones el Money In The Bank femenino. Probablemente, porque aun queda un cupo de los ocho por definir.
– Bobby Lashley -1.100 vs Kofi Kingston +700.
– Roman Reigns -500 vs Edge +300.
– AJ Styles y Omos -400 vs The Viking Raiders +250.
– Rhea Ripley -140 vs Charlotte Flair +100.
– Big E + 175 vs Seth Rollins +250 vs Drew McIntyre +400 vs Riddle +550 vs Kevin Owens +800 vs King Nakamura +1.200 vs John Morrison +1.600 vs Ricochet +1600.
El ascenso de Big E y el bajón de Drew
Si miramos las apuestas actualizadas de Betonline de hace casi un día, hay un cambio en los favoritos del Money In The Bank masculino. A Drew lo daban por ganador, mientras que Big E estaba en la tercera posición. De hecho, a continuación podemos ver ese gráfico.

No obstante, después tuvimos RAW, y ahí comenzamos a ver fuertes indicios de una rivalidad entre Drew y Jinder Mahal. La idea McIntyre ganando es que se haría con el título antes de Summerslam, pero como tiene esta otra rivalidad, que él gane se vuelve más improbable.
Eso si, no hay una explicación tan lógica de que porque Big E subió en contraste. Quizás, los apostadores están pensando en ese push tan rumoreado.
También te puede interesar
Ola de reacciones de fans por captura de la pantalla del teléfono de CM Punk con la app de WWE instalada.