Resultados Monday Night RAW 19.07.2021
Resultados minuto a minuto del último Monday Night RAW donde John Cena hizo su regreso a la marca roja.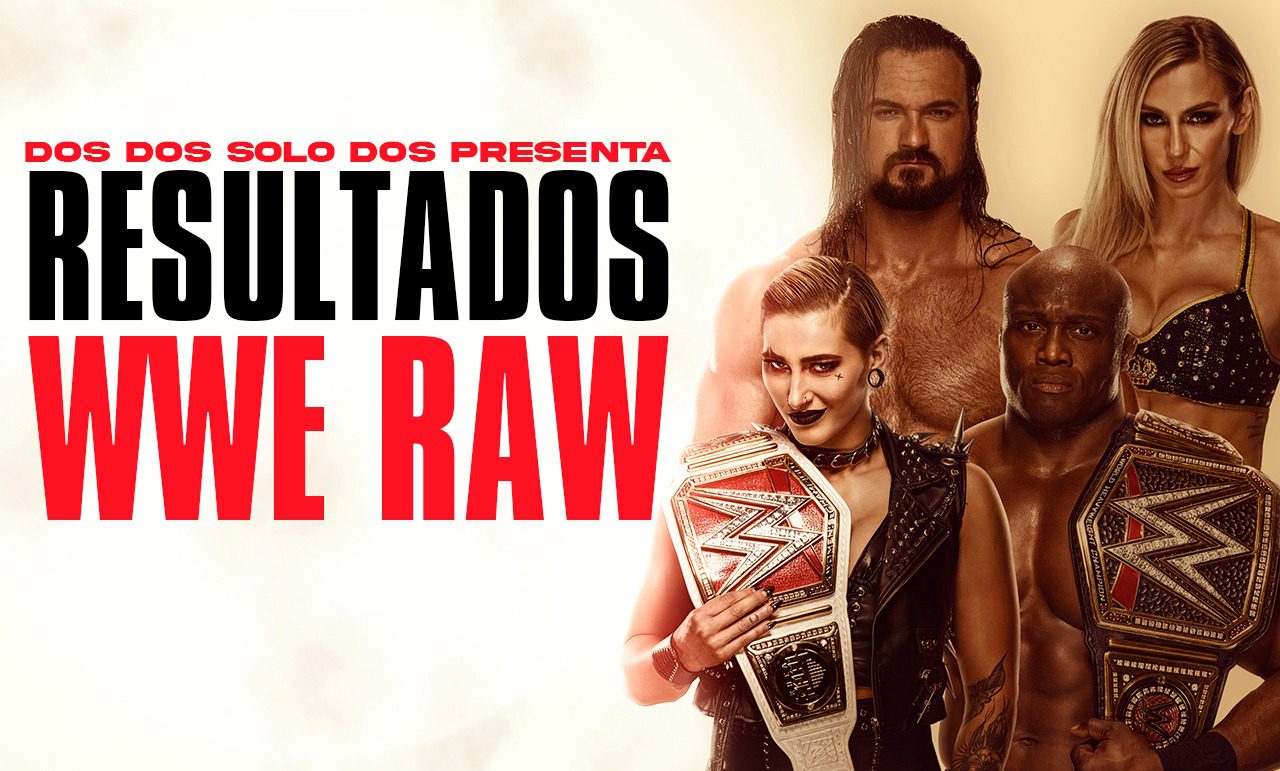 RAW post Money in the Bank
Bienvenidos a otra noche de Monday Night RAW, donde veremos todas las consecuencias de lo ocurrido en Money in the Bank la noche de ayer con las victorias de Charlotte y Nikki ASH, además del regreso de John Cena.
John Cena hace acto de presencia en RAW
Comenzamos con un promo de Cena para abrir esta edición de Monday Night RAW. Cena habla de como extrañó estar junto al público y todo el caos que el mismo suele generar. El líder de la Cenation habla sobre Roman y como arruinó su celebración la noche de ayer durante MITB, Cena explica que el está de regreso por el campeonato universal, mismo que se pondrá en juego durante SummerSlam. Cena anuncia que estará presente el próximo viernes en SmackDown y que no puede esperar para ver a Roman.
Morrison Pelele
Lucha de relevos australianos entre los equipos confirmados por Matt Riddle y los Viking Raiders contra Morrison, AJ Styles y Omos. Los face dominan fácilmente enfocando sus ataques sobre Morrison y AJ que al parecer son el eslabón débil de su equipo. Riddle moja a Omos mientras está distraído para hacer que el gigante ataque a Morrison quien termina cayendo víctima de sus rivales, que se llevan la victoria.
Lucha Symphony of Destruction
Symphony of Destruction entre Elías y Jaxon Ryker quienes al parecer seguirán con su rivalidad solo para poder rellenar las tres horas que dura este show inmundo. Paliza para Elías que a este paso terminará más muerto que la carrera de Ziggler. Estipulación de mierda para una rivalidad de mierda, por lo menos salva lo over que está Elías de cara al público.
Coronación de Charlotte Flair
Tenemos un segmento de Charlotte Flair donde celebra ser nuevamente campeona de RAW, que para variar ha sido la decisión correcta a sabiendas de que Rhea está en exceso verde. El público pide a The Man, pero Charlotte les informa que ella está ocupada amamantando a su bebé en casa. The Queen se jacta de ser la mujer con más títulos en WWE hasta que Rhea sale para interrumpir, Ripley pide su revancha titular esta misma noche, Pearce sale junto a Sonya para hacer oficial la lucha.
A tu casa Reginald
Lucha de parejas entre la dupla conformada por Natalya y Tamina contra Shayna y Nia acompañadas por el nefasto de Reginald. No sé que fue peor si la lucha o el peinado de Nia. Personalmente sigo esperando ver a Shayna haciendo el turn para que pueda ponerse a luchar dejando todo este payaseo de lado. Finalmente Reginald intenta ayudar a Shayna pero termina causando una distracción a favor de Tamina que aprovecha para llevarse la victoria. Nia ataca a Reginald durante el post-match y parece que finalmente nos libramos de este payaso. Tras esto aparece Tozawa junto a los fitis para que Reginald se convierta en campeón 24/7.
Carrillo busca una nueva oportunidad por el USA championship
Mano a mano entre Carrillo y Sheamus, donde si Humberto gana obtendrá una oportunidad por el título de los estados unidos. Carrillo no me genera nada, es un luchador poco carismático más si lo comparamos con su primo Ángel Garza, por otro lado el título USA no le importa a nadie, seriedad. Victoria para Sheamus en una lucha que solo sirve para rellenar de cara a su rivalidad con Priest.
Bobby Lashley Open Challenge
Reto abierto de Lashley sin el título en juego, Lashley pregunta ¿Quién será el pobre infeliz que deba enfrentarlo? Keith Lee aparece para aceptar el reto, The Limitless está de vuelta en RAW. Encuentro de poder a poder donde el ex-nxt logra poner en múltiples aprietos al campeón, Bobby intenta cargar a Lee pero falla. Lashley busca la Full Nelson, pero no logra cerrarla. Finalmente el All Mighty conecta su Spear para llevarse la victoria en un duro encuentro. Lashley celebra y Goldberg aparece para su robo anual, tenemos lucha para SummerSlam.
Feliz Cumpleaños Jinder Mahal
Tenemos un segmento con Jinder Mahal donde habla sobre su cumpleaños (a quien por cierto no saludamos) y como atacó a Drew McIntyre en MITB, uno de los fitis le canta una canción de cumpleaños hasta que llega Drew para cobrar venganza del Maharaja. El escocés destruye a los fitis con una silla y deja claras sus intenciones de ir a por Mahal, quien huye despavorido.
Karrion Kross llega a RAW
Mano a mano entre Kross y Hardy, ¡No More Words! me da igual si esquashearon a Jeff, mi padre cuando entra con tremendo tema. Finalmente Jeff se robaría la victoria apoyándose de la cuerdas, listo ahora retirate Jeff. Kross pelele, perdiendo en su debut contra un viejo que apenas y se puede la raja.
Payaseo entre Alexa y Eva
Tenemos un segmento qlio entre Alexa y Eva, de verdad me preguntó ¿Qué tienen en la cabeza los bookers de RAW?
Revancha por el RAW Women's Championship
Lucha de revancha entre Rhea y Charlotte, Ripley comienza atacando con todo a Flair desde el primer minuto, poner a Rhea como la dominante me parece un tremendo error ya que evidencia más sus carencias al llevar el mayor peso del match. Charlotte se recupera atacando la zona lastimada de Rhea de forma metódica (aprende Rhea, así se estructura un buen encuentro), lamentablemente Rhea peca de lo mismo que todos los ex-nxt que olvidan el selling en pos de hacer movimientos bonitos. Finalmente Charlotte causa descalificación para retener, pero Nikki ASH llega para canjear el maletín, plancha desde la tercera cuerda y Nikki es nueva campeona, grande Nikki.
RAW donde claramente quisieron echar toda la carne al asador con los regresos de Cena, Lee, Goldberg y el debut de Kross. Aunque funciona a la hora de vender los futuros shows siento que falla a la hora de construir rivalidades haciendo que todo se reduzca a salgo te veo feo y listo lucha en SummerSlam. En lo destacable pondría el regreso de No More Words, temazo que habían dejado de lado.
Mantente informado de todas las noticias de WWE, AEW, Impact Wrestling y UFC siguiéndonos en Google News.
También te podría interesar
Naomi vuelve a las filas de SmackDown.