WWE In Your House 9: International Incident
Vader logra su gran victoria durante su run en WWE. Eso y más en este International Incident que compite contra Bash at the Beach.
El PPV de WWE de julio fue celebrado en Canadá. Este evento competirá con el PPV de julio de WCW: Bash at the Beach.
International Incident
The Boddy Donnas (Skip y Zip) vs The Smoking Gunns (Billy Gunn y Bart Gunn)
No es mal encuentro y tampoco la gran cosa. Sunny quien era la esposa de Skip (Chris Candido) lo había dejado para involucrarse sentimentalmente con Billy Gunn y ser la mánager de los Smoking Gunns. Entonces, buscan la manera de insertar a la chica en la dinámica del encuentro y no les sale realmente mal. De hecho, un momento en que ella se lanza desde el apron al ringside y fingir que se había lesionado, sirvió para distraer a Candido y que así los Gunns tomasen la ventaja.
En la fase final, también involucran a Sunny en la dinámica del match al hacerla distraer accidentalmente a Billy, mientras que cubrían a Bart. Ahí sí se sintió forzada su presencia. Lo realmente absurdo de este match, es el hecho de que los Gunns eran los campeones en pareja y no pusieron los títulos en juego. ¿Cuál es la idea de eso? Es un PPV y no es el título principal de la empresa. Le mataron el aura de importancia al combate.
Valoración: 2 jumbitos 3/4.
Mankind vs Henry O. Godwinn
Un grande Mankind, pero O. Godwinn era ahí nomás. Victoria fácil para el loco enmascarado.
Valoración: 2 jumbitos 1/4.
Vale decir que camino a International Incident, el oponente con el que estaba rivalizando Mankind no era Godwinn, sino que Jake "The Snake" Roberts, un rival de mayor perfil realmente. No obstante, Roberts tuvo que ausentarse por un problema médico y desapareció un mes de la empresa. Jerry Lawler dijo en comentarios que fue debido a que había recaído en su alcoholismo, pero al parecer, solo fue una forma de encauzar una futura rivalidad. No quedó realmente claro si esto influyó o no.
Stone Cold Steve Austin vs Marc Mero
Tenía algo de expectativas, considerando que ambos tuvieron un buen combate en King of the Ring 1996. Y no salí decepcionado, pues las superaron. La rivalidad se basaba en el hecho de que en ese mencionado match anterior, Mero le aplicó mal un move a Stone Cold y lo dejó con una herida en los labios por el resto del PPV. De hecho, Steve Austin usó ese mismo precedente para ganarle el dominio del combate. Mero aplicó el move, Stone Cold se llevó la mano a la boca y lo distrajo para poder picarle los ojos.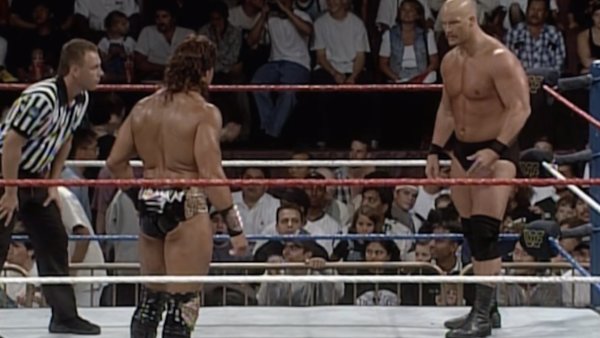 Es notable como la Serpiente Cascabel dejaba estos detalles al tratar de contar una storytelling. También lo vemos cuando se pasa a llevar los genitales con una cuerda. El luchador antes de volver a la carga, deja en claro con sus gestos que no alcanzó a hacerse daño. Algo entrañable es la despiadada ofensiva de Stone Cold y en el 90% enfocada en el cuello, justificando el impacto de la Stunner. En su momento más dominante, le hizo una resortera a Mero que lo hizo golpearse de cara contra el poste, un spot que siempre se ve duro.
Mero tuvo su comeback valiéndose de variados moves highflyers, que bien ejecutados y todo, quizás pudieron tener más chispa. Curioso que un tipo como él con habilidades reales de boxeador, no se enfocase más en ser un brawler. En ese comeback, influye igual que más o menos por el momento en que los hacía mostraron a Marlena paseando en ringside (aunque al menos, no tuvo ninguna participación en el match).
Al final, Stone Cold trató de hacer la Stunner y notable, Marc se agarra de la cuerda y Steve Austin cae de espaldas al piso. Me agrada mucho eso, jugar con los finishers y no conseguir aplicarlos, un recurso mucho mejor que el típico nearfall en que no se consigue la cuenta de 3, lo que solo sirve para devaluar el move. Lamentablemente, muy poco rato después llega la Stunner y creo que de un modo un poco anticlimática. Siento que pudieron meterla mejor. Match notable, pero con una secuencia final deficiente.
Valoración: 3 jumbitos 3/4.
The Undertaker vs Goldust
Que lata era ver al Undertaker de estos años, moviéndose a 2 km por hora. Se entiende que lo hiciera en sus últimos años, cuando ya no le quedaba cadera y se lesionaba de puro mirarlo. Pero en estos años es el Taker joven. No maquillemos lo malo que era. Dentro de todo, bien la ofensiva de Goldust al cuello al menos. El combate terminó en descalificación debido a la intervención de Mankind.
Valoración: 2 jumbitos.
Shawn Michaels, Sycho Sid y Ahmed Johnson vs The Camp Cornette (Vader, British Bulldog y Owen Hart)
Para ser un six man tag team match, me sorprendió para bien. Obviamente, no por lo que hicieran el Sid o Johnson, de esos powerhouses cuya única gracia parece ser la de verse super musculosos y hacer demostraciones de fuerza. No obstante, HBK le puso su cuota de calidad a su equipo y entre los heels había buenos elementos para complementar.
Shawn Michaels fue el saco de boxeo de los heels, quienes cortaban eficazmente sus intentos de hot-tag. Ahí es donde claro, ocurren también las mejores interacciones del match, con Owen Hart y Vader. Un momento notable a propósito, es cuando Vader tiene pescado a HBK con una Cobra Clutch y aprovecha las distracciones del referí para asfixiarlo directamente. Otro momento notable, es que un fan se trató de colar en el match y llegó a subirse al borde del ring, antes de ser apartado por Johnson.
El hot-tag con Johnson y Sid abrió el paso a los minutos finales. No obstante, Cornette pudo pescar el pie de HBK mientras preparaba la Sweet Chin Music. Esa distracción fue clave para que Vader pudiese servirse a Michaels con el Vader Bomb y así ganar. Irónicamente, esta fue la mayor victoria de Vader en su accidentado run por WWE. Vale decir, que al final este desenlace es lo que justificó el duelo entre ambos en SummerSlam.
HBK era el campeón mundial, y aun así, fue el babyface que lució más débil entre los tres. Un poco detrás de Johnson y mucho tras el Sid, que apenas fue dominado. Me recordó un poco al run de Rey Mysterio con el WHC en el 2006, aunque ese fue mucho peor. ¿Habrá influido esto en la progresiva perdida de popularidad de Michaels en favor de la del nefasto Sid? Quizás habrá influido que era su regreso al ring tras meses desaparecido, pero vale decir que el Sid tuvo más pop entre los canadienses que HBK.
Valoración: 3 jumbitos 1/4.
La comparación de este PPV de WWE con el de WCW es difícil. En este caso, hablamos de un show regular, entre lo mediocre que no llega a ser tan horrible y los destellos que no alcanzan tampoco la excelencia. En cambio, el de WCW tuvo auténticos desastres pero también algunos combates superiores a todo lo que se vio acá. Y suma igual, que este PPV de WWE pasa sin pena ni gloria por la historia. En cambio, Bash at the Beach es de los más importantes que ha tenido WCW en general. Imposible no inclinarme por este.
Quedaría así entonces, el duelo entre PPV´s:
WWE: 6 WCW: 3
En los shows semanales en cambio, WCW desde hace rato dándole la papa a RAW:
Nitro: 23 RAW: 18
Todo el RAW vs Nitro ACA