Resultados Monday Night RAW 26.07.2021
Resultados minuto a minuto de Monday Night RAW rumbo a SummerSlam 2021.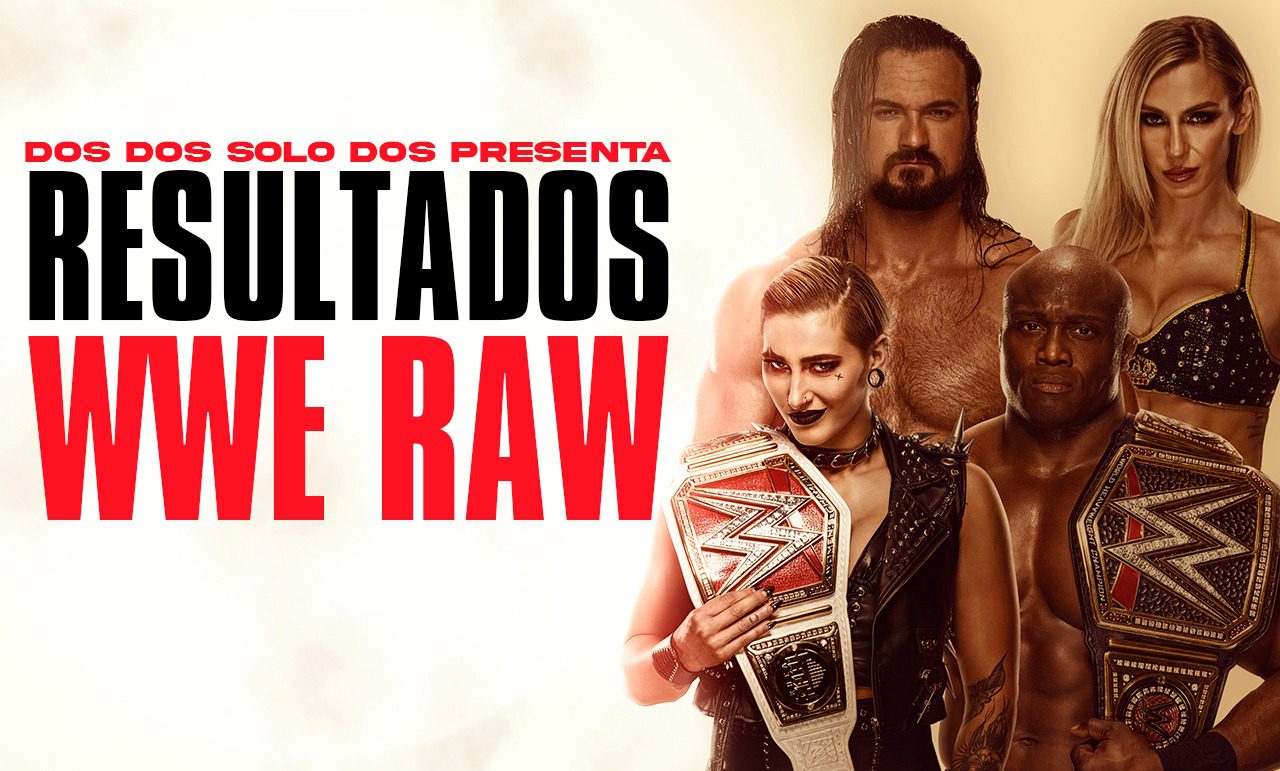 Una nueva edición de RAW rumbo a SummerSlam
Volvemos con otra edición de Monday Night RAW rumbo a SummerSlam, la semana pasada vimos como Goldberg hizo su regreso para encarar al campeón de Bobby Lashley, además tenemos nueva campeona femenina de RAW, Nikki ASH quien se hizo con el título tras canjear su maletín de MITB.
Pesadillas para el cuento de hadas de Nikki
La nueva campeona femenina de RAW es las encargada de abrir el show, Nikki saluda al público y habla sobre todo lo que ha tenido que pasar antes de llegar a este momento. Charlotte aparece para interrumpir, The Queen le advierte que su cuento de hadas no tendrá un final feliz. Flair increpa a Nikki por robarle su título, finalmente Charlotte le dice que en SummerSlam tendrá que encarar a una verdadera campeona. Rhea aparece y pide una revancha contra la superheroína, Sonya y compañía salen a escena para hacer oficial una triple amenaza en SummerSlam.
Priest en busca de U.S.
Mano a mano entre Priest y Sheamus donde si el ex-ROH gana obtendrá una oportunidad por el título en posición del Irlandés. Increíble como WWE sigue robando con lo de Bad Bunny, durante la lucha Priest lograría sacarle máscara a Sheamus, revelando que se encuentra totalmente recuperado. Finalmente Priest conecta su Reckoning para llevarse la victoria y convertirse en retador número una al campeonato de los Estados Unidos.
Lucha por los Tag Team Championships
Combate titular por los campeonatos en pareja de RAW entre AJ & Omos contra los Vikings Raiders, combate que ya hemos visto varías veces donde los Raiders le pasan por encima a Styles hasta que Omos recibe el tag, tremendo pelele AJ. Finalmente Omos destruye a sus rivales para dejárselos en bandeja de plata a Styles que cierra con su 450 Splash reteniendo así sus campeonatos.
Drew envía un mensaje a Mahal
Lucha individual entre McIntyre y uno de los fitis de Mahal, antes de la lucha Jinder presenta a su abogado exigiéndole una disculpa al escocés. Ver a Drew teniendo problemas contra un luchador como Veer demuestra porque este show es tan mediocre, de verdad me vas a decir que el mismo Drew que solo perdió con Lashley con ayuda de MVP no puede con un novato. Finalmente Drew se lleva la victoria por descalificación cuando Veer se proponía a golpearlo con ella. Claymore para el abogado y a casa.
Llega la Lillylution y yo mejor apago esto
Encuentro para determinar a las próximas retadoras a los títulos femeninos en pareja entre Eva Marie y Doudrop contra Natalya y Tamina. Como me he reído viendo que Eva genera más reacción que la ladrona, Doudrop entra para poner en problemas a las campeonas. Lilly aparece en pantalla para distraer a Eva que recibe tremenda Superkick por parte de Tamina.
Revancha entre dos viejos conocidos
Mano a mano entre Karrion Kross y Keith Lee quienes se enfrentaron anteriormente en NXT, primero que nada, Karrion sin su señora tiene menos carisma que una piedra. Segundo, tremendo pelele el campeón de NXT siendo tratado como saco de papas por Lee, parece que Vince al igual que nuestro Alonso (ni ninguno de nosotros para ser honestos) no es fan de la marca amarilla. Finalmente Kross somete a Lee con su Kross Jacket para la victoria.
Un Relleno Sumamente Nefasto
Lucha de parejas entre T-Bar y Mace contra Mansoor y Ali (ya veo venir esos gimmicks de terroristas sirios) que realmente solo me causo sueño, salvo por Ali estamos ante una lucha digna de Main Event o Velocity. Por lo menos ya sabemos quienes serán los primeros en la lista en la siguiente ronda de despidos, lucha carreada por Ali, los ex-Retribution son nefastos a más no poder, si no fueran altos estarían corriendo detrás del 24/7. Victoria para Mansoor con un Roll-Up.
El Hurt Business se reúne en RAw
Tenemos un promo de Lashley donde habla sobre el reto lanzado por Goldberg la semana pasada. Bobby afirma que no permitirá que nadie le falte al respeto en su ring. Cedric aparecen para interrumpir al campeón mientras exige una oportunidad titular, Shelton se une a la discusión y también pide una oportunidad. Finalmente Lashley acepta pero pactando una Triple Amenaza.
Lashley aplasta a Shelton y Cedric
Triple amenaza entre los ex-compañeros del Hurt Business, personalmente este encuentro me pareció un burdo intento de darle más credibilidad a Lashley rumbo a SummerSlam, squash a favor del campeón.
Dos talentos sin rumbo en WWE
Mano a mano entre Matt Riddle y John Morrison, buen encuentro entre ambos mid-card, Riddle es muy talentoso aunque odio que lo usen como alivio cómico, por otro lado siempre he considerado a Morrison como uno de los mejores dentro de la división junto a Dolph. Acá hay mucho potencial y WWE debería darse cuenta de ello siendo que el mid-card suele estar limitado a ser una zona de puros jobbers sin planes a futuro. AJ llega a la rampa en compañía de Omos causando la distracción a favor de Morrison quien lograría retomar el ritmo del combate. Finalmente Morrison conecta su Starship Pain para la victoria, tras esto los heels atacan al Original Bro cerrando con el Styles Clash.
La confirmación de RAW
Sabes que todo se fue a la mierda cuando tienes una lucha por el título 24/7 como un combate de relleno en RAW, peor aún cuando uno de los participantes es Reginald. Combate ridículo que ni siquiera debería haberse dado acá, show inviable e impresentable. Victoria para Reginald y yo sigo sin saber que acabo de ver.
La Superheroína conoce a su Supervillana
Lucha estelar de la noche entre Charlotte Flair y Nikki ASH. Charlotte luce sumamente superior ante una Nikki que es incapaz de defenderse, The Queen se burla de ASH mientras juguetea con ella, Nikki intenta el comeback pero Charlotte la frena en seco. Finalmente Charlotte se lleva la victoria tras revertir la plancha de ASH en un pin. Tras la lucha Flair se burla de Nikki afirmando que no está en su liga. El show cierra con Charlotte aceptando una lucha de revancha para la próxima semana. The Queen ataca a la casi superheroína previo a su combate la próxima semana.
Show inviable y todos los paletos celebrando cada decisión de mierda tomada por esta empresa solo demuestran porque el wrestling está en decadencia desde finales de los 90s. Si les dan la opción de ver pintura secándose o esta infamia llamada RAW elijan la pintura seguramente será más entretenido.
También te podría interesar
Reseña con jumbitos de Wrestle Grand Slam 2021.