Resultados Friday Night SmackDown 05.11.2021
Tiempo de un nuevo SmackDown con el regreso de Roman Reigns.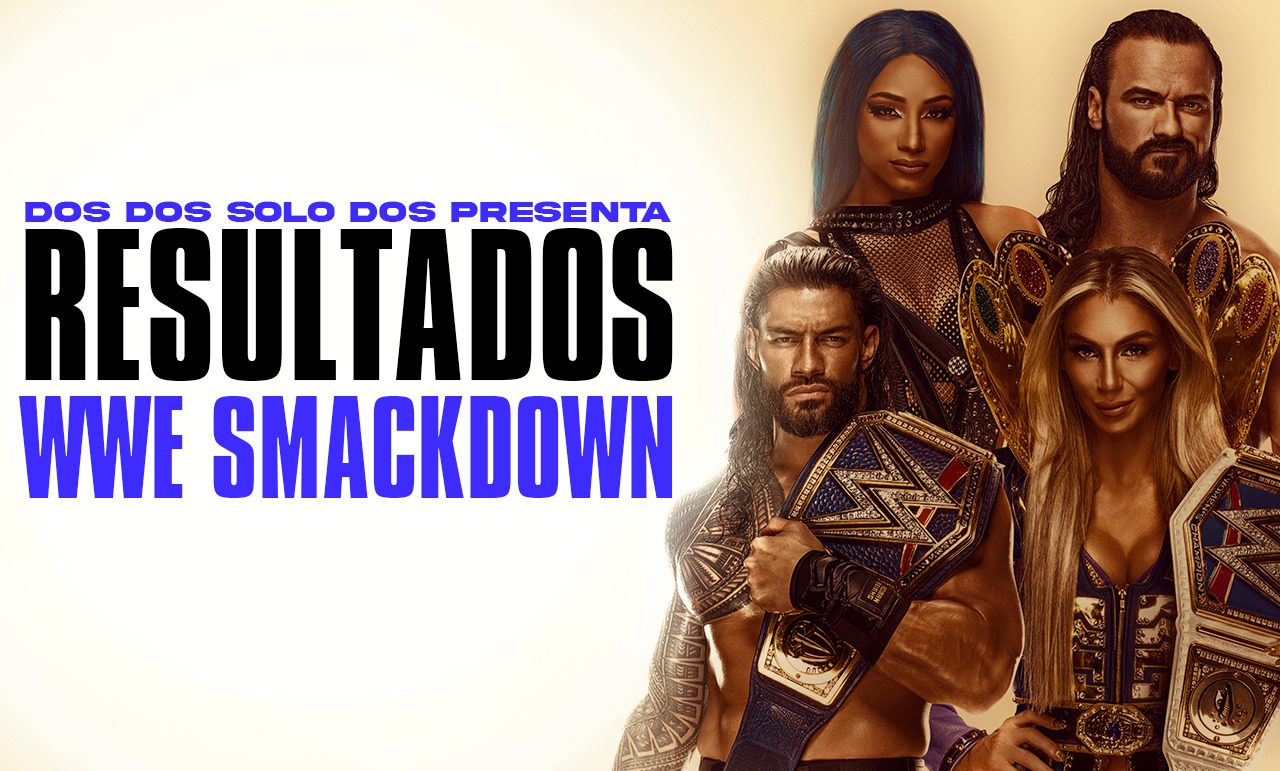 Con la presencia del Campeón Universal, Roman Reigns, llega un nuevo SmackDown en medio de una nueva ola de despidos masivos.
En cuanto a combates, tenemos solo confirmado el Shayna Baszler vs Naomi. El resto los iremos conociendo durante la transmisión del programa.
Toda la cobertura de SmackDown acá
Segmento de Roman Reigns
Roman Reigns dice que la semana pasada no estuvo en SmackDown porque celebraba su victoria sobre Brock Lesnar. Reigns interroga a Heyman sobre lo sucedido la semana pasada. Paul habla del combate de The Usos y enfatiza que los títulos no estuvieron en juego. Reigns pregunta quién ganó y quién perdió, Heyman responde que ganó New Day.
Reigns pregunta a Jimmy cómo va a reparar el error de haber sido culpable de la derrota. Jimmy dice que vencerá a quién sea con tal de recuperar el honor del Linaje. Suena la música de News Day y hacen su ingreso Xavier Woods y Kofi Kingston.
Xavier Woods propone un desafío: Enfrentar a Jimmy Uso en un singles match y si pierde, no tendrá en reconocerlo. Pero si gana Woods, Jimmy deberá arrodillarse ante el Rey del Ring. Jimmy Uso dice que no recibe órdenes de nadie. Jey dice que el Linaje nunca se arrodilla. Roman pide el micrófono y Heyman histérico lo toma de Jey y se lo pasa a Roman, este dice que el Linaje acepta.
Sonya Deville en Backstage
Sonya es consultada sobre sus acciones contra Naomi. Sonya dice que no se arrepiente de nada, porque solo reemplazó a un árbitro. Y dice que sus acciones encendieron un fuego en Naomi, algo que antes el universo WWE no había visto en ella.
Naomi vs Shayna Baszler
Naomi sale mejor parada en el intercambio inicial. Shayna toma la ofensiva con un german suplex. Shayna intenta continuar su ventaja sacando a Naomi del ring, pero recibe castigo y un splash.
Shayna logra por fin castigar a Naomi en ringside. Naomi conecta un sunset flip con un roll-up que llega a dos. Shayna usa su candado, pero Naomi llega a la cuerda. Shayna insiste con el candado en el centro del ring y Naomi invierte el candado en un roll-up para llevarse la victoria.
Aparece Sonya diciendo que como Naomi tocó la cuerda, el candado debe haberse roto por orden del árbitro. Y por lo tanto, se repite el combate. Shayna usa el candado y Naomi cae desmayada en SmackDown.
Ganadora: Shayna Baszler
Roman Reigns y The Usos en backstage
Roman Reigns se queja de que se tomó vacaciones una semana y todo se transformó en un desastre. Descansó una semana y ahora SmackDown es tan malo como RAW. Jimmy se ríe y Reigns lo encara diciéndole que ellos no pierden.
Shotzi Blackheart en backstage
Shotzi culpa a Sasha de haber perdido el combate más grande de su carrera y por haber perdido el apoyo del Universo WWE. Así que promete arrasar a Sasha Banks y a la que se ponga en su camino.
Angel Garza y Humberto Carrillo vs Cesaro y Mansoor
Garza y Carrillo usan relevos rápidos para aislar a Mansoor del relevo de Cesaro. Finalmente Mansoor conecta un tornado DDT y Cesaro entra arrasando con los latinos. Cesaro conecta una secuencias de Uppercuts sobre Carrillo y remata con lariat.
Cesaro sale del ring y conecta un uppercut sobre Garza contra la barricada. Cesaro prepara el swing, pero Garza interviene y termine en el swing. Carrillo ataca por la espalda y cuenta de dos. Mansoor aparece, pero es sacado del ring y Cesaro termina en una taque combinado perdiendo el combate.
Ganadores: Humberto Carrillo y Angel Garza
Drew McIntyre vs Ricochet
Drew lanza su reto abierto semanal y contesta Ricochet. Ricochet abofetea a Drew y comienza el combate. Drew fácilmente lo domina en los primeros minutos. Ricochet consigue los primeros repuntes con su agilidad maniobras aéreas y obtiene un par de pinfalls. Sin embargo, cuando usa su salto desde la segunda cuerda, Drew lo intercepta con su finisher.
Ganador: Drew McIntyre
Happy Time
Happy Corbin y Moss bromean en el centro del ring. Invitan a pasar a los Viking Raiders. A los Raider no les hace gracia Corbin y sus chistes, por lo que la situación termina en un combate.
Happy Corbin y Moss vs Viking Raiders
Happy Corbin domina a Erik, quien se escapa y empata cargas con Corbin. Obtienen el relevo Ivar y Moss. Moss se impone con forearms y headlock. Pero el relevo lo sorprende y los Vikings lo atacan de forma combinada, nearfall por intervención de Corbin.
Moss golpea a Erik en el esquinero y entra Corbin. Erik se recupera y Ivar barre con Corbin y Moss. Erik estrella a Ivar sobre Moss. Antes de que Ivar lo rematara, Corbin lo saca del ring y escapan.
Ganadores: The Viking Raiders por conteo fuera
Hit Row en Backstage
Sami Zayn les dice que él es el líder en backstage y los orientará un poco. Sami les dice que su entrada la semana pasada fue un poco débil, tanto que fue una basura. Hit Row cuestiona a Sami sobre su habilidad para hacer una entrada. Y Sami pide que lo sigan.
Sami Zayn sale al ring y presenta a Hit Row, diciendo que pueden tener un gran futuro con la guía correcta. Hit Row hace su entrada e integran a Sami a su grupo. Pero el tono cambia y Hit Row se burla de Sami con apoyo del público. Zayn intenta irse y Hit Row le bloquean el paso. Finalmente lo dejan irse.
King Woods (y Kofi Kinston) vs Jimmy Uso (y Jey Uso)
Woods sorprende a Jimmy con un roll-up y obtiene la primera nearfall. Jimmy arremete con chops en el esquinero. Woods barre a Jimmy luego de un intercambio de llaveo y lo remata con dropkicks. Jimmy sale del ring ofuscado visiblemente.
Jimmy retoma su ofensiva sobre Woods y logra un nearfall. Jimmy sujeta a Woods con headlock, pero Woods escapa con una patada y arremete con forearm, calf kick y lo deja tendido en la cuerda para rematarlo con patada y dropkicks desde el ring a ringside.
Woods toma altura y conecta un legdrop que termina en cuenta de dos. Jimmy toma la ofensiva y conecta una samoan drop desde la tercera cuenta para otra nearfall. Kofi y Jey intentan intervenir sin éxito. En la distracción Woods usa un roll-up y obtiene la victoria.
Ganador: Xavier Woods
Woods exige que Jimmy se arrodille como acordaron antes de la pelea. Roman aparece y derriba a Woods con el superman punch. The Usos atacan a Kofi. Woods ataca a Reigns, pero recibe la superkick doble de los Uso. Reigns ataca a Kofi con la spear. The Usos se combinan y castigan las piernas de Kofi.
Reigns le advierte a Woods que la próxima semana le mostrará lo que pasa cuando le hacen trampa a él.
Conclusión
El programa no ofrece novedad alguna, de principio a fin es una continuación de historias, bookeos y dinámicas ya conocidas. El único indicio de novedad es que Sonya utiliza una excusa de face (motivación) para sus acciones con Naomi. Pero luego el bookeo del combate es casi un copypaste de la semana pasada. Lo de Corbin no pasa de un sketch repetitivo para obtener heat fácil.
El desafío de Drew sin un título carece de importancia, no se siente algo en juego más allá de la victoria pasajera en un singles match de SmackDown. New Day y The Bloodline no es más que un derivado de lo que ya vimos entre Big E y Reigns.
Lamentable el segmento de Sami Zayn y Hit Row, no hay ningún cambio desde la desaparición de B-FAB. Y no solo eso, la dinámica de Zayn con los recién llegados ya la habíamos visto con los Kanellis y Zayn hace unos años. Otro semanal completamente desechable.