Resultados Friday Night SmackDown 19.11.2021
Tiempo de un nuevo SmackDown, la última parada antes de Survivor Series.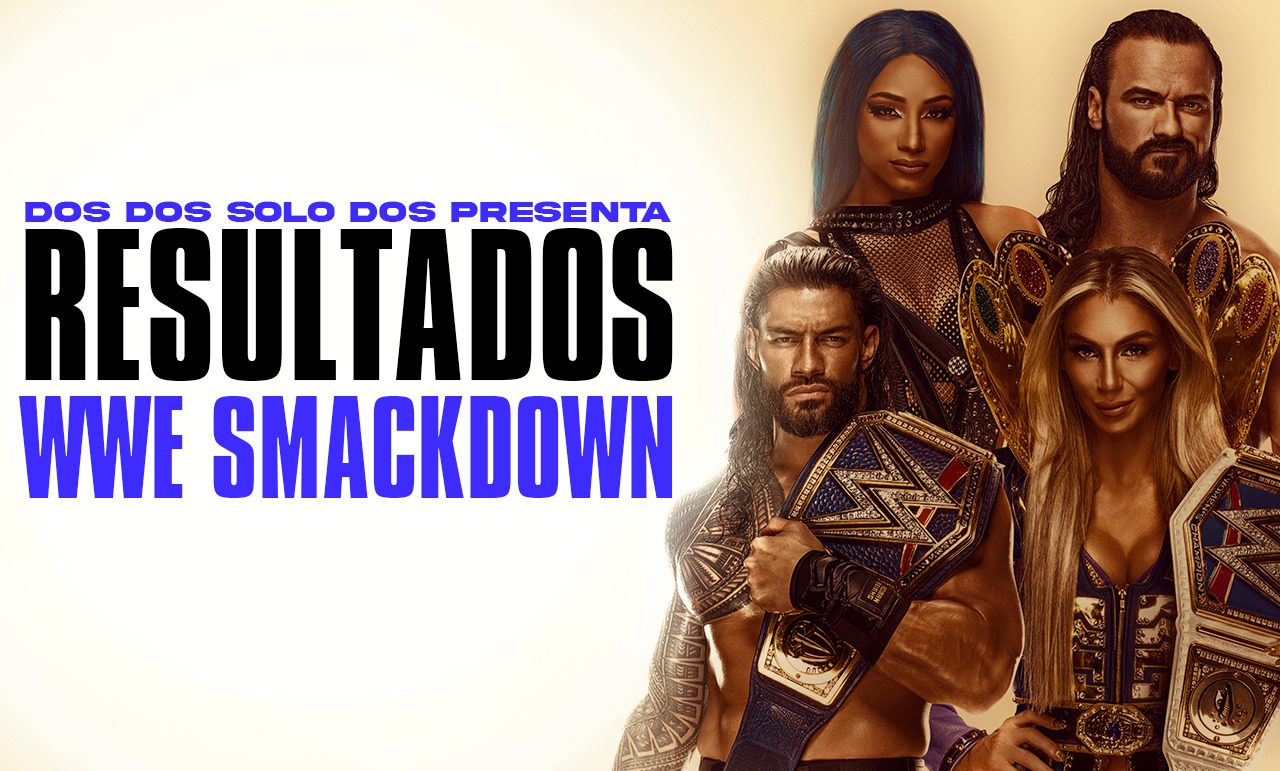 La última parada antes de Survivor Series tiene por nombre Friday Night SmackDown, con el último integrante por conocerse en el team masculino.
Resultados Friday Night SmackDown
Para ello, Ricochet, Sheamus, Cesaro y Jinder Mahal chocan en un Fatal 4 Way para conocer a ese nombre.
Además, palabras de Roman Reigns y siguen las tensiones entre Sasha Banks y Shotzi.
Acá sigue toda la cobertura:
Segmento inicial de Coronación de Roman Reigns
The Usos en el centro del ring junto a la corona y el cetro de Xavier Woods. Jimmy dice que que lo ocurrido fue un mensaje para Big E. Y Jey lo apoya. Ambos anuncian la coronación del "Verdadero rey" y presentan a Roman Reigns, quien aparece junto a Paul Heyman. Heyman presenta a Roman, dice que su título jamás lo portará Lesnar y Roman pide el micrófono.
Roman pregunta quién ideó todo esto y si creen que él necesita una coronación para ser reconocido. Dice que el único momento por el que le quitó la corona a Woods es porque podía hacerlo. Xavier Woods hace su entrada, micrófono en mano.
Woods dice que nada de lo que tomaron de su propiedad convertirá a Roman en un rey y lo desafía a enfrentarlo a solos, sin The Usos. Y así decidir quién es el verdadero rey. Reigns ordena a Rey ir maltratando y rompiendo las cosas de Woods, quien responde que no le importa ante el cuestionamiento de Reigns. Roman toma la corona, luego de que los Usos rompieran todo lo demás, y Woods entra antes de que Roman la rompa. Los Usos lo atacan en el esquinero y lo sujetan para que mire como Reigns rompe su corona luego de decirle que es el único rey.
Sheamus vs Jinder Mahal vs Cesaro vs Ricochet – Lucha clasificatoria para entrar al equipo de SmackDown en Survivor Series
Sheamus comienza dominando el combate y Ricochet lo enfrenta, pero cae frente a Mahal. Mahal ayuda a Sheamus a doblegar a Cesaro y Ricochet intenta enfrentar solo a los dos heels. Sheamus saca a Cesaro del ring y Mahal deja a Ricochet en las cuerdas para que Sheamus lo castigue. Jinder aprovecha y usa un roll-up contra el irlandés. Sheamus castiga a Mahal y lo lanza fuera el ring, Cesaro intenta el swing, pero falla. Ricochet usa dropkicks y manda a Sheamus a ringside. Luego hace lo mismo con Cesaro. Ricochet se lanza desde el esquinero derribando a todos.
Ricochet castiga a Sheamus y Mahal hace el salve. Cesaro usa el swing contra Mahal. Cesaro remata con el sharpshooter. Ricochet entra y conecta patadas contra Cesaro, luego contra Mahal. Ricochet usa su remate contra Mahal y Sheamus lo mismo contra Ricochet. Cesaro hace el salve. Sheamus se lanza del esquinero, pero Cesaro lo recibe con uppercut para intentar su finisher. Gracias a una distracción de Holland, Sheamus remata a Cesaro con su finisher y gana.
Ganador: Sheamus
Aliyah y Naomi vs Shayna Baszler y Natalya
Comienzan Aliyah y Natalya en el ring, Aliyah se impone con calf kick y forearms, y una huracanrana. Recibe el relevo Naomi, y ante un pin de Natalya la árbitro hace una cuenta rápida, dándole la victoria al equipo heel.
Ganadoras: Natalya y Shayna Baszler
Sonya Deville en backstage
La árbitro que le dio la rápida victoria a Natalya y Shayna es vista hablando con Sonya, mientras esta le dice que hizo un buen trabajo. Sami Zayn presencia la escena.
Jeff Hardy vs Madcap Moss
Moss se impone tempranamente hasta que Jeff usa el rompequijadas, ledrop y el Twist of fate. Jeff prepara su finisher y Corbin intenta intervenir, pero es atacado por McIntyre. Moss tira a a Jeff del esquinero, pero alcanza a usar roll-up para llevarse la victoria.
Ganador: Jeff Hardy
Corbin entra al ring, pero recibe la Claymore y Moss el beso escocés. Jeff lo remata con su finisher y los faces celebran en el centro del escenario.
Shinsuke Nakamura (y Rick Boogs) vs Angel (y Humberto)
Angel comienza con dropkicks sorprendiendo a Nakamura y lo castiga con chops. Nakamura contrataca con rodillazo y secuencia de patadas. Nakamura salta de la tercera cuerda, pero Angel lo recibe con superkick. Angel cae fuera del ring y Nakamura lanza un rodillazo volador. Humberto sujeta a Nakamura para impedir que hiciera la cuenta y Boogs le aplica un suplex. Angel falla en aprovechar la distracción y Nakamura le aplica su finisher.
Ganador: Shinsuke Nakamura
Sasha Banks vs Shotzi
En la toma de árbitro se impone Shotzi arrinconando a Sasha. La Jefa la atrapa en un healock y Shozti se libera tirándole el cabello. Sasha ataca con chops y latigazo. Sasha usa Three Amigos y busca altura para conectar la Frog Splash, pero Shotzi se quita antes. Shotzi le da un rodillazo y falla la dropkick siguiente. En ringside, Shotzi lanza a Sasha contra la escalera y comienza a castigar su brazo atrapado en la escalera.
Shotzi reinicia la cuenta y mete a Sasha al ring. Sasha intenta roll-up y sale del ring, Sasha conecta el doble rodillazo desde el borde el ring. Sasha conecta el rodillazo y doble rodillazo desde el esquinero. Cuenta de dos. Roll-up de Shotzi termina en dos luego de castigar el brazo de Sasha. Shotzi estrella a Sasha de hombro contra el poste. Shotzi castiga a Sasha desde el esquinero con éxito, pero Banks cae fuera del ring.
Shotzi levanta a Sasha y Banks usa una variación de su finisher para llevarse la victoria por rendición.
Ganadora: Sasha Banks
Sonya sale a mirar que ambas se den la mano como ordenó en backstage. Ambas obedecen, pero Sasha le aplica el double knee backbreaker. Sasha pasa juntoa Sonya a decirle que cumplió al darle la mano.
Entrevista a Toni Storm
Toni dice estar emocionada por formar parte del equipo SmackDown en Survivor Series. Toni dice que Charlotte está obsesionada con el combate frente a Becky. Y que por eso es vulnerable y que lo será más tras la derrota. Y que sabe que entonces Charlotte la buscará a ella porque su ego la hará necesitar probar quien es. Y eso es una lucha titular. Aparece Charlotte y dice que luego de darle una paliza a Becky, le dará una a ella aunque no merece una lucha titular.
Segmento Roman Reigns y Xavier Woods
Woods pide a Roman que salga solo si es tan hombre como dice. Roman en los vestuarios le pide a sus primos que no salgan. Reigns sale, pero Heyman llama a los Usos. Uno de los Usos sale disparado y luego el otro. Entonces vemos que Big E aparece. Roman y Big E se golpean, Big E estrella a Roman contra la barricada y lo mete al ring. Big E y Xavier Woods patean a Roman. Big E le aplica su finisher.
Xavier Woods salta desde el ring y derriba a The Usos. Roman ataca a Big E con el superman punch. Reigns aplica la spear, pero Big E lo revierte para su finisher. Roman alcanza a escapar del ring. Heyman le dice que lo mejor es retirarse.
Conclusión
Nuevamente una jornada de reiteraciones. El intento de volver más personal la rivalidad entre Reigns y Big E hizo predecible su aparición en SmackDown. El desenlace no presenta ninguna novedad sustancial.
La historia de Sonya con Naomi y Aliyah es solo una reiteración de lo visto la semana anterior, solo que ahora con un combate de dos minutos. El combate de dos minutos entre Jeff y Moss no se entiende, un simple trámite digno de un show en vivo y la inclusión de Drew simplemente responde a mantenerlo en tv sin su reto abierto semanal.
Dentro de lo poco rescatable está la tensión en el equipo femenino de SmackDown por parte de Sasha y Sonya. Promete al menos unos momentos de storytelling y algo más impredecible.
Boogs y Nakamura en el ciclo interminable de hacer una entrada que saca reacción fácil por el tema de entrada y luego la fórmula genérica de siempre. Esta especie de rivalidad solo cumple con intentar poner a los rostros heels para conectar con la audiencia, pero no les otorgan algo inédito o creativo para hacerlo. El combate es una fórmula, corta y que recurre a lo de siempre para sacar aplausos o abucheos.
En otros temas