Llegamos al último RAW vs Nitro antes de Starrcade, PPV con el que despedimos los eventos de 1996.
23 de diciembre de 1996, Monday Night RAW 189, Tampa, Florida. Rating: 1.5
Hunter Hearst Helmsley (c) vs Marc Mero, Intercontinental Championship
Tras un combate corto y bien regular, Hunter (Triple H) vuelve a retener contra Mero. ¿Ya acaba esta desabrida rivalidad?
Rocky Maivia vs Salvatore Sincere
Squash de Rocky.
Cibernetico y Pierroth defeat vs The New Rockers (Marty Jannetty y Leif Cassidy)
Llegamos al último combate de Marrty Jannetty en WWE, antes de volver para unas apariciones especiales varios años después. Por lo demás, su partida también significó el fin de The New Rockers, el fallido intento de WWE para recuperar la esencia del mítico equipo. Ambos cayeron por squash ante Cibernetico y Pierroth, dos tipos importantes de AAA, quienes venían debido al breve acuerdo que tuvo WWE con la empresa mexicana.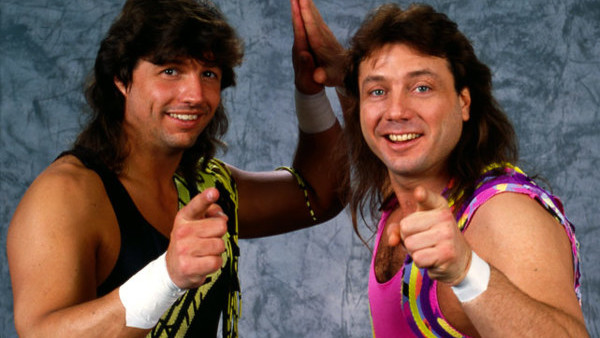 Bret Hart vs "Razor Ramon"
Gana Bret y poco que destacar del match con el Razor Ramon fruna.
23 de diciembre, Monday Night Nitro 67, Macon, Georgia. Rating: 3.1
El Nitro antes de Starrcade, principal PPV de WCW.
Chris Benoit vs Eddie Guerrero, semifinal del torneo por el USA Championship
Combate con aura de importancia, pues, el ganador se disputará el USA Championship con DDP en Starrcade. Contrario a otros combates donde se siente el sofocante dominio de Benoit, es Eddie quien complica con el grappling al canadiense, llevándolo una y otra vez al suelo con sumisiones. Además, su velocidad siempre le permitía improvisar buenas secuencias, como cuando Benoit lanzó un puño y Guerrero salta literalmente para esquivarlo. O cuando esquiva otro y su rival le pega a la lona, lastimándose la mano.
Pero si algo tenía Benoit, es que cuando dominaba, le hace mucho daño a Eddie. Entre su poco contenido striking y sus variantes de suplexes, hace sufrir al latino. Lo malo del conjunto eso sí, es que me quedo con la sensación de que igual es un combate muy corto para lo que podían dar. Hay combates de pocos minutos donde no falta nada, pero acá sí creo que pasó eso. De hecho, basta con decir que el canadiense no tiene un solo intento de Crossface en todo el match.
La fase final es buena. Benoit trata de hacer un Super Back Suplex, pero Eddie zafa y el canadiense cae de espaldas. Y en vez de perder tiempo cambiándose de posición para hacer la Frog Splash, el latino simplemente salta en forma de Moonsault. Resulta que, en medio del mismo salto, es capaz de dar el difícil giro correcto para caer haciendo la Frog Splash. De este modo, Eddie logra su primer gran punto en WCW y lo veremos luchando contra DDP por el USA en Starrcade.
Valoración: 3 jumbitos y medio.
Lex Luger vs Tombstone
Squash a favor de Luger. Tombstone… vaya nombres ridículos los de estos jobbers.
Rey Mysterio Jr vs JL
Combate interesante, porque a pesar de que JL era un nn en todo sentido de la palabra, estamos hablando de Jerry Lynn, uno de los luchadores más infravalorados de la época. Pese a que el tiempo es muy corto, hay intercambios bastantes buenos con Rey. Los vemos a ambos tratando de dominar a través Armlocks, cayendo fuera del ring con Suicide Dives o sacándose diversos moves de gran nivel en las transiciones. Ganó Mysterio.
Glacier vs Buddy Lee Parker
Squash a favor del Glacier.
The Public Enemy (Johnny Grunge y Rocco Rock) vs The Amazing French Canadians (Carl Ouellet y Jacques Rougeau)
The Public Enemy comenzó a golpear con objetos a los franceses y cayeron descalificados.
Big Bubba Rogers vs Konnan
Combate enlazado al Nitro anterior. Big Bubba (Big Boss Man) se había pasado al NWO, traicionando al Dungeon Of Doom y Konnan de este stable venía a cobrar venganza. El match tenía juego con el hecho de que el referí era Nick Patrick, un hombre que también servía al NWO. No obstante, se hizo muy corto todo, y terminó con Bubba y Patrick escapando del ring.
Lord Steven Regal (c) vs Dean Malenko, WCW Television Championship
Encuentro decepcionante, siento que no contaron una historia en el ring y termina en empate, por un límite de tiempo impuesto de 10 minutos.
Jeff Jarrett vs Rick Steiner
Mientras ambos babyfaces peleaban, intervino el Sting NWO y dejaron de pelear para golpearlo a él.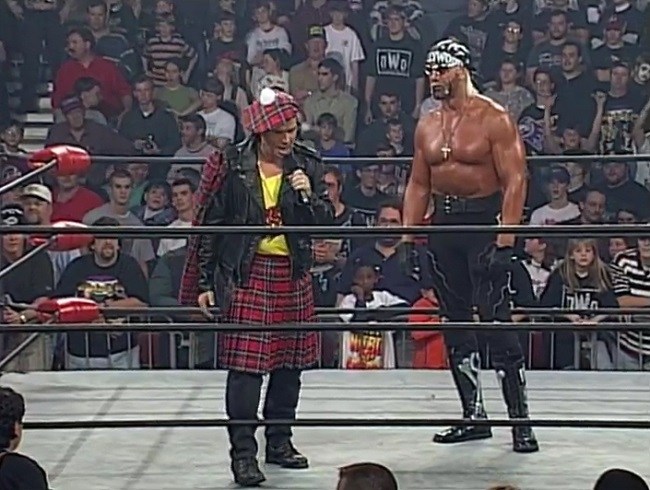 El segmento final fue una previa al Hulk Hogan vs Roddy Piper en Starrcade, y hay que admitirlo: estuvo divertido. Eric Bischoff (miembro del NWO ya, debemos recordar) llegó vestido como Roddy Piper. El personificado como escoces, se humilló ante Hogan, arrodillándose ante y él, y dejando que le hicieran un pin simbólico dejando que le pusieran el pie encima. Luego llegó el Piper de verdad y resultó ser una trampa: apareció todo el NWO para golpearlo, antes de que seguridad pudiera separarlos. 
Nitro fue superior en una semana bien baja de RAW. Así queda la competencia en consecuencia:
RAW: 27. Nitro: 36.
Revisamos en tanto, la rivalidad de PPVs:
WWE: 8. WCW: 5.