Vuelve el RAW vs Nitro luego del WrestleMania 13. Nueva era en WWE y una rivalidad que prende en WCW.
24 de marzo de 1997, Monday Night RAW 202, Rockford, Illinois. Rating: 2.5
El RAW post WrestleMania 13 está bien. No hubo buenos combates, pero sí buenos segmentos y creo que en un show semanal eso último termina importando más. Vamos a los resultados.
Owen Hart (c) & The British Bulldog (c) vs The Head Bangers (Mosh & Thrasher), WWE Tag Team Championships
Owen y el Bulldog defienden los títulos ante los Head Bangers, tras la oportunidad que ganaron los últimos en WrestleMania 13. El match no es realmente gran cosa, tanto como lo que se cuece entre los cuñados de la familia Hart. Resulta que el británico accidentalmente empujó a Owen contra el ringside, quien hizo una rabieta. 
Más adelante, el equipo de campeones hizo una trampa para ganar, con el Bulldog haciendo el Running Powerslam mientras el referí no lo miraba. El problema es que al intentar agarrar a su compañero para que hiciera el pin, Hart reaccionó agresivamente. Ambos luchadores se pusieron a discutir y el intercambio verbal se volvió físico, con ambos luchadores peleando en el piso el referí se trató de meter y lo empujaron bruscamente, provocando la descalificación. 
Finalmente tras tantos roces, los dos familiares peleaban.Unos asombrados Head Bangers se quedaban mirando y luego se alejaban. Luego llegaron los demás árbitros y los agentes de backstage a separarlos a ambos. He leído a quienes se quejan de la descalificación, pero en este caso llegó genial para una storyline sumamente bien trabajada.
Hunter Hearst Helmsley vs Bart Gunn
Victoria de Hunter con ayuda de la incondicional Chyna.
Los Cadetes del Espacio (Discovery, Super Nova & Venum) vs Abismo Negro, El Mosco & Histeria)
Victoria de los Cadetes del Espacio. Vuelvo a las críticas de siempre, está bien que venga gente de AAA pero deberían haber luchas entre ellos y la gente de WWE.
Flash Funk vs The Brooklyn Brawler
Interesante considerar que Funk tenía el personaje de chulo que años después terminó llevándose el Godfather. Llegó con unas bailarinas al lado suyo. Derrotó en un breve combate al Brooklyn Brawler.
Hay una breve promo de backstage de Ken Shamrock, una cara que cada vez comenzaremos a ver más y que viene con el spot de haber sido el referí de Bret Hart vs Stone Cold en WrestleMania.
Tenemos un segmento de Bret Hart explicando sus actos de WrestleMania 13 y luego llegó su acérrimo enemigo Shawn Michaels a confrontarlo, quedando en una posición como el face de cara al público. Tras la discusión, HBK se estaba retirando y Bret lo atacó por la espalda para hacerle el Figure Four utilizando el poste. Todo eso jugando con el tema de los problemas a las rodillas de HBK.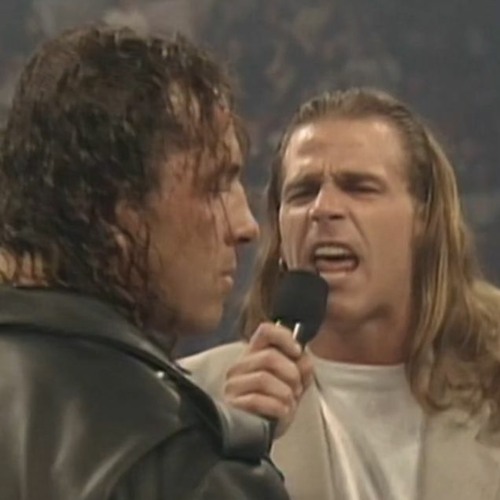 Rocky Maivia Vs Leif Cassidy
Rocky Maivia derrotó rápidamente a Cassidy (Al Snow).
En el postmatch llegó Bret Hart a atacar sorpresivamente al futuro The Rock, golpeando su pierna, el canadiense no paraba y ahora se iba contra alguien con quien no tenía ningún problema realmente. Luego llegó el Psycho Sid a confrontar a Bret (el tipo culpable de que perdiera el título en WrestleMania), pero el canadiense eludió el match.
Ahmed Johnson vs Savio Vega
Victoria de Ahmed.
En el segmento del final del show, El Undertaker hizo una promo diciendo que está listo para defender el título mundial. Luego llegó Paul Bearer a confrontarlo y a presentarle a su primer retador: Mankind, quien aparece en el titantron. Muy genial Mankind, pero a estas alturas esa rivalidad creo que ya estaba demasiado explotada.
24 de marzo de 1997, Monday Night Nitro 80, Duluth, Minnesota. Rating: 3.0
Por su parte, también lo más rescatable de Nitro fueron los segmentos.
Dean Malenko (c) vs Konnan, WCW USA Championship
Victoria rápida de Malenko.
Mortis vs Jerry Flynn
Victoria rápida de Mortis.
La Parka vs Juventud Guerrera
Victoria de La Parka en un combate divertido, pero demasiado corto, como era habitual en Nitro.
High Voltage (Kenny Kaos & Robbie Rage) vs The Public Enemy (Johnny Grunge & Rocco Rock)
Victoria de High Voltage en un rápido combate.
Psicosis vs Super Calo
Victoria rápida de Psicosis.
Chris Benoit vs Hugh Morrus
Benoit pintaba para ganar, pero intervinieron miembros del Dungeon Of Doom para que Morrus pudiera ganar. Y luego el stable atacó al canadiense. Vale decir que a estas alturas quedaban pocos miembros, y en general no muy fuertes en kayfabe. Justo en el momento de la verdad, llegó Ric Flair a atacar a los heels y recibió un buen pop, ya que finalmente Flair salía de su lesión. De ese modo, usaron todo esto para generar reacción con Flair y les salió bien la jugada.
Harlem Heat (Booker T & Stevie Ray) vs The Faces Of Fear (Meng & The Barbarian)
Victoria del Harlem Heat tras un match reñido.
The Steiner Brothers (Rick Steiner & Scott Steiner) vs The Amazing French Canadians (Carl Ouellet & Jacques Rougeau)
Ganaron los Steiner Brothers.
Madusa vs Malia Hosaka
Gana Madusa en un match corto. La atención que le daban a la división femenina era escasa a nula.
Jim Duggan vs The Renegade
Duggan gana tras un combate corto.
Prince Iaukea (c) vs Randy Savage, WCW TV Championship
El main event tuvo esta defensa titular y Savage tenía todas las de ganar. Pero justo a la hora de la verdad, intervino Diamond Dallas Page, a quien no le importó agarrarse con casi todo el NWO en el camino. DDP igual logró golpear a Savage, provocando la descalificación de paso. Posteriormente la facción lo atacó en masa y le rayaron el "NWO" en la espalda. Va bien esta rivalidad, finalmente se ve una apuesta más seria en Page.
Los dos shows como decía, tuvieron cosas destacables en el desarrollo de los segmentos. Y ahí debo darle el punto a RAW, que me pareció superior. Por tanto, así queda la competencia:
RAW: 36. Nitro: 40.
En PPVs, paliza de WWE:
WWE: 11. WCW: 6.