Resultados de IMPACT Wrestling del 16 de marzo 2023
Nos acercamos al especial de Sacrifice y Multiverse United, por lo que IMPACT Wrestling sigue organizando sus semanales de cara a estos dos seguidos eventos.
El show inicia con PCO caminando malherido gritando el nombre de Eddie Edwards tras abandonar el desierto.
Mike Bailey y Jonathan Gresham vs Decay
Victoria de Gresham y Bailey tras el Última Weapon del ex campeon de la X Division sobre Taurus.
Reunión de Santino Marella y Vladimir Kozlov que es interrumpido por Joe Hendry. Este dice que Brian Myers busca su revancha por el título Digital Media y el D.O.A de IMPACT le concede la lucha a Myers en Sacrifice a pedido de Hendry.
Steve Maclin vs Heath
Maclin en los minutos finales consigue doblegar al pelirrojo con un golpe entre las cuerdas y el KIA para seguir imparable de cara a Rebellion.
Johnny Swinger vs Jai Vidal
Duelo con tintes de comedia en medio y que tuvo a Deonna Purrazzo atacando a Giselle Shaw en ringside. Esto no impidió que Vidal cubriera a Swinger con un puente para ganar.
Deaner le dice a Callihan que ha completado 6 tareas para unirse al grupo pero sus últimos fallos le han costado el éxito de su misión. El Hacker mortal discute con el y dice que terminará todas las pruebas que le quedan.
Promo de Eddie Edwards donde se dirige a PCO. Este muestra el pietaje del brawl con el frankenstein en el desierto de donde huyo a duras penas, gracias a una misteriosa ayuda.
PCO aparece y ataca a Eddie pero por la espalda aparece Kenny King para defenderlo. Ambos ex miembros de HNM liquidan al monstruo y lo rematan con un golpe de palo de Kendo asistido por una silla en la cabeza.
Death Dollz (Taya Valkyrie y Rosemary) vs The Coven (Kilynn King y Taylor Wilde), Campeonatos en parejas de Knockouts
Las Dollz dominan a las retadoras en los primeros compases pero relevos rápidos entre las retadoras y algunas trampas cambiaron el destino del combate. Taya buscó el Road To Valhalla pero Kilynn lo convirtió en un reverse Facebuster para ganar los títulos junto a Taylor.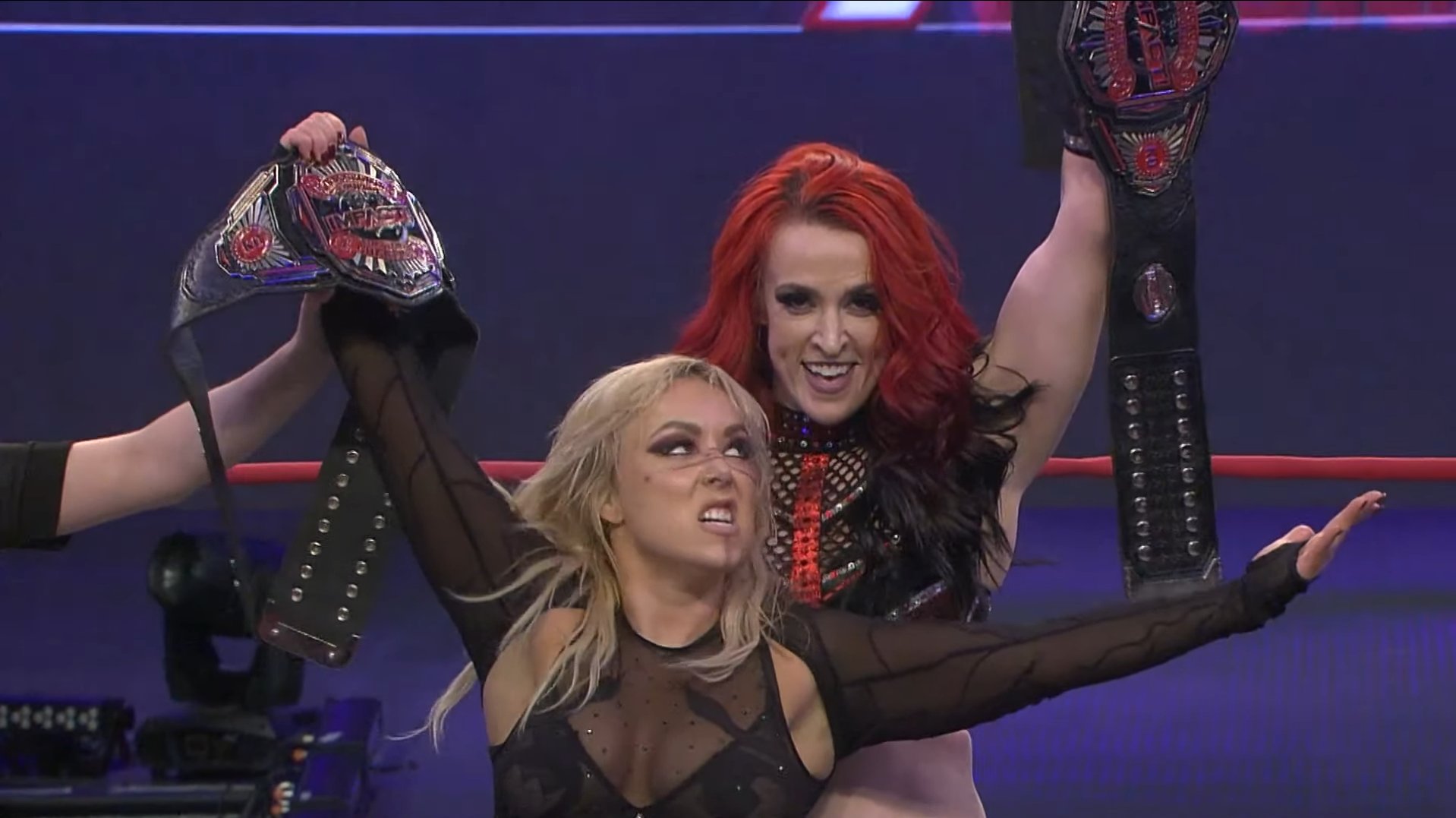 Bullet Club (Ace & Bey y KENTA) vs Josh Alexander, Frankie Kazarian y Rich Swann.
Josh Alexander tenía todo listo para llevarse el triunfo pero Steve Maclin lo distrae desde la grada. Los miembros del BC se deshicieron de el, permitiendo a Bey y Ace combinarse para planchar a Swann.
Bullet Club cierra triunfante este episodio de IMPACT Wrestling.
En otros temas
WWE SmackDown celebrara pronto su primer show semanal desde Puerto Rico