Resultados de IMPACT Wrestling del 06 de abril 2022
Tras haber superado Multiverse United, IMPACT Wrestling nos trae un semanal con las repercusiones de las ultimas semanas y preparando camino a Rebellion.
Motor City Machine Guns vs TMDK
Duelo con repercusiones del evento de Multiverse donde los Guns son los que se imponen tras una combinación de los veteranos, con Sabin sacando un puente con cobertura sobre Haste.
En backstage, Bullet Club los felicita pero burlándose que aun no tienen el nivel para retarlos. Shelley y Sabin dicen no estar con rodeos, y exigen su revancha por los títulos en Rebellion en un Ultimate X Match. Los campeones aceptan.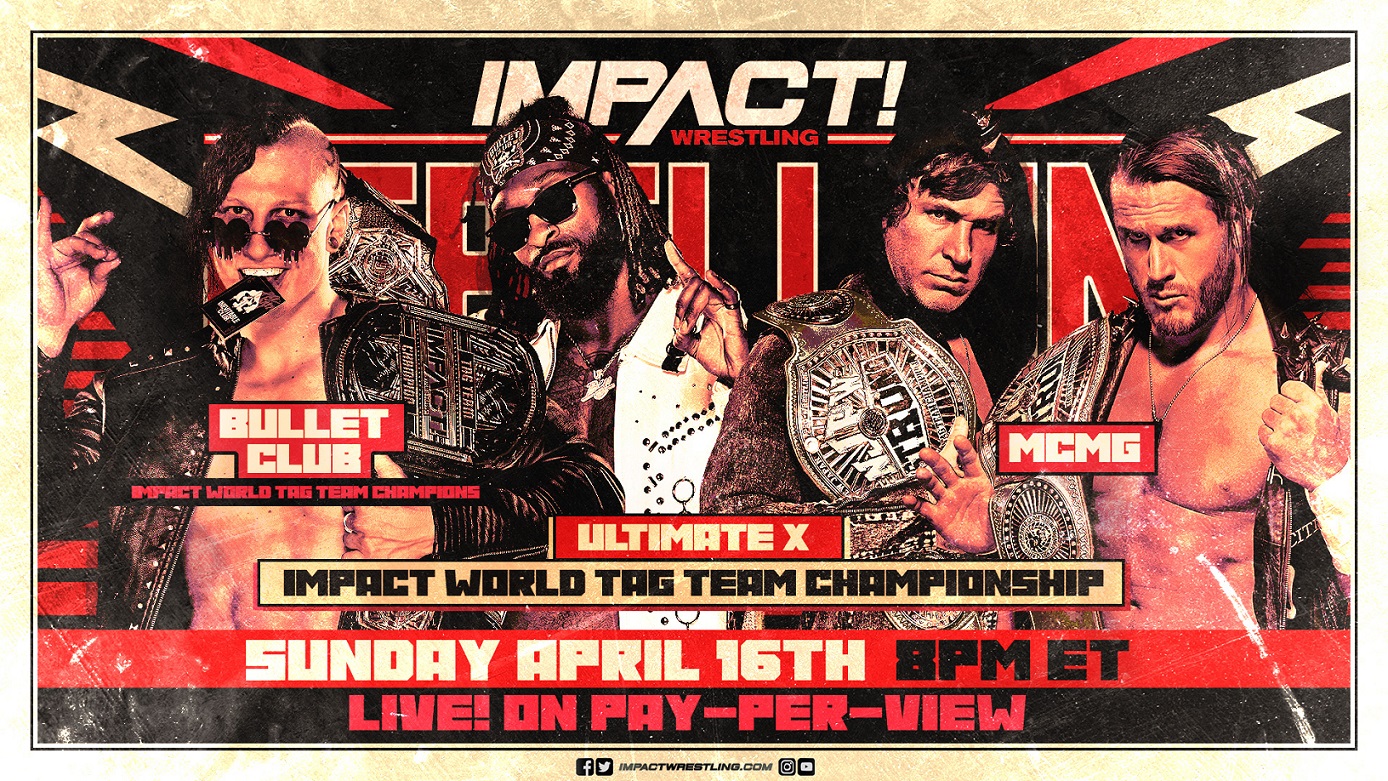 En backstage, Kenny King es consultado por Eddie Edwards si quiere estar en su esquina para su duelo con PCO. King se niega a ser parte de esto tras lo sucedido en Sacrifice.
Mike Bailey vs Jonathan Gresham, N°1 Contender Match
Tercer duelo entre ambos luchadores donde el ganador sería nombrado el retador de Trey Miguel en Rebellion por el campeonato X Division. Tras entretenidos minutos, el mismo campeón deja sin resultado a la lucha tras atacar a ambos.
Se anuncia después que Trey al arruinar la lucha ahora tendrá que defender ante Bailey y Gresham en una triple amenaza vía eliminación en Rebellion.
Jody Threat vs Taylor Rising
La debutante Jody se impone en su debut en IMPACT Wrestling sin muchos problemas.
En backstage, Sami Callihan sigue su proceso para unirse a The Design. Se le asigna como misión: "Derrocar a la autoridad de su vida".
Bully Ray y The Good Hands vs Tommy Dreamer, Yuya Uemura y Darren McCardy
Los heel dominan la lucha en los primeros minutos pero pierden el dominio entre los relevos de los face. Darren toma a Hotch y lo remata en el centro del ring para ganar la lucha.
Bully Ray intenta atacar con una silla pero Frankie Kazarian llega al rescate. Masha Slamovich aparece para mover a Kaz pero Killer Kelly ingresa para detener a Masha y sacarla del ring.
Santino Marella es atacado en backstage, se presume que fue Callihan. El Director de autoridades en su recuperación se encuentra con Joe Hendry y Dirty Dango, les menciona que les recordara con quien se han metido y pacta una lucha de equipos en Rebellion.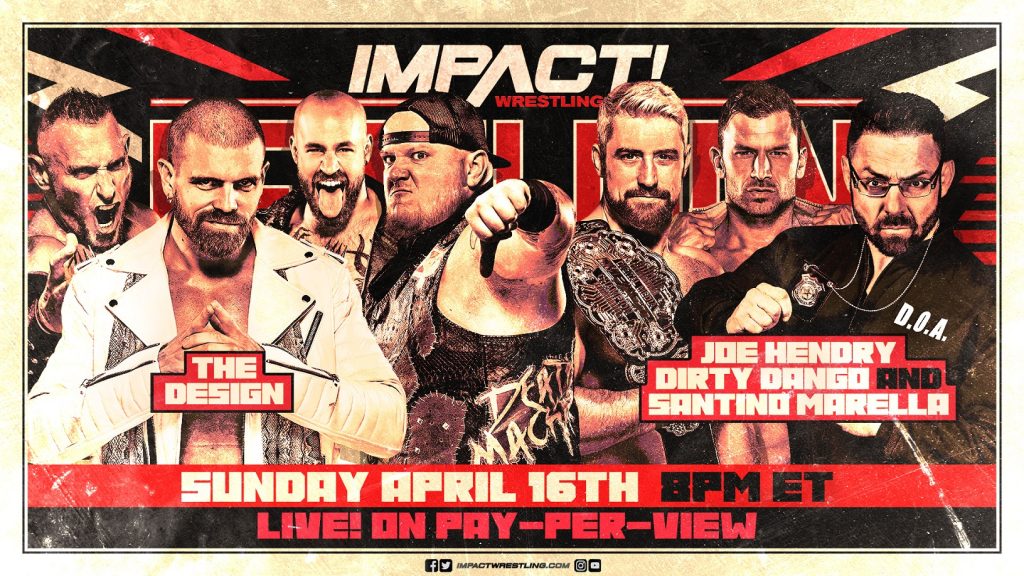 Eddie Edwards vs PCO
Esperado encuentro donde el Frankenstein buscaba el PCO Sault para acabar con su rival pero Alisha Edwards golpeo a PCO con un palo de Kendo, dejándolo servido para un Boston Knee Party de Eddie para llevarse la victoria.
El monstruo se recupera y persigue a la pareja hasta su auto, logrando escapar a duras penas.
Josh Alexander entrega el campeonato mundial
Alexander ingresa junto a su familia para entregar el campeonato mundial. KUSHIDA y Steve Maclin se le unen a la ceremonia presidida por Scott D Amore. Josh habla mucho de lo que trabajo para lograr y defender el título pero cuando esta dispuesto a entregarlo, su hijo se lo quita en señal de desacuerdo.
La madre lo convence de entregar el campeonato y Steve Maclin se burla de el diciendo que renunció para no enfrentarlo. El ex campeón le dice que el cobarde es el ya que no respondió cuando tuvo la oportunidad.
Maclin se dirige a KUSHIDA y le dice que tuvo suerte en Sacrifice pero que en Rebellion lo aplastará. El japonés le aplica el Hoverboard Lock pero Steve escapa con el campeonato. El Time Splitter lo sorprende con un salto a Ringside y celebra con el título para terminar el show.
En otros temas
La otra hija de Vickie Guerrero confirma las acusaciones de abuso sexual de su hermana