Becky Lynch cuenta que su alianza con Lita no estaba en los planes originales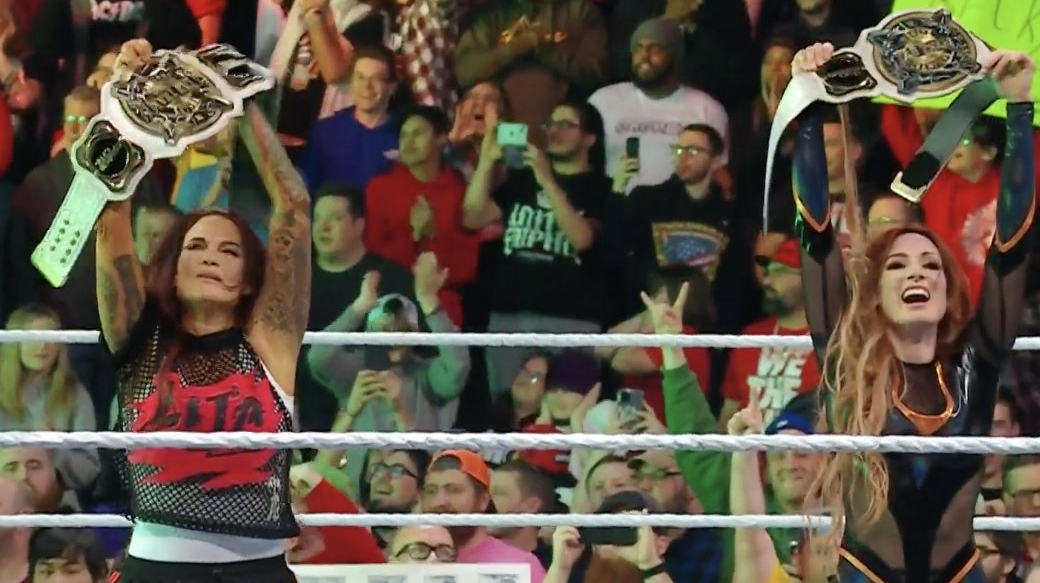 Becky y su alianza con Lita rumbo a WrestleMania.
La luchadora de WWE, Becky Lynch, estuvo como invitada en la más reciente edición de My Love Letter To wrestling, conducido por Mark Andrews. Ahí irlandesa reveló que no habían planes de que hiciera equipo con Lita antes de ganar los campeonatos femeninos en parejas durante el Road to WrestleMania de este año.
"Todo fue muy loco. Cuando lo decidieron sentí que realmente nunca fue considerado como parte del plan, y luego simplemente consideraron que esa era la mejor manera de desarrollar la historia. Disfruté mucho el poder trabajar en una lucha que nadie vio venir. La gente tenía todas estás ideaa sobre lo que podría pasar. Habían cientos de formas en las que podíamos hacerlo
"El poder estar hombro con hombro con la mujer que te inspiró a entrar en este negocio, hablamos sobre sus raíces y sobre la posibilidad de poder estar de vuelta. Recuerdo teñirme el cabello de rojo, mientras usaba estos pantalones sueltos, mientras usaba la ropa interior de manera que sobresaliera. Todo esto intentando imitar a Lita, y ahora estaba aquí para junto a ella como una igual, lista para ganar los campeonatos en parejas. Si se lo hubiera dicho a mi yo más jovén, que cuando fuera mayor iba a poder cumplir su sueño, seguramente me habría abofeteado mientras me gritaba que fuera realista.
"Realmente fue algo increíble. Siento que a través de todos estos años, se ha convertido en una gran amiga y mentora. Ella siempre fue esta chica rebelde llena de sueños y creo que se ve reflejada en mí, como una chica que no encaja en el molde, pero aún así ama el negocio. Tenemos espíritus similares".
Becky Lynch.
Tras esto Lynch expresó su sentir respecto a su alianza con Lita tras haber mantenido una rivalidad con ella hace algunos años.
"A veces como técnica, no sé cuál es la mejor manera de interactuar con las demás, porque The Man no confía en nadie debido a todas las veces que la han traicionado. Es como, 'Hola, amiga.' Me siento muy incómoda en ese tipo de situaciones, pero creo que no pudieron escoger a nadie mejor para ser mi compañera. En especial por toda la historia que tenemos, pese a lo corta de nuestra rivalidad, es una de las qie me siento más orgullosa. Y ahora tengo la oportunidad de seguir escribiendo mi historia junto a ella".
Becky Lynch.
En otros temas.