MITB 2023: Roman Reigns estará en el show y Drew McIntyre no
Cambios en los nombres que estarán en MITB 2023
MITB 2023 se celebrará el sábado 1 de julio en Londres. El show donde se disputan los maletines del Money In The Bank ha generado bastante expectación y en un corto tiempo ya se vendieron las más de 17 mil entradas del recinto del O2 Arena.
Siendo un show en UK, se esperaba que Drew McIntyre (la mayor estrella masculina de UK de WWE) tuviese una importante participación. Sin embargo, Drew ha estado ausente de la programación últimamente, entre rumores de que podría no renovar. Ahora y para sorpresa de nadie, ha sido oficialmente sacado del poster del show.
En reemplazo de la posición que estaba ocupando Drew, nos encontramos ahora con que WWE ha puesto a Roman Reigns, quien originalmente no estaba en el poster. De hecho, lo de Roman vino con un comunicado oficial:
"WWE anunció hoy que el campeón universal indiscutible de la WWE, Roman Reigns, aparecerá en vivo en The O2 en Londres para SmackDown el viernes 30 de junio y Money In The Bank el sábado 1 de julio de 2023".
"Las entradas finales restantes para eventos individuales de SmackDown y Money In The Bank estarán disponibles este viernes 19 de mayo a las 10 a. m. BST a través de Ticketmaster.co.uk y TheO2.co.uk".
"Esta es la primera vez que SmackDown se transmitirá en vivo y en horario estelar desde el Reino Unido a las 8 p.m. hora local en BT Sport. Money In The Bank marca el primer evento WWE Premium Live que se llevará a cabo en Londres en más de dos décadas".
Charlotte Flair también salió del poster original, otro nombre relevante que se ha estado tomando un hiatus con WWE.
El poster original:
El póster actual: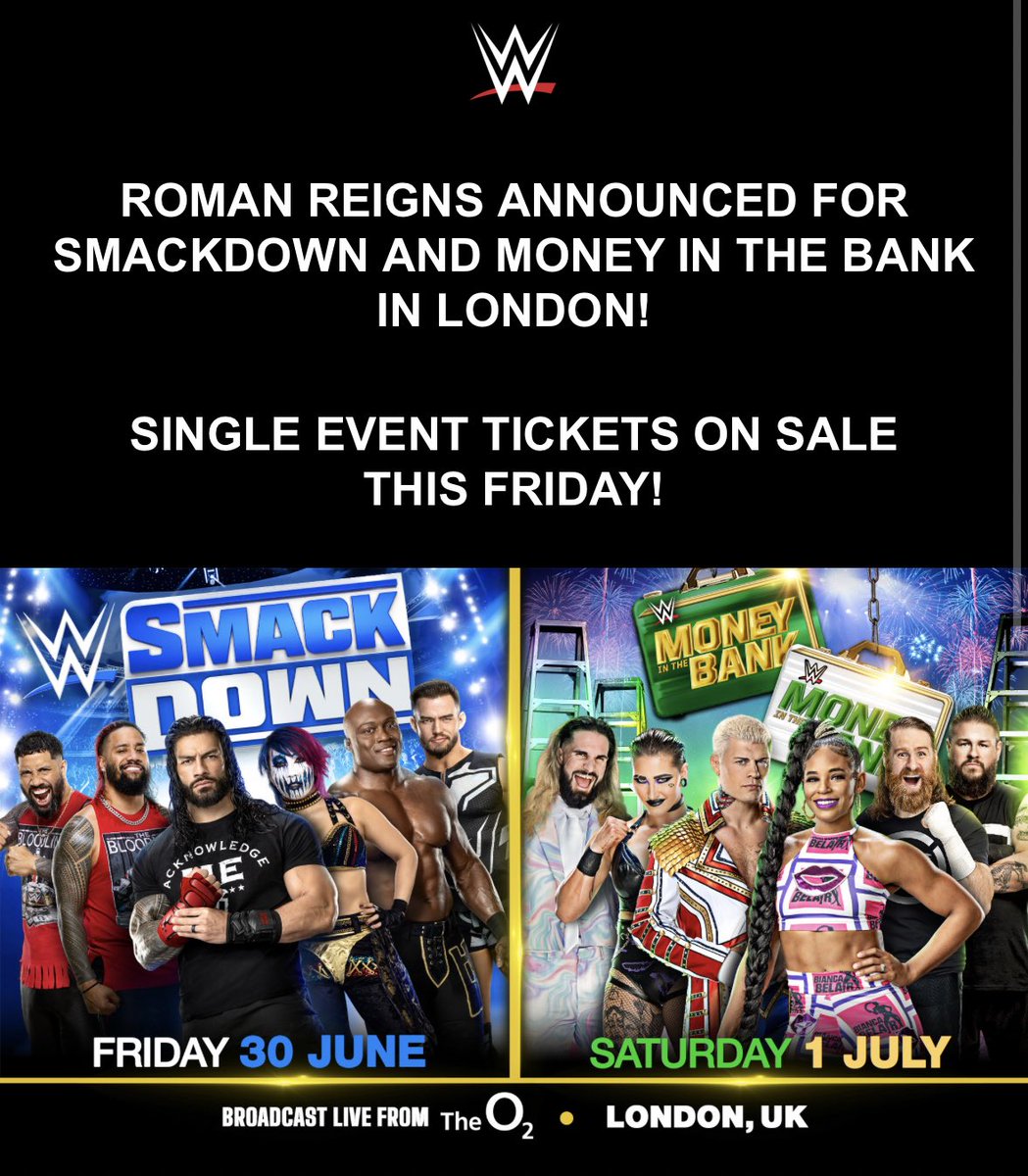 También te puede interesar