Raw vs. Nitro: Día 1
Revisión del primer choque en televisión entre RAW y Nitro, el cual dio inicio a la rivalidad televisiva más importante de la historia de la lucha libre.
RAW vs Nitro: la clásica guerra
Con el afán de hacer un repaso por la "guerra de los lunes" entre RAW y Nitro nace esta idea que busca sacar un juicio propio respecto al gran ganador de esta batalla. Claro, las audiencias y la desaparición de WCW marca un precedente, ¿pero qué pasa con nuestra visión? ¿Efectivamente el rating es clave a la hora de evaluar al ganador?
De 1995 a 2001 WWE y WCW se enfrascaron en una lucha sin precedentes en la historia del wrestling, es por eso que iré, paso a paso, desde el día 1 hasta el día final, con los PPV incluidos de ese periodo, analizando lo que dejó esta confrontación. Además, me interesa profundamente ver la evolución de personajes como Stone Cold, The Rock, Mick Foley, entre otros. También ver a gente como Eddie Guerrero, Rey Mysterio y Chris Jericho en WCW. Y aunque no crean, quiero ver esos horrendos años finales de la empresa, ver en qué fallaron, etc.
Dicho eso, quedan todos bienvenidos a disfrutar de este extenso análisis de lo que fueron las "Monday Night Wars" con este proyecto bautizado: Raw vs. Nitro. Al final del repaso de cada "mano a mano" encontrarán al ganador y si el combate lo amerita tendrá nuestros "jumbitos" (los cuales sí o sí estarán en los PPV).
¡Qué comience el juego!
Día 1
11 de septiembre de 1995: WCW Nitro 02, Miami, Florida . Rating: 2.4
Contexto: Campeón WCW: Hulk Hogan; Campeón de los Estados Unidos: Sting; Campeón en Parejas: Dick Slater & Bunkhouse Buck; Campeón de la Televisión: Renegade.
El segundo episodio televisivo en la historia de Nitro es el primero que compitió directamente con Raw. El show parte con Eric Bischoff, Bobby Heenan y Steve "Mongo" Mcmichael en la mesa de comentarios y mostrando lo que pasó en el primer Nitro con la promo final entre Hulk Hogan y Lex Luger de cara a su combate titular de hoy.
-Sabu vs. Alex Wrigth.
Primer combate de la velada y primera sorpresa, desconocía a Sabu teniendo un paso por la empresa. Los comentaristas dicen que es su debut y ya se puede notar su estilo tan característico. Lucha demasiado corta pero que resulta interesante.
Ric Flair hace una promo contra Arn Anderson para vender su combate en Fall Brawl, en un momento aparece Luger porque sí y todo se vuelve confuso.
-V.K Wallstreet (IRS en WWE) vs. Sting, WCW USA championship.
Squash. Gana Sting con una plancha desde lo alto y listo. Totalmente olvidable.
-Scott Norton vs. Randy Savage.
El combate iba bastante bien hasta que aparece Dungeon of Doom (Kamala, Zodiac, Shark y Meng). Savage logra ganar de la nada. Esto sirvió sencillamente para darle algo de importancia al War Games de Fall Brawl.
-Hulk Hogan vs. Lex Luger, WCW Championship.
Meh con ganas. Si bien el público estuvo metido, ni Hogan ni Luger venden nada durante el trayecto del combate, más encima Kamala y compañía nuevamente intervienen para que aparezca el grupo face y así el War Games del próximo evento sigue siendo lo principal de este programa. Tras el match, Mean Gene entrevista a Hogan, Luger y Sting, con este último calmando la situación y pidiendo a su ex compañero de tag team que se una al equipo en reemplazo de Vader.
Forma bastante corneta de empezar con WCW. Episodio bastante flojo. Veamos si Raw puede superarlo.
11 de septiembre de 1995: Monday Night Raw 126. Canton, Ohio. Rating: 2.5
Contexto: Campeón WWE: Kevin Nash; Campeón Intercontinental: Shawn Michaels; Campeón en parejas: Owen Hart & Yokozuna. Campeona Femenina: Bertha Faye.
El show parte con una introducción sobre Shawn Michaels y el título IC que ganó en Summerslam semanas atrás, también se muestra una promo del combate entre Razor Ramon y British Bulldog. Vince y Jerry "The King" Lawler abren los fuegos y partimos.
-Razor Ramon vs British Bulldog.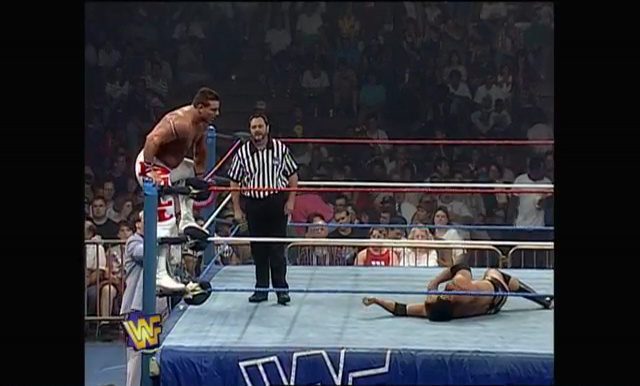 El combate estaba interesante, con buenos compases iniciales, pero todo se va al carajo con la interferencia de Dean Douglas, quien está envuelto en un rivalidad con Ramon de cara el próximo PPV. Todo esto sucedió con el árbitro inconsciente, por lo cual aparece 1-2-3 Kid para intentar defender a su amigo "machismo" y así costarle el combate.
Tras eso Vince entrevista a ambos en el cuadrilátero en busca de calmar la cosa pero no lo logra, con Kid retando a Ramon a un combate la próxima semana.
Promo Yokozuna & Owen Hart vs Men on Mission para la otra semana.
-The Smokin' Gunns vs The Broolyn Brawler y un jobber llamado Rad Radford. 
Victoria rápida para estos faces con gimmick estilo tejano, casi un squash.
Gran promo de Goldust contra Undertaker, personaje que pronto está por debutar.
-Isaac Yankem DDS y el peor tema de entrada de la historia vs Scott Taylor.
Squash. Interesante será ver como ambos luchadores serán muy populares en el futuro con otros roles.
Repaso de la cartelera principal de IYH III que se celebrará el 24 de septiembre.
-Shawn Michaels vs. Sid (con Ted Dibiase), IC Championship.
Lucha pasable, no llega a ser una gran maravilla pero logra involucrarte esencialmente por lo prendido del público. HBK logra una victoria limpia con la Sweet Chin Music. HBK luego celebra y amaga a desnudarse, para alegría de las mujeres en la arena y de Nostalgic.
Promo final en backstage con HBK y Diesel para vender la lucha con los campeones en pareja en IYH.
Si bien no es un programa para tirar cohetes, sí me pareció más consistente que Nitro. El main event fue mejor y eso en el balance final pesa.
Entonces, este es el "Veredicto de Shut" en el día 1:
Raw 1 Nitro 0.
Antes del día 2 tenemos el primer PPV del mes, Fall Brawl por parte de WCW, así que ahí nos leeremos.
También te puede interesar