WCW Fall Brawl 1995
Pasamos al primer PPV de WCW en los RAW vs Nitro. El Main Event fue un War Games, con varias estrellas como Hulk Hogan, Randy Savage y Sting.
Un viejo PPV de WCW
Raw (WWE) vs. Nitro (WCW):
Día 1:  https://dosdossolodos.wordpress.com/2017/09/03/raw-vs-nitro-dia-1/
Recuerden que en la categoría Raw vs. Nitro pueden seguir en orden cronológico esta aventura.
Llegamos al primer PPV de este ciclo llamado Raw vs. Nitro con WCW abriendo los fuegos. War Games y Anderson vs Flair son lo más llamativo de este evento en el papel. Como amante de las intro, esta es bastante genérica por lo cual pasa sin pena ni gloria.
Fall Brawl. 17 de septiembre de 1995: Asheville, Carolina del Norte.
Tony Schiavone y el gran Bobby Heenan nos dan la bienvenida al evento.
-Johnny B. Badd vs Brian Pillman.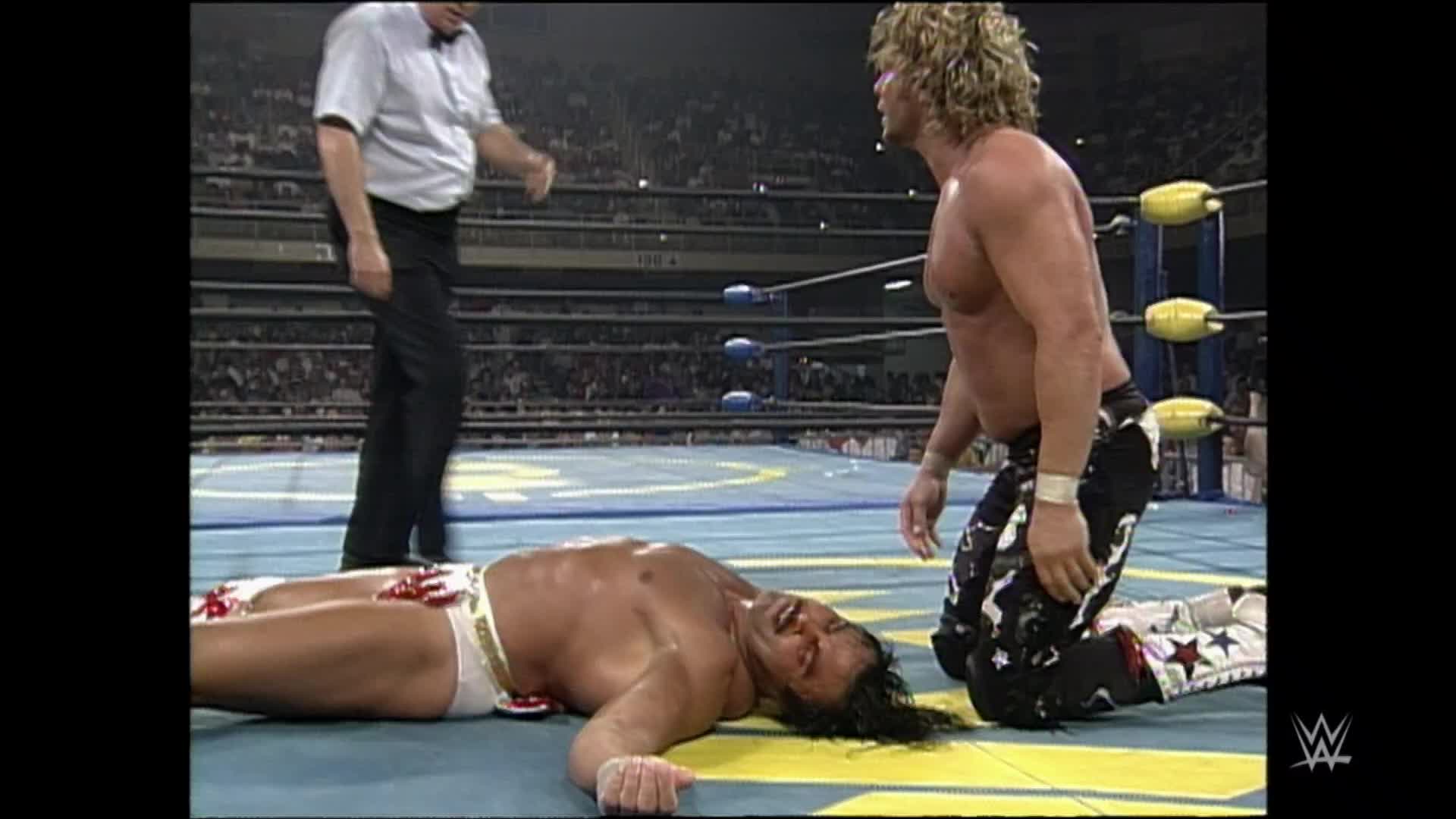 El ganador de este combate tendrá un title shot versus Sting. Respecto al combate, este dura 29 minutos y 14 segundos, una eternidad para un opener. Que la lucha que abra el show sea de media hora resulta bastante complejo para uno como espectador, más aún cuando no es del todo atractivo lo que se está desarrollando. No obstante al público parece no importarle y disfrutan del match, con un Badd bastante over recibiendo el apoyo del público. Tiene fases muy interesantes y que te involucran en algo, pero la cantidad de minutos te termina sacando. Además, es un combate de dos "chicos" buenos, y a pesar que Brian ejerce de heel, resulta un poco confusa la estructura. Tras un "Double Cross-body Block", Johnny B. Badd logra la victoria y así tendrá una oportunidad por el campeonato de los Estados Unidos.
Valoración: 2 jumbitos y medio. (4, para mi gran amigo Dave Meltzer)
Mean Gene entrevista en backstage a Flair quien habla de su combate con Anderson, su amistad y demás. Buena promo como es de costumbre con Flair.
-Sgt. Craig Pittman vs Cobra.
Ni en pelea de perros estos dos y lo agradezco, porque no dejan de ser algo bastante corneta. Gana Pitman gracias a una "Code Red" en un squash luego de aparecer de sorpresa por una especie de tiraleza por los aires. Y ah, el tema de Cobra es muy nefasto.
Valoración: SIN JUMBITOS.
Segmento bastante delirante con Paul Orndorff sufriendo problemas de identidad hasta que aparece un tal Gary Spivey que le dice que él es "Mr. maravilloso" y se debe acordar de eso, cosa que finalmente el luchador logra asimilar. Googleando, Spivey es un famoso médium y curador espiritual. Entretenido.
-Diamond Dallas Page (con Diamond Doll & Maxx Muscle) vs The Renegade (con Terry Funk), WCW Television Championship.
The Renegade es una versión sin esteroides del Ultimate Warrior. El combate es meh con ganas pero el público de alguna forma ayuda para que se disfrute, es que están más prendidos que la 210 un fin de semana. Además, siempre es grato ver a DDP, quien acá gana el título gracias a la ayuda de Muscle.
Valoración: 1 jumbito.
-Harlem Heat (Booker T & Stevie Ray) (con Sister Sherri) vs Bunkhouse Buck & Dick Slater (con Col. Robert Parker), WCW Tag Team Championship.
Esto sí que me aburrió, y al público parece que también, porque acá se apagaron. No hubo química y por momentos estaban muy poco coordinados, en especial los campeones, que mostraron poco y nada. Se hace eterna y eso claramente es un problema. Ganan los Harlem Heat, los heel, y se convierten en nuevo campeones.
Al final, Sherry y Colonel Parker se besan, lo que distrajeron a los face.
Valoración: -1 jumbito.
Si desea ver el evento, sáltese esto.
Buena promo del Flair/Anderson que te produce hype por su primera vez en un singles match. Tras eso, Anderson habla en backstage para seguir calentando motores.
-Ric Flair vs Arn Anderson.
http://www.dailymotion.com/video/x45cjic
Combate de más a menos. Parte excelente, con Arn trabajando uno de los brazos de Flair de gran forma, con ataques fuertes y muy creativos. "Nature Boy" vende bien y todo va fluyendo de manera orgánica, con Ric utilizando sus clásicos chop con la mano "buena" para contrarrestar, un detalle que queda de maravilla. Pero en un momento esa intensidad e inteligencia de los primeros compases se va perdiendo, Flair deja de vender y todo se torna más caótico. Como punto de regularidad, el público vuelve a prenderse haciendo de esa sensación de "big match" una realidad, así que desde esa arista vale mucho la pena este visionado.
El final, es un punto muy negativo, con Pillman interviniendo y costando la lucha a Flair, cuando lo mejor era que perdiera de forma limpia para que así Arn tuviera una gran victoria. Ese desenlace sucio no deja bien parado a nadie.
Valoración: 3 jumbitos 1/4.
Promo grabada bastante horrenda y sobreactuada de Kevin "The Taskmaster" Sullivan para decir que Hogan y compañía caerán rendidos ante su malvado grupo.
Luego es turno del build-up del combate, el cual sí es bueno. Tras eso, entrevista en backstage con los face, en donde todos gritan como si estuvieran saliendo en un programa para gente con problemas auditivos. Siempre he encontrado que Hogan a nivel promo está sobrevalorado, puro grito con frases clichés…
-War Games: Hulk Hogan, Lex Luger, Randy Savage & Sting vs The Dungeon Of Doom (Kamala, Meng, Shark & Zodiac) (con The Taskmaster).
No me pidan aquellos que no lo sepan cómo funciona un War Games. Eso sí, es una estipulación bastante caótica que sólo permite pin y/o sumisión una vez que todos estén arriba de ambos cuadriláteros. En ese sentido es muy desordenada y predecible, porque son los heel quienes van estando en superioridad numérica a la espera de que Hogan sea el último en entrar y limpie la casa.
A pesar de todo el caos, lo monótono y predecible, no me disgustó el match, es que nuevamente el público es factor muy importante para que una huea a todas luces mala, resulte entretenida. Para que el se anime, vale algo la pena.
Valoración: 2 jumbitos.
A todo esto, obviamente, gana el team Face gracias a Hogan quien hizo rendir a Zodiac con un Chinlock. WTF! Luego, en una estipulación dicha antes del combate por Michael Buffer, Hogan deberá enfrentar a Sullivan para la tristeza mía (con Sting y cía abandonando el lugar). Lo bueno que sale "The Giant" (que viene haciéndole la vida imposible a Hogan) y destroza al Hulkster, para cerrar Fall Brawl con celebración heel.
Evento reguleque que salva mucho gracias a un público muy bueno. El Anderson vs Flair es lo mejor de la lucha sin duda pero tampoco da para tirar cohetes. Esperemos que nos ofrece WWE este mes para ver quién gana en categoría evento.
Nos seguimos leyendo, tuleros.
También te puede interesar