Resultados Impact Wrestling 05.05.2020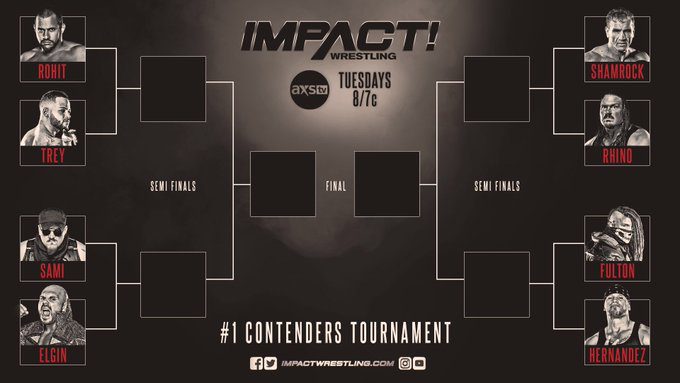 La introducción de este nuevo episodio de Impact Wrestling llega a cargo de Sami Callihan quien a pesar de la derrota en Rebellion aclaró que fue capaz de batallar con Ken Shamrock. "The World's Most Dangerous Man" salió para reconocer el esfuerzo del líder de oVe y justo cuando iban a hacer las pases, Michael Elgin interrumpió.
El ex ROH dijo que ambos no merecían ninguna oportunidad por el título mundial y tras un intercambio de palabras, Ken y Sami terminaron ahuyentando a Elgin (posible Turn Face de Callihan en camino).

Ohio Versus Everything (Madman Fulton y Jake Crist) (con Dave Crist) vs Team XXXL (Acey Romero y Larry D.)
En un encuentro algo igualado, el equipo de Romero y Larry D se impuso a un oVe que cosechan otra derrota en su haber, demostrando el mal momento que pasan a nivel creativo. De ser un tag con proyección, pasaron a los secuaces de Callihan que no pueden ganar nada por si mismos.
Locker Room Talk a cargo de Madison Rayne y Johnny Swinger (Sí, así se llama este último) donde entrevistan a Havok y le preguntan por su combate en Rebellion y la aparición su vieja amiga Nevaeh. Excusa que serviría para luego presentar a la otra debutante Kimber Lee y con quien aparentemente tiene cierta historia.
Johnny Swinger vs Suicide
Combate decente y con algunos tintes de comedia de parte de Johnny Swinger que junto a las habilidades de Suicide buscaron entregarnos algo para pasar el rato en.
Victoria para Suicide, aunque no es de mucha utilidad para los efectos de Impact Wrestling.
Cousin Jake vs Joseph P. Ryan
Nueva victoria para Joey Ryan en su nuevo personaje de Cancell Culture y desde su cambio es evidentemente que el nivel de comedia ha desaparecido. Ahora tiene encuentros más presentables, aún así tiene cosas para trabajar en el ring.

The North (Ethan Page y Josh Alexander) vs Creeps, Impact World Tag Team Championships
Destaco principalmente la promo previa de The North donde recalcan que son de los mejores tag en el mundo (y donde nombraron a Kurt Angle). Después The North vencería fácilmente a The Creeps para retener sus títulos.
Segmento a cargo de Rosemary quien se encuentra en un bar realizando el tarot a un conejo de peluche donde revela que una rival desconocida está al acecho y necesitará la ayuda de una compañera…
Se revelaron las llaves de un torneo de ocho participantes por la oportunidad de retar al Campeonato Mundial de Impact. Los participantes son: Ken Shamrock, Sami Callihan, Michael Elgin, Rohit Raju, Madman Fulton, Hernandez, Trey Miguel y Rhino.
Willie Mack vs Ace Austin vs Chris Bey, Campeonato X Division
Orgininalmente era solo Willie Mack vs Chris Bey, pero Ace Austin decidió usar su cláusula de revancha como ex campeón para convertirlo en una triple amenaza.
Spotfest disfrutable y sin duda lo más destacado de la velada. Los tres luchadores se esforzaron por entregar un encuentro basado en la rapidez y sus virtudes High Flyer. Al final, pese a las dificultades Willie Mack lograría retener su título.
Un dato no menor es que antes de finalizar el show, Ace Austin dice que ya se había cansado de luchar en la división X y era tiempo de buscar nuevos horizontes (al parecer el título mundial).
Los combates de la próxima semana en Impact Wrestling:
Madman Fulton vs Hernandez (Primera ronda del torneo)
Suicide vs Moose
Trey Miguel vs Rohi Raju (Primera ronda del torneo)
Havok vs Kimber Lee
También te puede interesar: