Resultados AEW Dark Episodio 52 – 15.09.20
Vamos directamente con los resultados que nos dejó una edición más de AEW Dark.
Brandi Rhodes c/Dustin Rhodes vs. Red Velvet
Combate rápido que, para mi sorpresa, no fue del todo horrible. Igual, siempre es un gusto ver a Anna Jay, así sea por pocos segundos.
Al final, victoria para Brandi luego de someter a su rival con una efectiva Sleeper Hold.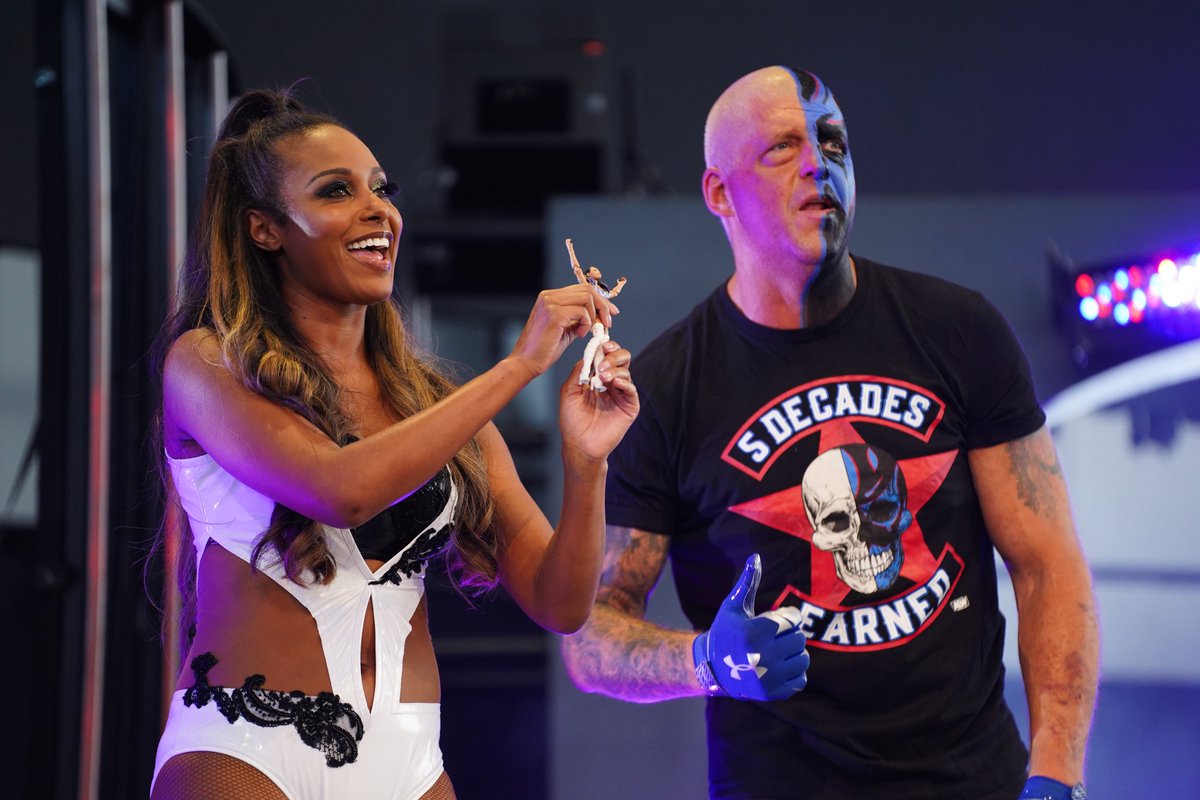 Valoración: 1 jumbito y medio.
Daniel Garcia & Kevin Blackwood vs. The Butcher & The Blade c/Eddie Kingston
A pesar de que no me gusten para nada The Butcher & The Blade, debo admitir que lucieron muy bien en su faceta ruda y agresiva frente a sus rivales. Prácticamente con el control de la lucha desde el minuto cero, supieron mantenerse enfocados y llevarse la victoria fácilmente.
Valoración: 1 jumbito 3/4 +
Penelope Ford c/ Kip Sabian vs. Dani Jordyn
Me alegra que una luchadora tan mala como Penelope Ford no haya dejado algo tan terrible. Igual, este match es tiempo perdido.
Victoria para Ford al final luego un Suplex.
Valoración: 1 jumbito y medio.
Brian Cage vs. Megabyte Ronnie
En resumen, Cage le sacó la cresta a alguien que payasea con un hot dog. Squash rápido e inclemente.
Valoración: 1 jumbito y medio.
Santana & Ortiz vs. Griff Garrison & Brian Pillman Jr.
Los puertorriqueños venían de capa caída, y esta victoria la necesitaban como el comer. Decenter performance de todos los involucrados en el poco tiempo que estuvieron en el ring.
Valoración: 2 jumbitos +
Jessy Sorensen vs. Will Hobbs
Squash a semana seguida a manos de Hobbs. Lo del Casino Battle Royal parece que no es coincidencia y ven en Will una seria apuesta. Veremos.
Valoración: 3/4 jumbitos.
Skyler Moore & Raché Chanel vs. Diamante & Ivelisse
Un notorio botch de Diamante es el que marca la pauta en esta ucha tag que dejó poco o nada destacado. Eso sí, Ivelisse se notó que era la más cumplidora de las cuatro dentro del ring, y deberá demostrarlo contra Thunder Rosa en este Dynamite que viene.
Valoración: 1 jumbito.
Colt Cabana vs. QT Marshall c/ Allie
Uno de los combates más serios de la noche. Dominios compartidos y secuencias medianamente coherentes hacen de este una lucha normal semanal con algo de sazón.
Las interferencias de la Dark Order pesarían al final para la victoria de Cabana sobre el penca de QT Marshall.
Valoración: 2 jumbitos y medio+
Brandon Cutler vs. Peter Avalon c/ Leva Bates
The Librarian se hace odiar cuando quiere. Eso sí, tiene una pinta de jobber máximo. Esta vez el enfrentamiento ante Cutler fue bastante igualado, tanto así que la lucha termina en un doble count out que deja a Leva Bates sola en medio del ring.
Igual que el combate anterior, es solo normalito. Nada para tirar cohetes.
Valoración: 2 jumbitos +
Maxx Stardom & Dontae Smiley vs. Best Friends
Faceta distinta de Best Friends a lo que normalmente estamos acostumbrados a ver. Prácticamente, cumplieron de heels en esta lucha, y se llevaron una contundente victoria a vísperas de su combate ante Santana & Ortiz en Dynamite.
Semi squash, con muy pocas etapas de dominio de parte de Stardom o Smiley.
Valoración: 2 jumbitos y medio.
Dark Order vs. Private Party, Billy & Austin Gunn
Combate desordenadísimo como se esperaba, pero entretenido a ratos. Lo que me parece increíble es que Billy Gunn aún esté robando y, de paso, haciendo casi todos los hot tags. Ya sáquese.
Victoria necesaria para el Dark Order en el main event de la velada.
Valoración: 2 jumbitos.
Aquí dejo el enlace para el episodio completo:
¿Qué tal te pareció este episodio de AEW Dark? Déjalo saber en los comentarios.
Tal vez te pueda interesar:
RAW no pudo con la NFL y baja considerablemente en rating
Confirmado: Sasha Banks estará en la segunda temporada de "The Mandalorian"