Resultados Friday Night SmackDown 20.11.2020
Smackdown de preparación a Survivor Series. Hubo varios careos previos al PPV, como el de Roman Reigns con Drew McIntyre, a quien humilló.
Tras recibir la terrible noticia, de que el Don Cheadle de DosDosSoloDos (Carlos Matamoros) sería incapaz de ver el Smackdown de esta noche, me vi obligado a ponerme la capa nuevamente por el bien del circo. Así que aquí estamos nuevamente ¿Qué nos habrá dejado el último show previo a Survivor Series?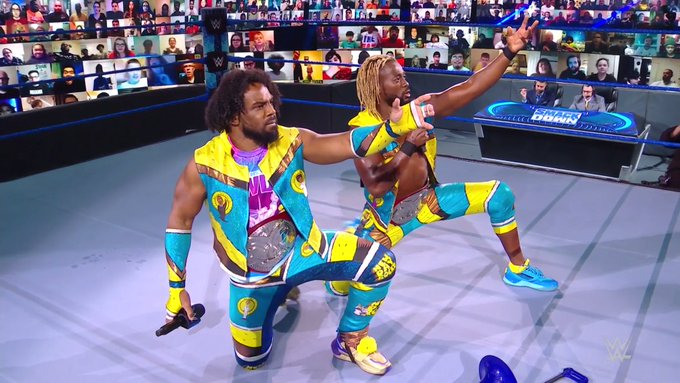 Los Padres de Carlos unen fuerzas
Lucha por equipos entre el equipo conformado por los campeones en parejas de ambas marcas The New Day y los Street Profits contra Ziggler, Roode, Corbin y Sami. Encuentro que me deja con hype rumbo a su lucha este Domingo, demostrando que los campeonatos están en las manos correctas superando con mucha facilidad a sus rivales gracias a la gran química que existe entre los cuatro. Finalmente Ford remató con su Frog Splash a un Sami que pese a ser campeón, sigue siendo tratado como pelele.
Bayley y Natalya se unen al Team SmackDown
Encuentro para determinar a la última integrante del team SmackDown entre Tamina y Natalya donde Tamina comenzó dominando, pero donde tras un error se comió el poste. Finalmente, Natalya aprovechó y le aplicó su Sharpshooter a una lastimada Tamina para obtener la victoria. Así, terminó de definirse un team SmackDown conformado por Bayley, Ruby, Liv, Bianca y Natalya. Con esto, creo que se vuelve más evidente qué equipo se llevará la papa.
I'm The Tribal Chief and The Face
Firma de contrato donde los dueños de los títulos más importantes de ambas marcas, se vieron las caras para oficializar su combate en Survivor Series. Roman Reigns dijo que sabía que Drew ganaría y menciona que Drew es el tipo correcto en el lugar correcto, pero el tiempo equivocado.
McIntyre firmó el contrato, pero antes de entregárselo a Roman Reigns le advirtió que mejor se prepare para una guerra. The Tribal Chief le replica que solo recibe consejos de su consejero oficial, pero le dará un consejo y ese es que siempre será el portador de un título secundario. Roman Reigns se jactó de ser la cara de la empresa, mientras asegura que Drew en algún momento verá la luz y cuando ese día llegue se acordara de este momento. Antes de irse, le recordó que siempre será su segundón favorito.
La novela volvió a Smackdown y en forma de fichas
Lucha entre el ex pupilo y el Mesías, donde Rollins aseguró que hará pagar a Murphy por su traición. He de admitir que el combate fue bastante bueno, gracias a Murphy claro está. Finalmente, Murphy logró conectar su Murphy's Law para la cuenta tres. Esperemos que este sea el final definitivo para esta mierda, ¿Cuántos meses llevamos viendo el mismo bookeo repetitivo?
Careo entre campeonas
Intercambio de palabras entre Sasha y Asuka previo a su combate en Survivor Series. Ahí Banks recordó lo ocurrido hace unos meses en SummerSlam, cuando ambas se enfrentaron por el título de RAW. Sasha afirma que está más lista que nunca y que este Domingo hará que Asuka se rinda. Sasha dice que no hace falta esperar para ver quién es la mejor, pero Carmella aparece y la ataca nuevamente…
Bryan logra cobrar venganza contra Jey Uso
Revancha entre Bryan y Jey Uso con un Bryan determinado a hacer pagar a Jey por el ataque sufrido hace unas semanas. Uso se enfocó en atacar la espalda de Bryan mientra le gritaba que no era personal. Bryan luego retomó el control, para pasar a castigar con varios pisotones la cara de Jey. El primo de Roman Reigns buscó la plancha, pero Bryan le sacó un pin para llevarse la victoria y cerró Smackdown con los brazos levantados.
¿Se vienen contratos televisivos más lucrativos para WWE?
Dos grandes estrellas estarían en negociaciones para hacer su regreso a WWE.