Resultados IMPACT Wrestling 24.11.20
Un nuevo IMPACT Wrestling en donde el evento estelar marcaba una lucha entre el campeón mundial Rich Swann y el veterano Ken Shamrock.
Sean bienvenidos a un nuevo episodio semanal de IMPACT Wrestling.
Tasha Steelz y Kiera Hogan vs The Sea Stars (Delmi Exo y Ashley Vox), Primera ronda del torneo por los títulos Tag de Knockouts
Primera vez que veo en acción a este equipo de The Sea Stars que tienen recorrido por empresas como Shimmer Wrestling y su trabajo en equipo se ve es bueno, siendo las que prácticamente cargaron con gran parte del match y le dieron algo mas de dinamismo a la contienda. Lamentablemente no les alcanzó para llevarse la victoria y el equipo de las rudas se impuso.
Jordynne Grace estaba viendo el encuentro en Backstage junto a quien será su compañera en el torneo: La ex campeona femenina de WWE y NWA, Jazz, quienes prometen llevarse los títulos al final del torneo.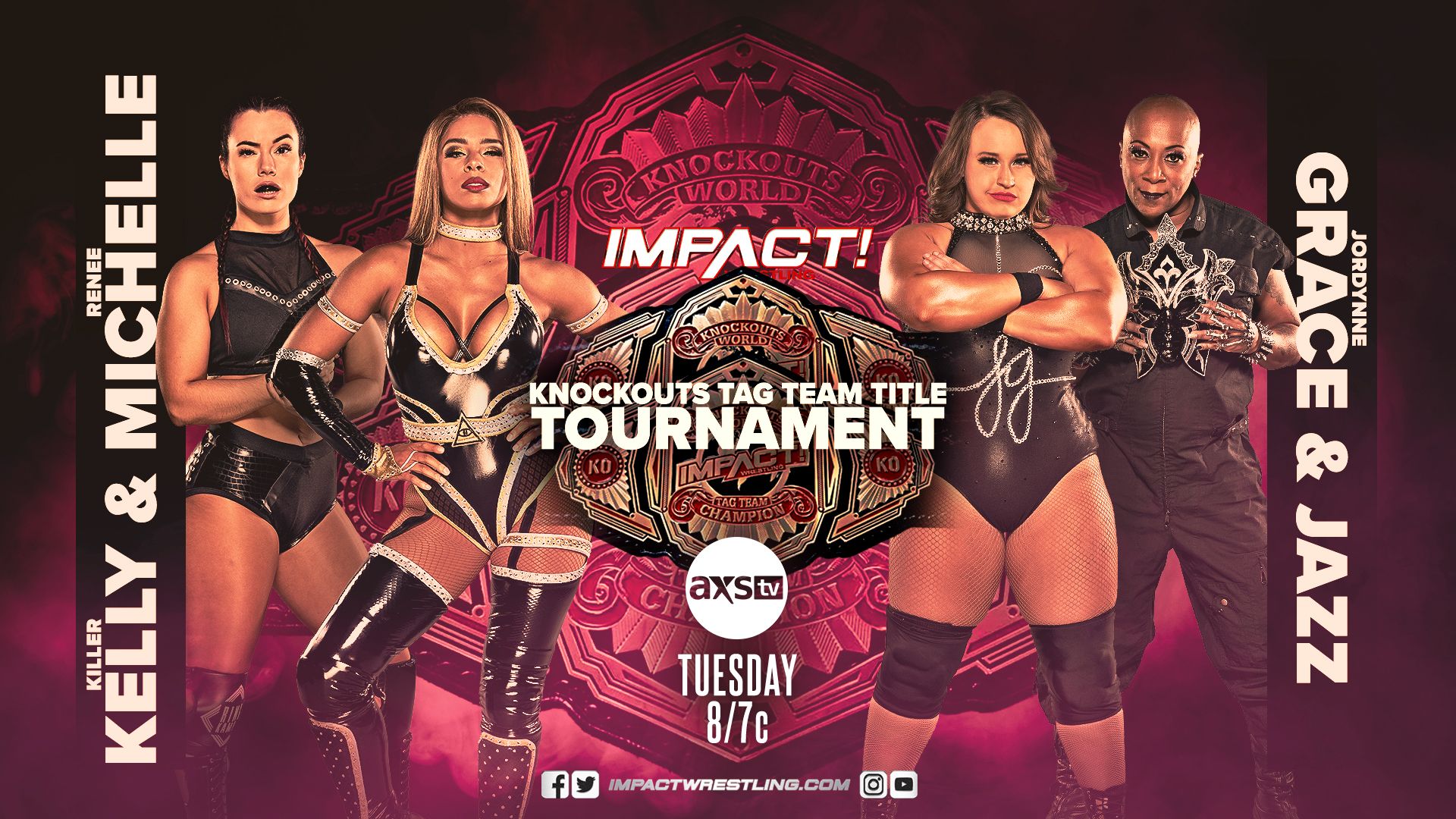 Wrestlers Court donde Johnny Swinger es interrogado por un jurado con Tommy Dreamer como Fiscal y D Lo Brown de juez.
Rohit Raju vs Suicide
Lucha decente en este programa de IMPACT Wrestling, donde el titulo X Division no estuvo en juego. Parecía que TJP era el que estaba detrás de la máscara, pero Rohit tras desenmascararlo sonó la música del ex campeón crucero de WWE, hecho que ocasionó que el Suicide desenmascarado lo cubriera por sorpresa. Quien estaba detrás de la mascara era Crazy Steve.
Ken Shamrock y Sami Callihan se encuentran en backstage hablando del combate titular del Hall Of Famer con Rich Swann. Ambos se ven interrumpidos por Moose, quien les recuerda que él ya venció a Shamrock en el pasado y de ganar en el ME, le debe una oportunidad titular, hecho que molesta a Ken pero es detenido por el ICU.
Killer Kelly vs Kimber Lee
Buen duelo entre ambas féminas. Creo que con algo más de tiempo se pudo construir algo mejor pero en sí resultó una buena interacción entre ambas.
Tras el combate Suzie aparece diciendo que ella solo quería a Deonna y Kimber que su amiga está aquí para hacerles daño. Su Yung aparece y se enfrenta sola a las rudas, sacándolas del ring.
The Motor City Machine Guns son entrevistados. Chris Sabin menciona que ya se han terminado con Team XXXL, es momento de volver a la carga por los títulos tag ya que Alex Shelley tiene el alta médica.
Ethan Page vs "The Weelnomenal One" AJ Swoggle
Primero que nada, no creo alguien haya sido tan inocente que haya pensado que AJ Styles regresaría a IMPACT y segundo, esto del personaje parodia le puede salir caro a IMPACT con uno de sus luchadores emblema, quien según tengo entendido aún les guarda cariño (Depende del sentido del humor de Styles). Pasando al combate, dominio claro de Ethan Page hasta que Karl Anderson distrae a Page para que Swoggle se robe el conteo vía Roll Up.
De vuelta a la corte, Johnny Bravo regresa y dice que no pudo ver quién le disparó pero sabe su olor. El olor corresponde a una colonia de Larry D quien confiesa que él le disparo a Bravo con su otra personalidad. Johnny Swinger es declarado inocente.
Se anuncian los combates para la siguiente semana donde destacan MCMG vs Team XXXL, Chris Bey vs Willie Mack y una nueva ronda del torneo por los títulos Tag femeninos.
Rich Swann (c) vs Ken Shamrock (Con Sami Callihan), Campeonato mundial de IMPACT Wrestling
Encuentro mediocre en su mayoría. No sé por qué deciden poner a "The World Most Dangerous Grandpa" con una oportunidad titular con todo y mal ritmo para combates. Sumado a la ofensiva poco atractiva de Swann y el final que no entiendo con qué derecho lo hacen para proteger a Shamrock.
Post Match los rudos atacan al campeón mundial pero Eddie Edwards ingresa para defender a Swann pero termina siendo neutralizado y posteriormente herido de un ojo producto de un fuerte ataque con el bate de Callihan (Como hace unos años).
También te puede interesar:
Resultados Monday Night RAW 23 de Noviembre de 2020