Capítulo 55: AEW Dynamite vs. WWE NXT
Una nueva guerra de los miércoles empieza y aquí te contamos todo lo que aconteció tanto en AEW Dynamite como en WWE NXT.
Una nueva guerra de los miércoles empieza y aquí te contamos todo lo que aconteció tanto en AEW Dynamite como en WWE NXT.
AEW Dynamite 25.11.2020
Por Carlos Matamoros
¿Adam "Hangman" Page a The Dark Order?
Un muy bonito opener entre Hangman y John Silver daba pie a este Dynamite, donde el primero se llevaría la victoria luego de una gran lucha. Punto aparte la performance de John Silver, misma que fue completísima en todo sentido. Ojalá le hubiera ganado a Orange Cassidy en Full Gear. Lo hubiera tenido más que merecido.
Después de la lucha, Evil Uno, junto al resto del Dark Order, va en son de paz al ring a ofrecerle unirse a su grupo, cosa que deja a Hangman pensando. ¿Será este el futuro de Adam? ¿o se viene alguna rivalidad con el "Exalted One"?
Kenny Omega y una interesante promo
Omega habla en backstage sobre lo que será estar frente a Moxley, sabiendo que su estatus de "mejor en el mundo" es únicamente porque él no ha tomado el spotlight, asegurando que "el verdadero mejor en el mundo" es él. Eso sí, indica que en la firma de contrato de más tarde todo será en son de caballeros.
Powerhouse Hobbs demostrado su poder… Y Taz igual
Will Hobbs se enfrentaba a Lee Johnson en un verdadero squash, que la verdad, deja pocas conclusiones, más que Hobbs es una verdadera bestia parda y será un rival de temer para cualquiera.
Después de la lucha, Taz haría una promo que es interrumpida luego de que su micrófono se apagara repentinamente. Luego, Cody ingresaría al ring a increpar a Taz "en son de respeto", únicamente para ser atacado por este. La rivalidad entre el grupo que Taz lidera y Cody y Darby Allin tan solo parece estar empezando.
The Hybrid2 y su mensaje a The Young Bucks
Todo apunta que el equipo de Angélico y Jack Evans serán los nuevos rivales de los Bucks, esto luego de hacerse una importante victoria ante el team en ascenso conocido como Top Flight. Lucha normal, ni linda que encante ni fea que espante.
¿Estarán listos The Hybrid2 para los Young Bucks? Pues yo creo que no. Pencas culiaos.
FTR dejando en claro sus intenciones en AEW Dynamite
Cash Wheeler y Dax Harwood definitivamente no descansarán hasta tener sus títulos de vuelta, y en esta promo que hacen junto a Tully Blanchard lo dejan bien en claro.
Chris Jericho & Jake Hager vs. SCU (Frankie Kazarian & Christopher Daniels)
Un tag team match en donde lo más destacado fue ver al Inner Circle entero payaseando en ringside, y bueno, el tremendo derechazo que se comió post match MJF.
Eso sí, buen momento verlos a Daniels y Jericho en un mismo ring. Dos leyendas.
Sigue la rivalidad entre Best Friends y los gamers
Un brawl se armó cuando Miro y el asqueroso de Sabian estaban presentando su nuevo segmento gamer. Creo que es primera vez que banco a Cassidy.
Miro totalmente perdido. Que se desligue de ese estorbo lo más rápido posible.
Moxley y su mensaje a Omega en AEW Dynamite
Jon Moxley no se anda con medias tintas, y luego de reventar a Kenny Omega, culpándolo del ataque que sufrió la semana pasada, se encargó de dejarle en claro que debe aprovechar esta oportunidad de quitarle el título, pues no tendrá más.
¡Hype para ese Winter is Coming de la semana entrante!
Hikaru Shida sigue vigente
En una de las luchas co-estelares, Hikaru Shida retendría su campeonato femenino de AEW luego de una reñida batalla con Anna Jay (The Dark Order). A pesar de que la retadora hizo de todo y fue consistente en su labor, no pudo hacerse del cinturón, que le sigue perteneciendo a la nipona que, últimamente, no la noto del todo lúcida. Ojalá levante, sobre todo porque Abadon viene por ella.
Pd: No me gusta el concepto de Abadon. A pesar de ser algo original para la división, creo que termina careciendo de sentido y sustancia, como todo gimmick creepy o sobrenatural. Eso sí, tiene tiempo para hacerme tragar mis palabras.
Eddie Kingston le da la mano a The Butcher & The Blade
Luego de un reñido tag team match entre The Butcher & The Blade contra PAC y Rey Fénix, serían los primeros los que se harían con la victoria, luego de una intervención de Kingston sin que el réferi se dé cuenta.
Lo verdaderamente interesante iba a pasar en el post match, cuando el grupo vencedor se disponía a seguir atacando a PAC y los Lucha Brothers. Lance Archer haría su aparición para atacar a Kingston y sus secuaces, mirándose fijamente luego de que éstos huyan.
¿Qué viene para Lance Archer y Eddie Kingston? ¿Cómo juega el papel del Murderhawk en la rivalidad que se viene tejiendo entre Kingston y PAC? Muchas preguntas y pocas respuestas de momento, lo que lo hace agradable este AEW Dynamite.
Eso sí, el programa de hoy de AEW Dynamite evidentemente no es de los mejores, estando flojo en algunos pasajes. Igual, es entendible, pues la semana que viene en el Winter Is Coming deberían echar la casa por la ventana. Los demando al SERNAC si no es así. :v
WWE NXT 25.11.2020
Por Alonso Salazar (Hit)
Luego de meses sin ver este show que vale callampa, tuvo que llegar este triste día:
Luchas:
Candice LeRae vs Ember Moon
Entretenida sin más. Nadie la recordará en 2 días, pero sirve para pasar el rato. Un opener cumplidor. Lo más importante de acá fue que Toni Storm le dió la espalda (algo que generó felicidad para sus fans pajeros) a Ember, uniéndose a LeRae.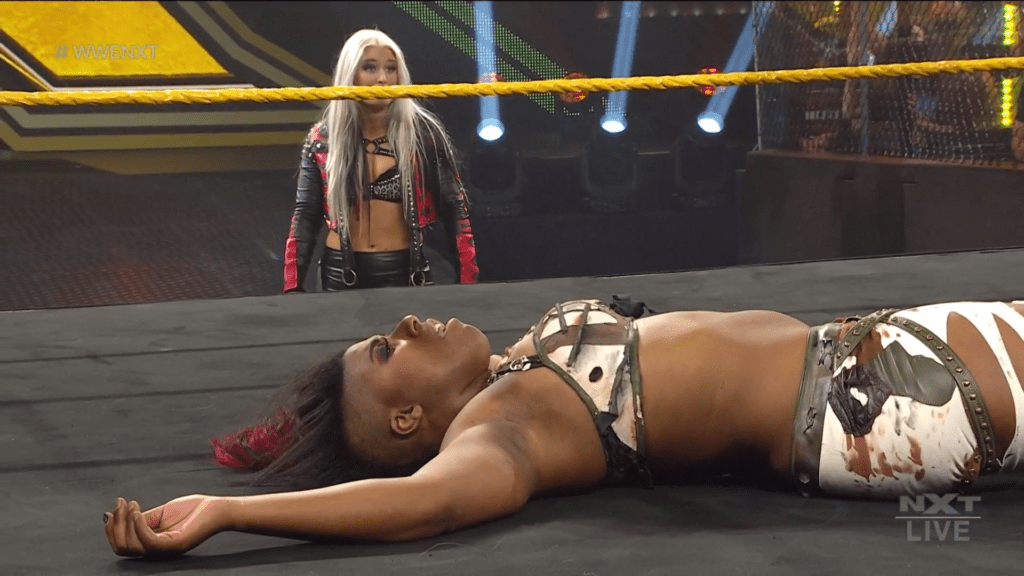 Timothy Thatcher vs. KUSHIDA
Lucha del anti IT factor. A pesar de la poca atención que me generan estos 2 peleles, siento que dejaron algo interesante en el ring. Pudimos ver un limbwork interesante y selling decente por parte del dientes de dinamita, quien terminó rindiéndose.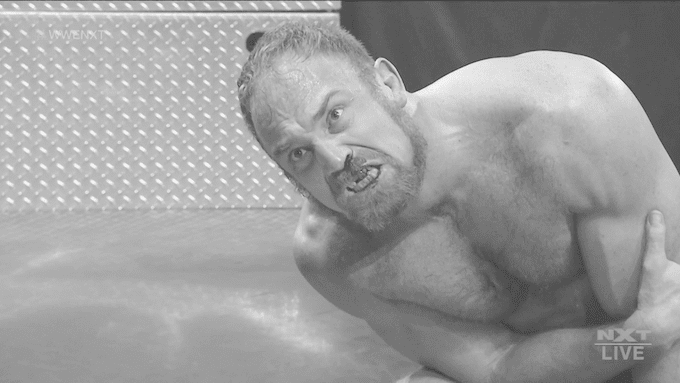 Cameron Grimes vs. Jake Atlas
Squash. Depués aparece el fome culiao de Dexter Lumis.

Ladder Match por la ventaja en WarGames: Kyle O'Rilley vs. Pete Dunne
El combate tenía un gran potencial, pero este par de bastardos se pasaron por la raja todo el selling, sobre todo en los compases finales. Estos conchadesumadres de NXT no han entendido nada en todos estos años. APRENDAN LA HUEÁ CTM.
Segmentos
Yo diría que todos los segmentos valieron 1000 hectáreas de callampa, pero el peor fue el "Kevin Owens Show", en el que Gargano otra vez da vergüenza ajena. Lo peor es que no es el único: El Ozuna ql campeón norteamericano es igual de malo y no tiene mayor gracia. Perkinazo.
Conclusiones
No veía este show hace meses y sigue siendo una mierda. Al menos se puede decir que HHH es constante. Prefiero ver "Café Cargado" de Checho Hirane antes que esta cagada de programa. PD: Bobby Fish cada día se parece más al indecente de Camilo. Aféitense, par de payasos.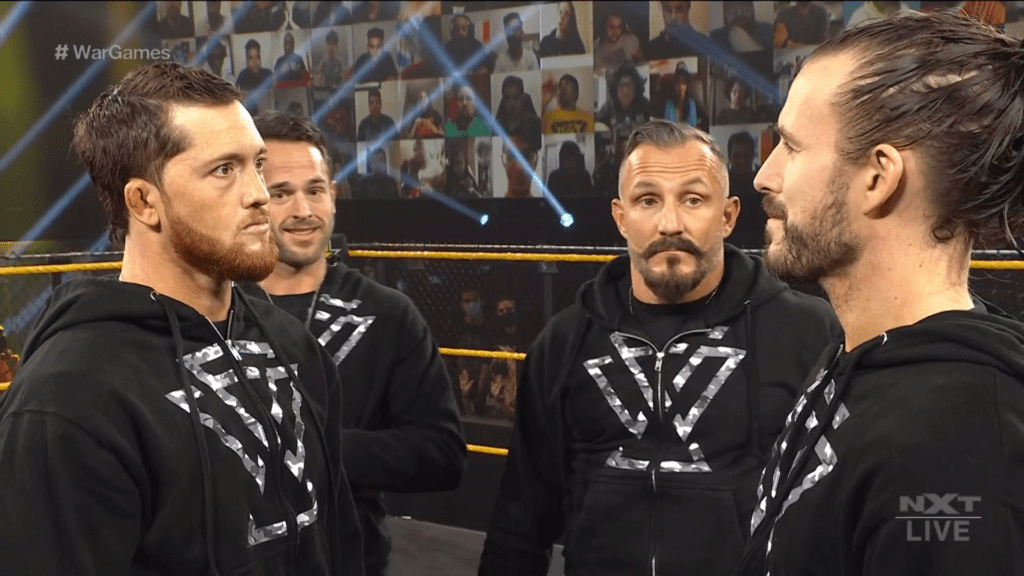 PD2: ¿Qué hace el Ghost Face de Scream? Marca inviable.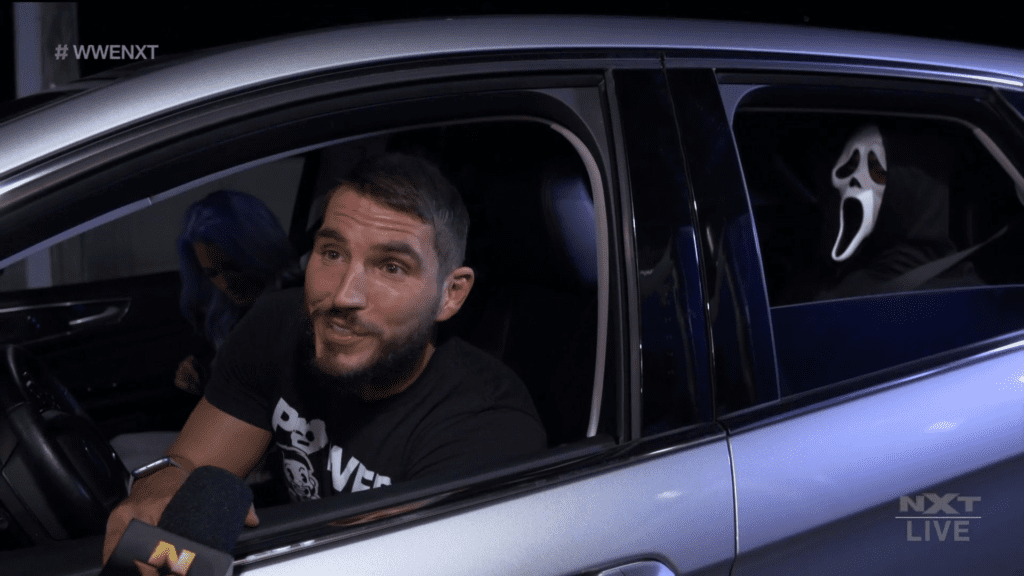 También puedes ver:
JBL opina que Roman Reigns es el mejor personaje de los últimos años
Chris Jericho explica la razón de su estilo de promos entre el 2008 y 2010
¿En qué clásica rivalidad se inspiró Sasha Banks para su pugna con Bayley?