Capítulo 56: AEW Dynamite vs. WWE NXT
Un AEW Dynamite que trae su concepto de "Winter Is Coming" dispuesto a tirar la casa por la ventana, se enfrenta a un victorioso WWE NXT que quiere repetir su resultado de la semana pasada.
Un AEW Dynamite que trae su concepto de "Winter Is Coming" dispuesto a tirar la casa por la ventana, se enfrenta a un victorioso WWE NXT que quiere repetir su resultado de la semana pasada.
¡Vamos directo a lo más importante!
AEW Dynamite "Winter Is Coming" – 02.12.2020
Por Carlos Matamoros
Buena Dynamite Diamond Battle Royal
Cuando una Battle Royal es bien llevada, siempre es disfrutable, y este fue el caso acá, en donde tuvimos varios momentos, desde Hangman Page siendo apoyado por The Dark Order, hasta Miro siendo absolutamente dominante en la contienda. Además, se siguieron llevando rivalidades, tal como la de Scorpio Sky con Shawn Spears, y por supuesto, un Orange Cassidy que queda al final para los loles.
De hecho, digamos que ese final no lo encuentro muy coherente y pareció más forzado que otra cosa. Que sí, que Orange gusta y demás, pero no es la forma creo.
Pd: Como que se les pasa la mano a veces con las Battle Royal a AEW, ¿no?, y John Silver crack. En su carro desde chiquitito.
The Inner Circle en conflicto
Luego de un disputado encuentro entre Chris Jericho, "Le Champion", y Frankie Kazarian, en donde el líder del Inner Circle se haría de la victoria, habría tremenda disputa entre sus miembros. MJF se las tomaba con Sammy Guevara y Wardlow hacía lo propio con Hager.
Esto llamaba a un ultimátum de Jericho, quien pide que las cosas se lleven como deben llevarse, o el Inner Circle dentro de 7 días desaparece por completo.
"Doctora Muelitas" al poder
Una Britt Baker que tiene un gran it factor como heel, tuvo que derrotar con mucha dificultad a la tremenda Leyla Hirsch.
Después de la lucha, Thunder Rosa vendría a formar un gran brawl con Baker, en donde tuvieron que intervenir prácticamente todos los árbitros.
The Hybrid2 y otro mensaje a los Bucks
En un segmento en backstage, los Bucks, que eran entrevistados, empezaron a ser insultados por "The Acclaimed", lo cual era simplemente una coartada para que la dupla conformada por el penca de Angelico y el bueno de Jack Evans ataque a los campeones. Nick Jackson terminando en la basura es muy top. ¿Volviendo a casa?
El momento de la noche a cargo de Sting
Se había pactado una lucha tag team entre Darby Allin, el campeón TNT y Cody Rhodes, frente a dos de los chicos de Taz: Powerhouse Hobbs y Ricky "Dwayne Johnson :vvv" Starks.
Luego de un combate bastante normal, en donde lo más interesante se vio en el poderío de Will Hobbs y como le hizo dar 2173234 vueltas en el aire a Darby luego de un Clothesline, vendría un post match cargado de bastante castigo, en donde hasta Arn Anderson participó, pero que igual fue rápidamente neutralizado por el poderío de los chicos FTW.
Luego de apagarse las luces un momento, acompañado de nieve artificial haría su aparición nada más y nada menos que Sting. El resto véanlo e interprétenlo ustedes mismos:
Un main event de infarto en AEW Dynamite
Como ya sabían, el evento principal de este AEW Dynamite iba a ser Jon Moxley, defendiendo su Campeonato Mundial de AEW, frente a Kenny Omega, la gallinita de los huevos de oro de la IWC. Debo decir que, aunque tuve mis dudas inicialmente, sobre todo con Omega, el combate me sorprendió para bien y es muchísimo mejor de lo que me esperaba.
Lo que no pude tolerar es la secuencia entera que lleva al final. Un Don Callis (vicepresidente de IMPACT Wrestling) interviniendo, a cuento de no se sabía por qué, para darle la oportunidad a Kenny de poder ganar tiempo. Mi segunda contra, es precisamente el golpe con el micrófono. Si lo van a hacer, que sea con el micrófono apagado, por favor. Es de inocentes pensar que el árbitro no escuchó el sonido del mic al ser estampado contra la cabeza de Mox. Girarse, verlo sangrando y no preguntarse: ¿pasó algo?
Eso sí, la última secuencia es brutal. Omega aplicando 4 V-Triggers fulminantes, seguidos de su One Winged Angel, para hacerse de la victoria y convertirse así en el nuevo monarca mundial. ¿Lo verdaderamente sorprendente? Callis llevándose de la arena a Omega con el título, e indicando que, si quieren ver qué es lo que sigue, y qué fue lo que ocurrió esta noche, vean IMPACT Wrestling el próximo martes. De locos.
Hoy perdió Jon Moxley, poniéndole fin a uno de los reinados mundiales más notables de los últimos tiempos. Grande, papá. Siempre en tu carro.
Pd: Finalmente cambiamos la imagen de portada, y gana Omega. Luego que por qué no nos cae bien.
WWE NXT – 02.12.2020
Por Alonso Salazar (Hit)
El show empieza con un sentido homenaje a Pat Patterson, leyenda de WWE y abusador/pedófilo según lo que cuentan.
Como breve previa, existen grandes chances de que esto sea lo mejor del show, ya que el plato de fondo entre Shotzi Blackheart y Raquel Gonzales no me genera buena pinta. Aquí vamos.
Damien Priest y Leon Ruff vs. Legado del Fantasma (Santos Escobar y Raul Mendoza)
Este combate se pactó a partir de una viñeta de backstage mostrada en el show y debo decir que la lucha fue muy aburrida. Hasta el "público" estuvo apagado. Para rematar, aparecen nuevamente los Ghostface detrás de Johnny Gargano, quien fue comentarista en esta lucha. Un payaseo del malo.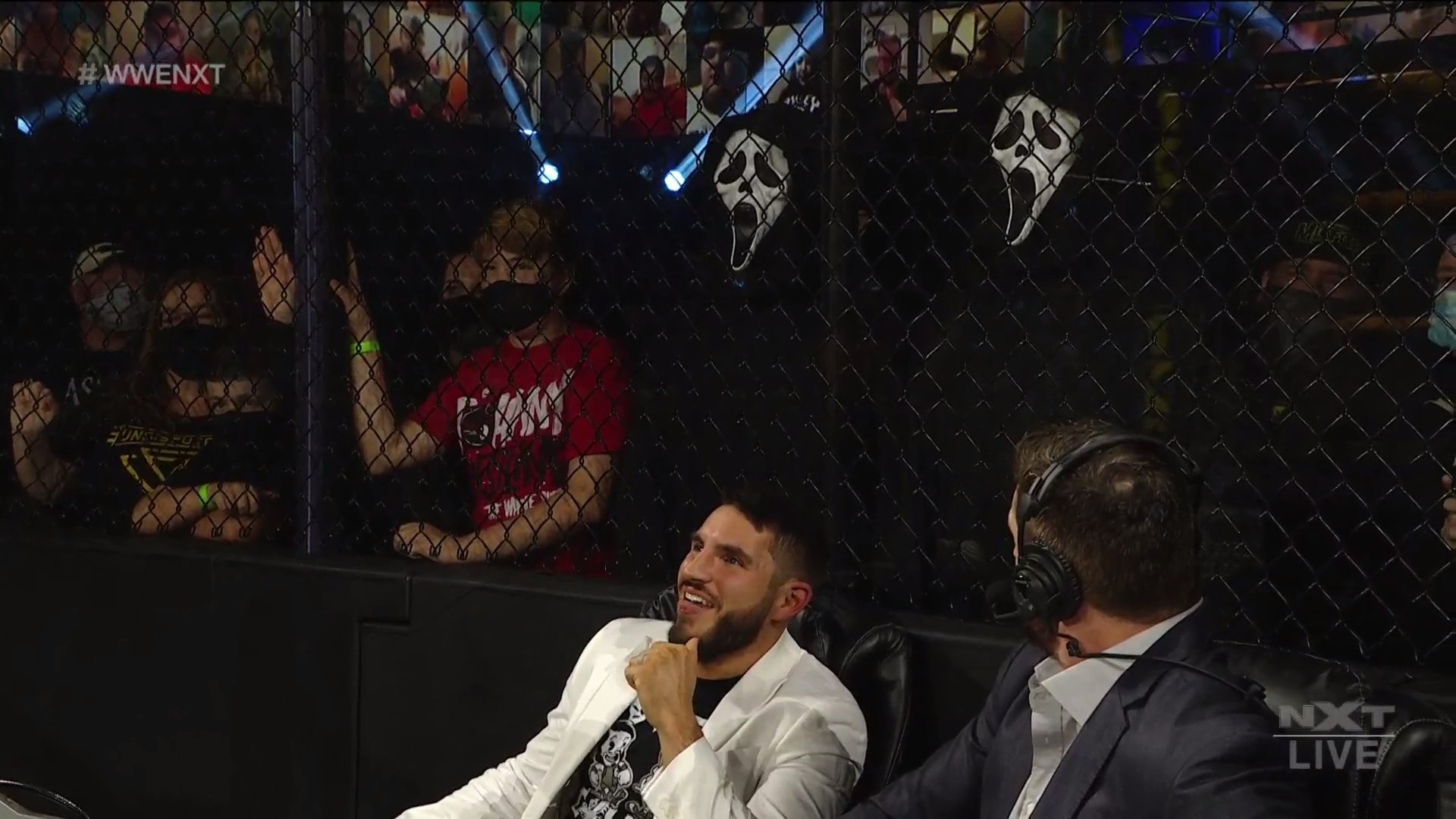 August Grey vs. Cameron Grimes
Un squash. Algo novedoso en este show de mierda. Después de un ataque de Grimes al jobber de turno, Dexter Lumis lo golpeo con una correa.
Algo muy corneta en definitiva, pero sirve para calentar motores (de manera muy pobre) a su combate en NXT TakeOver: War Games.
Jake Atlas vs. Tony Nese
Otro combate corto en el que Nese queda como un pelele. Poco que destacar, salvo que Atlas apunta al título crucero.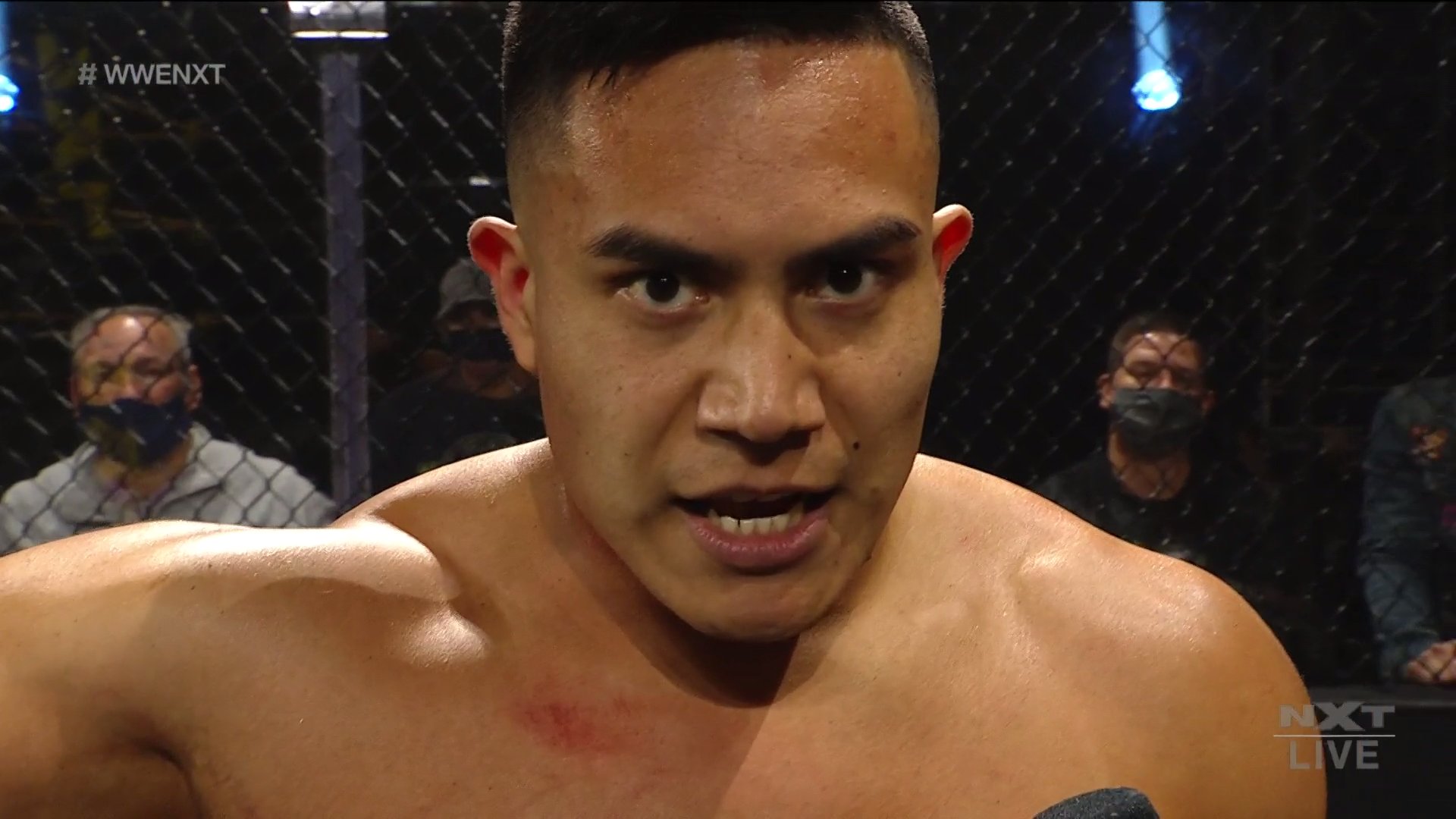 IMPERIUM (Marcel Barthel y Fabian Aichner) vs. Grizzled Young Veterans (James Drake y Zack Gibson)
Me niego a reseñar una lucha de IMPERIUM. Para muchos son tremendos, pero a mí me dan un sueño tremendo. Invertí este tiempo en tomar agua y en hablar en nuestro grupo de staff sobre el debut de Sting en AEW. En otras palabras, no vi la wea de combate.
Shotzi Blackheart vs. Raquel Gonzales, Ladder Match para tener ventaja en War Games
Luego del Main Event de la semana pasada, Triple H pensó que la mejor idea era repetir la fórmula, pero esta vez por el lado femenino. Tremendo genio.
La lucha en sí es totalmente olvidable. No entrega nada al espectador. En 15 minutos nadie la recordará.
En cuando a las luchadoras, 2 breves comentarios:
Raquel sigue siendo igual de mala. Esto no es nada nuevo. Es algo inherente en ella.
Shotzi tampoco es que sea buena y personalmente no me gusta, pero tiene algo de carisma y eso es muy valioso en estos tiempos, considerando que la mayoría de la división femenina son unos conos en todos los sentidos.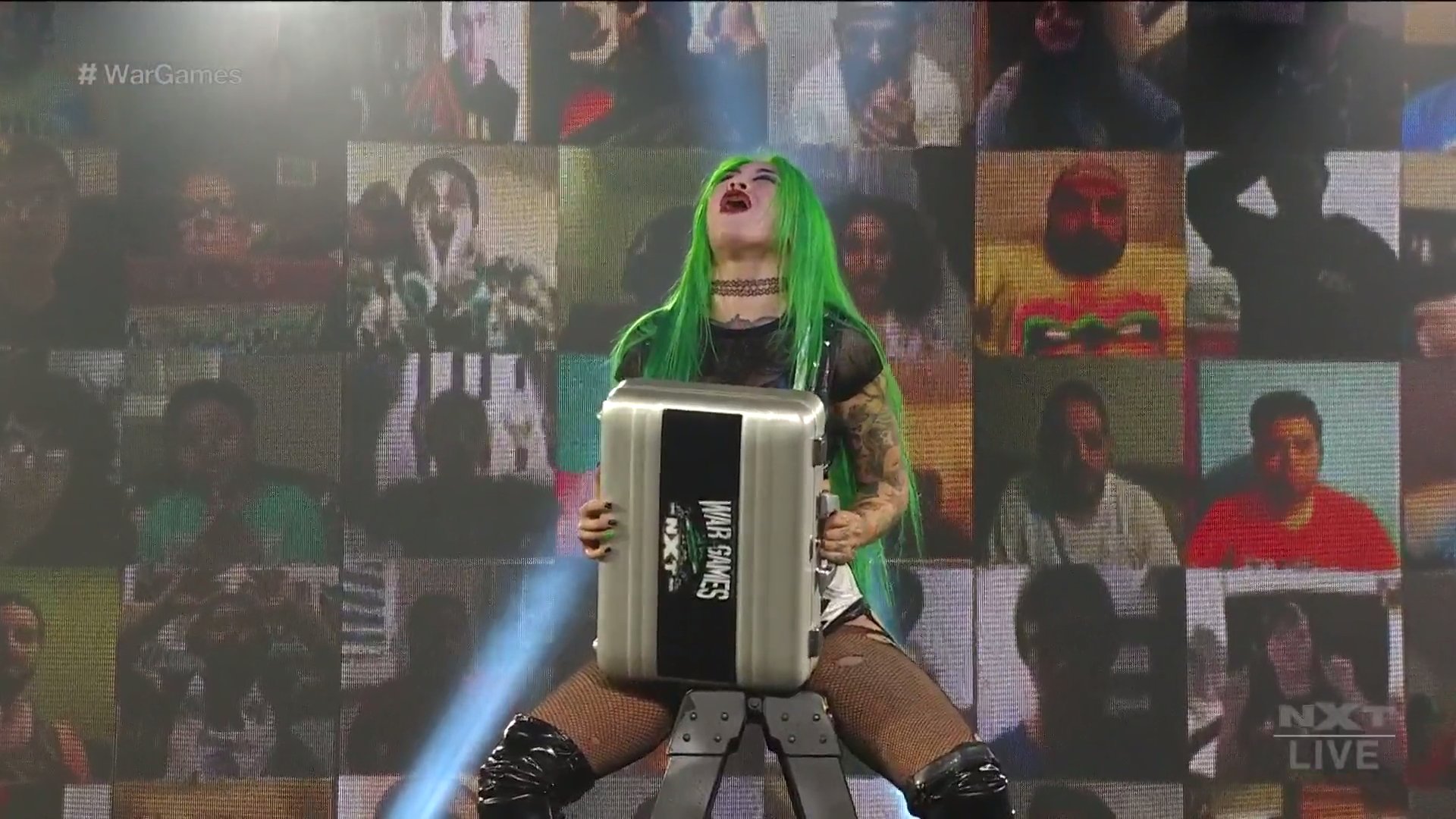 Segmentos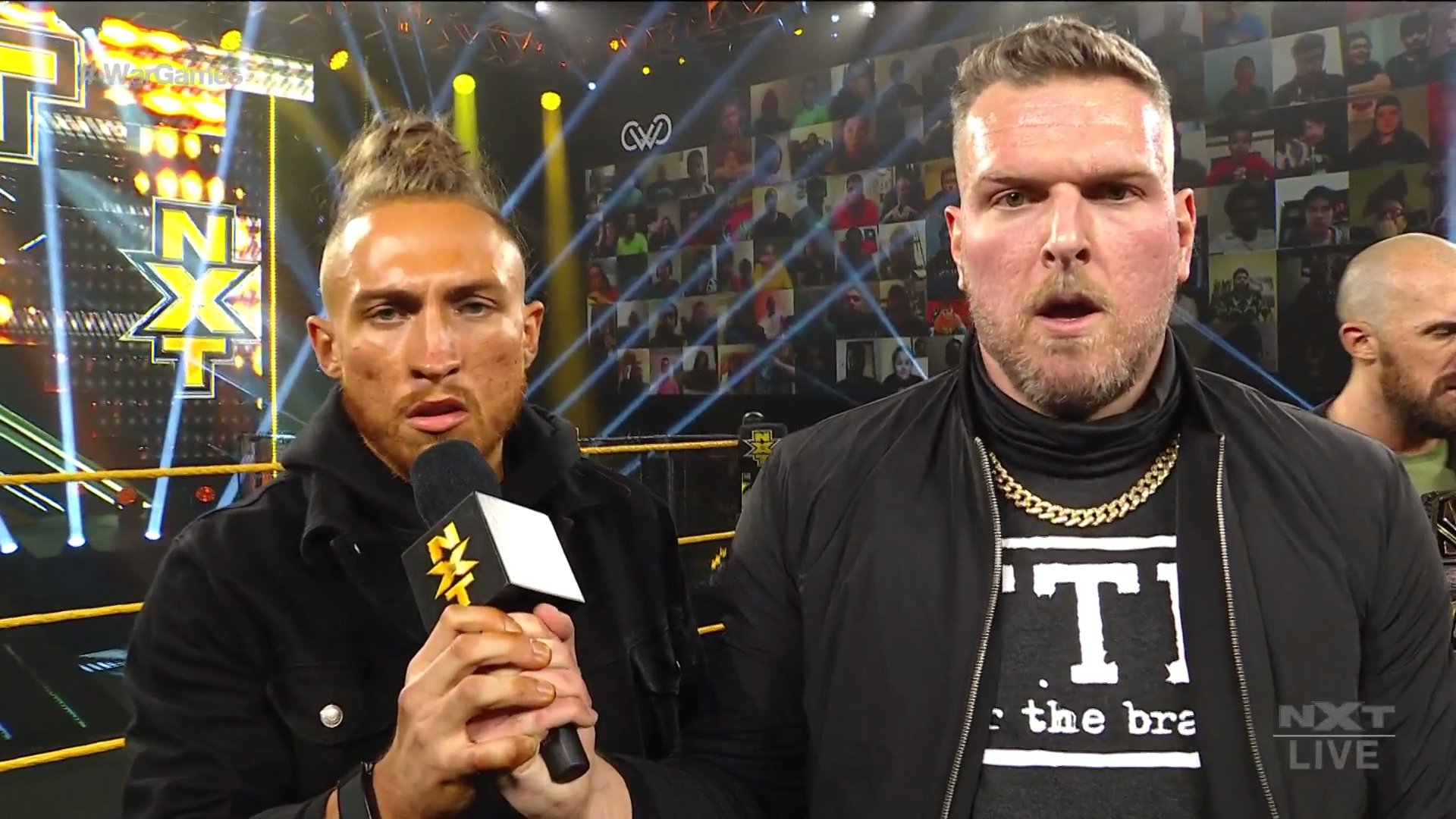 Horrible.
Conclusiones
Un show muy aburrido. Puede que el tema de Pat Patterson los haya tocado (quizás de manera literal).
Hay que considerar que este show es el último antes del PPV y, si bien es cierto que avanzan en las historias, no lo terminan de vender como merece. Realmente genera poco hype al espectador.
En definitiva, ver el Moxley vs. Omega era mejor opción que ver este show de mierda. Si usted vio la marca amarilla, le digo que perdió su tiempo.
Si usted tuvo un día de mierda y de paso vio NXT, tal vez le interese seguir los pasos de Pat Patterson.
¿Siente que su economía va decreciendo… y su virilidad también? Pues RAW va igual.
¿Ya escuchó nuesto más reciente objetivo y educativo podcast? Nosotros tampoco.