Resultados Monday Night RAW 14.12.2020
Entérate de todo lo ocurrido durante el último Monday Night RAW previo a TLC, en donde AJ ha quedado bien parado de cara a su lucha con Drew.
El RAW de esta noche abre con un segmento por parte de The Miz quien narra un cuento de navidad sobre lo que veremos en TLC cuando AJ Styles se enfrente a Drew McIntyre, este está protagonizado por Styles y Morrison interpretando a William Wallace versión cutre. The Miz deja en claro sus intenciones de canjear su maletín este domingo para el desagrado del Phenomenal One. Finalmente Sheamus aparece para terminar con este payaseo navideño.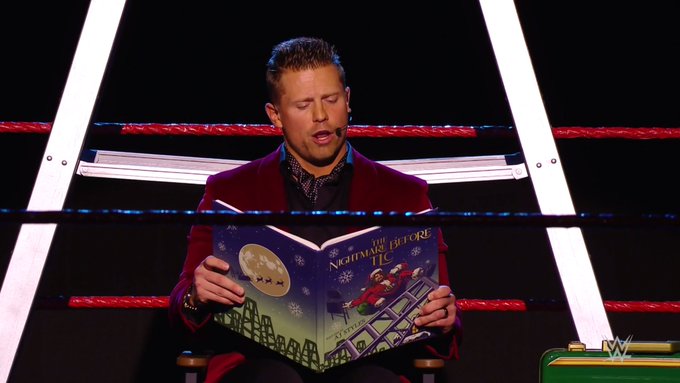 El Phenomenal sigue cosechando victorias
Primer encuentro de la velada donde AJ Styles tendría que hacerle frente a Sheamus en un combate que parte siendo dominado por el irlandés pese a las trampas de Styles. Tras la pausa, AJ cambiaría de estrategia enfocándose en su ya clásico limbwork a la pierna con el que lograría someter a su rival quien vendió muy bien todo el daño recibido (Rollins debería tomar nota). Finalmente AJ aprovecharía un error de Sheamus para llevárselo con un pin que le daría la victoria.
Finalizando el encuentro, Sheamus intenta atacar a Styles pero su guardaespaldas intervendría para dejárselo en bandeja de plata al retador, quien procede a castigarlo con una silla.
The Hurt Business listos para TLC
Lucha entre el equipo conformado por Jeff Hardy y The New Day contra The Hurt Business donde más allá de la confirmación de los Hardy Bros, la contienda fue lo mismo que hemos venido viendo cada semana desde hace algunos meses por parte de ambos equipos. Personalmente me resulta interesante que Alexander continúa teniendo problemas con los miembros del stable robándose el tag. Finalmente Lashley dejaría inconsciente a Hardy con su Full Nelson gracias a una intervención por parte de Alexander.
Lana se impone a Nia Jax y no estamos soñando
Encuentro que solo daña la credibilidad de Nia al darle la victoria a Lana en una lucha donde pese a ser superada demostró ser capaz de ir de uno a uno con su rival. Para sorpresa de muchos, entre los que me incluyo, Lana se llevaría la victoria tras derribar a Nia de las cuerdas para posteriormente conseguir la cuenta tres. Tras la lucha las campeonas tag atacarían a Lana hasta la llegada de Asuka y creo que está más que claro que se viene el primer reinado para Lana.
¿Elias el sanador?
Elias entra al ring junto a Ryker mientras se presenta como un sanador con poderes especiales tras electrocutarse, R-Truth lo interrumpe para disculparse por lo ocurrido en Main Event. Elias lo recrimina por interrumpirlo hasta que llegan los fitis para intentar quitarle el título a Truth hasta que Ryker se cansa y los ataca. ¿Estaremos ante otro gimmick payaso por parte de WWE?
Una noche de ensueño para los peleles
Lucha en desventaja donde Keith Lee se mediría a la dupla conformada por Miz y Morrison, pese a la desventaja numérica The Limitless demostraría ser superior a sus rivales quienes lograrían someterlo gracias a su trabajo en equipo. Finalmente Miz atacaría a Lee por la espalda mientras sostenía a Morrison para llevarse la victoria junto a su compañero.
Del asesino de leyendas a la víbora juguetona
Bray Wyatt sale a escena en compañía de sus muñecos para disculparse con Randy Orton por lo ocurrido la semana pasada, mientras advierte que este domingo solo habrá tristeza y dolor. Acto seguido procede a contar chistes sobre víboras dignos de nuestro compañero Nacho Meñique. Randy aparece en la pantalla para proponerle jugar al escondite con él. Bray acepta encantado mientras la víbora le insta a buscarlo.
Fitibution vuelve a vencer a Ricochet
Hora del relleno que nuevamente corre a cargo de Ricochet junto a otro de los integrantes de Retribution. Sinceramente esta rivalidad entre Ricochet y Ali no podría interesarme menos, la misma se ha alargado varios meses, pero no veo ningún avance. Finalmente Mace finiquitaría a Ricochet con una variante de F5 para la victoria.
Más relleno por parte de WWE
Segundo encuentro femenino de la noche entre Shayna Baszler y Dana Brooke. Dana lograría sorprender a Shayna poniéndola en dificultades hasta que Nia interviene para ayudar a su compañera causando la descalificación. Las heels intentarían castigar a Brooke pero Mandy y Asuka saldrían al rescate.
Wyatt continúa buscando a Randy por los alrededores de la arena hasta que encuentra una puerta abierta con una mecedora en el centro, The Viper aparece por sorpresa y lo ataca, Orton encierra a Wyatt dentro de un cofre de madera el cual prosigue a bañar de gasolina. Orton incendia el cofre, pero es The Fined quien sale del cofre en llamas para atacarlo. Segmento malo y que no hace más que confirmar mi temor por lo que veremos este domingo.
Ya retírate MVP
Encuentro que la verdad me dio muy igual en donde Riddle hizo frente a MVP que solo debería ser manager, la lucha es un squash donde Riddle se impone fácilmente al nefasto de MVP.
Ceremonia de ascensión en este Raw
Segmento para colgar el Campeonato de WWE previo a la lucha que tendrán AJ Styles y Drew McIntyre en TLC. AJ se burla sobre todo el tiempo que le tomó a Drew convertirse en campeón. Drew se muestra confiado, The Miz y Morrison aparecen para atacar al campeón. McIntyre reacciona y amenaza con la Claymore, el campeón se distrae con el guardaespaldas de AJ, acto que Styles aprovecha para recuperarse y atacarlo con distintos objetos. AJ posa triunfante con el campeonato para cerrar el show.
También te podría interesar
¿Crees que los árbitros también deberían entrar al HOF? Mike Chioda da su opinión al respecto.
Recuerda que puedes escucharnos en nuestro podcast que esta semana tocó algunos temas controvertidos.