Resultados AEW Dynamite 23.12.2020
Por la NBA este Dynamite empezó más tarde en lo que claramente nos deja un programa más de transición. Igual hay cosas por rescatar.
Empezamos un nuevo Dynamite luego de un vibrante encuentro de NBA que estuvo a un tiro libre de irse a tiempo extra. Nos salvamos o el programa comenzaba a la hora del p___.
Dynamite y el inicio con Chris Jericho & MJF vs Top Flight
Muy buen opener, muy buen combate, de lo más entretenido que ha hecho Jericho en luchas tag team en los últimos meses. Un encuentro super bien vendido al público, donde tienes dos rudazos insoportables y a los nuevos babyface que la empresa quiere exponer, saliendo una muy buena mezcla de actitudes y estilos. Los chicos de Top Flight se lucen en especial con el hot tag de Darius Martin. Le Champion está bien activo, MJF entretiene con su overselling, los jóvenes de Top Flight demuestran su nivel y como es obvio en Jericho, el pin se lo lleva MJF. Ha valido la pena.
Otro punto interesante es que Hager ha desafiado a Wardlow, ojo ahí.
Jurassic Express vs The Dark Order (10, 5, Cabana)
Por algunos pasajes fue entretenido, pero en otros también sentí algo de indiferencia ya que estos miembros de Dark Order no son precisamente los más populares, de todas maneras es un buen regreso a TV para el Jurassic Express y eso es lo que más importa.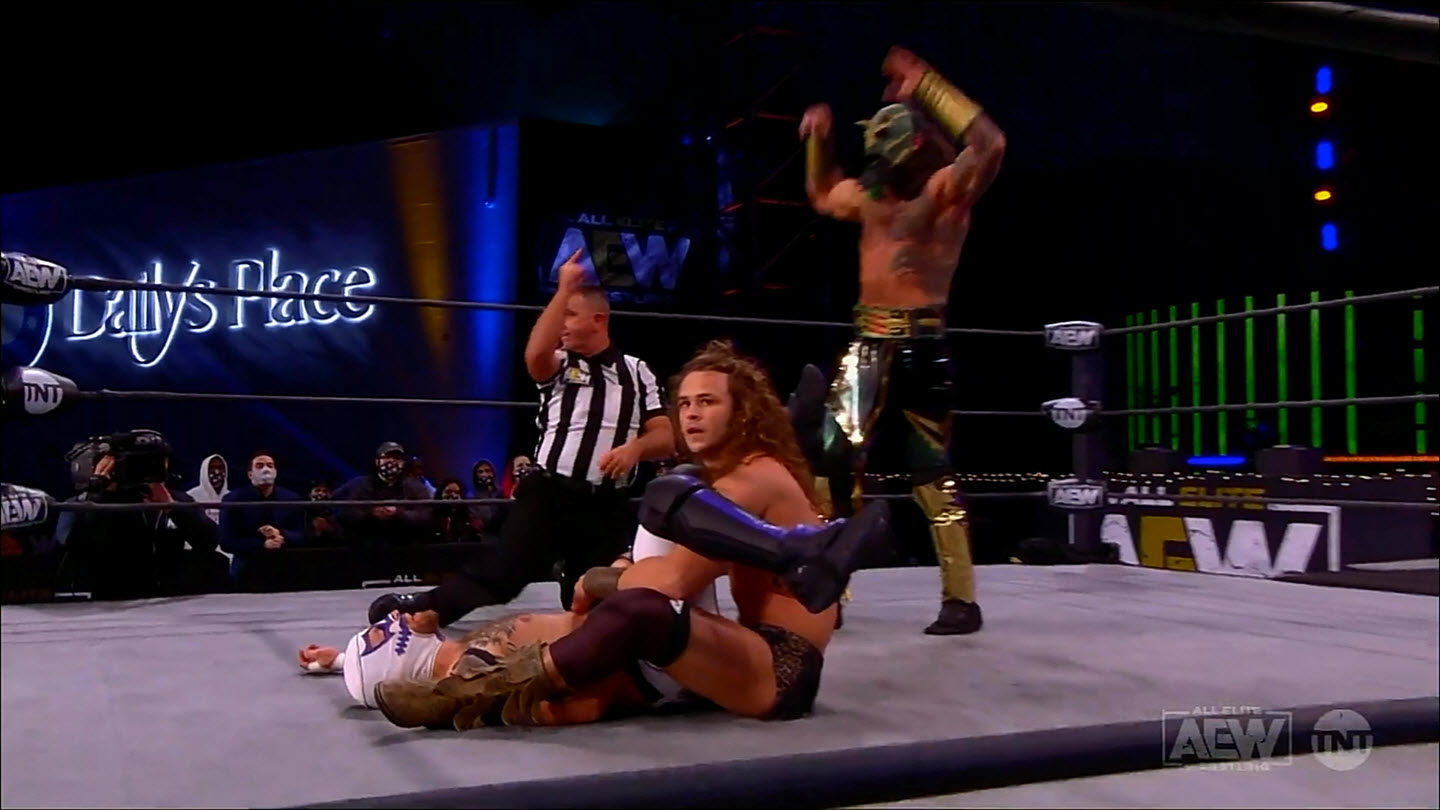 Pac vs The Butcher
Pac empieza jugando con The Butcher, haciéndolo enfadar, pero le sale el tiro por la culata porque el gigante lo agarra y no lo suelta más. Aquí puede empezar lo que para algunos sería una lucha tediosa, pero yo la recomiendo todo el rato para la gente que le gustan estos choques más stiff entre luchador grande y otro pequeño. Hay unos golpes del carnicero que fueron muy buenos, como resultado sale una lucha súper coherente. Para finalizar seguimos viendo cositas de la rivalidad entre Archer y Kingston y volvemos a disfrutar del Black Arrow.
Dustin Rhodes vs Evil Uno
Me gustó esta lucha. No le había puesto mucha atención antes a Evil Uno y se nota que es bueno, se golpeó y le golpearon la mano derecha contra el poste y le dolió todo el rato y al final tuvo que lanzar jabs con la izquierda. Por un corte comercial justo nos perdimos el comeback de Dustin, lo que fue lamentable. Dustin sigue ganando y con un bulldog, eso lo encuentro bien random para estos tiempos xd.
Hikaru Shida vs Alex Gracia
Yo le tenía fe porque Alex Gracia es de lo mejor de Dark, se nota que es alguien que ya lleva tiempo sobre el ring, pero el enfoque fue para hacer ver fuerte a la campeona, salvo unos pin oportunistas que buscaba Gracia, así que el combate no demostró todo el potencial que podría tener con otros status. Igual me entretuvo la lucha y se sigue desarrollando la rivalidad de la campeona con Abadon que está bien consistente.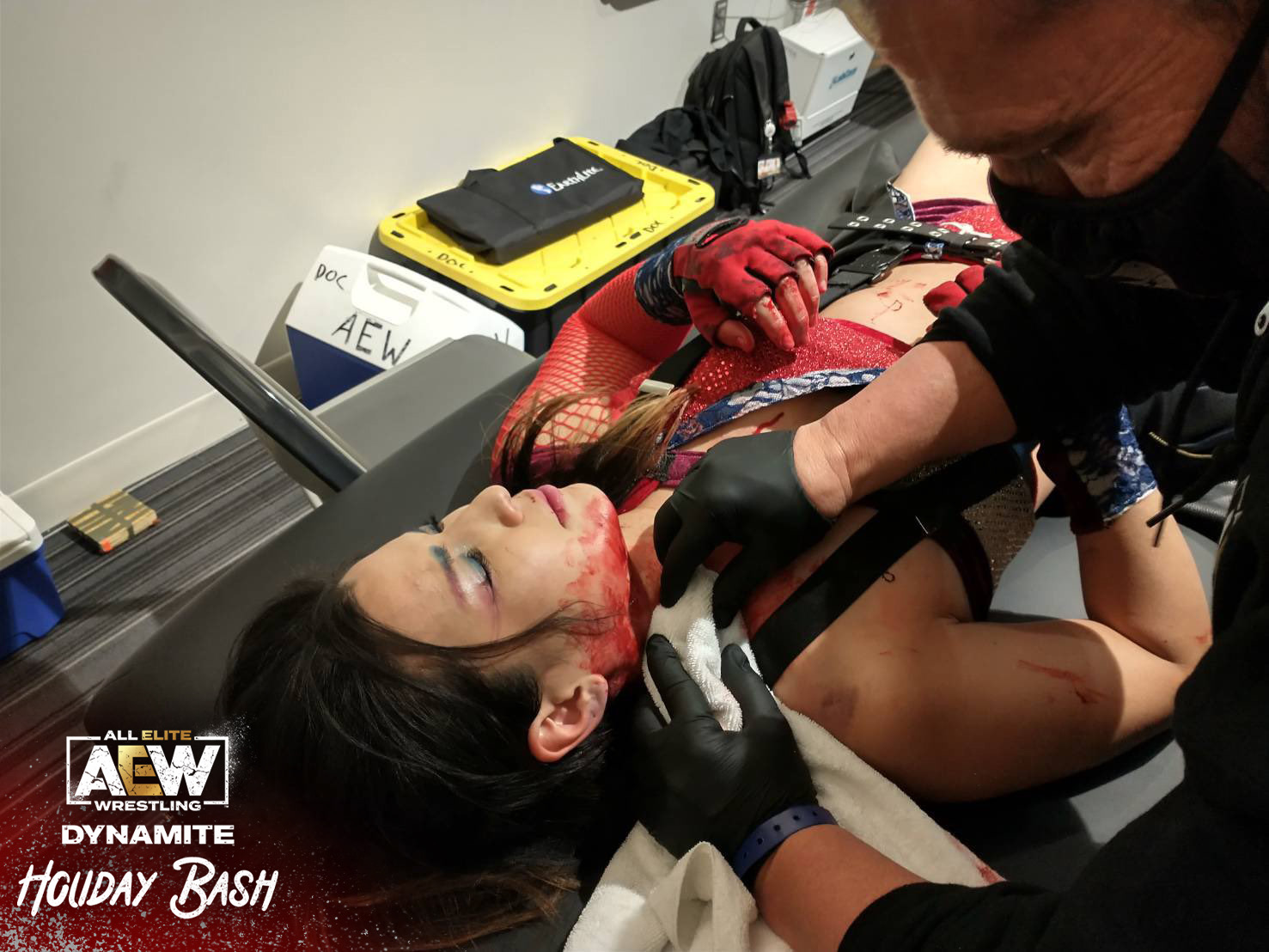 The Young Bucks vs The Acclaimed
Buen main event, hago el paralelo con el opener porque fue similar pero con los papeles intercambiados, aquí los jóvenes eran los heel. Los Bucks, para seguramente gusto del público, destrozaron a los brabucones medio combate, hasta que estos chicos pudieron mostrar parte de su arsenal, bastante relax. Les veo futuro y creo que van a pegar harto, de partida su entrada ya es llamativa, además sobre el ring son coherentes.
En otros temas, el Team Taz se metió con Sting en un careo donde el que sale mejor parado es Darby Allin.
Ahí nomás el Dynamite, el opener estuvo del nivel de un opener y el main event estuvo del nivel de un main event, pero el resto del show se ha sentido con uno o dos cambios menos de lo que estamos acostumbrados, probablemente porque el programa de la próxima semana promete.
En otros temas
Rob Van Dam habla sobre su actualidad y si ha conversado con AEW