Resultados de IMPACT Genesis 2021
Revisión de IMPACT Genesis 2021. En el histórico PPV de IMPACT y TNA vuelve también la Super X Cup. Además, hay un I Quit entre Moose y Mack.
El dia de ayer se celebró el regreso del evento Genesis, antiguamente un PPV histórico de TNA e IMPACT, pero que hoy vuelve como show especial de la plataforma IMPACT +. Entre sus platos fuertes estaba el regreso de la Super X Cup y un lucha "I Quit" entre Moose y Willie Mack.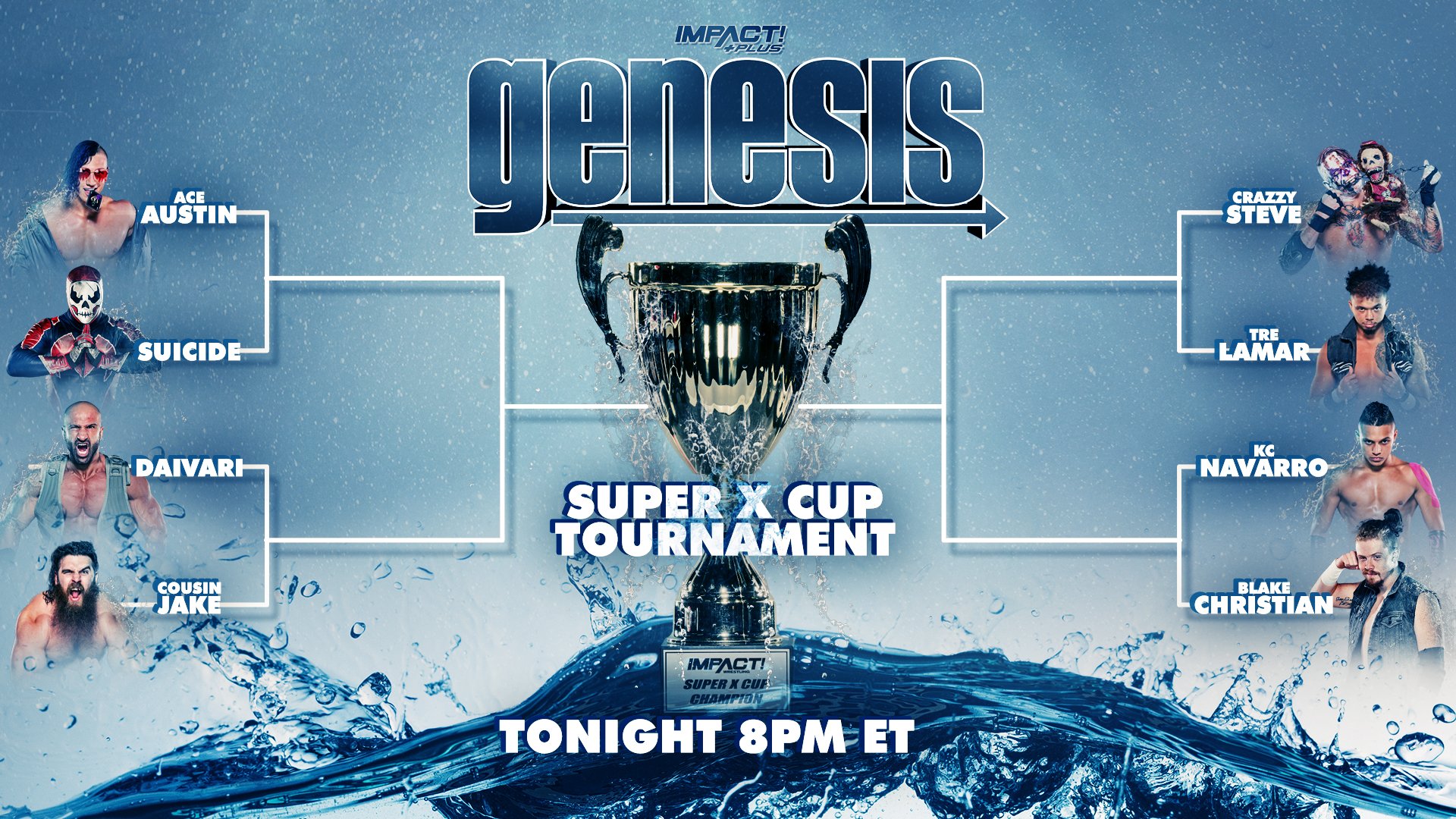 Los Resultados
Ace Austin derrotó Suicide en la primera ronda del torneo por la Super X Cup. Un Correcto opener, "The Inevitable" conecta con su movida "The Fold" para pasar a la siguiente ronda.
Blake Christian derrotó a KC Navarro en la otra llave correspondiente a la primera ronda del torneo la Super X Cup. En un corto pero interesante duelo de movidas aéreas, Christian consigue superar a Navarro.
Cousin Jake derrotó a Daivari en otro duelo de la primera ronda por la Super X Cup. Daivari se vio dominante en gran parte y cerca de la victoria, pero la fuerza de Jake se termino imponiendo para planchar al ex campeón da la división X.
Crazzy Steve derrotó a Tre Lamar en la última llave correspondiente a la primer ronda. Fue una contienda pareja, pero la veteranía de Steve lograría imponerse tras un Diving DDT.
Ace Austin derrotó a Cousin Jake para pasar a la final del torneo. La asistencia de Madman Fulton fue importante para el dominio de Ace, pero tras la recuperacion de Jake no se le hizo fácil. Aun así, Austin vuelve a robarse la victoria con un The Fold desde las cuerdas.
Blake Christian derrotó a Crazzy Steve. El veterano de IMPACT se la puso difícil a Christian, pero la rapidez del último fue su principal arma para llevarlo a la final del torneo.
Jordynne Grace derrotó a Jazz. Cumplidor encuentro para la leyenda femenina, quien pasa su antorcha a la joven y talentosa Jordynne.
Ace Austin derrotó a Blake Christian para ganar la Super X Cup. En lo que fue un combate entretenido y parejo entre ambos luchadores, Ace Austin saca un "The Fold" sorpresivo en uno de los intercambios finales, para convertirse en el ganador del torneo.
Willie Mack derrotó a Moose en un "I Quit" Match. En un duelo intenso y disfrutable, Mack partió mas agresivo que de costumbre, quedando cerca muchas veces de hacer rendir a "The Wrestling God", pero la sapiencia de este le permitió cambiar el curso del combate. Rich Swann salió a escena para evitar que Moose lastime seriamente a su amigo e hizo un trato. Le daría una oportunidad por el titulo de IMPACT si se rendia y desistía de su ataque, a lo que Moose aceptó.
Lo que se viene en IMPACT Wrestling.
Ace Austin al ganar la Super X Cup se posiciona como un retador creíble dentro de la división X y un peligro para el reinado de Manik Sin dejar pasar el hecho de que los combates pueden ser muy buenos, todo dependerá de que TJP o mas bien, Manik retenga en Hard To Kill.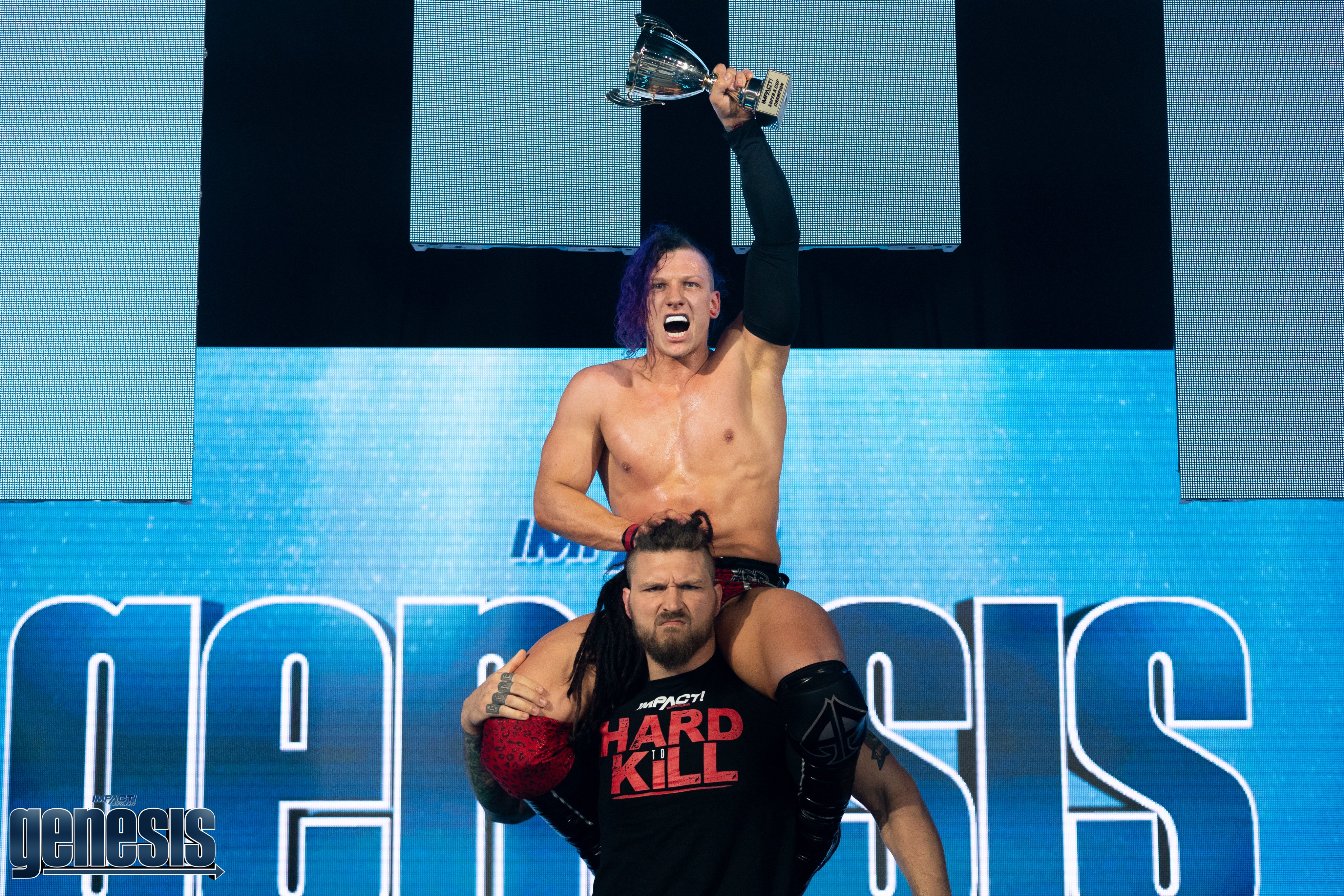 Por otro lado, si bien Willie Mack se llevo la victoria, Moose moralmente fue quien salió con la mejor parte al obtener una futura oportunidad titular al titulo de Rich Swann. Ahora con Kenny Omega acechando junto a la Elite Club, "The Wrestling God" se pone como otra amenaza seria para el campeón.
Todos los caminos van rumbo a Hard To Kill, que se celebrara el 16 de este mes y que cuenta con un cartelera interesante.
También te puede interesar
Sacrifice 2008, el último PPV revisado en el Baúl de TNA.
El canal de YouTube de IMPACT, el cual tiene mucho contenido de la empresa misma y de su antecesora TNA.