Resultados Friday Night SmackDown 29.01.2021
Un Smackdown previa para Royal Rumble 2021. O sea, quedó el típico brawl camino a la batalla masculina, en esta ocasión con luchadores de RAW.
El SmackDown antes de Royal Rumble 2021. Como es usual, es un show que WWE utiliza para vender a los distintos candidatos potentes.
Resumen de resultados de SmackDown
Bianca BeLair derrotó a Bayley y obtuvo de paso, una de sus mayores victorias individuales.
Baron Corbin fulminó a Dominik Mysterio con el End of Days.
Daniel Bryan vs AJ Styles terminó con el segundo descalificado.
Por las intervenciones, el anterior combate se terminó en un multitag (con Cesaro, Nakamura, Zayn, The Miz, Morrison, Otis y Big E) que terminó en No Contest.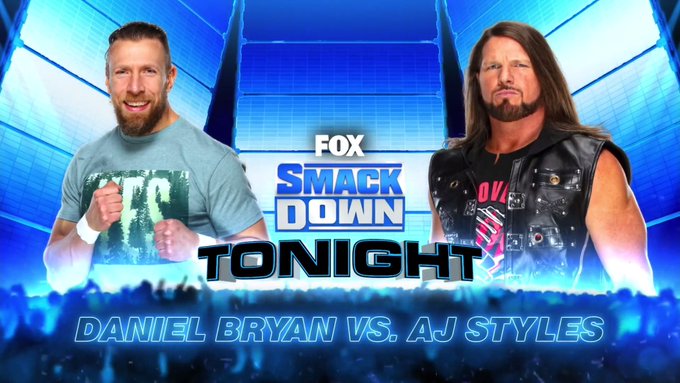 El duelo de promos de Roman Reigns y Kevin Owens
Atrás quedó el perro con mal micro. Desde que encontró su nueva personalidad como heel y le comenzaron a dar libertad en las promos, se ha visto lo bueno que puede ser Roman Reigns en el micro. Y no es poca cosa, que se haya podido poner a la altura de alguien que tiene el nivel de KO en ese tema.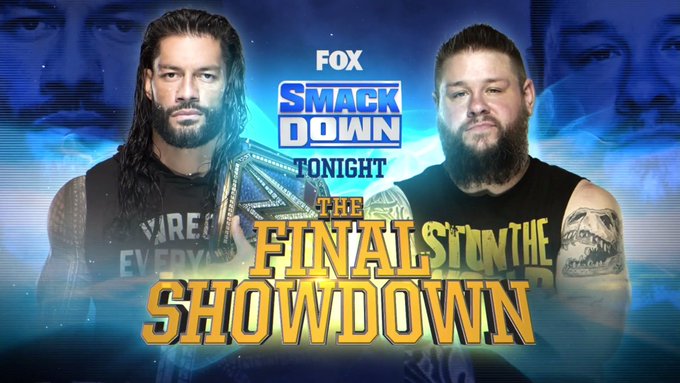 ¿Posible rivalidad entre Baron Corbin vs Rey Mysterio?
Tras la fulminante victoria de Corbin, la idea era seguir golpeando al hijo de Rey. Pero el rudo fue atacado por el enmascarado y posteriormente, este se llevó a su hijo. Quizás no sea casualidad este atisbo de rivalidad y veamos más al respecto en la batalla masculina de Royal Rumble 2021.
Lo peor de este SmackDown
En los segmentos promocionales que salen entre los comerciales, apareció él. Ese calvo repugnante que quiere seguir robándole títulos a los talentos que si se rompen el culo. Ese tumor conocido como Goldberg, en la promo del combate contra Drew.
Styles vs Bryan ¿Oportunidad desperdiciada?
Dos talentos que se llevan mejor que una marraqueta (así se llama, no pan francés o pan batido) con una longaniza, pero por lo visto, no consideraron que era el lugar para hacer otro de sus grandes combates. Prefirieron meter tanto a babyfaces como heels de Smackdown a jugar, en una interesante serie de interacciones que funcionó bien.
Big E is not my IC Champion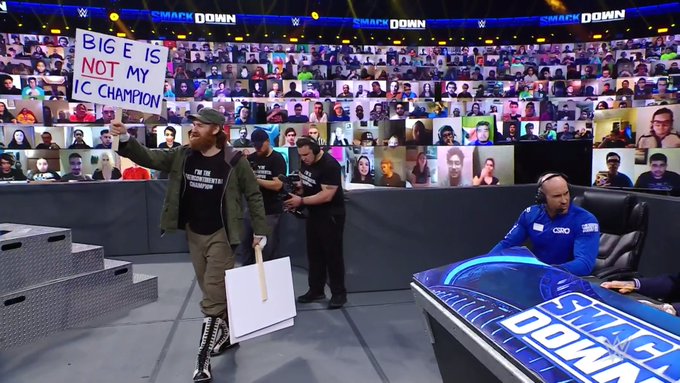 Sami Zayn es uno de los que intervino en el AJ vs Daniel, pero merece su apartado especial. Literalmente, llegó con un letrero protestando contra Big E. Que buen personaje y que buen performer, lástima que le den tan poco.
El brawl que todos sabíamos que ocurriría
Bryan vs Styles tuvo unas cuantas intervenciones que lo transformaron en un 3 vs 3. Luego más luchadores metidos y terminamos con un 4 vs 5. Finalmente, se metió más gente y terminamos con un extraño brawl con varios tipos de RAW, que era muy esperable teniendo Royal Rumble 2021 a la vuelta de la esquina.
También te puede interesar
Considerando que fue un SmackDown destinado a calentar Royal Rumble 2021, puedes ver esta revisión de los mejores y peores combates de la histórica batalla real.