Resultados Monday Night RAW 01.03.2021
Lunes de Monday Night RAW y acá te traemos los resultados de todo lo ocurrido durante el show donde The Miz defendió su campeonato de WWE ante Bobby Lashley.
Drew quiere el título de RAW nuevamente en su cintura
Drew McIntyre es el encargado de abrir esta edición de RAW, el escoces recuerda como sobrevivió a la cámara de la eliminación, pero tras esto Lashley lo atacó una y otra vez para que Miz pudiera canjear su maletín y convertirse en el nuevo campeón de WWE. Drew asegura que recuperara el titulo y llegara campeón a WrestleMania. Miz sale a escena intentando convencer a McIntyre para que se unan y enfrenten juntos a Lashley, pero Drew no cae en su juego, aclarándole al campeón que en caso de vencer a Lashley, tendrá que vérselas con él.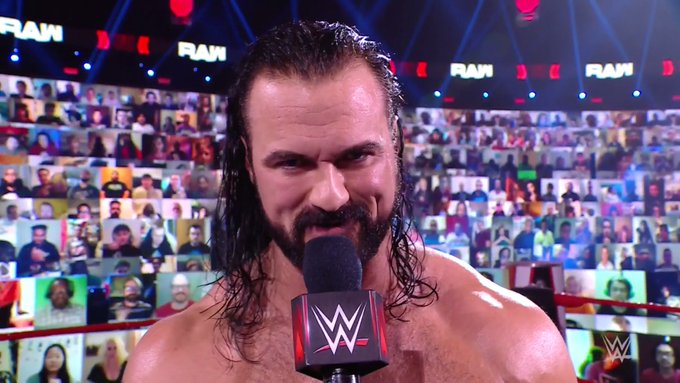 Lucha de infarto entre dos ex amigos
Mano a mano sumamente físico entre McIntyre y Sheamus, donde ambos gladiadores se dan con todo incluso robando los movimientos del otro, en lo que debió ser uno de los encuentros estelares de WrestleMania y no la lucha entre Roman y el viejo sin poto de Edge. Finalmente Drew conecta una Claymore mientras Sheamus buscaba la Brogue Kick para llevarse la victoria en un tremendo encuentro.
Nia se impone fácilmente a Naomi
Primer encuentro femenino de la noche entre Naomi y Nia, donde la campeona en parejas barre el piso con su rival. Finalmente Nia se llevaría la victoria con una Chockeslam Powerbomb, supongo que el cambio de movimiento es para proteger su hoyo.
Capítulo 1: Un campeón con problemas estomacales
Tenemos un segmento donde Miz finge tener diarrea para evitar luchar con Lashley, aunque de poco le serviría pues Lashley lo atacaría solo para que Pearce le informe que defenderá el título esta noche aunque tenga que arrastrarlo al ring.
¿Strowman vs Shane para WrestleMania?
Lucha titular por equipos entre The Hurt Business contra Strowman y Pearce. Strowman dominaría la mayor parte del encuentro hasta que Shane le ordena darle el relevo a Pearce quien caería en el pin de Shelton, permitiendoles retener los títulos en pareja. Tras la lucha Braun explota en contra de Shane y Pearce en lo que parece ser un indicio de que se viene una rivalidad entre Shane y Braun para AsiloMania.
Bad Bunny no camina con Elias
Combate entre Elias y Damian Priest acompañado por Bad Bunny. Lucha típica para un semanal de WWE, donde el heel domina al face hasta que este hace el comeback y lo derrota fácilmente. Finalmente Priest remataría a Elias con su Reckoning, mientras Bunny se mofa de Elias ¿Celos?
¿Dos Randy Orton?
Tenemos una entrevista a Randy Orton donde habla sobre lo ocurrido hace unas semanas, Alexa aparece riéndose en pantalla, tras esto otro Orton aparece y se burla, mientras el verdadero The Viper se ahoga misteriosamente. De pena ajena wn, ahora me vas a decir que existe un Randy Orton malvado a lo Goku Black. Ojala un match en WrestleMania entre estos dos donde Randy retire a Randy por las circunstancias.
Capítulo 2: Miz reteniendo como todo un crack
Miz aparece para enfrentar a Lashley, pero en cuanto suena la campana sale corriendo rumbo a backstage perdiendo el encuentro por conteo fuera, por lo que The Miz sigue siendo el campeón. Por lo menos salió a escena…
Charlotte quiere a Asuka para WrestleMania
Segunda lucha femenina de la noche entre Charlotte y Shayna donde previo al encuentro Charlotte deja claras sus intenciones de retar a Asuka por el RAW Womens Championship, es gracioso como las heels atacaron a The Queen previo a la lucha y aun así se paso el selling por el arco del triunfo. Victoria para Charlotte y de premio un match en Wrestlemania.
Relleno por equipos
Encuentro de relevos australianos entre Retribution y Lucha House Party con Riddle. Match random entre dos equipos muertos donde Metalik remata a uno de los fitis con una plancha para una rápida victoria. Tras esto Ali reta a Riddle a un mano a mano para enseñarles a sus peleles como se lucha. Finalmente Ali vence a Riddle con ayuda de Retribution aunque mantiene su opinión sobre ellos.
Capítulo 3: Luchas o te quito el campeonato
Tercer y último intento para que Miz defienda el título ante Lashley en una lucha de leñadores. Squash penoso donde Miz pide ayuda a cada heel al exterior del ring para que lo salven de tremenda masacre. Finalmente Lashley rinde a Miz con su Full Nelson para convertirse en el nuevo campeón de WWE. Durante el post-match Lashley ataca nuevamente al Miz hasta dejarlo inconsciente.
Show que comenzó muy bien, pero se fue cayendo con el pasar de los minutos. Lashley campeón rumbo a WrestleMania, ¿Dónde está el tits cuando se le necesita?
También te podría interesar
Samoa Joe comenta sobre la lesión que lo ha mantenido alejado del ring.
Aumenta la popularidad de WWE de cara al publico masculino, lamentablemente las mujeres siguen negándose a ver hombres sudorosos como algo normal.