Resultados de IMPACT Wrestling 23.03.21
Kenny Omega vuelve a IMPACT Wrestling para calentar más su duelo en Rebellion. ¿Qué más nos dejó el programa?.
Nueva edición de IMPACT Wrestling desde los estudios en Nashville y camino al PPV Rebellion.
Deonna Purrazzo (con Susan) vs Jazz (con Jordynne Grace)
La campeona de Knockouts tiene dificultades para poder establecer un dominio claro sobre la veterana. Susan de manera tramposa salva de algunas ocasiones claras de victoria de Jazz y con las mismas artimañas, Deonna consigue sacar un Roll-up para planchar a la ex campeona femenina de WWE.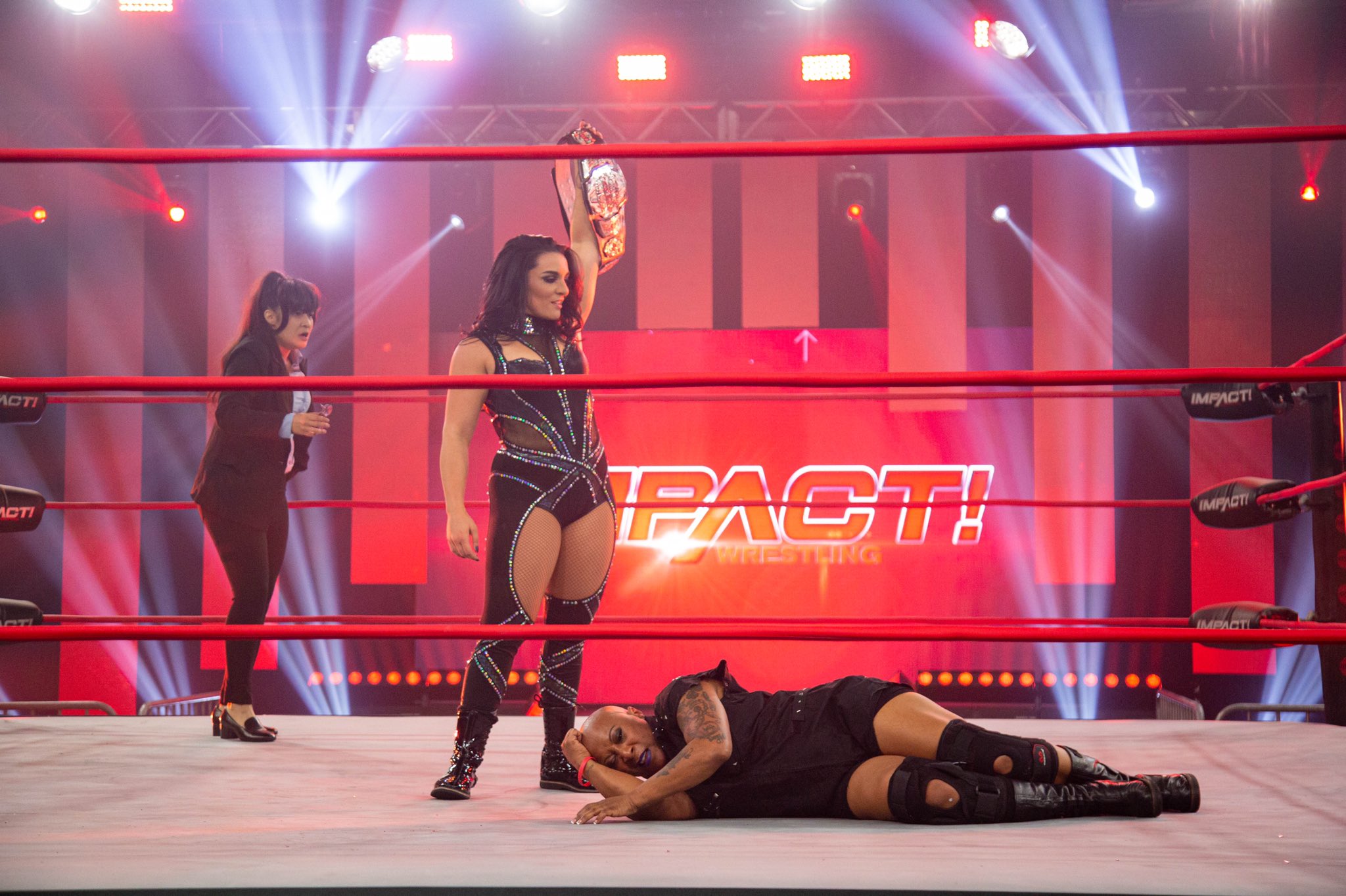 Ace Austin (c) (Con Madman Fulton) vs TJP, Campeonato X Division
Combate bueno e igualado entre ambos luchadores. Las artimañas de ace a través de Madman Fulton se hicieron presentes pero TJP fue capaz de superarlos en varios tramos, a tal punto que quedó cerca de la victoria. El acompañante del campeón ingresó para provocar la descalificación y atacar a TJP.
Josh Alexander acudió para defender a TJP de los heel.
Matt Cardona es entrevistado y revela sus metas en IMPACT Wrestling. Menciona que mas allá de ser campeón, esta para competir con los mejores luchadores pero es algo que su amigo Brian Myers no entiende. Cardona cierra con una advertencia Myers.
En backstage, Ace Austin y Acey Romero discuten. Tommy Dreamer y dice que deberían enfrentarse en un Exploding Barbed Wire Deathmatch en Hardcore Justice, pero de último momento se arrepiente porque a alguien le salió mal la última vez que lo intentó por lo que propone un match para más adelante.
Rohit Raju vs Fallah Bahh
El gran Fallah domina sin problemas al inicio con su fuerza pero la rapidez de Raju le permitió zafarse de varios problemas. Finalmente el ex campeón de la división X aplica un Crucifix para llevarse la cuenta de 3.
Kenny Omega ingresa junto a Don Callis. "The Invisible Hand" menciona que IMPACT Wrestling será el hogar de Omega una vez gane en Rebellion. El campeón de AEW toma la palabra y menciona que nadie ha podido escapar de su finisher, esto mientras se muestra un pietaje de todos los que han caído ante el "One Winged Angel". Omega cierra diciendo que en el PPV volverá a hacer historia al añadir dos títulos a su colección.
Acey Romero vs Trey Miguel
El miembro de Team XXXL pone en aprietos a Trey al inicio, pero este no tarda en revertir la situación con sus movidas rápidas. Miguel está a puertas de la victoria pero Larry D interfiere a favor de su compañero, no obstante, no evita que Romero caiga por cuenta de tres ante Trey.
Post match, Team XXXL ataca al ex miembro de The Rascalz. Sami Callihan se une ellos, pero Miguel se libera y el hacker de IMPACT Wrestling huye antes de ser atacado.
Se anuncian combates para el próximo programa. Ace & Fulton enfrentaran al dúo de Josh Alexander y TJP, mientras que James Storm enfrentará a Eric Young en su combate numero 1000 en IMPACT Wrestling. Ademas, Kenny Omega volverá a la zona de impacto.
Eddie Edwards vs Karl Anderson (con Doc Gallows)
Buen duelo para cerrar la jornada de IMPACT. Eddie Edwards inicia tomando ventaja sobre "The Machine gun". Gallows intenta echar una mano a su compañero y lo ayuda con algo de distracción para que Anderson tome ventaja. Buenos intercambios seguirían y algunos falsos finales que parecían indicar la victoria del "Psycho Wolf", pero una trampa de Gallows permitiría que Anderson se llevara la victoria vía Spinebuster.
Tras el duelo, David Finlay y Juice Robinson aparecen para burlarse de The Good Brothers y cierran con indicando que pueden esperar hasta abril para su revancha o buscarla ellos mismos.
En otros temas
Cartelera actualizada para las dos noches de WrestleMania