Se confirma que Becky Lynch y Ronda Rousey volverían a WWE muy pronto
En The Colin Cowherd Podcast, el director de ventas de WWE confirmó el regreso próximo de The Man y Ronda Rousey.
Ronda Rousey y The Man volverían a la programación de WWE
El Director de Ventas de WWE, Nick Khan, asistió a The Colin Cowherd Podcast con el objetivo de promocionar WrestleMania 37 y confirmó que Becky hará su regreso en el corto plazo y que Ronda Rousey ya tiene previsto su regreso en un momento concreto. Recordemos que Lynch dejó su título el año pasado debido a su maternidad y que Ronda Rousey desapareció tras WrestleMania 35, donde perdió en la triple amenaza por los títulos femeninos máximos de WWE.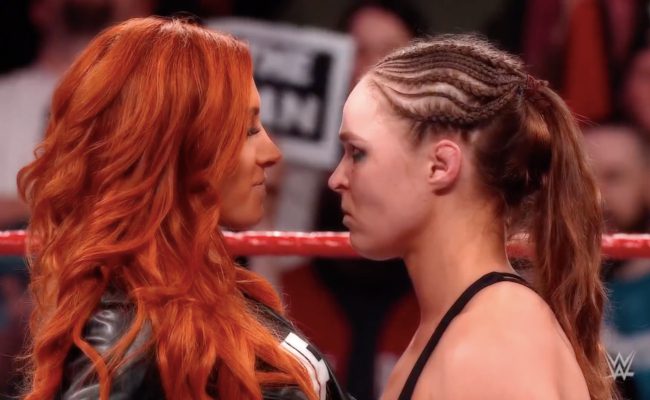 En una reciente entrevista Seth Rollins no quiso dar fechas sobre el regreso de Becky Lynch a WWE, dando a entender tácitamente que podría ocurrir pronto. Y Ronda Rousey ha sido vista entrenando sobre el ring de pro wrestling con la hija de Roddy Piper.
Ambas superestrellas femeninas llegaron a la cúspide de popularidad protagonizando el primer main event femenino de la historia de WWE. En un eventual regreso veremos si se retomará la rivalidad entre The Man y Rousey, ambas tuvieron una gran recepción por parte de los fans y gente vinculada al negocio de la lucha libre. Incluso se dijo en su momento que Ronda Rousey ha sido la persona que se adaptó más rápido a este negocio, superando incluso a Kurt Angle. Sin embargo, Ronda no hizo válida su cláusula de revancha y queda la incertidumbre sobre si lo hará en algún momento.
Tal vez te interese
–Paul Heyman: "Lo más difícil del regreso de Becky Lynch es elegir la historia correcta para contar"