Resultados Friday Night SmackDown 09.04.2021
Promos de los involucrados en la lucha por el Universal marcó este SmackDown, que además tuvo el triunfo de Jey Uso.
Comenzamos el último SmackDown antes de WrestleMania, y que mejor con una promo de nuestro Daniel Bryan. Y muy buena promo, vale decir.
Danielito hace hincapié a como muchas veces le dijeron "No". Primero que no iba a triunfar en WWE, que no iba a volver a luchar y que tampoco volvería a ganar un campeonato mundial tras su vuelta. Al final, pasó todo lo contrario, demostrando que el "Sí" ha sido más fuerte. Y en este WrestleMania no le cabe duda que ganará el campeonato.
Buena promo, con intensidad, digna para callar voces paletas en redes sociales. Sí, memes muy graciosos, pero no había mejor nombre en la actualidad de SD para ser el main event.
Campeonatos en parejas de SmackDown: Robert Roode & Dolph Ziggler (c) vs Rey & Dominik Mysterio vs Street Profits vs Chad Gable & Otis
Combate que me hubiera gustado ver en WrestleMania. Acá claramente se vieron lustrados por los cortes y un tiempo no tan acorde. De todas formas, hay compases interesantes. Me imaginaba la victoria de los Mysterio, pero supongo que se lo guardan para más adelante. Retuvieron los campeones.
En este SD tuvimos diversas promocionales para calentar WrestleMania, como las de Drew vs Lashley y Orton vs Fiend. También un video pagado por Rollins donde se burla de Cesaro porque nunca ha tenido un mano a mano en WM. O Big E hablando que luchará en su ciudad y la importancia que eso significa.
También hubo promos en backstage con Bianca Belair por un lado, y Sasha Banks por el otro. Seguramente algunos criticarán la falta de un careo o algo más potente. En mi caso, no me desagrada, creo que lo mejor que pueden hacer con esta lucha es mantener el toque face vs face. WWE tiene que atreverse a hacerlos más seguidos. Veremos si todo termina de gran forma en el main event de la noche 1.
Tamina vs Nia Jax
Sácala del ángulo The Rock vs Stone Cold, este es el duelo que siempre quise ver. Icono vs Icono queda chico al lado de esto…
Más en serio, una payasería que terminó en DQ por culpa de Shayna. Luego todas las involucradas en la lucha por los tags se muelen a golpe, donde se agregan Billie Kay y Carmella.
Gran promo de Edge
El Edge heel si se puede ver, y si más encima le agrega tintes de un desquiciado, mucho mejor. Acá exige respeto, aunque sea un part-time, porque antes se rompió el lomo e hizo cosas imposibles a pesar de la cantidad de lesiones que tuvo. Está cabreado con que la lucha sea triple amenaza, porque eso le quita posibilidades de salir campeón. A pesar de eso, está confiado, no le importa Bryan, no le importa Roman, es el máximo oportunista y eso lo llevará al triunfo.
Luego tenemos a Sami Zayn visitando al penca de Logan Paul mientras entrena con el penca de su hermano. Lo mejor viene luego, cuando se produce un pequeño brawl con Owens en ringside. A pesar que ambos confían en que Logan no será tema en su lucha, lo dudo mucho. Y es una lástima.
Batalla real para ganar el trofeo de Andre the Giant
Increíble como Vince destruyó The Hurt Business en dos semanas, coronando con Alexander y Benjamin eliminados de los primeros como unos peleles cualquiera. Sobre la batalla, promedio, y eso es decir, bastante mala. Y como fue en un semanal, fue súper rápida. Desfile de fitis donde lo mejor ocurrió en el final con Corbin, Nakamura y Jey Uso.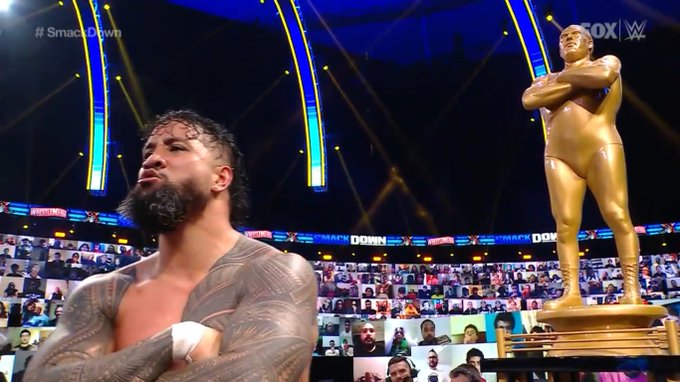 Finalmente es el Uso quien se queda con la victoria, una especie de premio de consuelo para alguien que mereció mucho más en este WrestleMania. Al menos, tiene un trofeo para poner en el baño, diría Ignacio Salvo.
Y terminamos con una promo de Roman Reigns, siguiendo la buena línea de sus rivales. Me gustó cuando dijo que iba a destrozar "los sueños de los soñadores". El resto, en su misma línea sólida de un heel soberbio. Pensando que los otros SmackDown tuvimos harto brawl entre los tres, no me parece mal terminar así. Aunque tengo claro que como capítulo final de WrestleMania, puede ser un poco débil. Sin embargo, no nos engaños, la construcción en general de este magno evento ha sido muy deficiente.
En otros temas
Favoritos en las apuestas de WrestleMania 37 a un día de su inicio
¿Por qué WWE disolvió el Hurt Business?