Mike Chioda habla sobre la lucha entre The Undertaker y Goldberg en WWE Super ShowDown 2019
El ex árbitro de WWE habla sobre la controvertida lucha entre The Undertaker y Goldberg en WWE Super ShowDown 2019, recordando que el ex campeón de WCW sufrió una conmoción cerebral.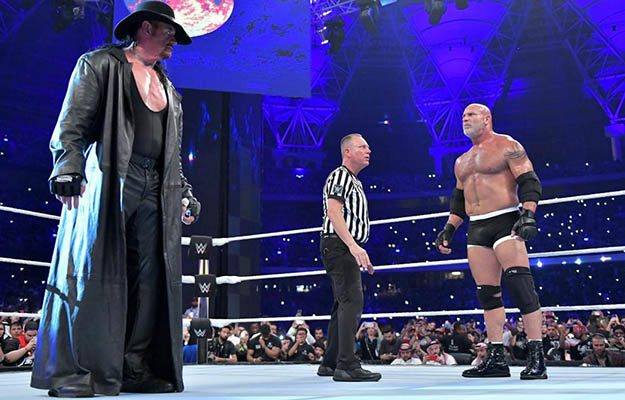 Mike Chioda da a conocer su experiencia en la lucha entre The Undertaker y Goldberg en Arabia Saudita
Increíblemente, el enfrentamiento entre Goldberg y The Undertaker provocaba un gran interés entre los fanáticos más nostálgicos, quienes creían ingenuamente que estarían en presencia de un "Dream Match". Sin embargo, no fue más que una gran decepción y solo nos pudieron dar una de las luchas más lamentables de ver en los últimos años.
El ex árbitro de WWE, Mike Chioda, ahondó sobre esta lucha junto a Alistair McGregor, recordando de primera mano la acción in ring de ese día, mencionando que la conmoción cerebral de Goldberg provocó fallos en el que ambos casi resultaron heridos.
"Fue cuesta abajo después de que Goldberg sufriera una conmoción cerebral. Sufrió una conmoción cerebral grave y logró terminar la lucha pero apenas. Fue entonces cuando me preocupé un poco porque pensé, '¡Dios mío! Después del suplex, casi se rompen el cuello. 'Oh, Dios mío, terminemos con esto'.
Agrega que esperó a que alguien le diera la instrucción de terminar la lucha, pero dice que simplemente los dejaron seguir: "Cuando eras un luchador de la vieja escuela, no te importa si estas sangrando; terminas el combate, lo que fuera que hiciera falta, lo superaste. No verías a muchos tipos simplemente diciendo: 'Oh, no puedo luchar más' o 'Me rompí el dedo' o 'Me rompí la rodilla'.
Chioda continuó diciendo: "Estos días son un algo diferentes porque nos tomamos mucho más en serio el protocolo de conmociones cerebrales. Sin embargo, da a entender que hubiese seguido todo lo que hubiese dictado The Undertaker, a quien reconoció como uno de los "jefes".
Undertaker ganó la lucha en Arabia Saudita, pero regresó un mes después para unirse con Roman Reigns para enfrentarse a Drew McIntyre y Shane McMahon. El Enterrador dijo que Roman y Drew lo ayudaron a "borrar la mancha" de su combate contra de Goldberg.
Chioda fue despedído de WWE como parte de los recortes en toda la compañía en abril de 2020 debido a la pandemia de COVID-19, tal como lo justifica la empresa.
En otros temas
Billie Kay, Peyton Royce, Samoa Joe y Mickie James encabezan sorprendente lista de despidos en WWE
Lucha libre y peleas en backstage: Vol. 4