Resultados IMPACT Wrestling 29.04.2021
Lo acontecido en IMPACT Wrestling tras el evento de Rebellion. ¿Qué planes hay para el nuevo campeón Kenny Omega?.
IMPACT Wrestling nos trae su primer programa tras Rebellion y un nuevo campeón mundial en la empresa como Kenny Omega.
Resultados de la noche de IMPACT Wrestling Post Rebellion.
El roster de IMPACT Wrestling está en la oficina de Scott D Amore, este los aleja para ir a hablar con Don Callis, quien le dice que Kenny Omega tendrá su celebración lejos del recinto. El EVP de IMPACT Wrestling le dice a Callis que será mejor que aparezca hoy o le quitara el título mundial de IW.
Pasando al ring, Scott haba de que en Rebellion se hizo historia con el "Winner Takes All" pero ahora necesita un nuevo retador para Omega (Rich Swann no tendrá revancha), por lo que decreta un Six Way Match para el evento especial de Under Siege donde el ganador será el retador al campeonato mundial de IMPACT. Esta noche habrán algunos combates clasificatorios.
Jake Something vs Chris Bey, clasificatoria al Six Way Match
Chris Bey regresa a la acción. El combate es cumplidor, Bey es rápido para ganar ventaja varias veces sobre Jake. A pesar de estar contra las cuerdas, Jake se recuperó y quedó cerca de llevarse la victoria de no ser por una distracción de Rohit Raju que le costó el combate. Chris Bey es el primer clasificado.
W. Morrisey vs Sean Beale
Debut del anteriormente conocido como Big Cass en WWE en un semanal de IMPACT Wrestling. Este hace pico sin problemas a Beale con un Jacknife Powerbomb.
Taylor Wilde vs Kimber Lee (Con Susan)
El regreso al ring de una vieja conocida de la división de Knockouts. Taylor Wilde no se vio nada mal, rápida en algunos momentos y ejecutando correctamente sus movidas. Kimber hizo lo suyo y le dio algo de pelea pero terminaría rindiéndose tras un Figure Four.
Tras el match, Susan ataca a Taylor pero Tenille Dashwood ingresa para realizar el salve.
Scott D Amore está en backstage por ser entrevistado cuando es interrumpido por Moose, quien le pide una oportunidad directa contra Kenny Omega, a lo que Amore se lo niega. James Storm aparece y esta interesado en una oportunidad, por lo que Scott pacta una lucha entre ambos la siguiente semana como Clasificatoria a Under Siege.
Josh Alexander vs Ace Austin (con Madman Fulton), Campeonato X Division
La revancha de Ace Austin tras perder el título en Rebellion y resultó un entretenido duelo. Alexander le saca ventaja con su llaveo a ras de lona y fuerza, Ace es astuto y neutraliza algunas acciones del campeón con su agilidad. Tiene buenos intercambios y juego con los falsos finales. Alexander logra retener el campeonato tras un Ankle Lock.
Brian Myers vs Matt Cardona, clasificatoria al Six Way Match
Menos descafeinado que su anterior encuentro. Myers le trabajó algo la pierna lesionada a su amigo pero aún así no es la gran cosa. Victoria esta vez de Cardona quien se hace con un lugar en el Six Way de Under Siege.
Promo anunciando la participacion de El Phantasmo (Luchador de NJPW) en IMPACT Wrestling
Eddie Edwards vs Sami Callihan, clasificatoria al Six Way Match
Un clásico de IMPACT Wrestling vuelve a las pantallas de IMPACT. Esta iba con un ritmo correcto y tanteando terreno para algo mejor pero ambos luchadores fueron atacados por Kenny Omega y The Good Brothers quedando en No Contest. FinJuice aparece para realizar el salve pero son neutralizados por los heel.
Don Callis cierra diciendo que hay que tener cuidado cuando invocan la presencia de "El mejor luchador del siglo" , de este modo el Elite Club cierra esta edición de IMPACT Wrestling dejando cuerpos tendidos en las afueras del ring.
Minutos más tarde tenemos la confirmación de un nuevo combate para el evento Under Siege vía redes: Kenny Omega hará equipo con The Good Brothers para enfrentar al equipo de Eddie Edwards y FinJuice.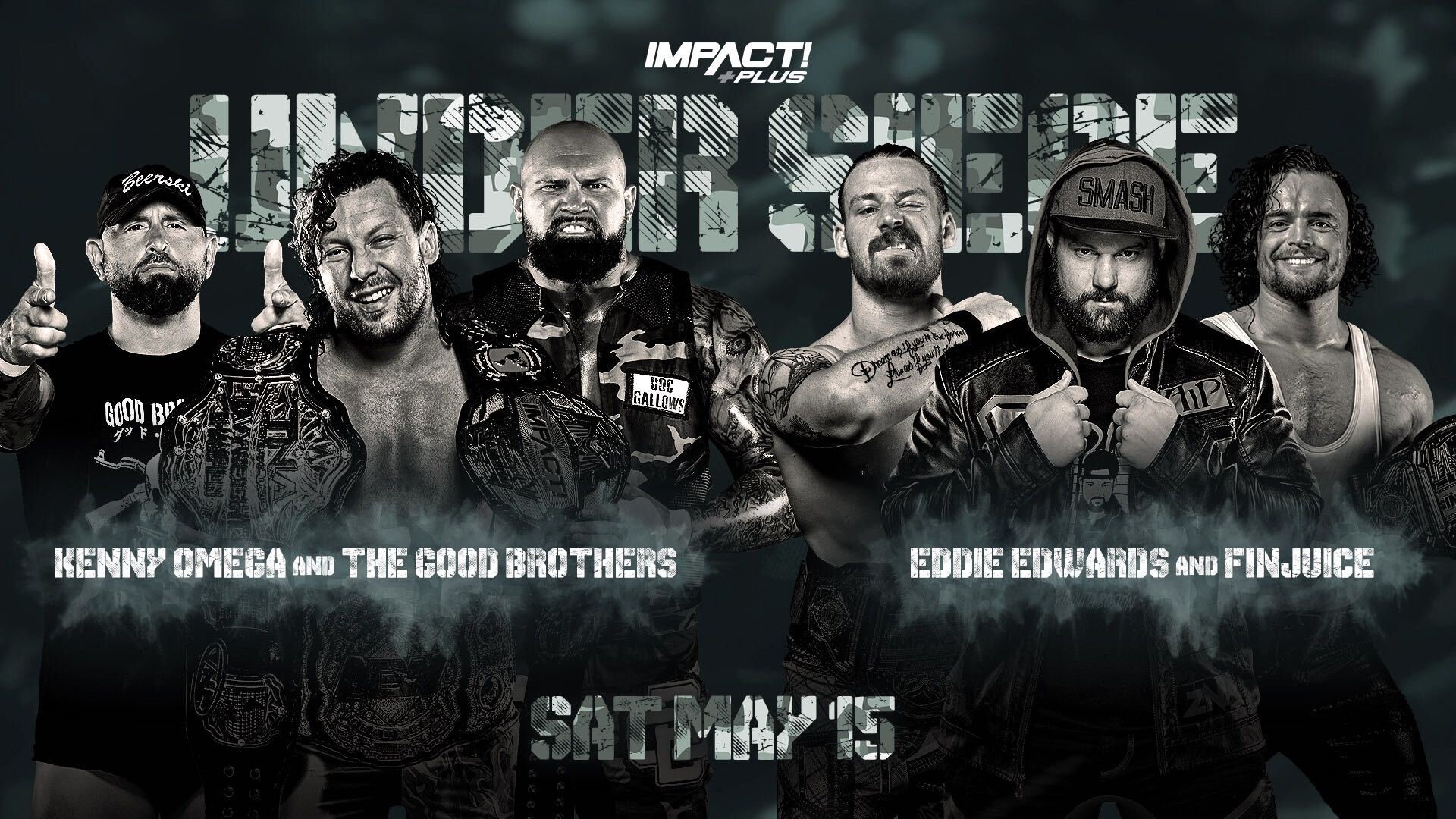 Tambien te puede interesar