Ric Flair quería que Mick Foley se tomara de forma personal el llamarlo un "doble de acción glorificado"
El insulto de Ric Flair a Foley se tildó como un malentendido. Pero el Nature Boy quería que se lo tomara personal.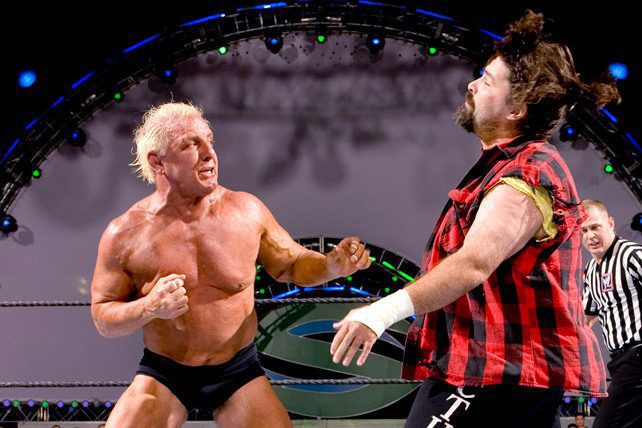 Cuando se publicó el libro "To Be The Man…" del Nature Boy, Mick Foley todavía era un luchador activo. En dicho libro Flair llama a Foley "un doble de acción glorificado". Por años se especuló que era una manera incorrecta de elogiarlo. Pero recientemente Ric Flair ha dicho que no, quería que Foley lo tomara personalmente, como una forma de encaminarlo para un rumbo menos destructivo para su cuerpo.
Ric Flair se refiere a Foley en Alemania
Durante el episodio de A&E Biography sobre Foley, Flair habló al respecto:
"Cuando escribí en mi libro, y dije, 'eres un doble de 300 libras', quería que se lo tomara personalmente. Sabes, su esposa es hermosa. Sus hijos son jóvenes y hermosos. Ya sabes, nos lastimamos lo suficiente".Ric Flair
Mick Foley perdió su oreja en Alemania durante un combate. Ric Flair le insistió antes de luchar en que por favor no hiciera tal spot en un combate sin importancia. Flair vio el combate a través de la cortina y dice que pensó "estúpido hijo de puta".
Con los años Mick Foley fue bajando la intensidad y frecuencia con que exponía su cuerpo a lesiones. Pero las secuelas, dolores y complicaciones lo acompañan hasta el día de hoy. Ric Flair no fue el único entre quienes intentaron convencer a Mick Foley de tomar un rumbo menos destructivo para su integridad física. Pero Mick optó por construir su legado de la manera en que lo hizo.
Tal vez te interese
–En el día de DoN, WWE publica registro de Nia Jax derrotando con facilidad a Britt Baker
–The Undertaker y otros luchadores felicitan a Bad Bunny por sus comentarios de la lucha libre profesional