Resultados Monday Night RAW 14.06.2021
Resultados de todo lo ocurrido durante Monday Night RAW rumbo a Hell In a Cell 2021.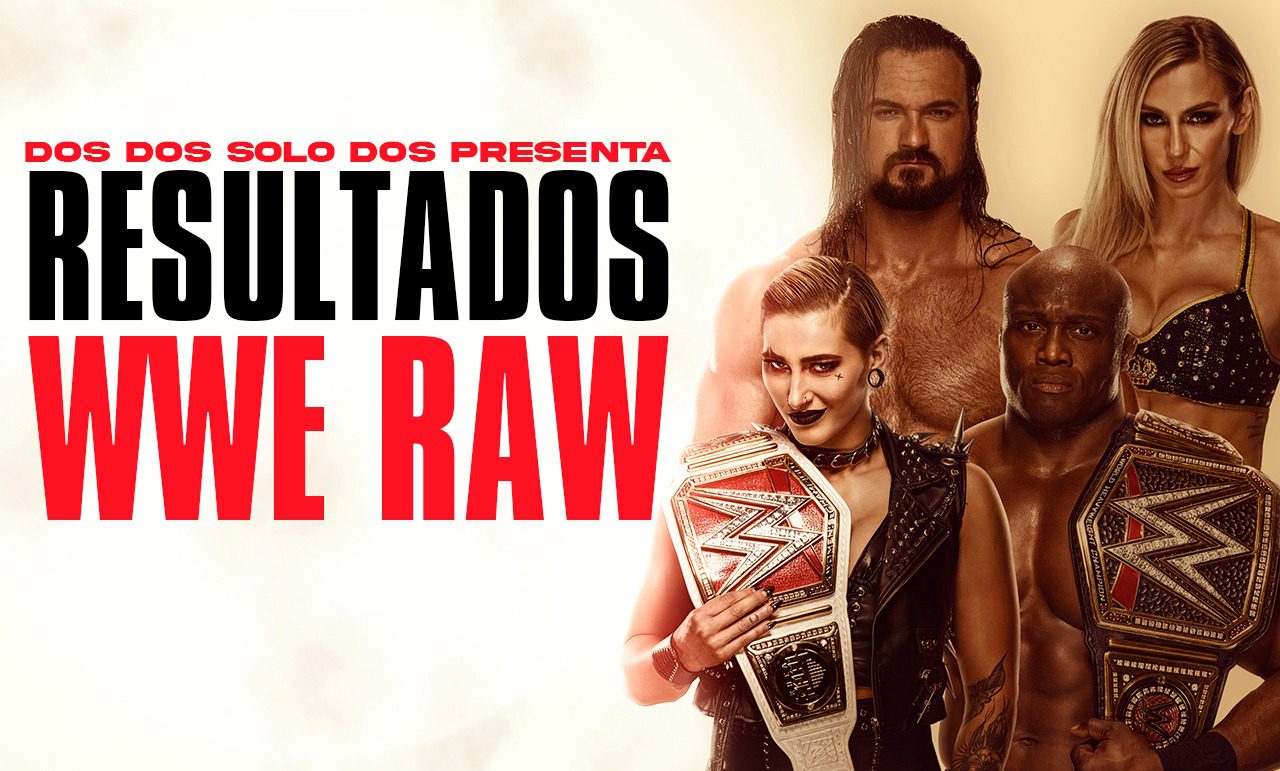 Otra noche de alegría con RAW
Tras unas semanas de descanso volvemos con esta tortura semanal conocida como Monday Night RAW, donde para variar continúa la rivalidad entre Lashley y McIntyre en torno al campeonato de WWE. Además parece que finalmente se ha revelado la próxima víctima de Alexa "Chucky" Bliss.
Comenzamos con un segmento de Alexa Bliss en backstage donde habla sobre lo ocurrido la semana pasada cuando invitó a Shayna a su Alexa's Playground, tras esto Nia aparece para confirmar nuestros temores Shayna enfrentará a Bliss en HIAC.
Una rivalidad que da sueño
Lucha entre Charlotte y Nikki Cross que bien pudo ser un segmento para calentar la rivalidad entre Rhea y The Queen. Pobre Nikki que apenas y la usan como relleno para una rivalidad que no calienta a nadie, ni a la mamá de Rhea. Finalmente Nikki se lleva la victoria por conteo fuera mientras Charlotte estaba distraída con Rhea.
Viajes en el tiempo con Monday Night RAW
Segundo encuentro de la velada y parece que viajamos en el tiempo al 2006 para ver a Jeff Hardy enfrentando a John Morrison. Y bueno que puedo decir, esta lucha me generaría algún interés si no fuera porque ya han pasado 15 años viendo este mismo encuentro. Por cierto Morrison se llevó la victoria y fiti Alexander continua su rivalidad con Jeff en torno a su edad.
Tras el payaseo con Morrison, Jeff reta a Cedric para que lo enfrente mano a mano y si Cedric logra vencerlo Jeff deberá retirarse… si claro… aunque siendo honestos Hardy debería irse a un asilo, el pobre está pegado con cinta. Finalmente y para sorpresa de nadie Jeff derrota limpiamente a Cedric para mantener su carrera.
¿Eva Marie regresa a RAW?
Encuentro de primer nivel que marca el regreso de Eva Marie ante la gran Naomi… sarcasmos aparte este puede que sea el peor encuentro que se les pudo ocurrir con el debut de la señora de Nacho, Doña Piper Niven en un squash.
RK-Bro continúa haciendo de las suyas
Lucha por equipos entre el New Day y los RK-Bro. A destacar que el New Day salió vestido como los Power Rangers un producto muy superior a las últimas ediciones de RAW, irónicamente he de decir que esta dinámica entre Orton y Riddle es lo más interesante que ofrece la marca roja en la actualidad. Finalmente Orton cerraría su RKO sobre Woods para la victoria.
Asuka vs Rhea Once in a Lifetime
Intento número 100 de que Rhea deje algo bueno contra Asuka desde que llegó al main roster, por suerte parece que Rhea comienza a acostumbrarse a luchar con Asuka, asi que quizás en tres años veamos algo bueno entre estas dos. Finalmente Rhea se lleva la victoria por cuenta tres, pero antes de que pueda celebrar Charlotte aparece para atacarla y armar un brawl entre ambas.
La demonia Bliss vuelve a RAW
Payaseo entre Chucky Bliss y Nia Jax quién está a nada de convertirse en un meme andante. Lo he dicho hasta el cansancio, es imposible comprar a Bliss siendo dominante ante alguien mucho más pesada que ella. Por otro lado no deja de ser penoso el intento de Alexa por caminar de manera "atemorizante". Si pueden eviten la vergüenza de ver esta basura. Alexa y Wyatt están matando al wrestling con este tipo de luchas.
Elias vs Ryker
Revancha entre los dos ex-compañeros que solo sirve para seguir hundiendo la carrera de Elias quien parece estar a dos derrotas de comenzar a correr detrás del título 24/7 entre segmentos.
Drew McIntyre vs The Phenomenal One
Lucha estelar de la noche entre Drew McIntyre y AJ Styles donde el escocés lució dominante pese a la presencia de Omos y Lashley. Es impresionante como ha perdido credibilidad AJ, al punto de ser tratado como un pelele más del montón. Finalmente Lashley ataca a McIntyre para la descalificación, pero los Viking Raiders hacen el salve para nivelar las cosas.
Tras el corte comercial se anuncia que ahora la lucha será un encuentro de relevos entre los seis hombres. Lo único que podemos destacar de la lucha es que Omos tiene más credibilidad que Lashley y McIntyre juntos. Finalmente McIntyre conecta su Claymore sobre Lashley para llevarse la victoria.
Show impresentable para ser una previa a un PPV, sinceramente la jaula se siente totalmente devaluada y no hay nada que llame la atención en un evento que parece ser de transición como un Fastlane o Clash of Champions. Lo de Alexa ya es indefendible y lo peor es que parece ir para largo con un posible reinado como poseída.
También te podría interesar
Darren Young se une oficialmente a las filas de NJPW.
Triple H revela que le gustaría tener a Metallica en WrestleMania.