Resultados AEW Dynamite: Fyter Fest 1 14-07-2021
El regreso de Jon Moxley, el Coffin match entre Allin y Ethan Page, más el Christian vs Matt Hardy destaca en este AEW Dynamite.
AEW Dynamite se vuelve a vestir de fiesta con la celebración de la primera noche de Fyter Fest, directamente desde Austin, Texas.
AEW Dynamite
La cartelera promete bastante, con Christian Cage enfrentando a Matt Hardy, y con Darby Allin chocando ante Ethan Page en un Coffin Match.
El resto luce así:
Jon Moxley (c) vs Karl Anderson, IWGP USA Championship (de NJPW).
Sammy Guevara vs Wheeler Yuta
Penelope Ford vs Yuka Sakazaki (una de las principales participantes del torneo femenino que hizo AEW).
Brian Cage (c) vs Ricky Starks, FIW Championship.
Acá toda la cobertura:
Jon Moxley (c) vs Karl Anderson, IWGP US Championship
Primero que nada, que bonito es escuchar los temas de entrada de Mox y Anderson (Wild Thing y Gun Stun respectivamente) que no deberían faltar en cualquier playlist. Segundo, otra gran defensa del campeón en su regreso. Muchas cosas se podrán decir de los Good Brothers, pero lo cierto es que Karl Anderson es el mas competente del dúo siendo que estuvo cerca de arrebatarle el titulo a Moxley , el mas cercano tras el Gun Stun. Buenos intercambios los del inicio y tras algunos finales falsos, el ex Shield conecta con el Paradigm Shift para retener el titulo USA.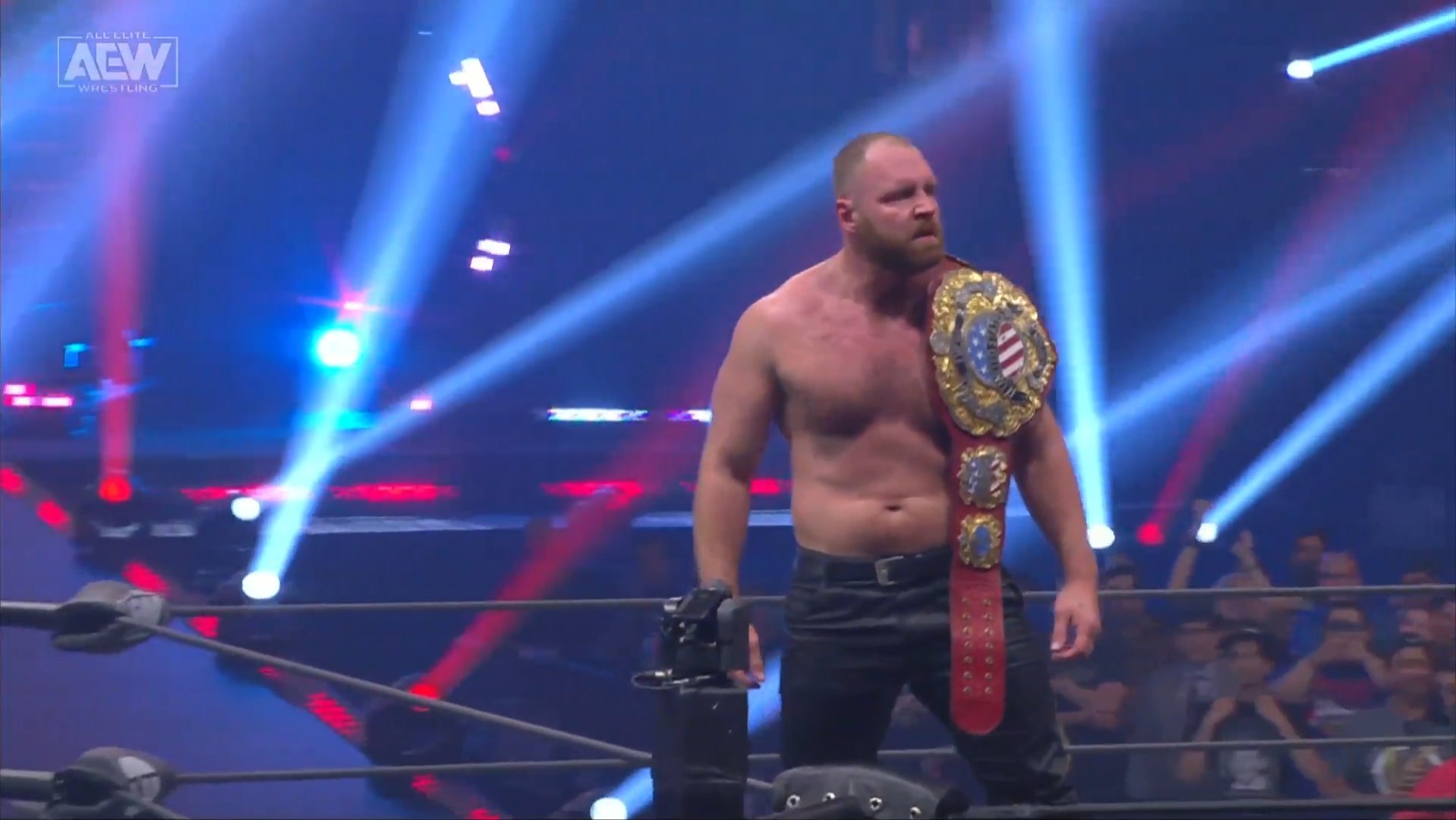 Brian Cage (c) vs Ricky Starks, FTW Championship
Mejor de lo que esperaba, en especial con el recibimiento a Ricky Starks a los encordados. Starks soporta en su mayoría todo lo que Cage le lanza, incluyendo su F5. "The Absolute" logra encajar la cuenta de tres tras una ayuda cortesía de Powerhouse Hobbs y se convierte en el nuevo campeón FTW.
En Backstage, Lance Archer lanza un reto a Jon Moxley por el titulo USA para la siguiente semana en un Texas Deathmatch.
Promo de Cody Rhodes y Malakai Black
Rhodes llega furioso a AEW Dynamite y pide un micrófono para hablar de la falta de respeto de Black al atacar a Arn Anderson. Black aparece en la contando la historia de un caballo cuyo dueño asesino por honor y trata de sorprender nuevamente a Cody en el ring pero terminan siendo separados por la seguridad.
Chris Jericho habla de lo que esta dispuesto a hacer para obtener una lucha con MJF. El Alpha compara su situación con los 12 trabajos de Hércules pero es atacado por el mismo MJF junto a Shawn Spears. Maxwell dice que la primera prueba de Jericho es Spears en una lucha donde su compañero puede usar sillas y el no.
El futuro de Hangman Page
El vaquero llega para hablar de si retar por el titulo mundial de AEW pero es interrumpido por The Elite, con Kenny Omega al mando. Matt Jackson dice que Hangman es la próxima gran tragedia del Wrestling, a lo que este termina atacándolo.
Omega trata de atacar por la espalda a Page pero The Dark Order salen en su defensa. "The Cleaner" pacta una lucha de eliminación 5 vs 5 donde si su equipo gana Dark Order y el tendrán oportunidades titulares, pero si son vencidos Page no podrá retar a titulo nunca.
Christian Cage vs Matt Hardy
Primera vez que se enfrentan en un show especial de AEW Dynamite. No era para ponerse tan exigente considerando la edad de ambos pero aun así resulto disfrutable. Christian supera en varios tramos a Hardy, por lo que este ultimo recurre a trampas para dejarlo mal. Con todo y eso, Cage conecta el Killswitch tras superar el conteo fuera.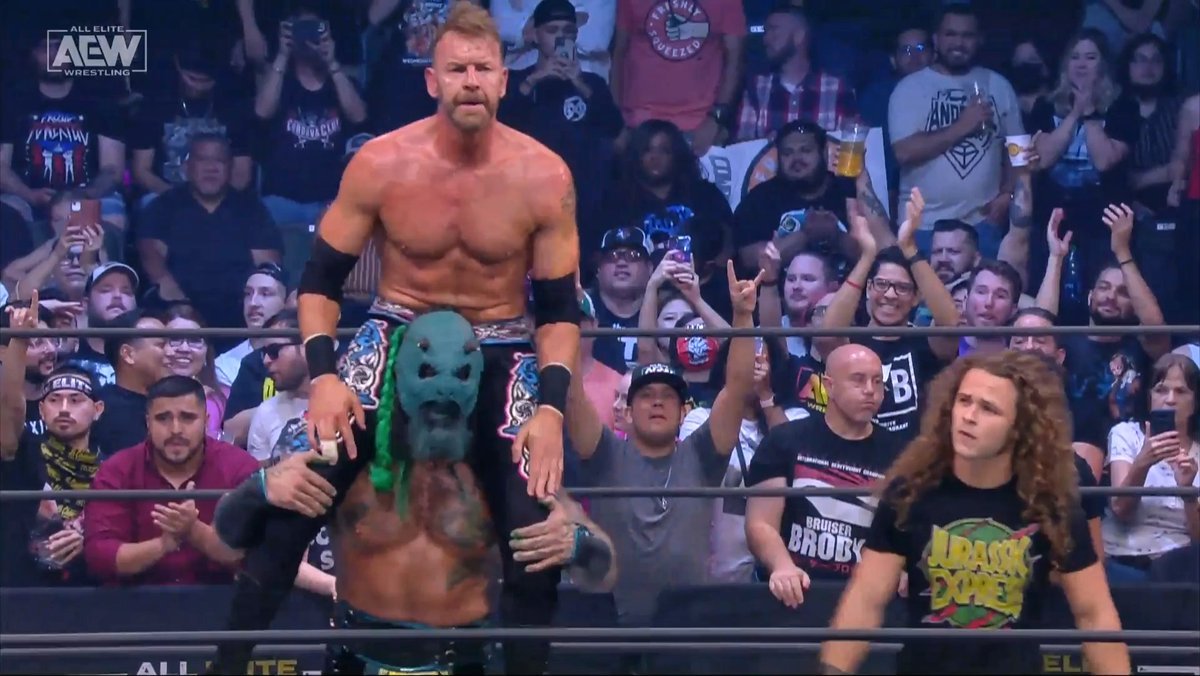 Britt Baker sale a dar una promo contra Nyla Rose y Vicky Guerrero, lanzando una puya a la ex esposa de Don Eddie diciendo que vive solamente del apellido. El dúo se enoja y dicen que harán pagar a la doctora por sus dichos.
Sammy Guevara vs Wheeler Yuta
Victoria cómoda de Guevara quien demuestra estar super over. Tras la lucha el "Spanish God" muestra respeto por su rival.
Penelope Ford vs Yuka Sakazaki
Poquito a destacar, y en ese poco esta la actuación de Yuka Sakazaki quien cargo mas con el combate. Penelope le toco seguir la jugada al tener una ofensiva poco versatil. Victoria para Sakazaki en su vuelta a AEW Dynamite.
Ethan Page vs Darby Allin, Coffin Match
Sinceramente esto supera a gran parte de los Casket Match vistos en WWE (Cosa que tampoco creo es dificil) y es que el hecho de hacer entretenido a una estipulación que históricamente ha valido pico por la monotonía en ritmo es de aplaudir.
Una rivalidad que viene desde las independientes es tratada como una pelea callejera, no se limitan a hacerlo algo normal o rutinario. Regalándonos en el proceso buenos spots como aquel Ego´s Edge a la escalera metálica. Ethan Page todo un personaje que sabe hacerse odiar y Darby apoyado desde el inicio. Darby se impone tras encerra a Page tras un ataque con su Skateboard.
No contento con eso, el ex campeón TNT se lanza en un Coffin Drop rompiendo el ataúd con Ethan dentro. Terminando así la primera noche de AEW Dynamite: Fyter Fest.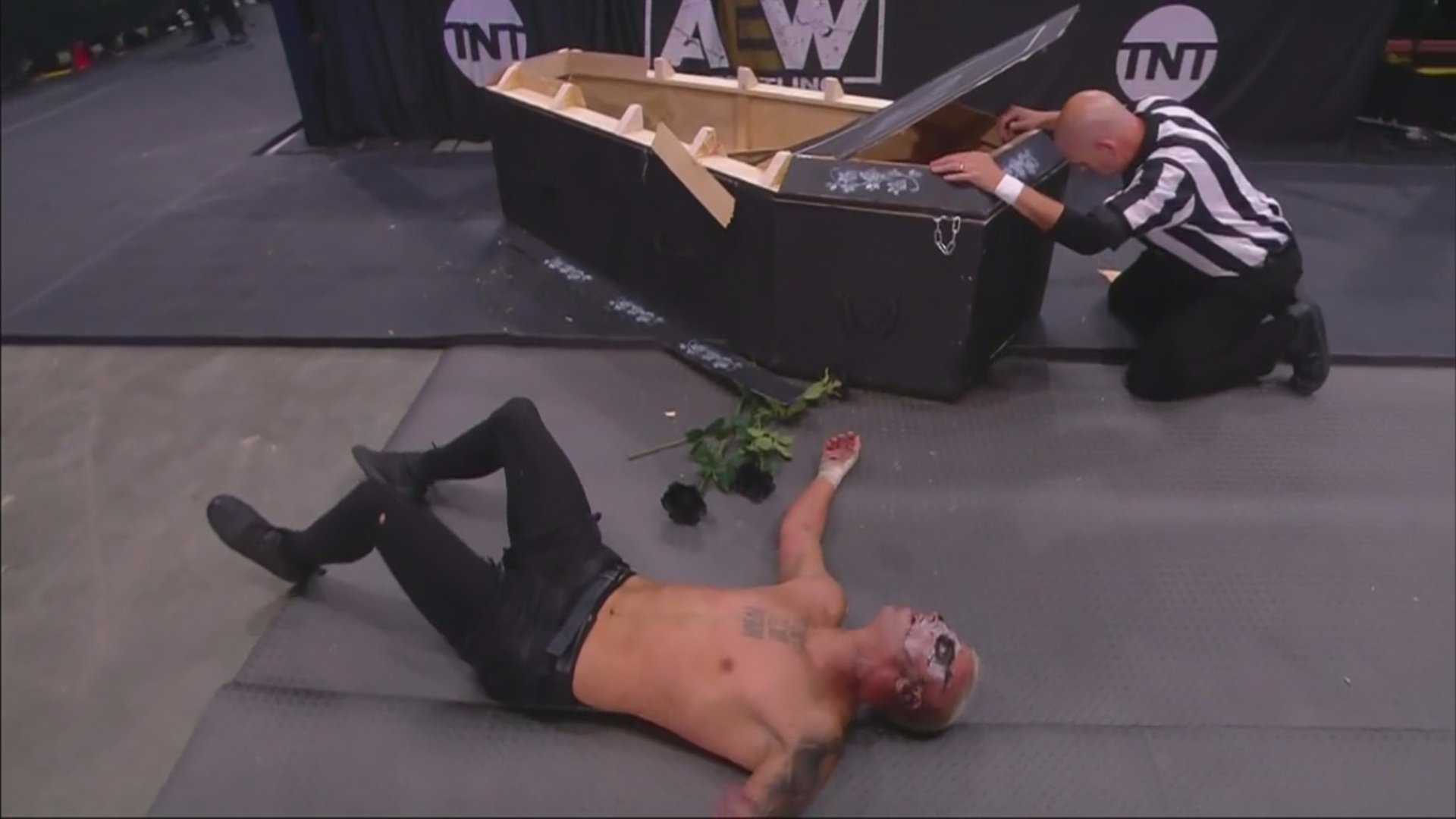 Conclusiones
Quitando el relleno de Guevara y el papel de la división femenina hoy, me pareció un entretenido especial de AEW Dynamite. Esperemos que la segunda noche del Fyter Fest siga así de bueno, en el proceso avanzando mas con las historias principales.
En otros temas