Resultados de IMPACT Wrestling 19.08.2021
Christian Cage hace su regreso a IMPACT Wrestling.
Tras el cambio de manos del título mundial en AEW Rampage y la coronación de un nuevo retador, IMPACT Wrestling entra en un nuevo panorama dentro de sus historias, empezando con el regreso de un viejo conocido a la casa: Christian Cage.
Josh Matthews y Gia Miller se disponen a presentar al nuevo campeón Mundial de IMPACT Wrestling pero se ven interrumpidos por un brawl entre Eddie Edwards y W. Morrisey. El gigante lleva la mejor parte hasta que Sami Callihan sale al rescate del Psycho Wolf.
Sami Callihan y Chris Sabin vs Ace Austin y Moose
Sabin y Austin hacen despliegue de su agilidad en sus intercambios pero es el león joven quien toma la ventaja sumado a rápidos relevos a su compañero. Sabin logra dar el pase al Hacker para que limpie la casa y consiga el pin decisivo sobre Austin.
Tras el combate Chris Sabin y Sami Callihan celebran la victoria, pero el ICU ataca su compañero con un Cactus Pilerdriver.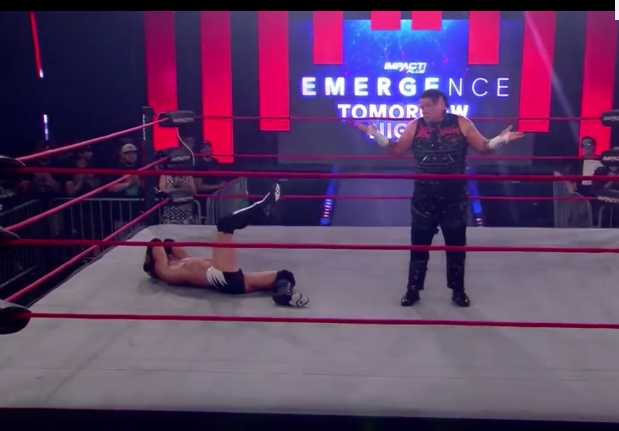 Se ven imágenes del evento de NJPW Resurgence donde The Good Brothers superaron al equipo de Yuji Nagata y Jon Moxley para más tarde ser confrontados por Gerrillas of Destiny. Los campeones en pareja de IMPACT Wrestling después realizan una promo diciendo que apalizarán a cualquiera de ellos si les roban el reflector.
Shera (con Rohit Raju) vs Matt Cardona (con Chelsea Green)
Shera saca ventaja gracias a trampas y distracciones de Rohit, que sumado a su fuerza pusieron en problemas al hombre de Long Island. Chelsea logra neutralizar los intentos de trampa de los indios y permite que su esposo consiga la victoria tras un Radio Silence.
En backstage, Tenille Dashwood y Madison Rayne hablan de su nueva alianza mientras entrelazan sus segmentos personales para demostrar su unión.
Christian Cage hace su ingreso a IMPACT Wrestling tras 13 años de su última aparición como luchador de la ex TNA. El flamante nuevo campeón Mundial dice estar feliz de volver a casa para devolverles lo que les pertenece, así mismo menciona que tras una discusión con Scott D Amore ha decidido retirar el campeonato Mundial de TNA en señal de respeto al pasado de la empresa.
El nuevo retador al título, Brian Myers junto a Sam Beale, sale a escena para recibir al nuevo campeón. "The Most Professional Wrestler" habla de cómo se ha convertido en alguien mejor en el último año y que coronará su trayectoria ganando el campeonato de manos de una leyenda de TNA. Christian se mete con Myers diciendo que le tom´p años salir de la sombra de Cardona para recién asomar la cabeza. Que el puede habar ganado la Battle Royal, pero aún no significa nada, ni siendo el luchador más profesional porque el es el mejor luchador profesional.
Myers empuja a Beale quien se gana una bofetada de Christian en lo que es un intento de ataque, pero al final termina huyendo.
Se repasa la victoria de Deonna Purrazzo en Triplemania XXIX donde se coronó como doble campeona.
Melina vs Brandi Lauren
debut de la ex campeona femenina de WWE superando sin muchos problemas a Lauren y la remata con un California Dream.
Deonna Purrazzo en compañía de Matt Rehwoldt atacan a la retadora de la Virtuosa para NWA Empowerr, pero Trey Miguel sale a su rescate ahuyentando a los rudos.
Jake Something vs Kaleb, No DQ Match
Victoria fácil para Something tras minutos donde lo dejó en ridículo y lo hizo atravesar una mesa con una Spear.
Tras la lucha Josh Alexander sale a encarar a su próximo retador en el especial Emergence.
Se anuncian más combate para el especial de Emergence donde Matt Rehwoldt y Deonna Purrazzo lucharán contra Trey Miguel y Melina, además Madison Rayne enfrentara a Taylor Wilde.
Joe Doering (Con Violent By Design) vs Doc Gallows (con Karl Anderson)
Duelo de pesos pesados para cerrar la velada. Mejor de lo que esperaba y eso que uno de ellos es el penca de Gallows, pero se midió bien y lució fuerte ante el gigante ex campeón de AJPW. El spot más llamativo es sin dudas el Chokeslam en la rampa donde ambos luchadores quedan tendidos pero pueden continuar el combate.
Gallows intenta un ataque aéreo en los compases finales pero es interceptado por un Monster Lariat de Doering quien se lleva la victoria, cerrando así este episodio.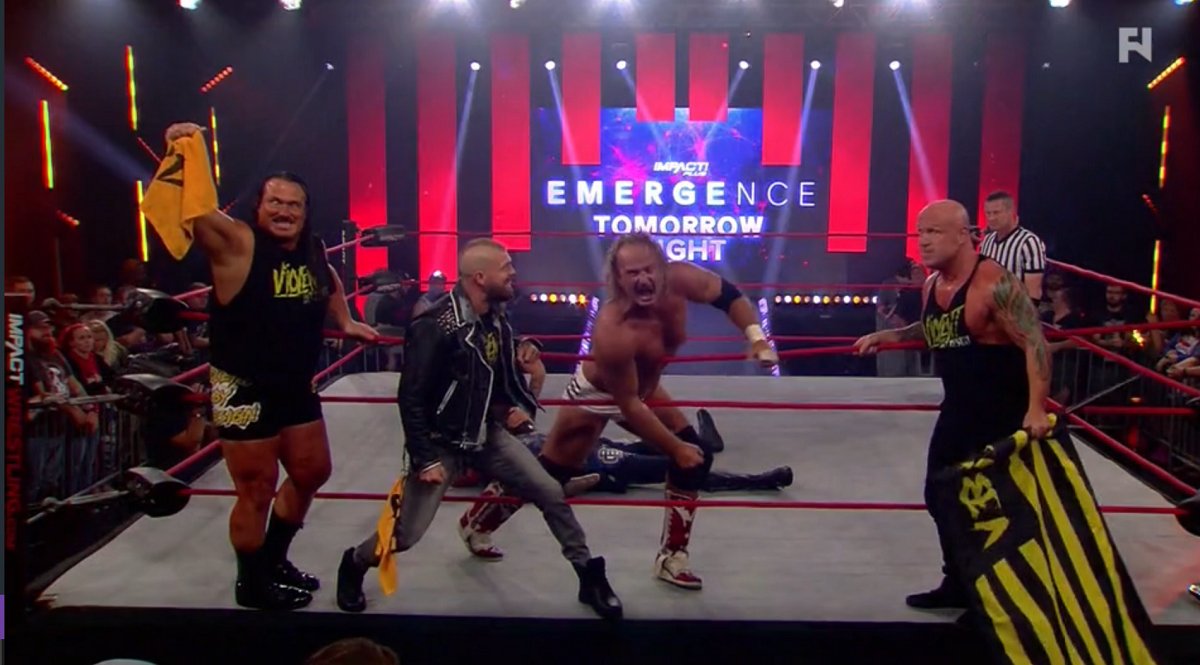 También te puede interesar
Roman Reigns se refiere a CM Punk y como este no era mejor que John Cena