Resultados Friday Night SmackDown 26.11.2021
Roman Reigns busca un nuevo desafío, mientras Ridge Holland tendrá su debut in-ring en este SmackDown.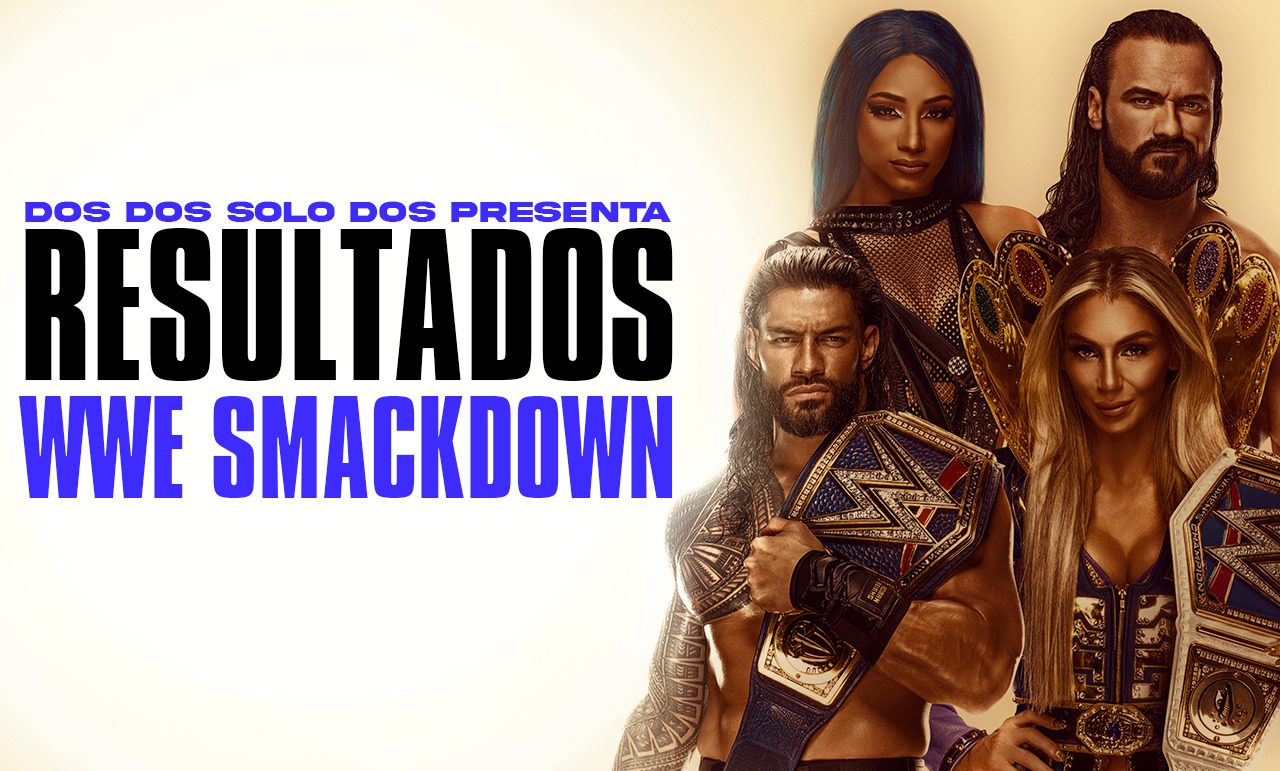 ¿Quién será el siguiente retador para Roman Reigns? Esa una de las preguntas que resolveremos en este SmackDown.
Friday Night SmackDown 26.11.2021
Por su parte, tendremos el debut de Ridge Holland enfrentando a Cesaro, mientras que Drew y Jeff Hardy se unen para combatir contra Corbin y Moss.
Acá sigue toda la cobertura:
Roma Reigns inicia el programa
Kayla da la bienvenida al programa y habla de los rumores sobre Brock Lesnar y su vuelta de su suspensión. Roman Reigns interrumpe la bienvenida inicial de Kayla Braxton y llega junto a Paul Heyman. Se muestra un resumen de la lucha entre Reigns y Big E en Survivor Series. Heyman le pide el micrófono a Kayla y ella se lo entrega. Heyman dice que ellos no se hacen cargo de rumores.
Heyman le dice que se vaya a buscar el filtro de Instagram para parecer una periodista legítima y deje hablar a Roman Reigns. Kayla se marcha y el público pide a Lesnar. Reigns dice que los rumores dan esperanza a los perdedores porque él ya venció a Lesnar sin estar en óptimas condiciones. Roman Reigns dice que Big E también fue un perdedor que cayó ante él y promete destrozar al que se le cruce.
Happy Corbin y Madcap Moss vs Drew McIntyre y Jeff Hardy
Corbin inicia atacando a traición a Hardy. Jeff contrataca con su legdrop y dropkicks. Corbin da el relevo a Moss y Jeff lo derriba para la primera nearfall. Entra Drew y ambos face conectan un codazo. Drew sigue con chops en el esquinero. Moss intenta repuntar, pero Drew lo derriba con lariat. Jeff entra y castiga a Corbin en ringside. Moss lo estrella contra la barricada.
Hardy usa el Twist of fate en Moss y da el relevo a Drew. Drew entra limpiando la casa y aplica neckbreaker a Corbin. Drew intenta su finisher, pero Moss interviene y Corbin capitaliza para lograr un nearfall. Jeff entra y sale del ring junto a Corbin. Drew aplica su finisher a Moss y lo deja listo para darle el relevo a Jeff. Hardy conecta su finisher y se llevan la victoria.
Ganadores: Drew McIntyre y Jeff Hardy
Kayla y Heyman en backstage
Kayla y Aliyah conversan y son interrumpidas por Heyman, quien le pide a Kayla comprobación de sus rumores. Heyman dice que Lesnar se esconde en la suspensión porque le teme a Roman Reigns.
Ridge Holland (y Sheamus) vs Cesaro
Sheamus distrae a Cesaro y Holland capitaliza con suplexes, chops y uppercuts. Holland intenta rendir a Cesaro, quien resiste, pero Holland no lo suelta y conecta suplex olímpico para la primera nearfall. Holland insiste con el llaveo. Ridge no deja espacio a Cesaro y conecta legdrop y codazos.
Cesaro aprovecha una sola distracción de Ridge y logra un roll-up para llevarse la victoria.
Ganador: Ridge Holland
Shinsuke Nakamura y Rick Boogs vs Los Lotharios
Angel ataca a Boogs y lo saca del ring para intentar estrellarlo contra una mesa llena de comida. Boogs resiste y ambos suben al ring. Angel intenta someter a Boogs con una llave. Boogs doblega a Angel con fuerza bruta y aplica su secuencia de suplexes. Boogs intenta someter a Angel, pero lo distrae Humberto tomando su guitarra, aunque Nakamura lo derriba.
Angel aprovecha la distracción para conectar su finisher y llevarse la victoria.
Ganadores: Los Lotharios
Kayla y Adam Pearce
Kayla pregunta a Adam si sabe algo sobre el regreso de Lesnar luego de la suspensión. Pearce dice que Lesnar es una amenaza y que estaría sorprendido si llegara a volver a WWE pronto.
Entrevista a Charlotte Flair
Michael Cole pregunta a La Reina si está decepcionada por su derrota, pero Charlotte culpa al árbitro y a la suerte de Becky Lynch. Y que todo el éxito de Lynch es gracias a ella. Cole le pregunta qué sigue en su carrera. Charlotte dice que sigue siendo la más dominante. Entra Toni Storm.
Toni dice que como ella predijo, Becky ganó. Toni entra al ring y la desafía. Charlotte dice que ni siquiera sabía que existía. Y que ella está en un nivel superior. Charlotte la ataca, pero Toni la esquiva y la lanza fuera del ring. Charlotte la invita a salir y le estrella un pastel en la cara, luego le repite lo mismo.
Sasha Banks y Naomi vs Shayna Baszler y Natalya
Shayna sorprende a Sasha y aplica un ankle lock que transiciona a su finisher, pero Sasha escapa con el relevo. Naomi intenta el roll-up, que termina en uno. Shayna resiste el segundo roll-up y pisotea a Naomi para castigar su brazo. Relevo a Natalya quien aplica headlock. Naomi contrallavea, pero Natalya escapa.
Dropkicks para Natalya y esta termina fuera del ring. Naomi le da el forearm a Shayna, Natalya recibe a Naomi y la castiga en ringside. Relevo a Shayna y esta aplica rodillazo y la sube al ring. Shayna aplica su finisher, pero Sasha la salva.
De vuelva de comerciales, Shayna domina a Naomi pisoteando su pierna y da el relevo a Natalya, que entra con suplex. Natalya aplica headlock. Naomi escapa de Natalya y Shayna con doble rompequijada. Shayna ataca a Sasha, pero esta responde con rodillazos. Naomi usa roll-up, pero no capitaliza. Lariat para Naomi y otra nearfall. Finalmente Naomi gana con un sunset flip.
Ganadoras: Naomi y Sasha Banks.
Naomi encara a Sonya Deville que está en los comentarios, pero esta se limita a aplaudir la victoria de las faces.
Black Friday Battle Royal por una oportunidad por el Universal Championship
Drew entra con su espada y todos escapan asustados del ring. Adam Pearce aparece furioso para decirle que no haga eso. Discuten y finalmente Drew no es incluido. Todos los participantes se castigan entre ellos mientras Reigns y The Usos observan desde el monitor en los vestuarios.
Finalmente quedan Corbin, Jeff Hardy, Ricochet y Sheamus. Sami Zayn aparece forma sorpresiva al final y elimina al último participante, Jeff Hardy, quien casi es anunciado como ganador previamente.
Ganador: Sami Zayn
Cuando Kayla entrevista a Sami, ella cuenta que Brock Lesnar volverá la siguiente semana ya que su suspensión ha termiando.
Conclusión
El final de la Battle Royal anunciando a Lesnar pese a que hay un ganador, es indicio de que no hay interés en construir un uppercard nuevo. El final funciona como un cliffhanger barato similar a cuando WWE arma carteleras con anuncios en Twitter.
Los dos combates tag team tienen la clásica estructura de todos los tag teams en semanales. El bookeo de Nakamura y Boogs es una fórmula gastada digna de un show en vivo y que no aporta nada nuevo en un semanal, sobre todo de un Campeón Intercontinental.
Charlotte contradiciéndose y humillando a Toni no difiere mucho de Becky haciendo lo propio con Liv en RAW. Los títulos femeninos en un reciclaje creativo que depende del carisma de las campeonas para mantenerse vigentes.
En otros temas