Resultados de IMPACT Wrestling 02.12.2021
Resultados de un nuevo IMPACT Wrestling.
La semana pasada IMPACT Wrestling se tomó un descanso con el especial de Wrestle House 2 por acción de gracias, esta semana volvemos a la acción camino a Hard To Kill.
El show abre con Matt Cardona lanzando una promo contra Moose por interferir en su lucha en Turning Point y dice que pronto irá por su campeonato mundial.
Moose aparece y dice que el no merece una oportunidad, además le menciona que enfrentarlo a el en el ring duraría menos que su reinado como campeón intercontinental de WWE. Luego lo llama "Mid Cardona", desatando el brawl.
W. Morrisey aparece para asistir al campeón y Eddie Edwards para ayudar a Cardona, ahuyentando a los heel al final.
Scott D Amore pacta para el evento central una lucha por equipos entre Cardona y Edwards vs Moose y Morrisey.
Acto seguido Scott se dirige donde un grupo de Knockouts que buscan un cupo en el primer Ultimate X femenino en Hard To Kill y les dice que la próxima semana anunciará las participantes.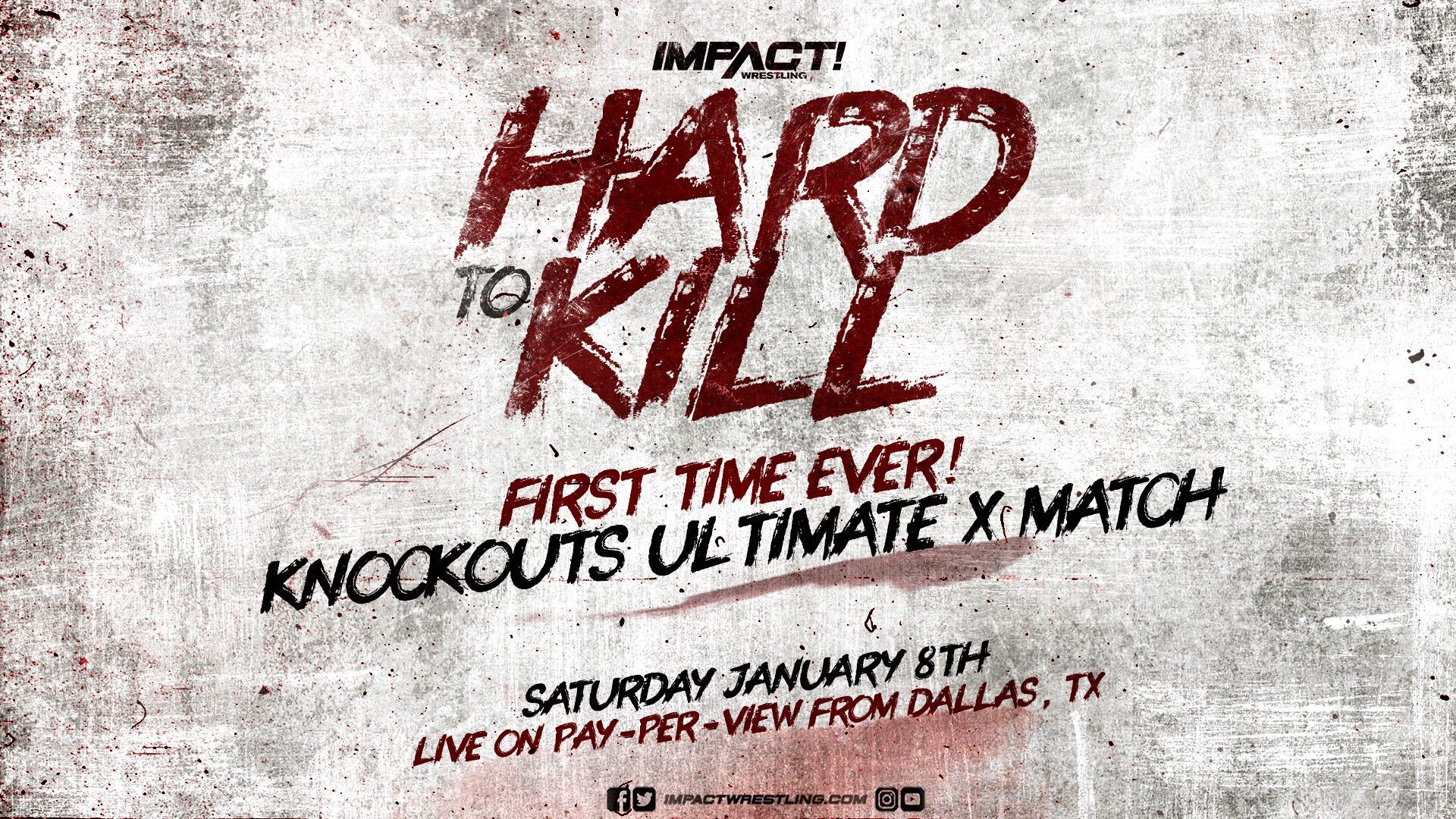 Matt Rehwoldt vs Chris Sabin
Lucha correcta que tuvo interferencias por parte de Mickie James y Deonna Purrazzo. "The Drama King" parecía tener la victoria a la mano pero Sabin se llevó el triunfo al final tras un Cradle Shock.
Jonah vs Jai Vidal
Debut del antes conocido como Bronson Reed en WWE y fue aplastando a Vidal sin misericordia.
Jonah toma el micrófono y dice que ha hecho una alianza con Moose con el objetivo de tener una futura oportunidad al campeonato mundial de IMPACT Wrestling. Cierra diciendo que si Josh Alexander o alguien quiere hacer un nombre tendrá que pasar por el primero.
Trey Miguel es entrevistado por su defensa del campeonato X Division, pero dice que esta satisfecho por su logro aun le falta inmovilizar a Steve Maclin. Este último aparece para agarrarse a golpes con Miguel y ambos son separados por seguridad
Rachel Ellering vs Savannah Evans
Duelo de mujeres fuertes. Evans se impuso en varios trayectos a Ellering, pero rumbo al final esta se recupera con una serie de sentones y finalmente su remate para llevarse la victoria.
Tenille Dashwood, Kaleb y Madison Rayne se encuentran en backstage con The IInspiration. Los primeros parecen llevarse muy bien con las campeonas, pero Madison no se siente muy cómoda.
Violent By Design (Cody Deaner y Joe Doering) vs Rich Swann y Willie Mack)
Willie recibe todo el castigo de VBD hasta que Swann toma el relevo y neutraliza ambos miembros del grupo de Eric Young y consigue la victoria vía Roll-up.
La celebración no les dura mucho a Swann y Mack porque son atacados por el resto de VBD. Heath y Rhino aparecen para hacer el salve.
Moose y W. Morrisey vs Eddie Edwards y Matt Cardona
Eddie iba dominando en una mitad hasta que es puesto contra las cuerdas por el gran Morrisey. Cardona toma el relevo decisivo pero es incapaz de doblegar a Moose, pero de la nada logra sacarle un Roll-up para ganar la contienda.
Luego de la lucha, Morrisey molesto ataca a su compañero y posa sobre el para acabar la transmisión de este nuevo show.
Poco tiempo después de la lucha se anuncia que en Hard To Kill, Moose defenderá el campeonato mundial de IMPACT Wrestling en una triple amenaza contra W. Morrisey y Matt Cardona.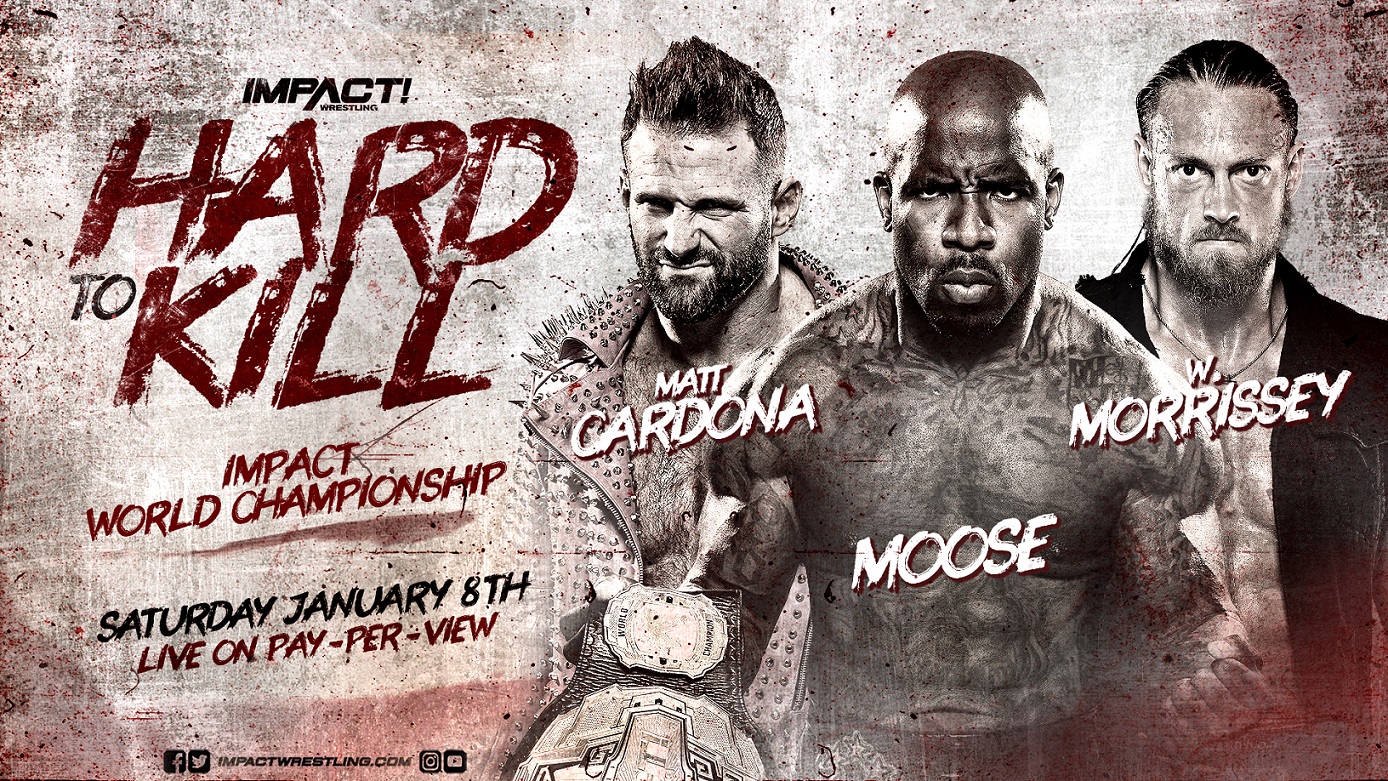 En otros temas