Resultados Friday Night SmackDown 10.12.2021
Llega un nuevo SmackDown con el debut de Xia Li.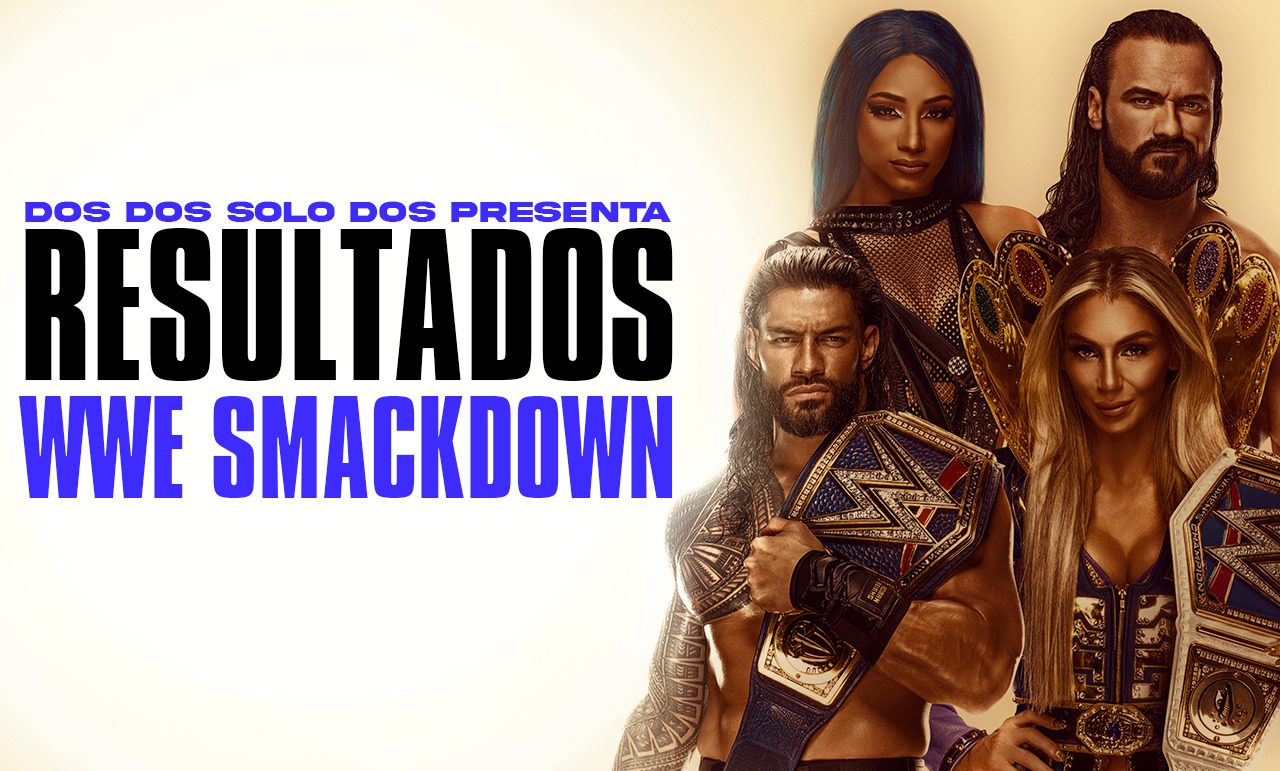 Toni Storm buscará una oportunidad titular cuando enfrente a Charlotte Flair en una nueva edición de SmackDown.
SmackDown 10.12.2021
Además, Orton y Riddle aterrizan en el show azul para una triple amenaza que tiene a New Day y The Usos. Y también se viene el debut de Xia Li.
Acá sigue toda la cobertura:
Promo de Sami Zayn
El canadiense abre este nuevo SmackDown llegando en silla de ruedas y muy molesto por como Brock Lesnar y Roman Reigns le costaron su oportunidad titular la semana pasada.
Paul Heyman se une para burlarse del lastimado Zayn y este amenaza con golpearlo. Brock Lesnar aparece y dice que le hizo un favor porque cree que el nunca vencerá a Reigns pero a manera de compensación le ofrece salir de paseo. Heyman instiga a la bestia de atacar a Zayn y lo termina rematando con un F5.
Shinsuke Nakamura y Rick Boogs vs Los Lotharios (Angel y Humberto)
Combate por equipos con poco desarrollo porque no duro mucho que termina a favor de los Face, siendo Nakamura el encargado de rematar a uno de los Lotharios con el Kinshasa.
Ganadores: Shinsuke Nakamura y Rick Boogs
En Backstage, King Woods es coronado con una nueva corona de cara su lucha mas adelante con RK-Bro y The Usos.
Drew McIntyre llega a la oficina de Adam Pearce donde este le reclama su acción de amenazar con atacar con su espada en el Battle Royal. Pearce le pide que entregue su espada y Drew termina clavándola en el escritorio del GM.
En Backstage, Sasha Banks anima a Toni Storm de cara a su próxima lucha con Charlotte Flair
Sheamus vs Drew McIntyre
Cumplidor e inferior a sus primeros combates de principios de este años. Sheamus corta varios intentos del escoces y en uno de tantos contragolpes le conecta el Brogue Kick sin embargo el ex campeón de WWE sobrevive. Algunos intercambios previos al final y McIntyre logra el Claymore del triunfo.
Victoria: Drew McIntyre
En Backstage se ve que Adam Pearce intenta sacar la espada de su escritorio. Mas rato se ve que Happy Corbin y Madcap Moss se llevan el escritorio con todo y espada.
Naomi realiza una promo retando a Sonya para salir a ajustar cuentas, Sonya aparece vestida para luchar. Pero Deville anuncia que la encargada de la campana será su amiga Shayna Baszler y Natalya será la anunciadora.
Sonia Deville vs Naomi
Naomi de inmediato baja del ring y ataca a Shayna hasta dejarla en el piso y hace lo mismo con Natalya. Sonya baja del ring, pero aparece Xia Li haciendo su debut. Sonya termina huyendo junto a Natalya y Shayna.
RKBRO en backstage
Riddle le presenta el elenco de Jackass a Randy Orton. Conversan y bromean mientras Randy los mira distante. Riddle pregunta a Orton si tiene algo que comentar y Randy dice que no para marcharse.
Toni Storm vs Charlotte Flair
Charlotte Flair ataca a Toni apenas suena la campana. Toni toma la ofensiva sobre la campeona e intenta suplex, pero Charlotte lo bloquea. Toni logra la plancha cruzada. Charlotte busca repuntar y Storm la esquiva, hasta que la Reina conecta la big boot y prepara el moonsault. Charlotte falla el primer impacto, pero conecta con el segundo mortal. Cuenta de dos.
Charlotte trabaja la pierna de Toni, pero Toni hace transición para el roll-up. Conecta variante de takedown/german suplex y logra otra cuenta de dos. Charlotte saca a Toni del ring mientras la patea. Charlotte sigue el ataque hasta provocar la descalificación.
Ganadora: Toni Storm
Charlotte vuelve a patear a Toni dejándola tendida en el ring mientras se jacta de seguir portando el título.
Brock Lesnar en la oficina
Lesnar aparece hablando de su multa a Adam, Lesnar explica que ha aprovechado el tiempo disfrutando cazando y que cazó un enorme alce. E intenta mostrarle una foto a Adam, pero no lo logra. Dice que jamás ha entendido la tecnología y parte del teléfono con sus manos. Lesnar le explica a Adam como destripó y se comió al alce. Le cuenta que luego de todo puso la cabeza del alce en su living y le puso el nombre de Pearce. Adam incómodo le da las gracias y se retira asustado.
Resultado encuesta mejor Tag Team de WWE
Aparecen The Usos a decir que solo les interesa demostrar ser los mejores. Luego aparece New Day con Xavier Woods y Kofi Kingston. Finalmente hacen su entrada RKBRO. Los ganadores resultan ser RKBRO, segundo lugar The Usos y tercer lugar New Day.
The Usos vs New Day vs RKBRO
Comienzan Riddle y Kofi, llaveando al principio y luego Kofi imponiéndose con su agilidad. Riddle toma la delantera y Kofi da el relevo a Woods. Xavier se impone con forearms y Jey Uso toma el relevo forzadamente entrando a ambos hermanos a derribar a todos los presentes, para luego lanzarse en un tope doble a derribar a todos sus rivales.
Jey y Riddle se miden el centro del ring.The Usos acribillan a Riddle mientras Randy discute con el árbitro. Jimmy entra a seguir castigando a Riddle y pisotéandole la mano con la que buscaba el relevo. Jimmy Uso da el relevo a su hermano Jey y ambos repasan a Riddle mientras se burlan de Orton. Jey falla el splash en el esquinero y Riddle esquiva a Jimmy. Orton es atacado y no puede recibir el relevo.
Entra Woods y se mide con Riddle, quien todavía no puede dar el relevo a Orton. Suplex a Riddle y cuenta de dos. Con dificultad Orton recibe el relevo y arrasa con todos sus oponentes. Jey conecta superkick e intenta splash. Woods saca el relevo y le sirve a Kofi el cuerpo de Jimmy Uso, gracias a un ataque combinado, vencen.
Ganadores: The New Day
Conclusión
Un programa cíclico con pocos destellos. Corbin y Sami siguen en un rol reiterativo. El primero en el universo del humor fácil y el segundo también encasillado en lo cómico, recibiendo palizas y humillaciones semanales. El manejo del gimmick heel cómico no parece llevar a nada serio a Sami, que sabe hacerse odiar, victimizarse y cumple en el ring siempre.
Toni y Charlotte tienen un combate de relleno que casi parece un segmento. Charlotte forzando la descalificación en un par de minutos es simplemente una evasiva que repite la fórmula del primer careo entre ambas, esto hace sentir que la historia no avanza in-crescendo.
El resultado de los tag teams era predecible, New Day tercero en la encuesta, las otras parejas campeonas y veníamos de una humillación de Reigns a Woods. El resultado protege la credibilidad de New Day. Pese a que sí involucraron al público y salió un poco de lo típico de los combates grupales, las dinámicas entre equipos no salen de lo establecido.
En otros temas