Resultados IMPACT Wrestling Hard to Kill 2022 y análisis del PPV
IMPACT Wrestling nos trae su primer PPV de este 2022 que ha tomado una gran promoción luego que Mickie James fuera anunciada para el Royal Rumble.
Pero defender el título ante Deonna no será nada fácil, ya que lo hará en un Texas Deathmatch.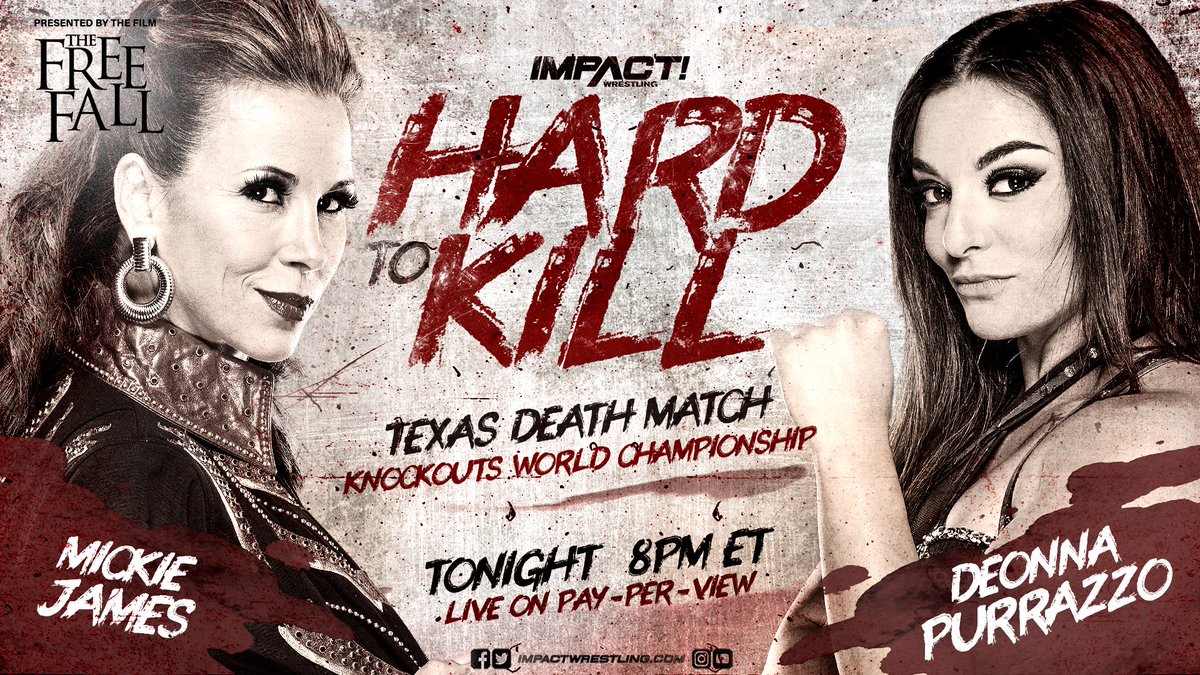 Por su parte, Moose defenderá el Campeonato Mundial en una triple amenaza ante Matt Cardona y W. Morrisey.
Acá sigue toda la cobertura, resultados y análisis junto a Walter Merino y Cristóbal Meléndez
Alisha Edwards vs. Chelsea Green vs. Jordynne Grace vs. Lady Frost vs. Rosemary vs. Tasha Steelz, Knockouts Ultimate X match.
Ganadora: Tasha Steelz, quien obtiene una futura oportunidad titular.
Por Cristóbal Meléndez
Para ser la primera Ultimate X match, aprueba bastante. Hay buenos spots, un tiempo de duración acorde (si se alargaba más podría volverse tediosa por el tipo de estipulación) e intercambios donde dejaron que todas tuvieran su momento.
Jordynne Grace y su fuerza siendo la primera en agarrarse de la cuerda colgante estuvo bien, porque después las otras debieron buscar estrategias al momento de subir. Destaco de ahí una especie de Spear de Rosemary a Alisha, o un bombazo de Grace a Steelz.
Finalmente Tasha y Green llegan a la X, pero es la primera en lanzarse con ella para ganar.
Valoración: 3 jumbitos.
Trey Miguel vs Steve Maclin, Campeonato X Division
Ganador: Trey Miguel quien retiene el título. Por la estipulación, Maclin no podrá retar al campeonato mientras Miguel sea el campeón.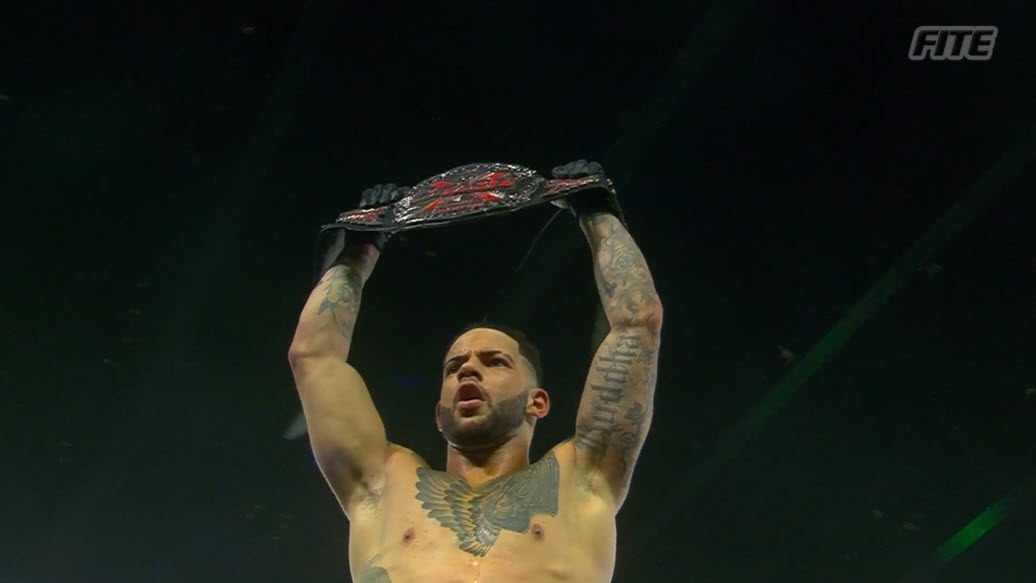 Por Walter Merino
Entretenido combate. La acción iniciada antes de sonar la campana concuerda por cómo se estaba construyendo la rivalidad entre ambos, puesto que Maclin sabe que se jugaba el todo por el todo. Trey es quien tiene que superar a su rival que en lo largo del combate que lo castigó en la espalda tras un golpe en la barricada. Bonitos Spots tejidos entre ambos, sobre todo lo que viene tras el comeback del campeon.
Esa postal donde Trey tiene que sufrirla para llevarse el triunfo tras dos meteora habla lo bien que han construído a Maclin, quien aprueba con creces este duelo.
Valoración: 3 Jumbitos 3/4.
Jonathan Gresham vs Chris Sabin, Campeonato de ROH
Ganador: Jonathan Gresham retiene el campeonato de ROH
Por Walter Merino
Puede que nos hayamos quedado sin shows de ROH un rato, pero el espíritu de la compañía estuvo más que presente en este duelo bajo reglas de estilo puro.
Gresham como todo un pulpo busca hacer daño en alguna de la extremidades, tanteando primero la pierna pero luego pasa al brazo. Los intentos de Sabin por usar su estilo rápido no son muy efectivos ya que se vio reducido por el limbwork al brazo del campeón y encajándolo en algunas llaves de rendición.
Poco después del comeback de Sabin es donde la magia sigue creciendo pues este tiene ocasiones donde parecía ganar (una muy clara con el Cradle Shock). Ese momento donde intercambian bofetadas y sus movidas terminaron por alentar al publico. La resolución eso sí creo pudo ser más contundente para Gresham pero son detalles que no opacan a un gran combate.
Valoración: 4 jumbitos.
Jonah vs Josh Alexander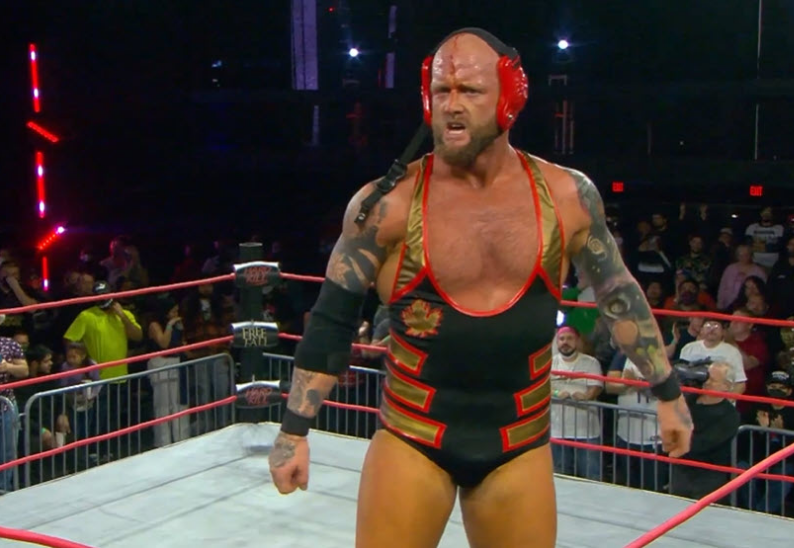 Ganador: Josh Alexander vía rendición.
Por Walter Merino
El detalle de que Josh tuviese la dificultad para encontrar una puerta de dominio o recuperación sobre Jonah (buscando la el Ankle Lock en su mayoria) está bien presentado. Quizás la mayor pega es el dominio del ex campeón norteamericano de NXT que se tornaba soporífera por trayectos, afectando al ritmo de combate.
Cuando llegan los spots por fuera del ring desde el lance de Alexander se le ve una mejora, puesto que el dominio de Jonah esta mejor plasmado frente al canadiense que apelaba ahora a su fuerza para cortar sus intentos, con mejores intercambios en el medio del ring. Cumplidor combate que termina con el Ankle Lock de Josh tras varios intentos.
Valoración: 2 jumbitos 3/4.
Eddie Edwards, Rich Swann, Willie Mack, Heath y Rhino vs. The Good Brothers (Doc Gallows and Karl Anderson) and Violent By Design (Eric Young, Deaner, and Joe Doering), Hardcore War.
Ganadores: Eddie Edwards, Rich Swann, Willie Mack, Heath y Rhino.
Por Cristóbal Meléndez
Hermoso caos. La lucha tiene un planteamiento muy similar al WarGames, pero claro, sin jaula. Parten uno vs uno hasta que van entrando los demás y ahí recién se puede hacer el conteo. No soy un gran entusiasta de esta regla, pero cuando se trata de una "guerra", bienvenido.
Y eso es lo que fue, una carnicería, básicamente azotarse con cualquier objeto posible. Mesas, una mesa con alambras de púas, un palo con fuego, un casco de fútbol americanos, sillas y más, con spots divertidos y roles bien definidos. Me entretuvo bastante a pesar que algunos lapsus los sentí un poco desordenados, pero vamos, es parte de este tipo de encuentros sin mayores pretensiones que simplemente el espectador pase un buen rato.
Valoración: 3 jumbitos 3/4.
Tras el match, tuvimos una invasión de luchadores de ROH atacando a los ganadores. The Kingdom, PCO y Vincent, acompañados por Maria. Gran momento para este Hard to Kill.
Moose vs W. Morrissey vs Matt Cardona, Campeonato mundial de IMPACT Wrestling
Ganador: Moose retiene el campeonato mundial de IMPACT.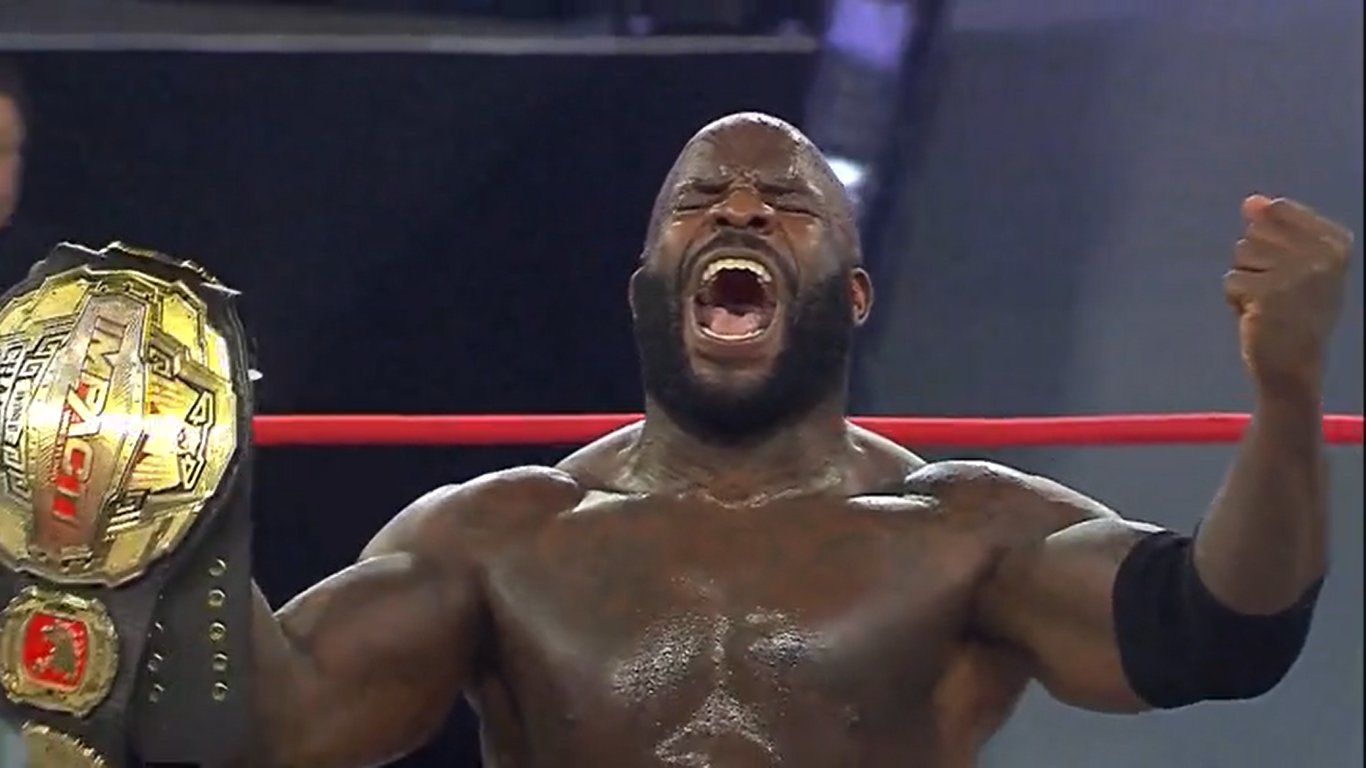 Por Walter Merino
Para tener a dos tipos grandes en medio, resultó ser una contienda con ritmo fluido y spots vistosos, y donde la estructura permite que los involucrados se luzcan. En especial el punto más alto es cuando se encaran Moose y Cardona, este último sorprendió con sus intentos de conteo. No dejar de lado a Morrissey que sin dudas sigue un crecimiento cuesta arriba y se le vio igual de dominante, más aún cuando el campeón quedó fuera de circulación.
La participación de Chelsea Green no la sentía necesaria al principio, pero terminó siendo un condimento para el papel de Underdog que estaban desarrollando con Cardona previo y durante el combate. Entretenida contienda.
Valoración: 3 jumbitos 1/4.
Mickie James (c) vs. Deonna Purrazzo, Texas Deathmatch por el Campeonato Knockouts Championship
Ganadora: Mickie James, quien retiene el campeonato.
Por Cristóbal Meléndez
Que en empresas mainstream veamos combates de estas características siempre resultará algo muy positivo. Estamos más que acostumbrados a la largo de la historia que sean los hombres quienes la protagonizan, cuando son mujeres, es un valor agregado muy atractivo.
No es la lucha más perfecta, algunas secuencias no tienen la mejor ejecución y algunos spots ya están vistos. Pero insisto en la premisa, en luchas de hombres, cuando son mujeres, te da esa sensación que estás viendo algo a lo que no estabas acostumbrado en empresas de este tono. Ya por eso, mis parabienes.
Sillas, mesas, tachuelas (genial el bump de Mickie) y hasta un guitarrazo son los ingredientes de una contienda que agregó matices propios en la estipulación que le dieron otro valor. Público metido, la Virtuosa con buenos pasajes de dominio y Mickie yendo de menos a más para retener con augura.
Ahora la campeona irá al Royal Rumble como monarca y me alegra toda esta exposición para una de las grandes del negocio. Aunque debo confesar que iba por Deonna antes del anuncio de WWE.
Valoración: 4 jumbitos.
En otros temas