Resultados Monday Night RAW 17.01.2022
Un nuevo RAW antes de Royal Rumble
Otra jornada más de Monday Night RAW previo al PPV WWE Royal Rumble. El nuevo campeón Lesnar ha sido un cambio inesperado en la rivalidad titular y nadie sabe cómo afectará esto el popular combate de eliminación por una lucha titular en WrestleMania.
La campeona femenina Becky Lynch se unirá a Doudrop para enfrentar a Liv Morgan y Bianca Belair. Por otro lado veremos el choque entre Bobby Lashley y Seth Rollins.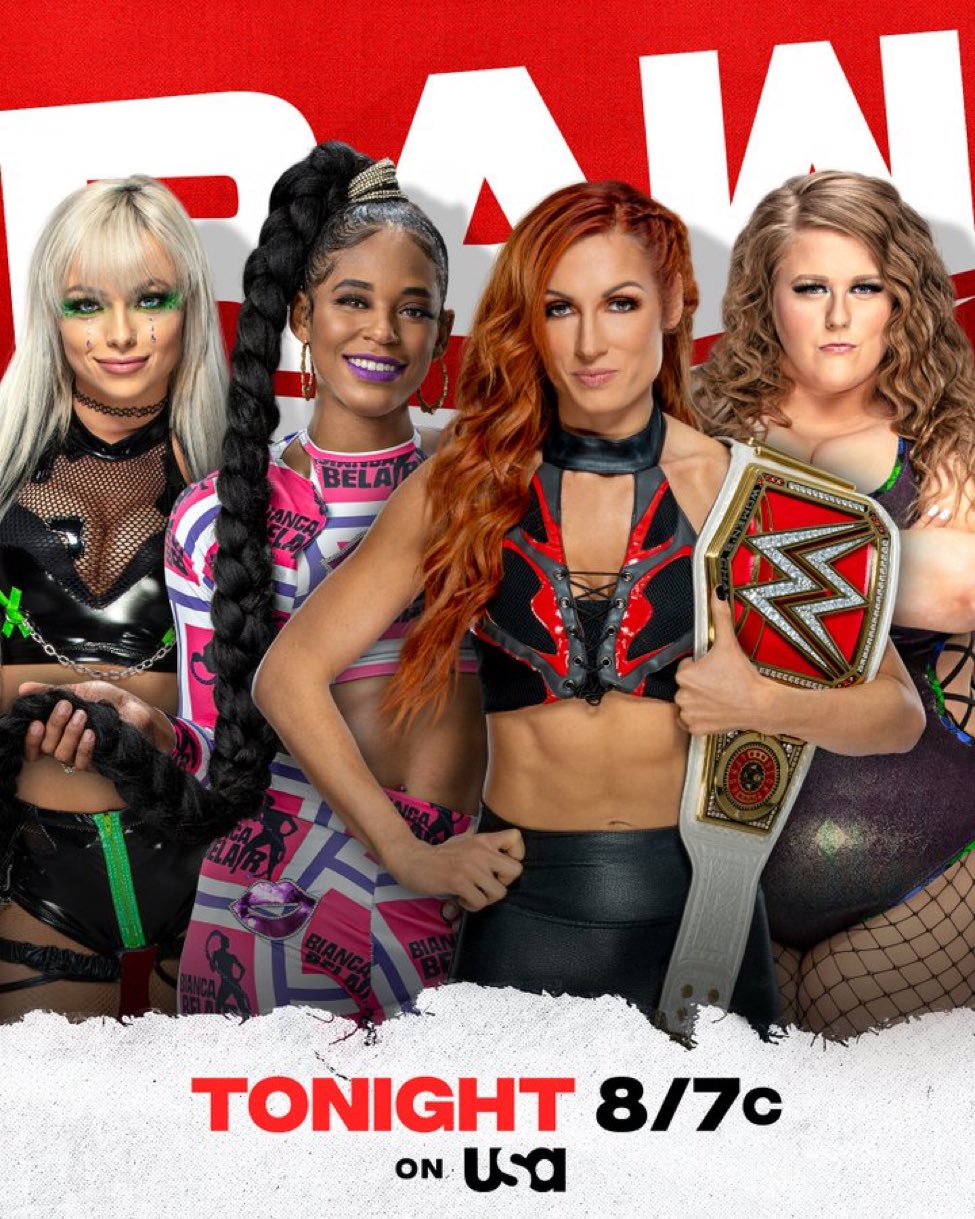 Sigue todos los resultados con nosotros a continuación…
Segmento inicial de Becky Lynch
Becky habla de cómo la división la necesita a ella, que Royal Rumble no es más que una oportunidad para enfrentar a la mejor de todos los tiempos: ella misma. Luego habla de que la más grande oportunidad de la carrera de Doudrop es enfrentarla a ella.
Aparecen Doudrop y Bianca Belair, Bianca anuncia que entrará al Royal Rumble. Aparece Liv Morgan y anuncia lo mismo.
Otis y Gable en backstage
Gable le pide a Otis que se relaje y disfrute ser campeón en parejas.
Becky Lynch y Doudrop vs Bianca Belair y Liv Morgan
Bianca sobrevive a Doudrop con su agilidad, Doudrop logra derribarla. Pero Becky toma el relevo inesperadamente diciéndole a Doudrop que ella está a cargo. Bianca derriba a Becky y da el relevo a Liv, Liv conecta su secuencia clásica sobre Becky y nearfall. Doudrop interviene, pero Liv la saca del ring. Becky usa roll-up con trampa y casi gana. Becky usa su finisher sobre Liv y Doudrop interviene, se da el relevo a si misma con Becky noqueada y se lleva la victoria en este RAW.
Ganadoras: Doudrop y Becky Lynch
Doudrop castiga a Becky con un sentón antes de irse.
Reginald y Dana Brooke conversan con Edge y Beth Phoenix
Edge felicita a Reginald por todo lo que puede hacer. Beth felicita a Dana y dice que se alegra de verla con un título. Edge saluda luego a Damian Priest, y le dice que ha visto un lado oscuro de él.
Edge y Beth se marchan. Aparece Owens y dice a Priest que le gustaría tener un combate con él. Pero un combate limpio, porque no le gusta su otro lado y no quiere verlo en un ring de RAW.
El Show de Kevin Owens
Owens presenta a Rollins, quien llega al ring. Owens dice lo mucho que admira la ropa de Rollins y su coraje para haber enfrentado a Roman Reigns. Rollins anuncia que cuando gane el título a Reigns, se quedará en RAW con Owens. Owen anuncia que participará en el Royal Rumble y que cuando gane ambos le darán al mundo el más grande main event de todos los tiempos en WrestleMania.
Aparece Damian Priest a decir que nadie cree que Rollins venza a Reigns y le informa a Kevin Owens que su combate con él empieza justo ahora en RAW.
Damian Priest vs Kevin Owens
Priest domina con facilidad a Owens. Priest lo castiga con su secuencia de patadas y Owens escapa fuera del ring. Owens lo intercepta fuera del ring y Owens lo patea y le aplica splash desde el ring.
Priest comienza a dominar a Owens. Owens se defiende con uppercut. Pero Priest arremete con lariat y súplex. Castigo desde el esquinero sobre Priest y cuenta de dos. Pop up powerbomb y otra nearfall.
Enziguri y chockeslam para Owens y cuenta de dos. Owens se queja de su pierna y el árbitro interviene separándolos. Se acerca el médico y Owens aprovecha la distracción para conectar la stunner a Priest.
Ganador: Kevin Owens
Celebración Alpha Academy
Gable y otis visten como recién graduados. Gable quiere presentar a Otis como un discípulo graduado, pero el público no feja de abuchear. Aparece Riddle vestido como ellos. Mientras Matt los distrae con un discurso, Orton aplica a RKO a Gable. Riddle ataca a Otis y los RKBRO celebran burlonamente vestidos de recién graduados. Orton toma el micrófono y dice que aceptan la prueba académica que propuso Gable a Riddle.
Austin Theory en la oficina de Vince McMahon
Vince le saca en cara que perdió con Balor y quiere que lo venza hoy. De lo contrario Vince dice que le dará él mismo una paliza, que romperá la cara y los dientes. Y que incluso se tomará una selfie y se le enviará a su mamá.
Finn Balor vs Austin Theory
Toma de referí con Theory sacando mejor parte. Balor arremete y domina con headlock. Austin saca a Balor del ring y lo castiga contra este y la barricada. Sling blade de Balor y dropkicks. Theory intenta arremeter de vuelta, pero Balor usa roll-up y cuenta de dos. Balor falla su finisher, pero Theory lo esquiva y lo patea. Theory conecta su finisher y vence a Balor.
Ganador: Austin Theory.
Theory se toma una selfie junto a Balor tendido y luego sigue atacándolo.
Posteriormente tenemos una entrevista a Rhea ripley con respecto al ataque de Nikki ASH en la semana pasada, donde dice que un héroe no ataca a un amigo.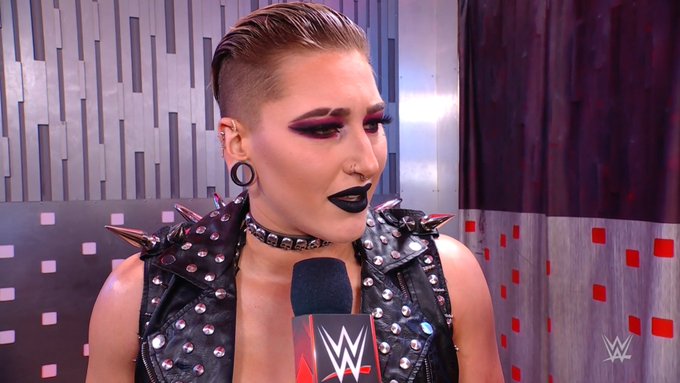 Luego aparecen en escena Carmella y Queen Zelina previo al combate, donde básicamente esta ultima se mete con Rhea diciendo que no tiene el coraje para ir por los títulos ella sola…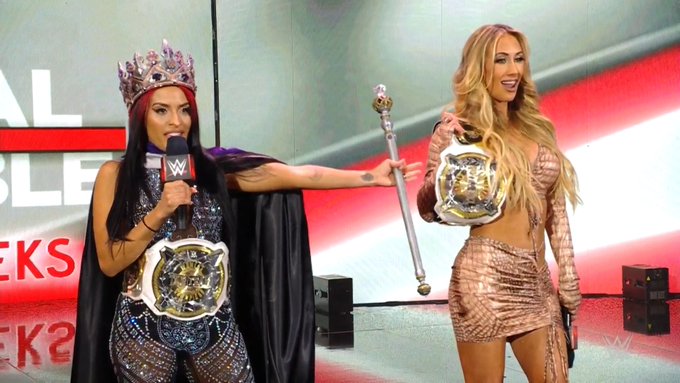 Con esto Rhea se distrae, y es atacada por la espalda por Nikki ASH. Pese a que no sonó la campana para iniciar el combate, el referee cancela el encuentro.
Omos vs Reggie
Squash del gigante bien dotado, que sigue con su racha de victorias.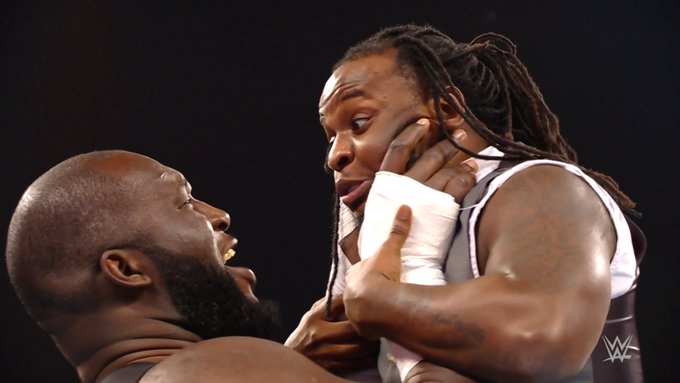 Segmento de Maryse
Maryse menciona que el Miz no se encuentra esta noche y que quiere redimirse porque no estaba de acuerdo con lo que "pacto" su esposo la semana pasada. Quiere hablar con Beth cara a cara. Luego aparece Beth junto a Edge.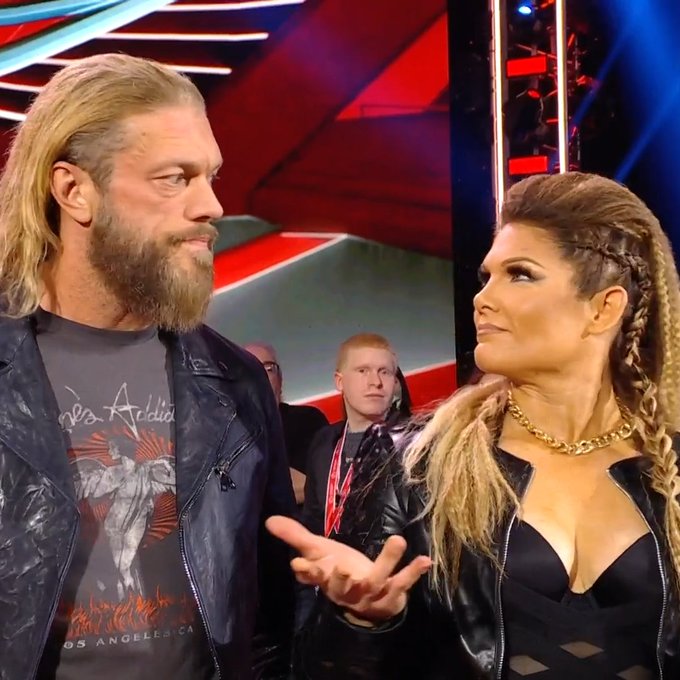 Maryse le dice a Beth que quiere cancelar el encuentro de Royal Rumble porque no esta de acuerdo con eso y además dice que deberían ser amigas no rivales. Después aparece el Miz y Edge lo golpea, esto distrae a Phoenix y Maryse la ataca por la espalda usando una cartera que contenía un ladrillo.
Después del segmento, se anuncia para la vuelta de comerciales un 8 man tag team match.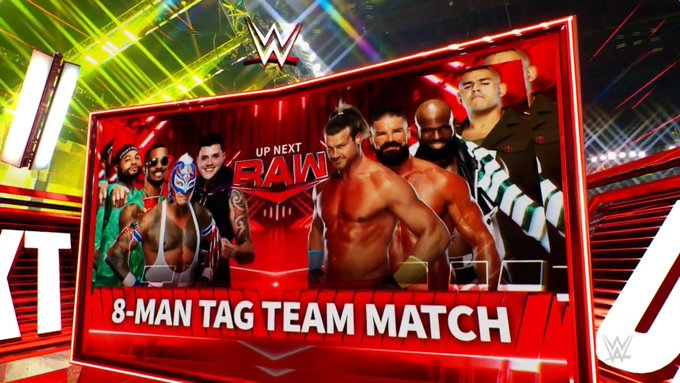 8 man tag team match
Este tipo de combates no requieren una estructura muy definida, más bien se sustentan en el caos, los spots y la diversión. Partes entretenidas con los Street profits y su atletismo, como también Mysterio con sus clásicas movidas y la doble 619 a Ziggler y Roode. Ganan los faces. Por cierto, muy lindo el frog splash de Montez.
Y bueno, post match Rey lanza por las cuerdas a su hijo Dominik dándole un aviso de lo que será el Royal Rumble…
Bueno, se viene el cringe by Alexa Bliss…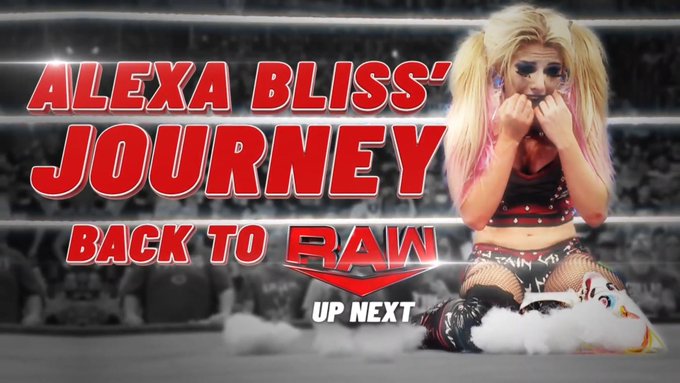 Cuesta digerir estos segmentos la verdad…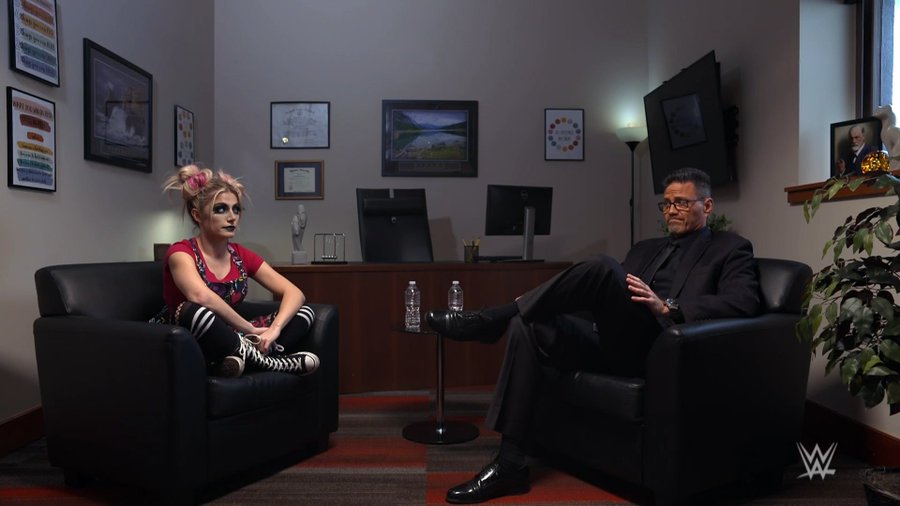 No se como describirlos, pero bueno, el personaje de Bliss es ciertamente desagradable.
Bobby Lashley vs Seth Rollins
El combate parte con un Lashley con expresión furiosa en su rostro, toma de arbitro y tacleada al ex the shield. Después Rollins lo tira fuera del ring, aplica su clásico suicide dive, luego intenta otro, pero es recibido con un brutal suplex. Después del corte comercial se muestra a Rollins atacando la rodilla de Lashley. Sigue trabajando esa zona de diferentes maneras, incluido un leg lock. Después se libera y comienza el comeback del retador por el titulo de WWE, aplicando 2 belly to belly y una neckbreaker. Se prepara para aplicar la spear, pero recibe un rodillazo de Rollins, que después le aplica un pedigree que solo llega a la cuenta de 2! ante eso busca altura para aplicar un ataque aéreo, pero Lashley se levanta y le aplica un superplex. Ambos quedan tendidos, y cuando Lashley intenta levantarse aparecen Shelton y Cedric Alexander para atacarlo.
Ganador: Lashley por DQ
Luego aparecen los Usos para atacar con una doble superkick a Rollins!
Fin del show.
Más noticias