Resultados IMPACT Wrestling 10.02.2022
IMPACT Wrestling presento un cambio importante en su ultimo episodio ¿Adios Josh Alexander?
Vamos con resultados rápidos de IMPACT Wrestling quien en este episodio semanal presentó sorpresas y cambios camino al próximo especial de No Surrender.
¿El fin de Josh Alexander?
Josh Alexander sale a realizar una promo. Habla primero de su combate en No Surrender junto al equipo de IMPACT Wrestling, pero luego menciona que su prioridad es el campeonato mundial, por lo que se declara retador terminando la rivalidad entre Moose y Morrissey. El canadiense realiza un Open Challenge.
Josh Alexander vs Big Kon
Big Kon (Conocido como Konnor de The Asencion en WWE) responde el llamado pero sus esfuerzos no son suficientes para vencer a Alexander.
Josh toma el micrófono y exige que se haga oficial su oportunidad por el campeonato mundial. Scott D Amore aparece y dice que deberá esperar un poco más, pero el canadiense se niega a espera, empujando al EVP de IMPACT Wrestling. Scott toma la decisión de enviar a Josh a casa, quedando fuera de No Surrender.
Deonna Purrazzo vs Santana Garrett, Campeonato de ROH
Otro open Challenge dentro del show, esta vez es Santana Garrett quien responde al reto. Tras minutos algo reñidos, Deonna consigue planchar a Santana, reteniendo el título femenino de ROH.
En backstage, Scott D Amore les dice al Team IMPACT que tendrán que buscarse otro compañero para enfrentar a "Honor No More".
Mickie James vs Chelsea Green
Victoria para Green tras las diversas distracciones de Tasha Steelz que estaba en comentarios.
Bullet Club con Jay White a la cabeza ingresan. Switchblade llama copia barata del BC a Violent By Design y a los Good Brothers. Karl Anderson habla de cómo los GB han estado en todos lugares, a lo que Tama Tonga dice que en realidad los han despedido de varios lugares.
Matt Taven y Mike Bennett vs Rich Swann y Rhino
Otro nuevo careo entre integrantes del Team IMPACT y los ex Ring of Honor. Rhino estaba tomando ventaja pero Taven neutralizó sus útimas acciones para llevarse el triunfo para Honor No More.
El resto del grupo de ROH están por atacar a Cary Silkin, pero Steve Maclin llega para defenderlo. Taven termina recibiendo el Gore dentro del ring.
En backstage, Eddie Edwards no quiere aceptar a Maclin en el equipo, aunque Chris Sabin dice que lo necesitan y le da la bienvenida al ex WWE.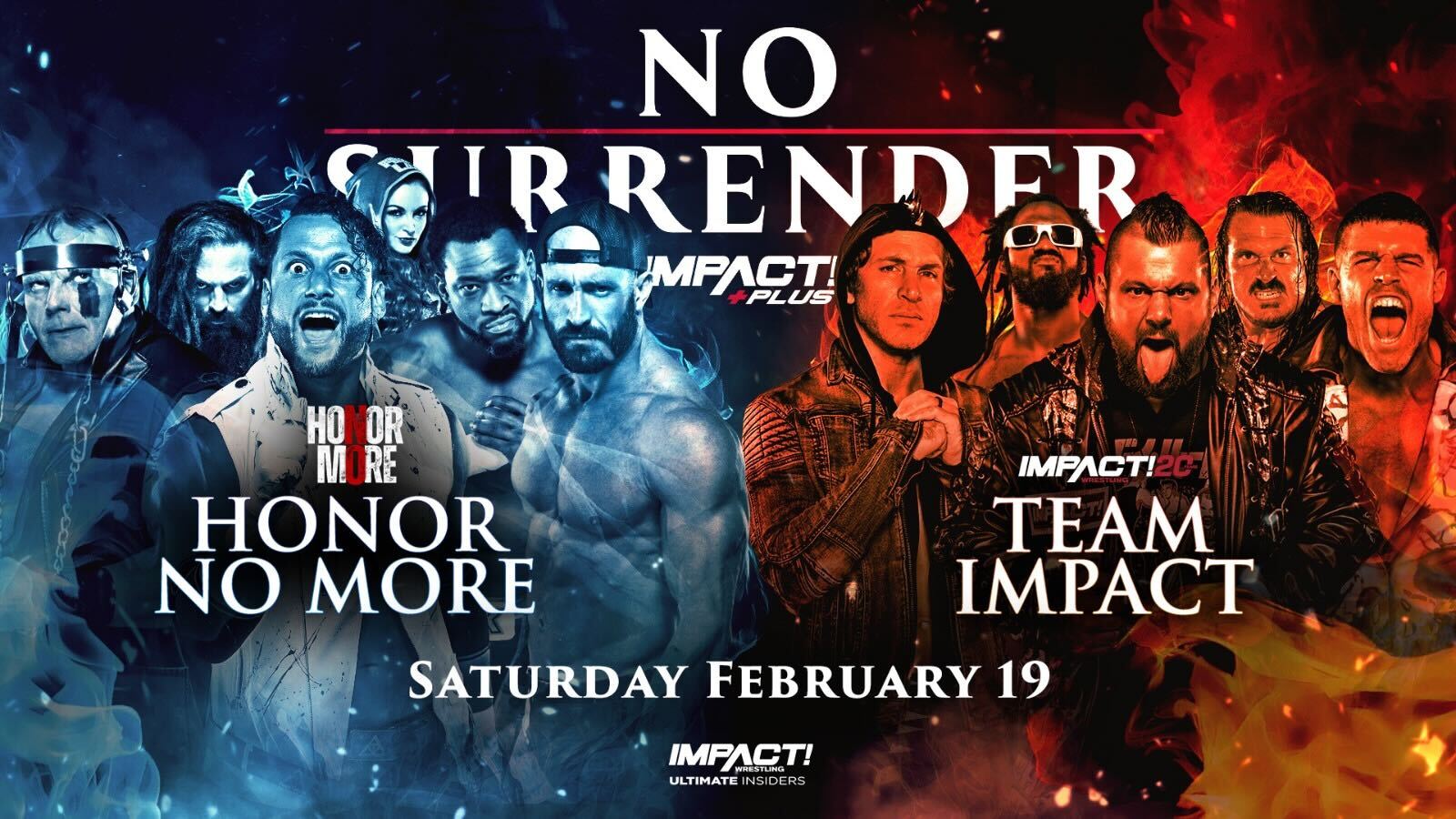 Brian Myers vs W. Morrissey, No DQ Match
Combate donde Myers buscó usar a los miembros de su grupo para que le ayuden a conseguir ventaja, pero Morrissey fue más que todos y en el final le termina aplicando dos BQE sobre tachuelas para llevarse el triunfo.
Moose aparece sorpresivamente para atacarlo luego de la lucha. El Campeón mundial de IMPACT Wrestling ataca con una silla al gigante de New York en repetidas ocasiones, posando con el titulo al final.
En otros temas