Resultados AEW Dynamite "Winter is Coming" del 14 de diciembre de 2022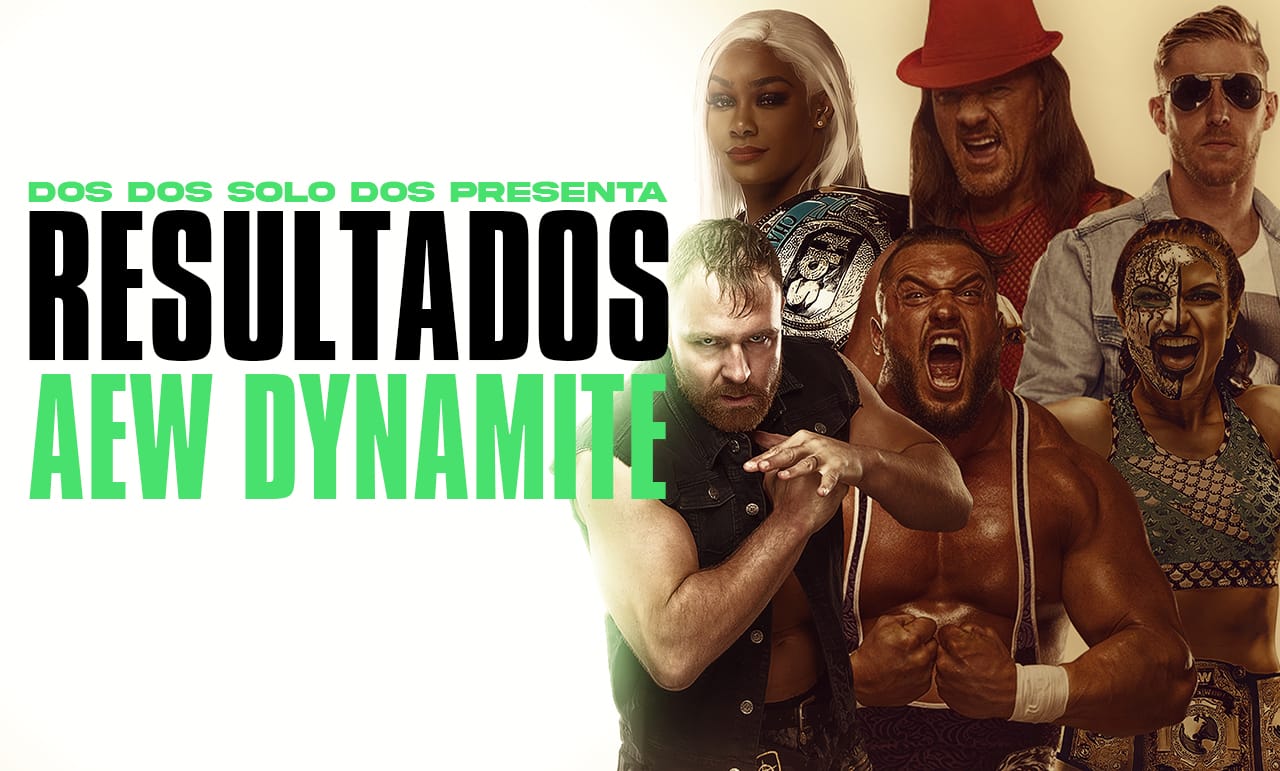 Winter is Coming y AEW Dynamite lo sabe, con MJF teniendo su primera defensa titular ante Ricky Starks.
Chris Jericho, The Acclaimed, Melo vs Soho, Perry vs Brian Cage y mucho más en el show:
Death Triangle venció a The Elite y se pone 3 a 1 en el mejor de siete combates por el Campeonato de Tríos. Durante la lucha, Nick Jackson vendió una posible lesión en su tobillo, siendo asistido en vestuarios. Al final del match, vuelve a aparecer para tratar de igualar la contiende, pero atacado por un martillazo por parte de Penta y luego se rinde tras una llave de rendición de Fénix.
Tras el encuentro, Kenny Omega dice que quiere que el próximo enfrentamiento sea una lucha sin reglas, porque están hartos de las trampas de los campeones.
Promo en backstage con MJF calentando el main event, donde básicamente habla de la "presión" que significa ser campeón y cómo hoy demostrará que está más que apto, arruinando los sueños de Ricky Starks, su familia, amigos y fans.
The Acclaimed rumbo al ring pero son atacados por Jeff Jarrett, Jay Lethal, Satnam y Sonja. Los heels posan con los Campeonatos en Parejas.
Promo de Jericho en el vestuario de este AEW Dynamite, donde quiere una revancha ante Claudio Castagnoli. En Rampage, además, tendremos Guevara vs Mox. Sobre Sammy, Jericho le pide que sea el guía de Garcia tras su derrota por el Puro…
Jungle Boy Jack Perry se impuso a Brian Cage. Tras la lucha, el ex campeón en parejas reta a salir a Big Bill. Este sale junto a Moriarty quienes atacan al face, hasta que sale Hook al salve y los heels retroceden.
En vestuarios, promo del BCC sin Bryan Danielson. Los nuevos campeones de los títulos de ROH hablan de que si quieren oportunidades tendrá que correr sangre para batirlos y Mox habla de Sammy, además de Hangman. "Ya sabes donde me puedes encontrar", dijo.
La próxima semana en San Antonio, Swerve le pide una reunión cara a cara a Keith Lee. "En esta industria yo no tengo familia", advierte.
Repaso del Hayter vs Shida que tendremos la otra semana en Dynamite. Y en Rampage, Britt Baker vs Skye Blue.
Action Andretti derrotó a Chris Jericho. En la previa, Jericho dijo que iba a enfrentar a un jobber y le iba a ganar fácilmente. El público comienza a apoyar al jobber con cada vez más fuerza, en especial, una vez que se libera de un Codebreaker. Tras eso, da el batacazo y logra la victoria para la algarabía del público y la suya propia. Todo, ante la mirada atónita de Jericho.
Andretti luchó en un Dark hace un tiempo contra QT Marshall y su lucha generó muy buenas críticas.
FTR ya tiene la atención de los Gunns y están listos para el siguiente paso. Mientras, Jericho llega a su camarín muy ofuscado.
Ruby Soho batió a Tay Conti en un entretenido duelo. Tras la lucha, Anna Jay atacó a la ganadora.
Promo en vestuarios de Hangman Page que dice que realmente estuvo en el infierno tras la conmoción cerebral que sufrió semanas atrás, y si Moxley lo quiere enfrentar, tendrá que vivir ese mismo infierno.
Cartelera de AEW Rampage donde además se agrega los Best Friends y Dustin Rhodes ante Sabian, Butcher y Blade y Trent Seven. En AEW Dynamite, los Gunns vs FTR.
MJF derrotó a Ricky Starks para retener el Campeonato Mundial de AEW. El campeón y el uso de pequeñas trampitas (muy a lo Ric Flair) fueron claves para su triunfo. Tras la lucha, aparece Bryan Danielson, con el monarca arrancando entre el público. El Dragón Americano muestra su respeto a Starks para terminar el show.
Gran Dynamite.
En otros temas
Wheeler Yuta sobre el Blackpool Combat Club: "Estamos con más hambre que nunca"